In the late 1980s, makeup artist Linda Mason wrote a book combining her interest in astrology with her cosmetics know-how. "Working on so many models and discussing astrology with them, I found similar personalities, features and face shapes within the signs," Mason says.
She then went on to become an entrepreneur, founding her own cosmetics company and producing a line of astrology-inspired makeup. "I assembled colors and textures, which, when worn together, accentuate the astrological personality, harmonizing the inner spiritual personality with the outer appearance," she says. "I did this for the face but it is equally relevant if one wants to harmonize one's astrological personality with the wardrobe or outfit or to create a specific room in the home with a relaxing atmosphere, harmonious to your sun sign."

We had Mason walk us through the zodiac with an eye on fashion. "Let's start with the Fire signs: Aries, Leo and Sagittarius," Mason says. "Won't they all feel comfortable in bright fiery colors? No, this is not the case."
---
The Fire Signs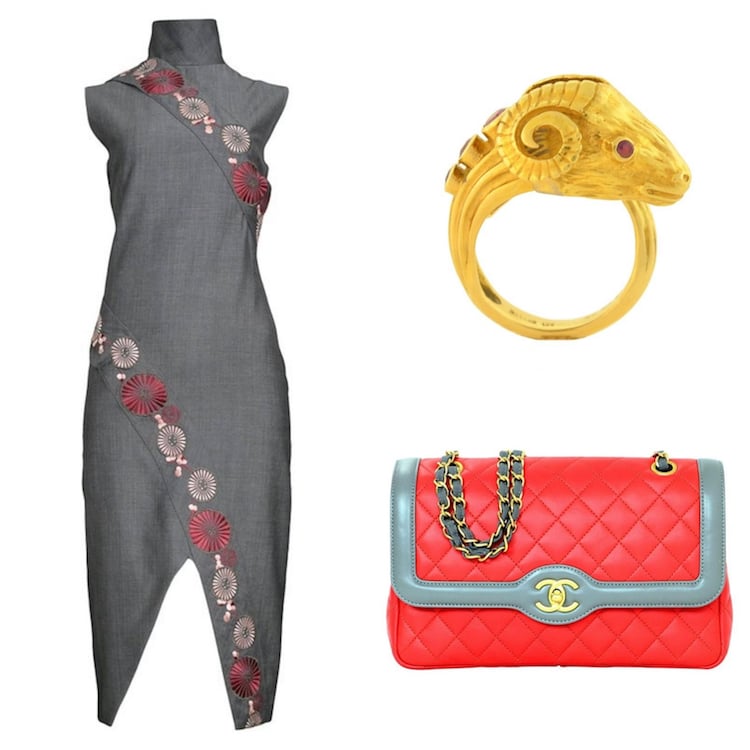 Aries (March 21–April 20) goes for simplicity and speed and is most comfortable in more modern garments in neutral gray, beige, black or white hues. These colors accentuate the dynamic, striking beauty of Aries. A pop of color, such as a green or hot red, works well as an accessory and, of course, red is marvelous as a lipstick.
---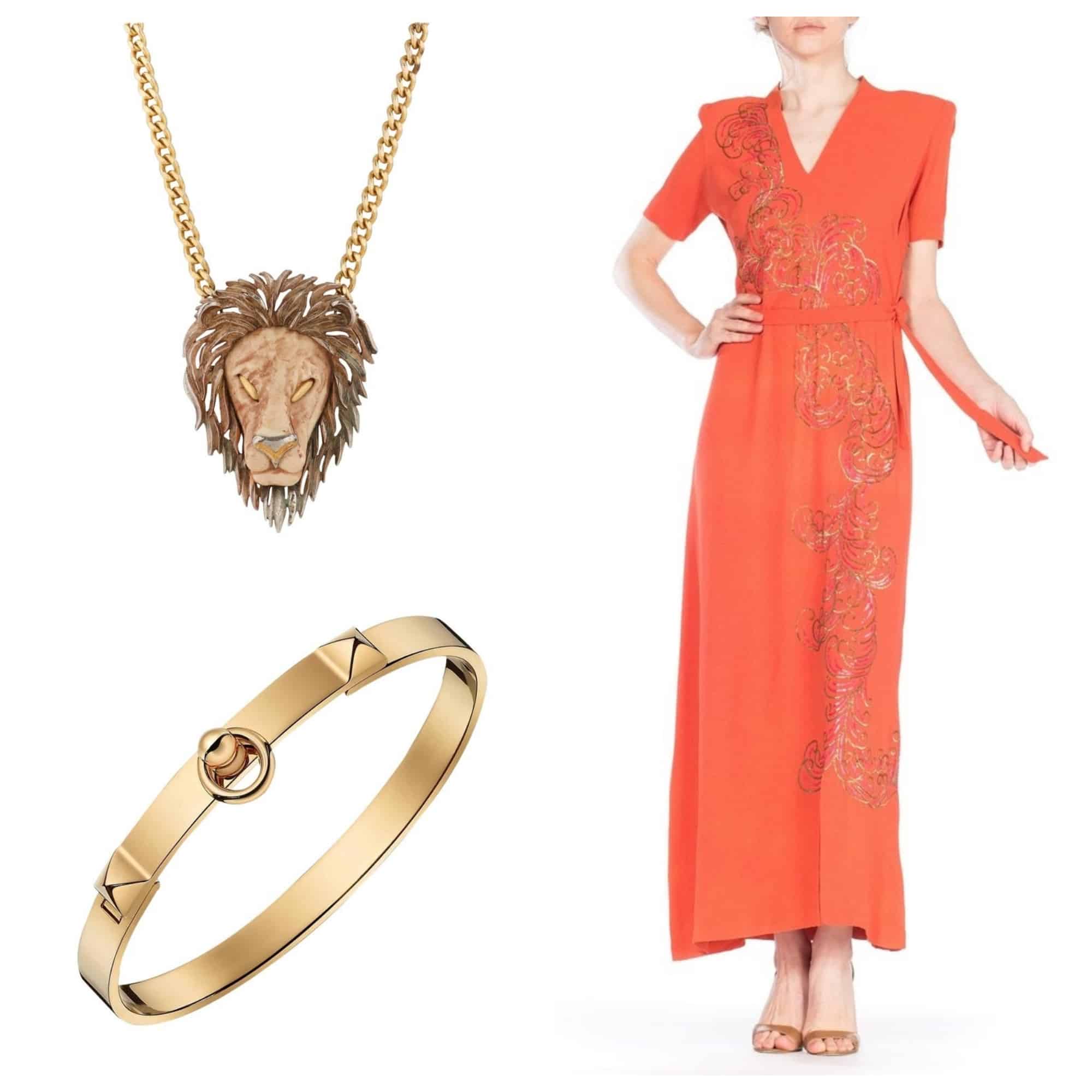 Leo (July 23–August 21) tends to be enveloping and needs comfort and luxury. Red, coral, grays and silver accentuate this sign's chic, radiant and elegant beauty. Leos are at ease in beautiful traditional styles, and they love gold accessories and accents.
---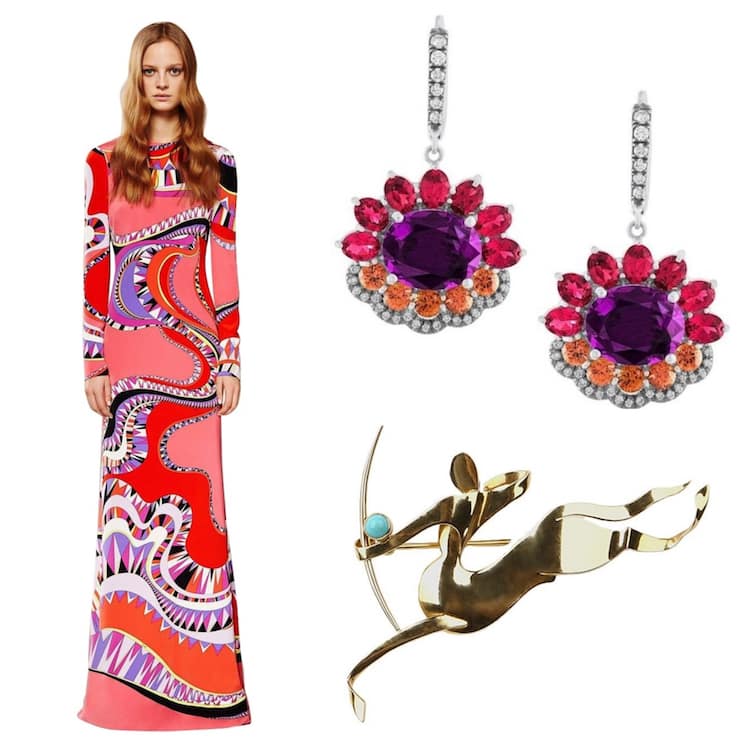 Sagittarius (November 22–December 21), when truly in harmony with the sun sign, is the wildest of the three fire signs and can find peace in hot pinks, violets and oranges. Amethyst and turquoise jewelry harmonize well with Sagittarius's energy. Optimistic, daring and successful, the happy Sagittarius is always up for adventure.
---
The Earth Signs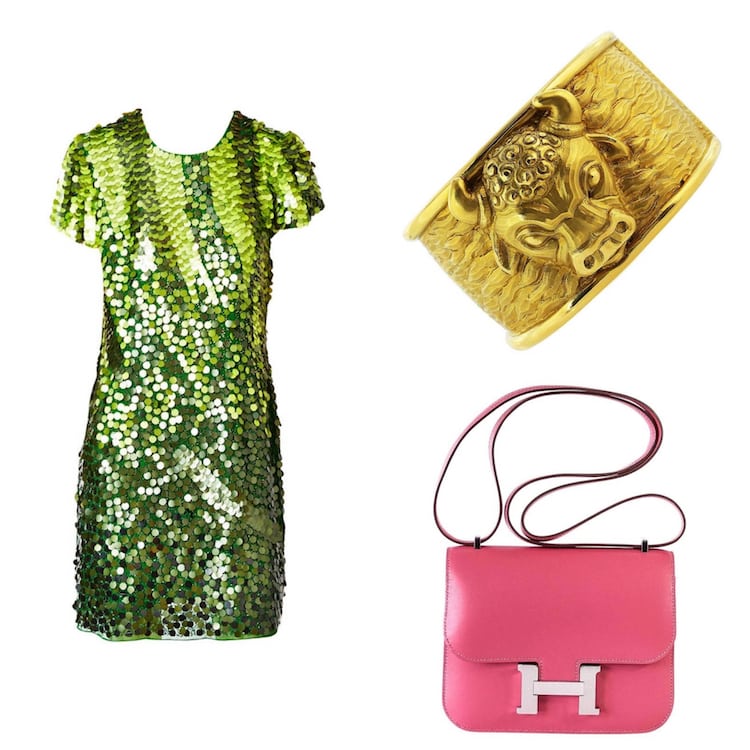 Taurus (April 21–May 20) can pepper dark green and ochre earth tones with the pink from their Venus influence and some bright green. These colors tend to accentuate the sensual nature of this sign's cool, calm, collected and smoldering presence. Luxurious fabrics — particularly silks, in either sleek modern cuts or more traditional designs — will harmonize with this sign's energy.
---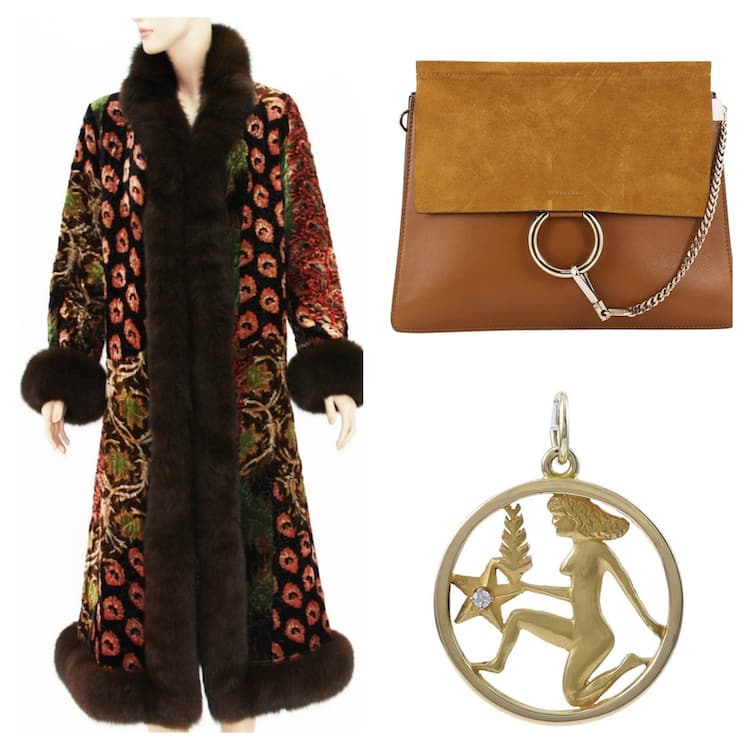 Virgo (August 22–September 22) can enjoy almost any style. They should not stifle their eclectic taste but instead go with their purchases and not worry too much about whether each item works together. This sign favors rust, dark green, all shades of brown — from beige to chocolate — and for the dark-haired Virgo, black. Buying vintage fashions will satisfy Virgo's need to help the universe through the support of recycling.
---
Capricorn (December 22–January 20) suits the cooler earth tones of gray, beige and black, peppered with royal blues and navy. These colors accentuate sophisticated Capricorn's nature, which is both reserved and passionate. Calm, elegant and gracious, women of this sign create their images carefully and are most comfortable wearing established brands.
---
The Water Signs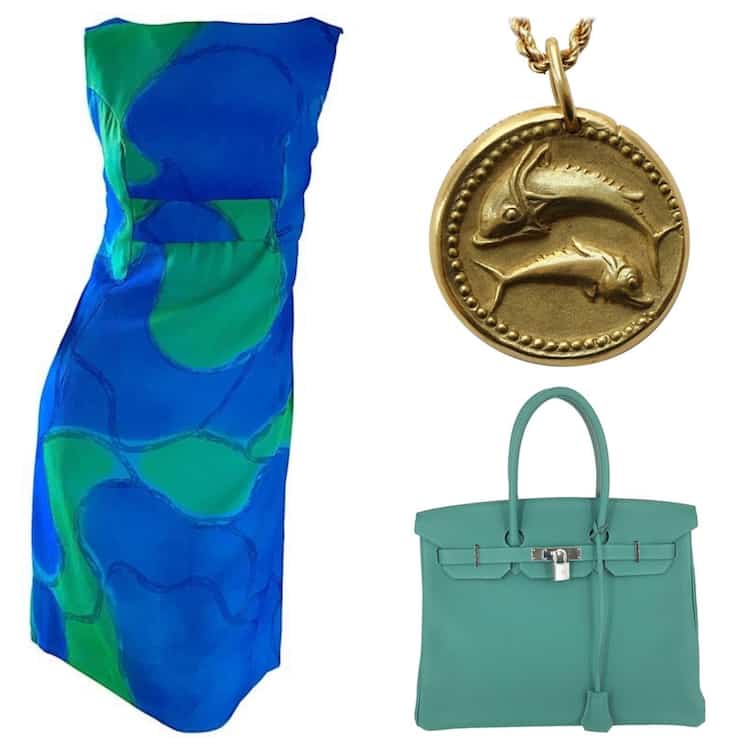 Pisces (February 20–March 20) loves both the ocean and cities with tall modern buildings. They like to exhibit their style and taste, but not in a flashy, vulgar way. They prefer simple, light and modern attire in navy, teal, mauve, sea green and aquamarine.
---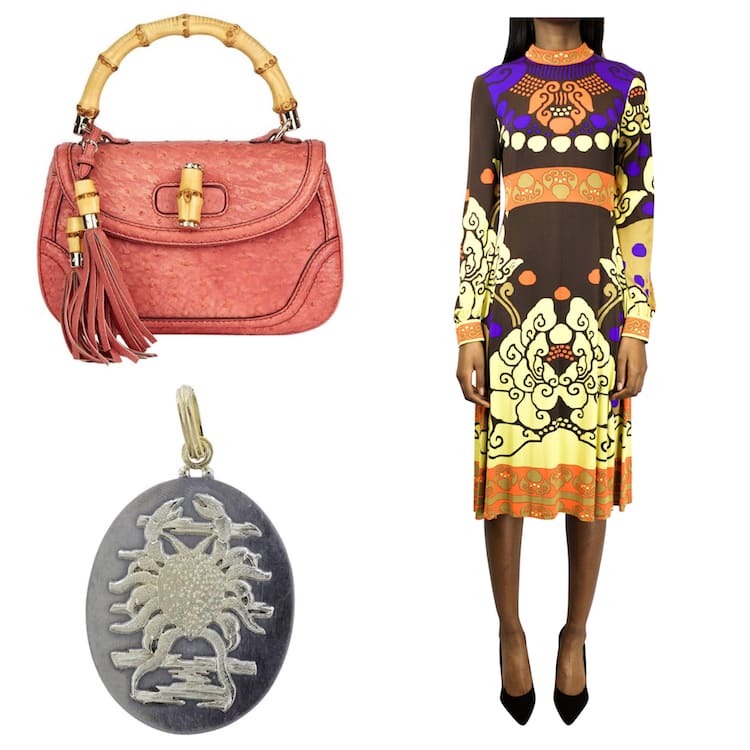 Cancer (June 21–July 22) tends to have unusual taste, and it is important that outfits reflect this. They will not be happy with a wardrobe that is just a reflection of material wealth and success. For Cancer, it's all about personal meaning and memory. A Cancer's best colors include coral, pink, gray, sea green, violet and gold.
---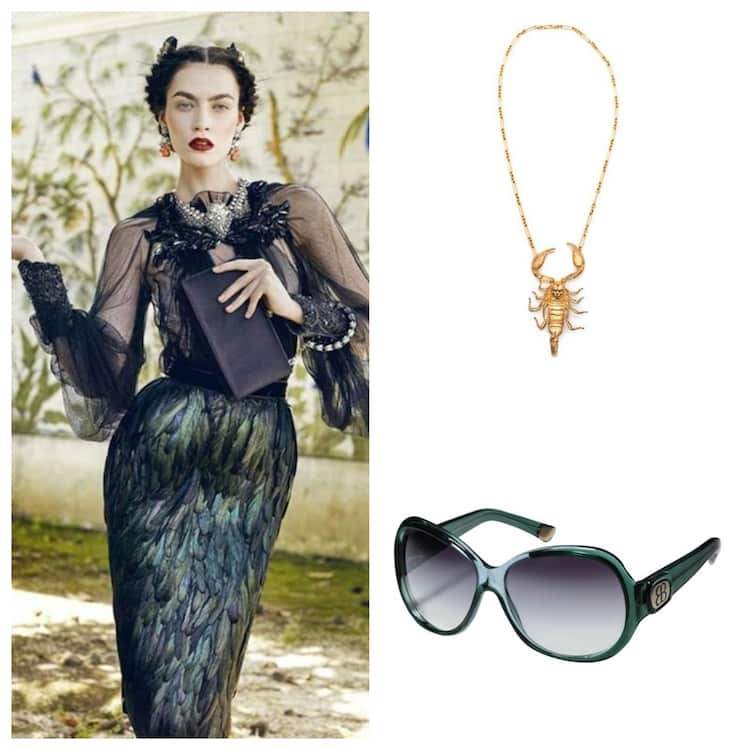 Scorpio (October 23–November 21) tends to be both mysterious and fascinating with a hypnotic beauty. Scorpios can easily don all black, but will be more beautiful if they don't and use dark teals and burgundy instead. Garments in these colors, especially in fabrics like moire silk, will fulfill their need for luxury and for clothing that discreetly accentuates their sensual nature.
---
The Air Signs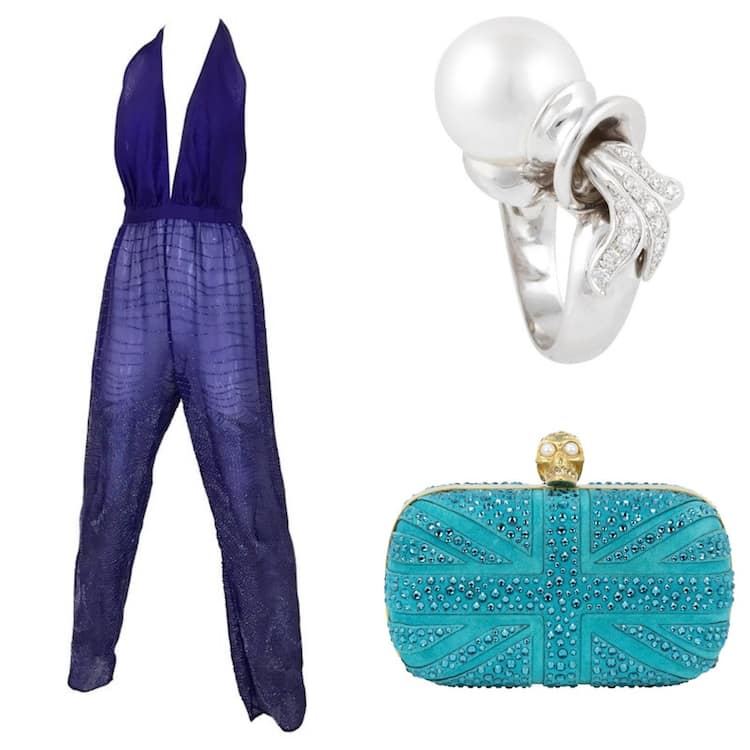 Aquarius (January 21–February 19) tends to be fascinating and has a haunting and wistful energy with a sense of the unobtainable. This sign goes to extremes — incredibly modern and edgy or full-on traditional. If they go traditional, they should keep it light with colors such as violet, rose, sea foam and peach. For modern and edgy, they could use deeper shades of purple and teal.
---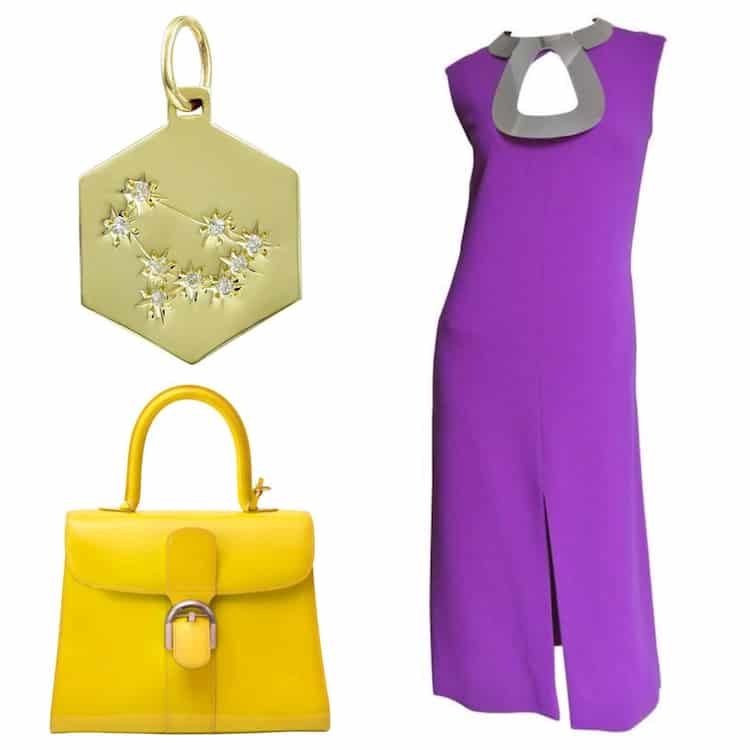 Gemini (May 21–June 20) can be mysterious, unique, unconventional and drawn to the avant garde. But they are more comfortable with slightly unusual, toned-down traditional pieces, especially when modernized with metal and touches of bright violets and yellows.
---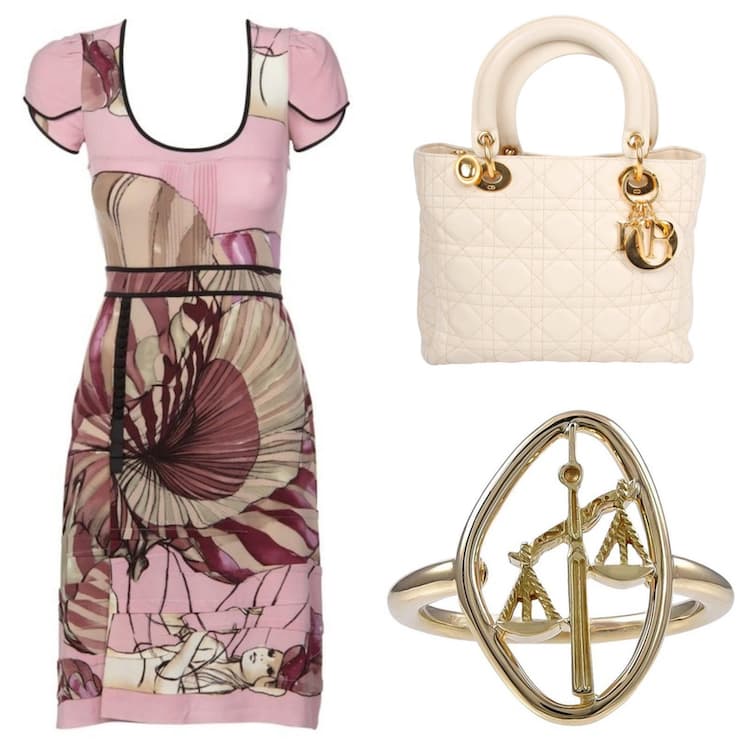 Libra (September 23–October 22) will create a sensual elegant and modern wardrobe with lots of variety and soft colors — gentle blues, all shades of pink, misty violet and grays. This sign is drawn to well-known designers. Contemporary styles crafted by established houses will satisfy Libra's need for some tradition.