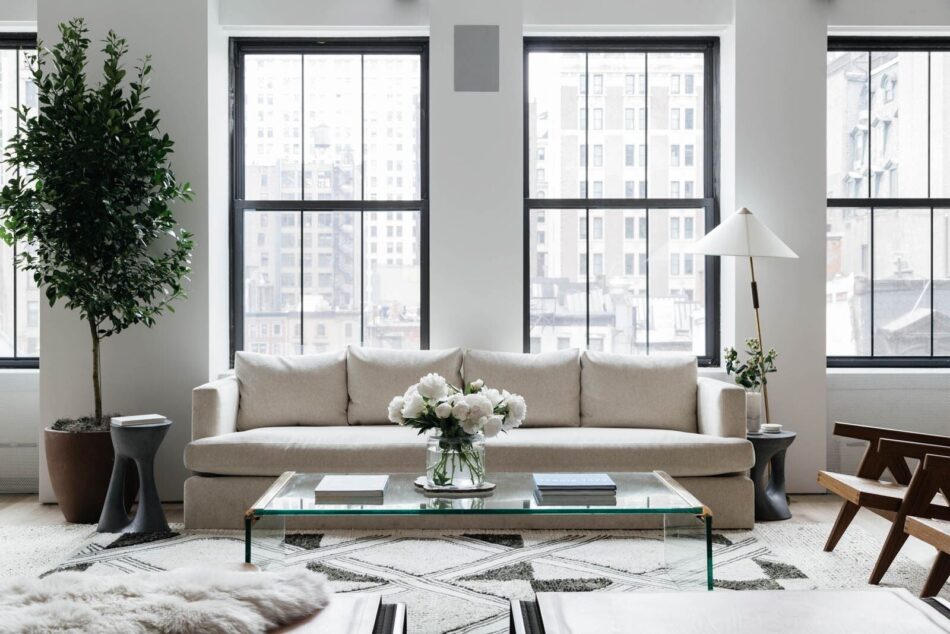 "To keep the space minimal, it was important that each piece we brought in could stand on its own," says Jae Joo, explaining her scheme for this living room in a Manhattan condo. "It is intentionally sparse, with pieces that are both functional and comfortable." Following the same minimal mandate, Joo deployed a muted palette, accented with different materials and finishes.
Although the look is cleanly contemporary, the space contains a few vintage pieces — among them, a classic Leon Rosen coffee table, a Rupert Nikoll floor lamp and, perhaps most iconic, a pair of restored Pierre Jeanneret armchairs.
---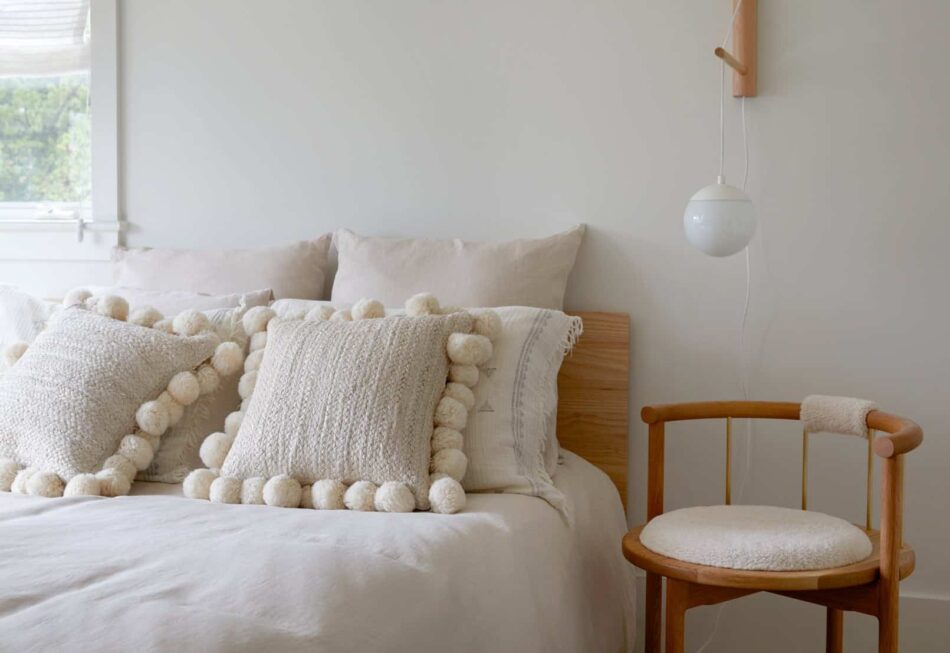 "The narrative here was to create a sophisticated space that also felt playful and light, with touches of femininity — a neutral palette realized through textural and subtle patterns," says Alissa Pulcrano, principal designer at Bright Designlab, describing this bedroom in a Regency Modern home in Portland, Oregon. Because its occupant is a teenager, Pulcrano designed a decor that juxtaposes high with low. Case in point: the Crump & Kwash chair paired with Urban Outfitters pillows.
---
Barry Harrison designed his Birmingham, Michigan, garden to be the zenith of zen. The Art Harrison Interiors & Collection cofounder surrounded the yard's pebbled central area with a moat where his collection of koi can swim serenely while those seeking meditative relaxation stretch out on the pair of custom chaise longues.
The sculpture of the seated woman is an antique that he and the firm's other cofounder, Arturo Sanchez, found at the Brimfield Antique Show, in Massachusetts. "We are not only interior designers," says Sanchez. "We also have a collection of more than 60 pieces that we use in our designs and sell to other designers."
---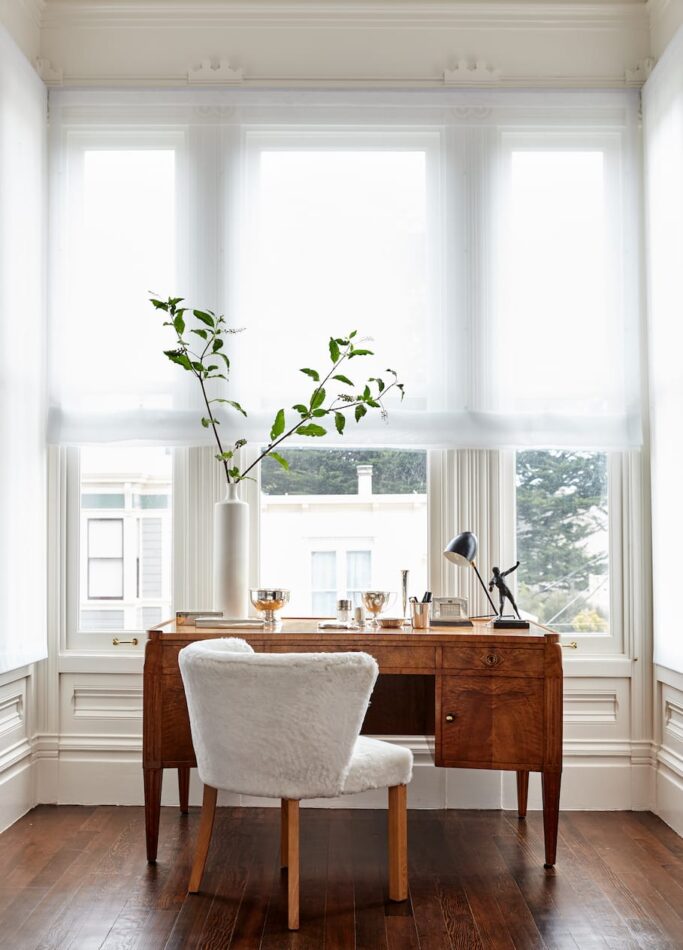 "We wanted to capture the beautiful light — optimal for a vanity function," says Jennifer Vaughn Miller, describing her transformation of this snug nook in a Pacific Heights, San Francisco, townhouse. "The desk enabled such a function to live beautifully within a master bedroom rather than a master bath." As befits the home's Victorian pedigree, all the pieces here are vintage or antique, from the Fritz Hansen shearling chair to the 1940s walnut desk to the Serge Mouille lamp.
---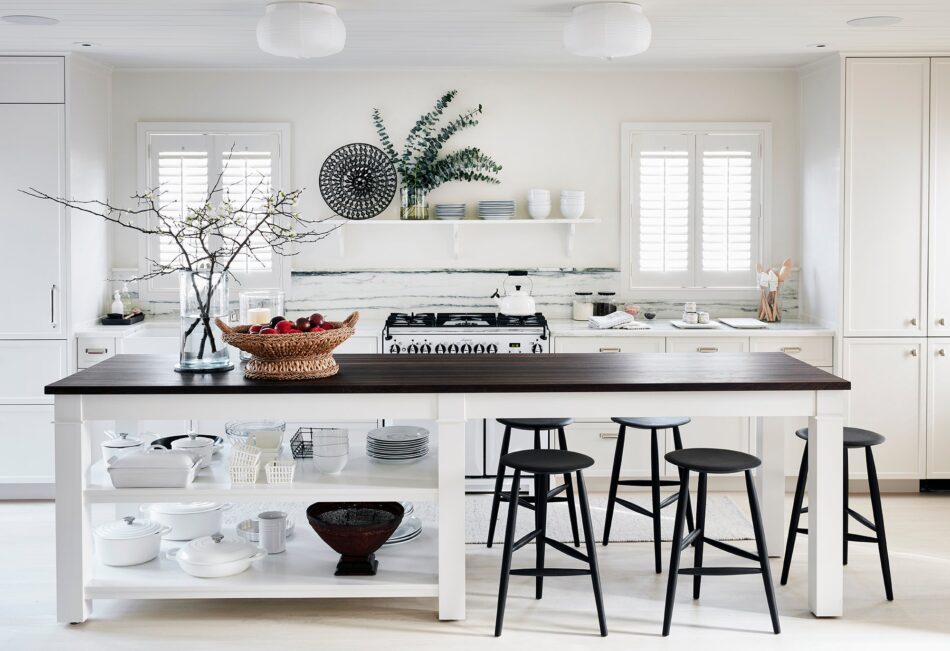 "A clean palate of black and white subtly lets nature and the Nantucket cottage's surroundings be the star," Kara Mann says of this seaside kitchen. "It's near the ocean but nestled in a canopy of trees, so we played off of the quietness of these elements." Mann also bits of greenery inside, adding warmth and a touch of color to the sleek space.
---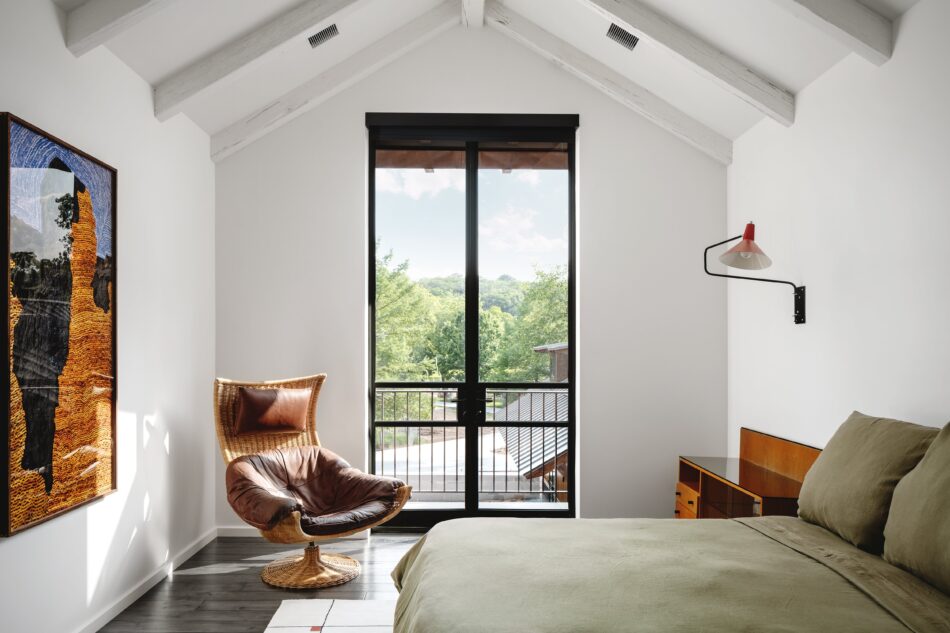 Against the generally stark backdrop of this Austin bedroom, the Evan Whale artwork makes quite a bold statement. "My client and I took a buying trip to Los Angeles and discovered the painting at a gallery," explains designer Melanie Raines. "It was very early in the design process, but we knew in an instant we'd create a space around it."
The pieces they assembled to complement this centerpiece are largely vintage, like the Anvia Paperclip sconces from the 1960s, mid-century Mojmir Požár bed and 1970s Gerard van den Berg rattan-and-leather lounge chair.
---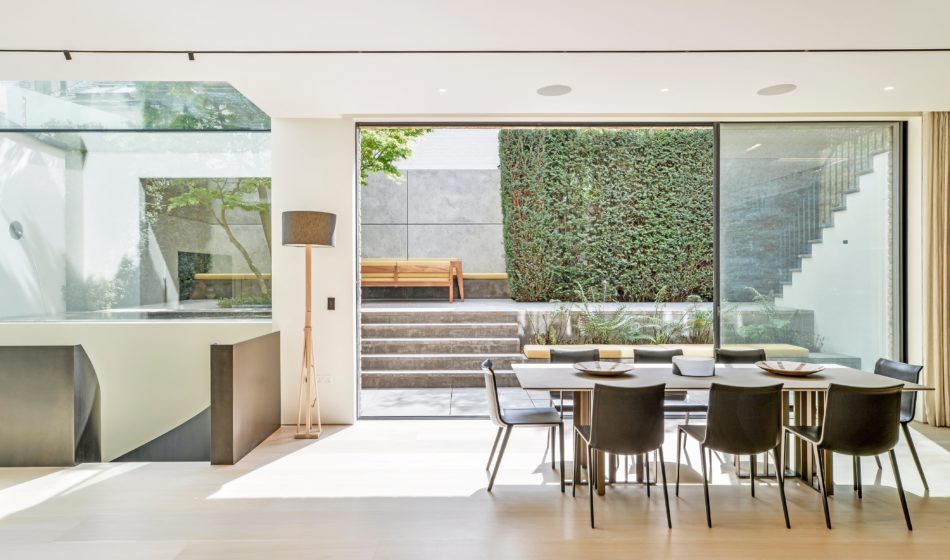 "We wanted to focus on creating depth by combining natural textures and materials with a subdued palette," says Charles Clarke, director of Balzar London, explaining his design for the dining space of a Kensington home. "The size of this area is very large — by London standards — and so we had to focus on selecting pieces that were at the same time neutral and warm."
In keeping with the architecture's clean lines, Clarke opted for no-frills B&B Italia dining chairs around a bespoke table. The Heijden Hume floor lamp adds an organic moment to the otherwise streamlined space.
---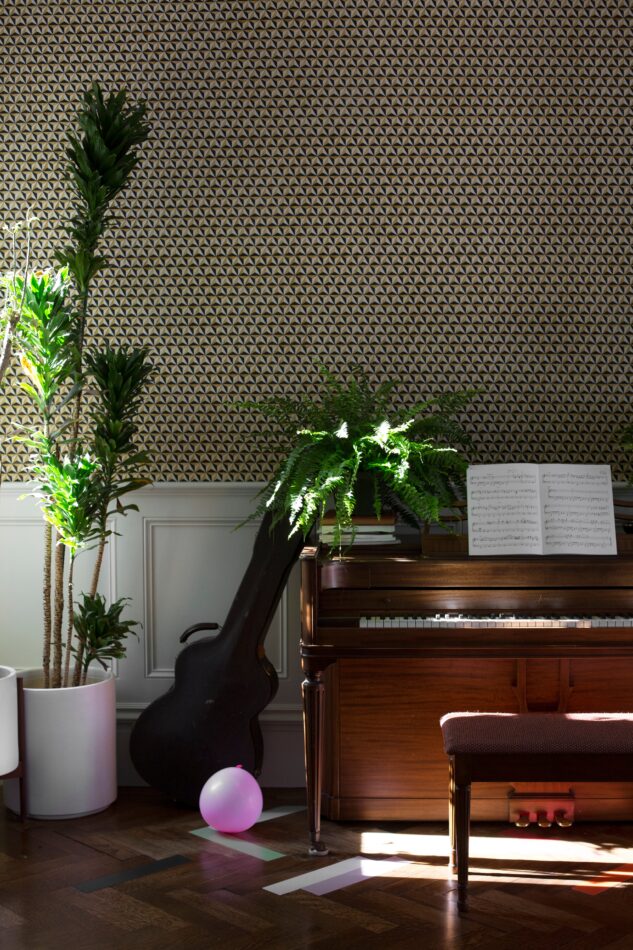 Redmond Aldrich Design's Chloe Warner designed this Bay Area carriage house to reflect the clients' shared passion: "They're both very musical. Our inspiration for this space was a lively lobby." Warner's favorite element? The French wallpaper by Antoinette Poisson. "The geometric pattern adds liveliness and dimension to anything that's layered against it, like pianos, art, sconces or plants," she notes. "It's a real workhorse."
---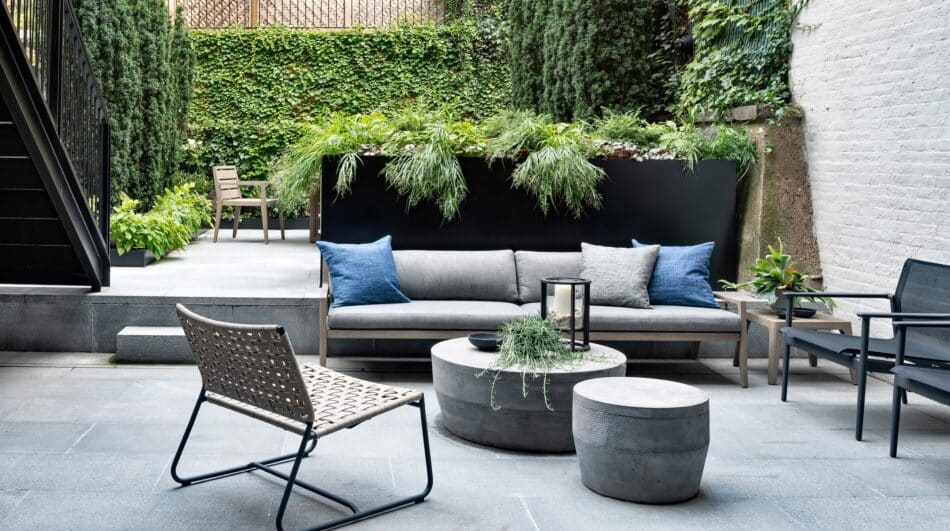 "The inspiration for this Italianate Brooklyn townhouse's back patio came from across the pond," says Kiki Dennis, partner at Deborah Berke Partners. "In recent years, contemporary British garden designers have successfully used the kinds of themes you see here in gardens of all scales. And the effects have been dazzling, from elegantly relaxed to sophisticated and formal."
---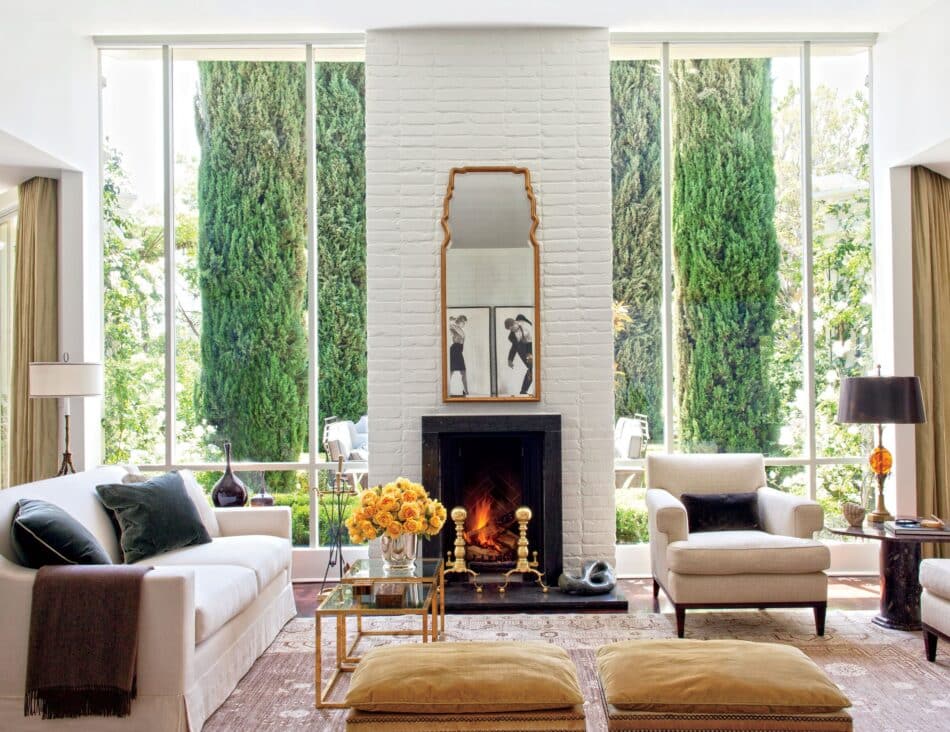 In choosing the furnishings for a John Elgin Woolf Hollywood Regency home in Los Angeles, Madeline Stuart took her cue from Woolf's architectural elements. "We incorporated a terrific mix of vintage, antique and contemporary pieces," she explains. "Everything works together in a quiet and complementary way." In the living room, the glamorous mix includes vintage lamps and tables and Robert Longo's iconic portraits.
---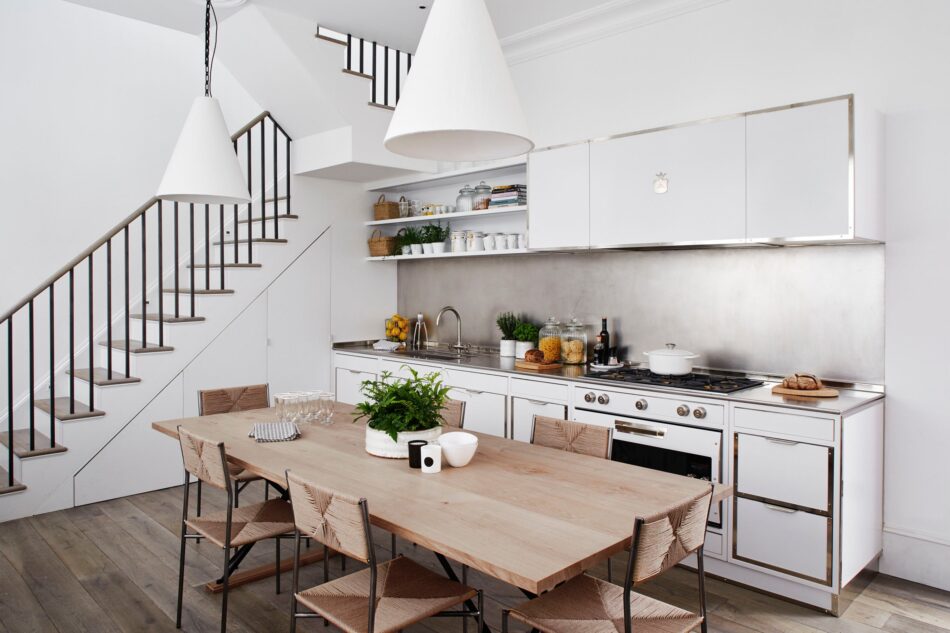 Approaching a historic London Mews house, Alison Henry decided on a pared-down contemporary aesthetic. In the kitchen, that translated into a bright and airy vibe, which she achieved by opening the room up and bringing in natural illumination through skylights and picture windows.
For the range and furniture, Henry collaborated with Italian kitchen experts Officine Gullo. Our favorite element: the brushed-steel backsplash, which imbues the streamlined space with a slightly industrial feel.
---
Christopher Boutlier created a laid-back lair on the top floor of a classic Washington, D.C., row house. "We wanted to make it a peaceful place for the client to sit and have coffee or chat with a friend," Boutlier explains. "It was really designed to be comfortable and take in the great city views." The plush chairs are from Lee Industries, the console and ottomans are by A. Rudin, and the iron side table is vintage.