At this time of year, photos of crystal-clear shorelines and perfect sandy beaches are popping up in social media feeds faster than there is time to hit the "like" button. These shots, albeit beautiful, serve as a painful reminder to those of us who have yet to embark on a warm-weather holiday that summer is almost over. But fret not! Because there is definitely still time to jump on the summer vacation band wagon. And, since you've waited so long, why settle for just any old trip? Why not do it up big and live like a rock star?
No, literally. Live like a rock star. Or a movie star. Or a media mogul — you get the idea. It's entirely possible, since iconic homes owned or once inhabited by celebrities seem to be popping up on popular vacation rental sites like airbnb or VRBO faster than you can say "share economy." And for a fraction of the cost of owning one of these iconic estates, savvy travelers can make breakfast in the same kitchen as Marilyn Monroe, or take a dip in the same pool as Lucille Ball. Scroll down to see four of our favorite celebrity vacation rentals.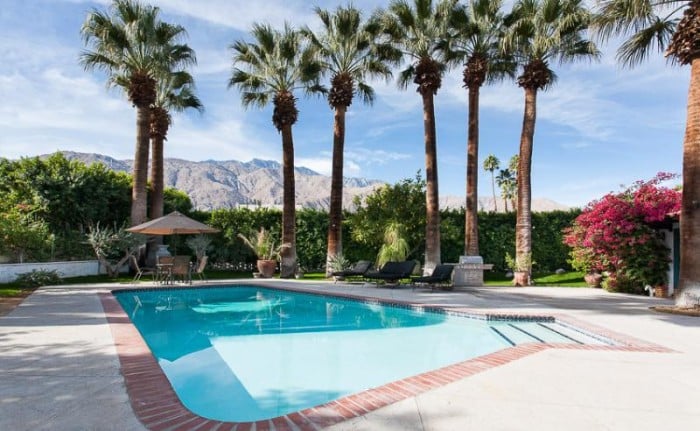 Situated behind beautiful wrought iron gates, this Spanish hacienda-style home sits in one of the most sought after neighborhoods of Palm Springs, California. Affectionately known as the Lucy House, the home boasts five bedrooms and five baths, each opening onto a spacious private deck. Enjoy views of the mountains in the distance or take a dip in the home's original pool. Fun Fact: The land on which the home sits is rumored to have been won in a poker game by Desi Arnaz. The home has also hosted vacationers like Groucho Marx and Judy Canova.
From $960 a night via Flip Key.
---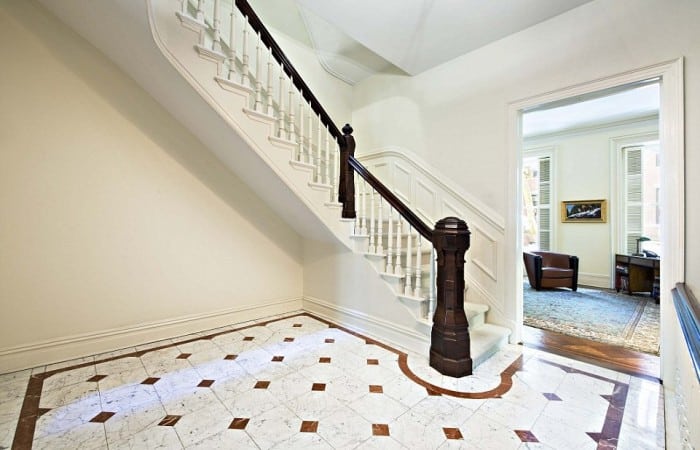 Marilyn Monroe's favorite New York residence — she affectionately dubbed it her "sanctuary" — is situated in the city's posh Upper East Side neighborhood. Owned by her business partner Milton Greene, Monroe frequently stayed at the property while working in the city. Built in 1899, the four-story, four-bedroom, two-bath town home is located within walking distance of Central Park. The swanky abode — where Bette Davis also once lived — has undergone significant renovations since Monroe's time there. Yet original details have been lovingly preserved and the space still oozes prewar, uptown glamour.
From $27,500 per month via Town Residential
---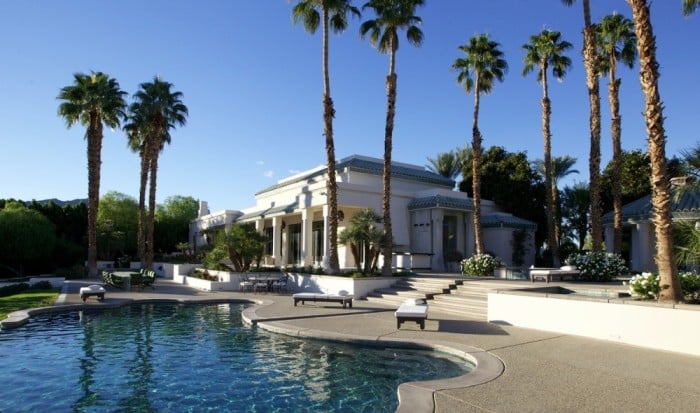 Often referred to as the "Gem of the Desert," La Quinta is known for its world-class golf courses and breathtaking views of the Santa Rosa Mountains. Taken by the city's charms, legendary entertainer Merv Griffin chose to build his palatial Merv Griffin Estate here in 1986. The Moroccan-style home was originally built as an equestrian estate, and included facilities where Griffin bred numerous winning thoroughbreds (including a Breeder's Cup champion in 2006). At the home — which sleeps up to 27 guests — one can take in the stunning views while paddling in Griffin's paddle boat, which the media mogul loved to do up until his death in 2006. Guests are also encouraged to ask the property's staff about Griffin; in turn, they are said to be more than happy to share stories about working with him. No word if recent renters Paris Hilton and Snoop Dogg asked for a history lesson.
From $5,000 per night via Beau Monde Luxury Villas.
---
For celebrities seeking solace from zoom-lensed paparazzi, the tiny, 1000-acre island of Parrot Cay in the Turks and Caicos offers a refuge that is as exclusive as it is sumptuous. Superstar visitors to the sandy tropical paradise include Barbra Streisand, Julia Roberts, Tom Cruise and Janet Jackson. Most visitors to Parrot Cay stay at the extremely posh Parrot Cay Resort, but should you seek more A-list accommodations, consider renting actor Bruce Willis' oceanfront compound. Situated on six acres, the property consists of one main residence and two guest villas. As per all things Parrot Cay, the home is tastefully and understatedly outfitted with teakwood furniture and whitewashed walls. Willis loves the property so much that he chose it as the site of his 2009 wedding to model Emma Heming. His ex-wife Demi Moore was one of the reported guests, proving that the sunny Caribbean surroundings can even help thaw frosty ex-relationships.
From $4,950 a night via Villas of Distinction.
---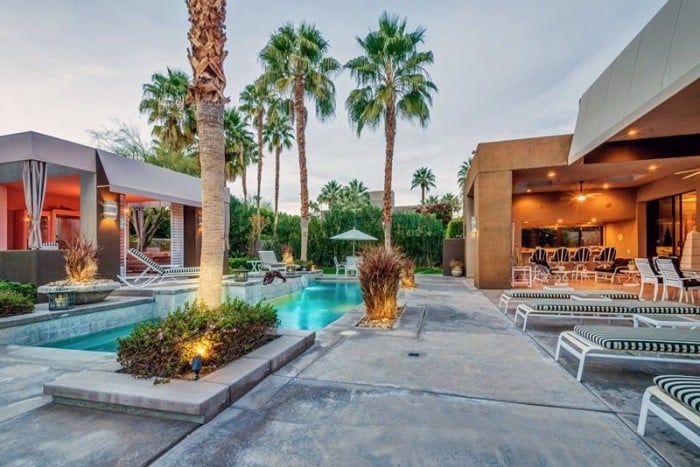 Screen legend Elizabeth Taylor is yet another Old Hollywood celebrity who succumbed to the charms of Palm Springs, California. There, Taylor purchased a 4-bedroom, 4.5-bathroom home in 2004; she owned and used the property until her death in 2011. Taylor's walled and gated estate — dubbed Casa Elizabeth — centers around an outdoor pool and open-air casita with gorgeous views of the San Jacinto Mountains. Taylor fans will be pleased to learn that the home's interiors are still filled with the star's own possessions (no comment on the interior design other than it leans on the campy, glamorous side). And for guests looking to have the most authentic Taylor experience of all, the home is available for use as a wedding venue.
From $560 per night via McLean Company Rentals.