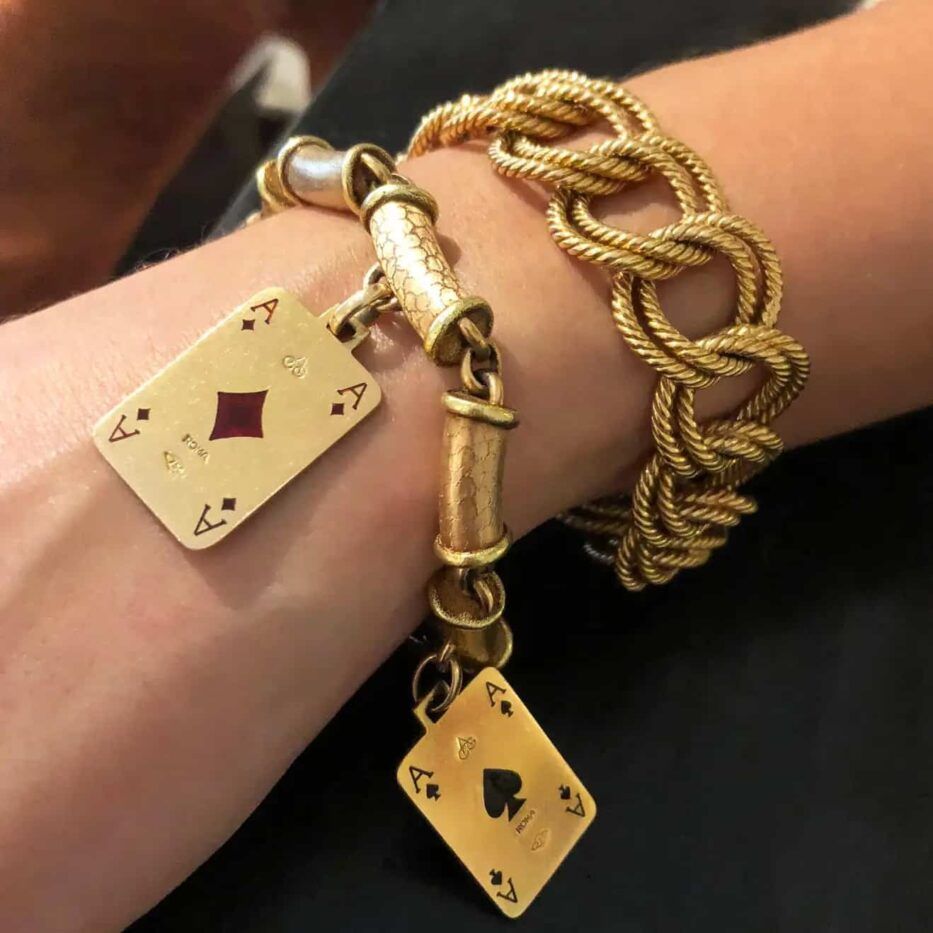 If you're a jewelry lover, what better way to commemorate big and small occasions, and all the moments in between, than with a charm bracelet or necklace? Instead of journaling with pen and paper, you can record your most precious life experiences in a language of gold and gemstones.
These intimate and personal pieces reflect who we are, what we're doing and how we're feeling at different times along our journey. They represent friendships and hobbies, as well as births, graduations and anniversaries, but they also speak to our aspirations, beliefs and hopes.
For generations, royals, celebrities, style icons and our own grandparents and parents have been recording their personal histories through these miniature milestone markers. As children, we played with the bracelets of our family members, hearing them jingle and jangle while we learned the story of each charm. And if we were lucky, some of our favorites were passed down to us as heirlooms.
---
Charm Jewelry through the Ages
Charms have evolved over the centuries, but whatever their shape or material, they have retained their magic.
"Charm bracelets have reportedly been around since prehistoric times, with natural elements such as teeth or shells thought to keep bad spirits away," says Alice Kwartler, who specializes in charms as well as signed jewelry.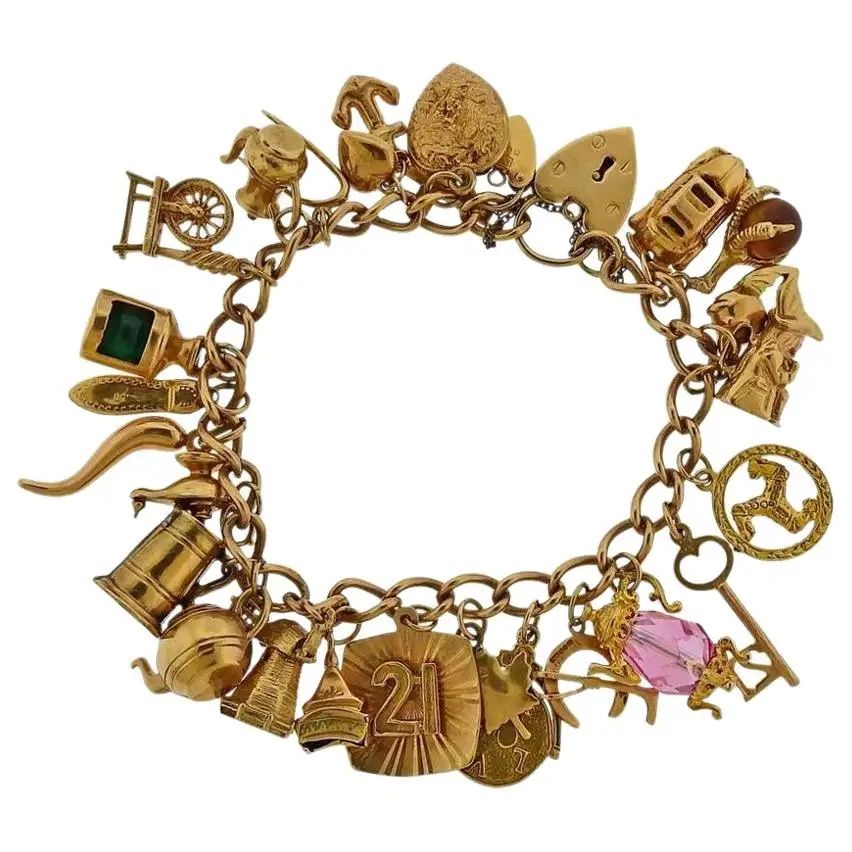 It wasn't until the 19th-century reign of Queen Victoria, however, that charm bracelets became all the rage.
The Victorian penchant for symbolic jewelry lent itself perfectly to charm bracelets. The Queen's two most significant examples were a version with an enamel heart for each of her children and another with gold oval and heart-shaped lockets and medallions embellished with black enamel, created as a mourning jewel after her beloved husband, Prince Albert, died.
Says Kwartler, "Queen Victoria allowed the world to see who she was, revealing what was personal to her, a tradition we carry on when we create our charm bracelets today."
In the decades following the Victorian era, the popularity of charm bracelets continued even as the charms themselves changed in terms of look, size and preferred materials. Here's an overview of the predominant styles of the 20th century.
Rona Bierrum, of Shiny Pretty Things, a specialist in antique and vintage jewelry, describes charms from this period as relatively small in scale and ranging from the whimsical and tongue-in-cheek to the sophisticated and elegant.
Brad Wilson, of Wilson's Estate Jewelry, concurs: "They were created in platinum, often with different gemstones and diamonds in one dainty charm," he says. "And they had a sense of playfulness yet were vivid miniature works of art."
During World War II, charms were larger and often served as keepsakes, sent by American soldiers back to their sweethearts in the States. The women at home, meanwhile, purchased charms with patriotic motifs and military insignia as they waited for their men to return.
"The '50s and early '60s heralded the return of celebratory and sentimental charms," says Kwartler. "After World War II, there was a new lighthearted feeling that spread throughout the U.S. During these two decades, there were charms that represented every minor and major occasion."
Bierrum also notes that the "mid-20th century saw a rise in travel and tourist charms, as family vacations and overseas holidays became part of the lifestyle."
Two types of charms related to travel enjoyed popularity: those that represented the places you visited and those that acted as talismans to keep you safe on your journey. St. Christopher — the patron saint of travelers — was interpreted in a range of styles, often with the invocation "Protect Us."
During the freewheeling late '60s and into the '70s, astrological charms and gemstones worn as amulets were the major trends. With the advent of the disco era and the feminist movement, however, more minimal jewelry was called for, and charms saw a dip in interest and sales. The decline lasted until the 1990s, when the jewels experienced a renaissance that continued into the new millennium.
---
Makers to Know
Throughout the 20th century, renowned jewelry designers like Cartier, Van Cleef & Arpels, David Webb, Paul Flato and Tiffany & Co. produced all types of charms. One of the biggest makers was Henry Dankner & Sons, known for its large, intricate charms, particularly ones with moving parts.
Wilson and Kwartler observe that signed charms from Van Cleef & Arpels, Cartier, Tiffany & Co. and Dankner are always desirable and often sell quickly.
---
Collecting Your Own Charms
"It's not just the charms a woman chooses that tell her story" but the meaning she assigns them, says Monica Rich Kosann, who designs modern charms with a vintage vibe. "For example, the compass charm that I make is all about the next great adventure for me. For a friend, it means guidance and finding her direction."
Over the past five years, necklaces have become the new way to show off your charms. The trend of layering and mixing antique and vintage charms with modern ones has breathed new life into a classic sytle. "The necklaces are a wonderful backdrop, as the charms can be displayed more visibly, one by one, closer to eye level," explains Kwartler. "You can reveal your life story at a glance."
Bierrum agrees, adding, "And you can wear everything closer to your heart, hold on to them like talismans."
As for styling, Kwartler says that "people usually start with a larger 'anchor' charm, which is most significant, in the center spot."
"Don't be afraid to mix metals, scales and vintage and contemporary styles," Kosann advises. "How you combine them will add to the expression of individuality and emotional depth."
The most popular charms currently are "those that speak to strength, resilience and empowerment," reports Kosann, who also notes the prevalence of "charms that symbolize protection, spirituality and good luck; astrological and celestial motifs; and charms that can be engraved with a loved one's initials.
"I think of charms like tattoos," she continues. "You wear them every day. They are your inspiration, protection and strength and provide confidence and meaningful markers of who you are and where you have been. I never leave the house without my charm bracelet. Each charm was chosen to embolden me, reflect my beliefs and hold my favorite moments close."