There was a time in your life when creating a nonpareil gift for Mom was as simple as crushing a few rose petals, steeping them in water and calling it perfume. (Particularly virtuous moms might have even dabbed a bit of your concoction on their wrists before going out to a fancy dinner.)
If you're reading this, that time has probably passed. But you may still have that imaginative, DIY spirit, spurring you on to craft something special — perhaps even a one-of-a-kind heirloom special. If so, you might want to consider bespoke jewelry.
Experts have some straightforward tips for those thinking of designing bespoke jewelry with loose stones:
Be careful but creative.
Stick with vetted, experienced, GIA-graduate gemologists.
Decide whether the piece will be for daytime, evening or anytime.
Consider the recipient's lifestyle in choosing the stone — for a particularly active person, for instance, a harder gem might be better.
And always do your research.
"The more you know about the gem you select," says Tamir Pinchasi, of Merkaba Jewelry, "the more you will appreciate and cherish it."
For this Mother's Day, we asked three jewelers who deal in loose stones and bespoke designs to come up with special ideas for moms and mother figures. Read on for insight into their processes and inspirations.
---
Kamyen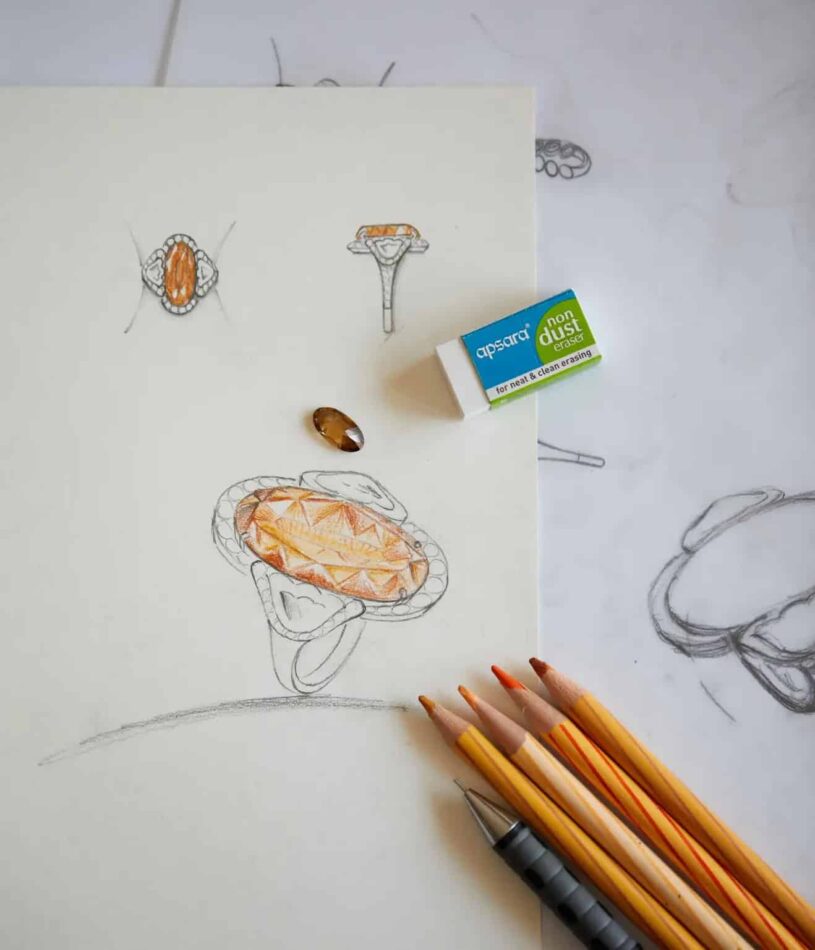 Creating a bespoke Mother's Day jewelry design was an ideal challenge for Kamyen, whose lead designer, Faraz Manan, is a mother herself. The firm, run by three generations of the same family, launched in India and the Middle East in 2010 and expanded to the Western market in 2017.
"Everyone does a little bit," says Keshav Hirawat, one of Manan's three children. "But we couldn't do it without her."
So, what's the story behind this gorgeous ring? First, it took a family. Once the decision was made to use a brown diamond, explains Hirawat, "my father, brother and I went through our entire inventory, hunting for the right stone." They found perfection in a 3.5-carat fancy deep orange-brown oval modified brilliant-cut diamond. "We sent her a picture with a message: 'Mom, you know what to do.' "
The choice of brown diamond was not merely aesthetic — it was a tribute to the rich Hindu culture of India and its symbolism. Explains Hirawat, "A brown diamond signifies a sense of stability and evokes a connection to our roots and to calmness, which are attributes of a mother in our culture."
And, of course, the ultimate mother is Mother Nature. "In Hindi," says Manan, "Mother Nature is our first mother."
---
Sarosi by Timeless Gems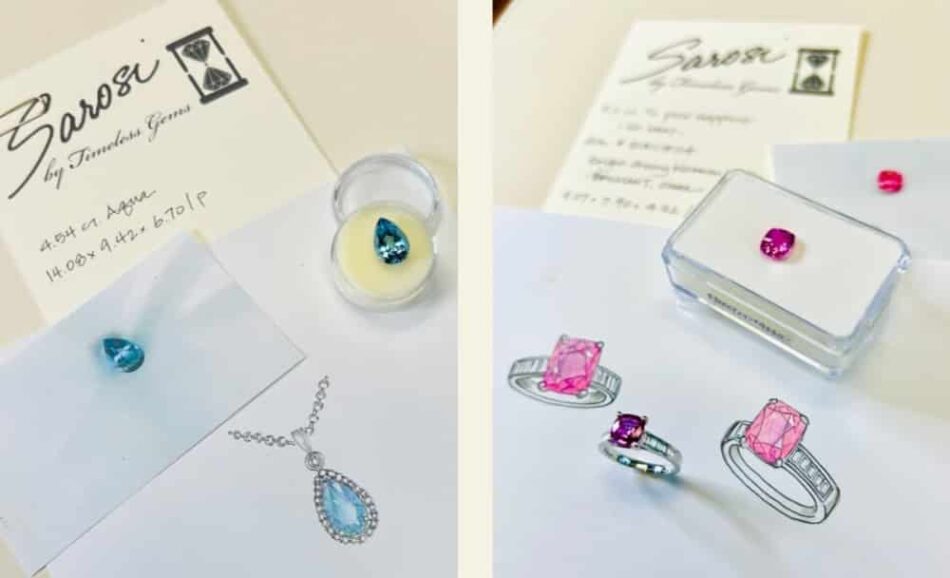 "Color makes people happy," says Kim Hurlbert-Sarosi, of Sarosi by Timeless Gems, noting that when designing with precious gemstones, "for me, it's all about color."
That goes double for the Mother's Day jewels she created not just for current moms but for expectant ones as well. Inspired by calls from dads-to-be in search of the perfect gift, she designed a pink sapphire ring and two teardrop necklaces set with a pink rubellite and a blue Madagascar sapphire. Perfect presents to "celebrate," as she puts it, "a most special delivery."
The designs are signature Hurlbert-Sarosi. "We typically either use a single larger stone or a combination of colors that relate to or contrast with each other," she says. One popular example of the latter style is a "mother's ring" set with the children's birthstones.
A graduate of the Gemological Institute of America and fellow of the Gemmological Association of Great Britain, Hurlebert-Sarosi enthusiastically shares her knowledge of precious stones with customers considering different incarnations of her designs.
"Sapphires, spinels, tourmalines and garnets come in shades of pink, while blue gemstones include sapphires, aquamarines, zircons and topaz," she explains. "The best colored stones usually have a medium saturation — they are not too dark and not too light. They have a pure hue, without gray or brown overtones." Finally, inclusions can't be seen with the naked eye.
Hurlebert-Sarosi's passion for colored gemstones was shared by her late husband, Andrew Sarosi, who passed away a decade ago. In her 40 years in the business (and his 50), the couple created a vast inventory of all types, sizes and shapes of stones, sourced from a network extending around the world.
"Before the pandemic," recalls Hurlebert-Sarosi, "on any given day, this office would look like the United Nations."
---
Merkaba Jewelry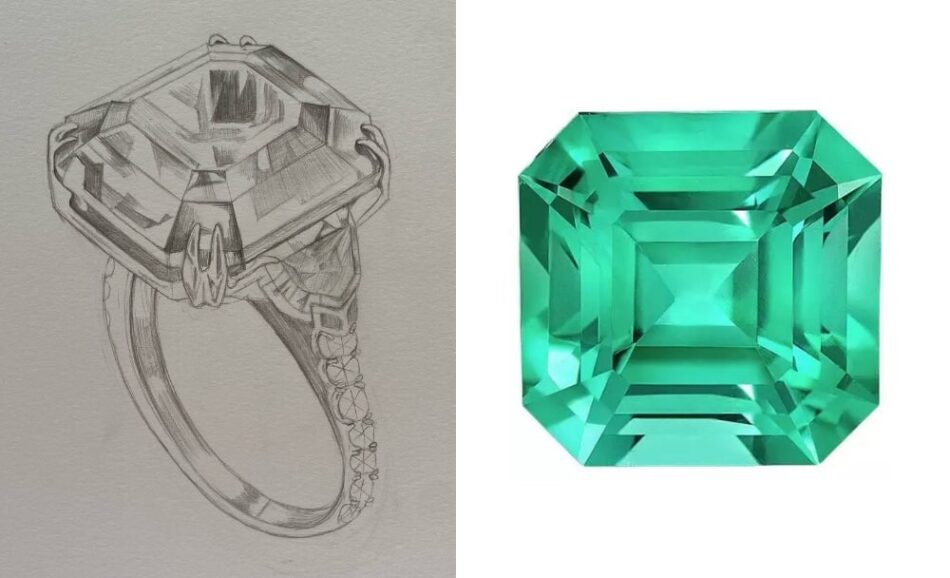 "Bringing out the best of a gem takes a lot of experience," says Tamir Pinchasi, of Beverly Hills' Merkaba Jewelry — appropriately, if unintentionally, making designing bespoke jewelry sound a bit like raising a child. His "ultimate heirloom creation" is a classic three-stone design featuring a 2.14-carat untreated Colombian emerald.
"The center gem is the crown jewel," explains Pinchasi, a GIA graduate, adding that "proper three-stone rings are the most difficult to execute. They are very labor-intensive, and there is no room for mistakes: Any deviations in symmetry will be noticeable. It must be perfection."
Perfection evolves from a series of small decisions. Each design "is dependent on the individual's personal lifestyle," explains Pinchasi, pointing out that this stunner for Mom could be worn for evening or "mindful, everyday wear." To properly customize the design, "if possible, we like to meet the client in person, but either way we develop an understanding of our client's aesthetic and lifestyle."
For this bespoke design, he adds, the best metal is platinum: "It does not corrode or darken. Its resilience, strength and rarity are unmatched. Platinum self-burnishes with time and requires no maintenance." No maintenance, indeed! What mother wouldn't appreciate such a convenient gift?