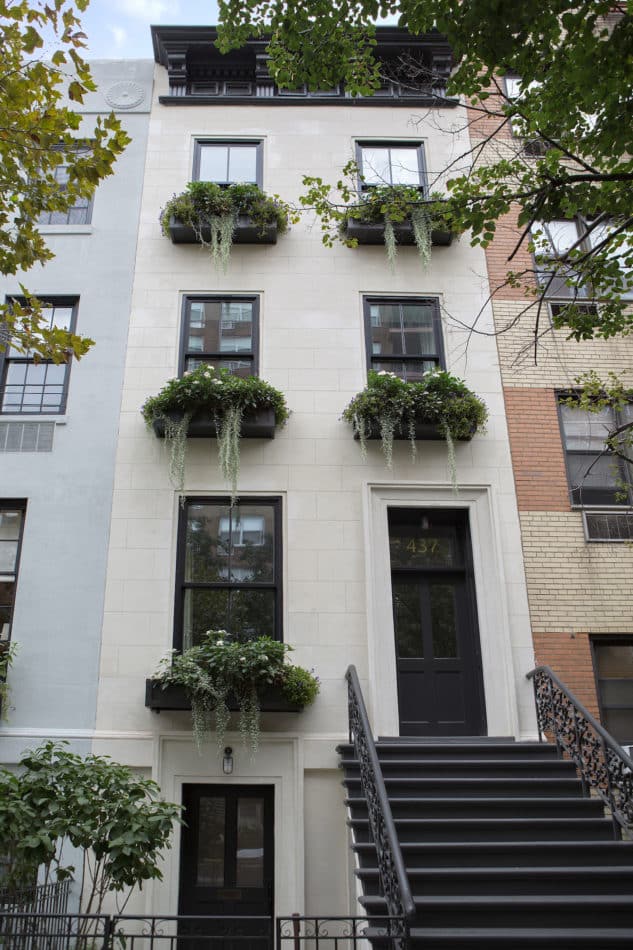 New York interior designer Fawn Galli was eager to help a family create a simple home with a contemporary feel when they purchased a historic townhouse on the Upper East Side. Galli, who had previously worked with the clients on their downtown loft, says that with this project, "the most challenging thing was bringing light into a darker townhouse space."
After a much-needed gut renovation by RSVP Architecture Studio (now called Combined Architecture and Interiors), Galli and senior designer Lisa Barglowski took the lead in reimagining the three-bedroom house. The pair expertly completed the task, adhering to a nature-inspired palette of pastel hues like mint and sky blue, with occasional pops of turquoise, mustard yellow and red rose.
There are also signs of cosmopolitan tastes. In the library, a vase by Italian ceramist Guido Gambone mingles with a Louis Philippe–style mirror and a Danish modern armchair, while custom sofas are upholstered in textiles collected by the couple on their many global adventures.
In one young daughter's bedroom, red-and-white hand-flocked wallpaper by British designer Marthe Armitage is juxtaposed by rattan nightstands and the turn-of-20th-century home's original white marble fireplace.
"The inspiration there was something subtle and refined and comfortable," says Galli. "I worked with artisans to create the space, and that makes it more soulful." Take a look at the rest of this singular family home.
---
Entry
Galli simply furnished the foyer with a three-seater bench by John Stuart — "the upholstery is very durable for a family," she notes — along with silver coat hooks and a small piece of art. "It's modern, but not at all cold," she says of the Danish modern furniture the family collects.
---
Living Room

Throw pillows upholstered in vintage textiles flank either side of a sofa covered in Rive Gauche Mohair fabric by Holland & Sherry. To bring in more light, Galli strategically placed a gilded Louis Philippe–style mirror on the mantle and commissioned Distinctive Windows to craft light-green drapes out of "silky" New Khmer fabric by Jim Thompson. The chandelier is by Lindsey Adelman.
---
Library

With only one source of light coming in from a window, Galli chose a cool color palette to brighten the space. The vast collection of books, Danish modern armchair and side chair, along with the Bauhaus table lamp by Christian Dell, make this an ideal reading room.
---
Kitchen

The sparsely furnished kitchen has a warmth to it, thanks to its honey-colored cabinets. But the real stars of the show, aside from the knockout view of the garden, are the Beat pendant lights by Tom Dixon. "I liked their stylish, modern sensibility," says Galli. She completed the island with counter stools covered in creamy white leather.
---
Dining Room

"This room is a good example of why the townhouse is not minimalistic," says Galli, noting the family's playful art paired with a 19th-century dining table, contemporary chairs and a hoop-shaped light fixture. "Not having too many objects in the mix helps."
---
Powder Room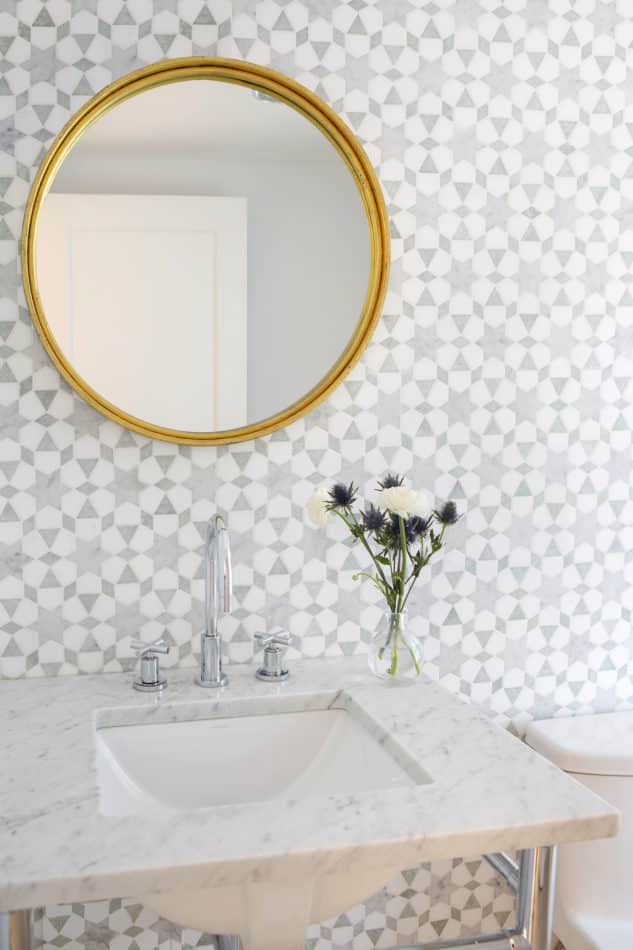 "The family travels around the world and wanted something ethnic" on the bathroom wall, says Galli. "I kept it subtle, so there's a pattern but it lacks color." The pedestal sink and Soane Britain's Hand Beaten Circular mirror keep things "light, bright and elegant."
---
Daughter's Bedroom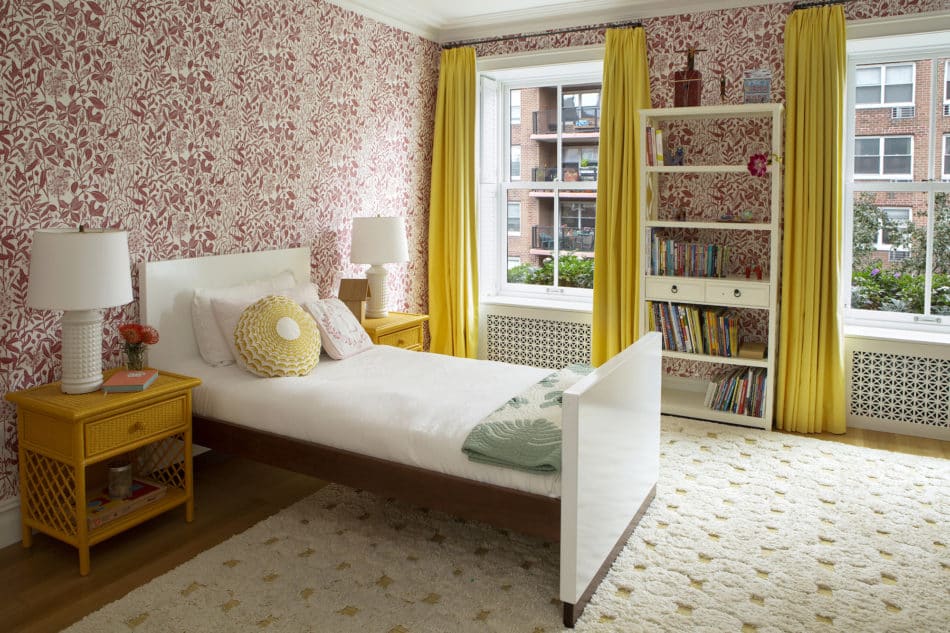 Clematis Cherry Red wallpaper by Marthe Armitage for Hamilton Weston in the U.K. sets the mood for this enchanting girl's bedroom, which Galli hoped would capture "the spirit and wonderment of childhood."
The hand-flocked wallpaper struck her as poetic and dreamy, while the rattan furniture felt "sweet and charming." With the white marble fireplace left finely intact, Galli made it a showpiece with a "dusty pink" backdrop.
---
Master Bedroom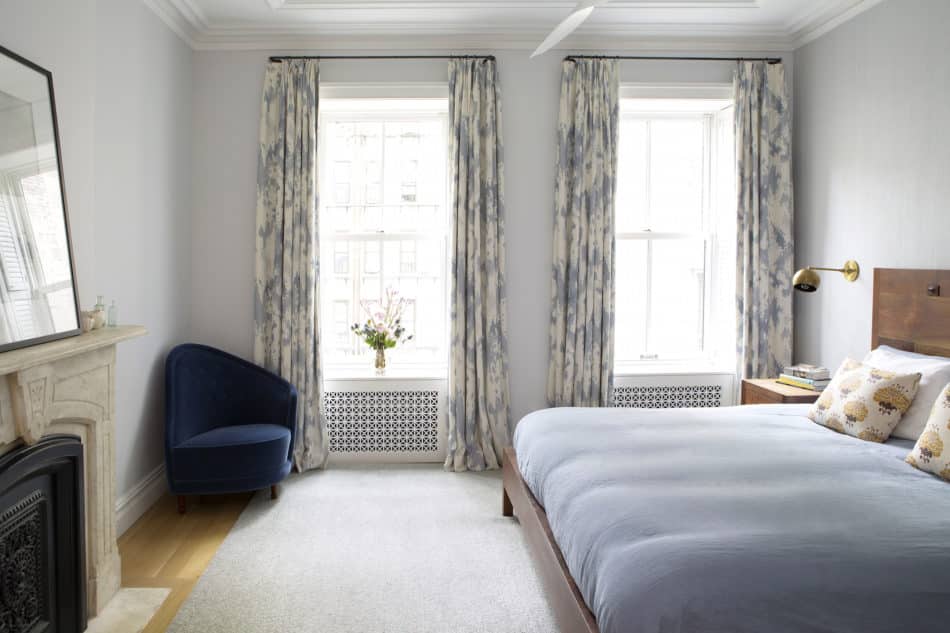 Aside from the custom-upholstered chair by Carl Cederholm, the designers kept the master bedroom fairly quiet. A rug by Stark sits beneath a bed swathed in blue linens and "tried and true" brass sconces. The pillows were covered with textiles from the couple's collection, providing a contrast to the textured wallpaper.
---
Patio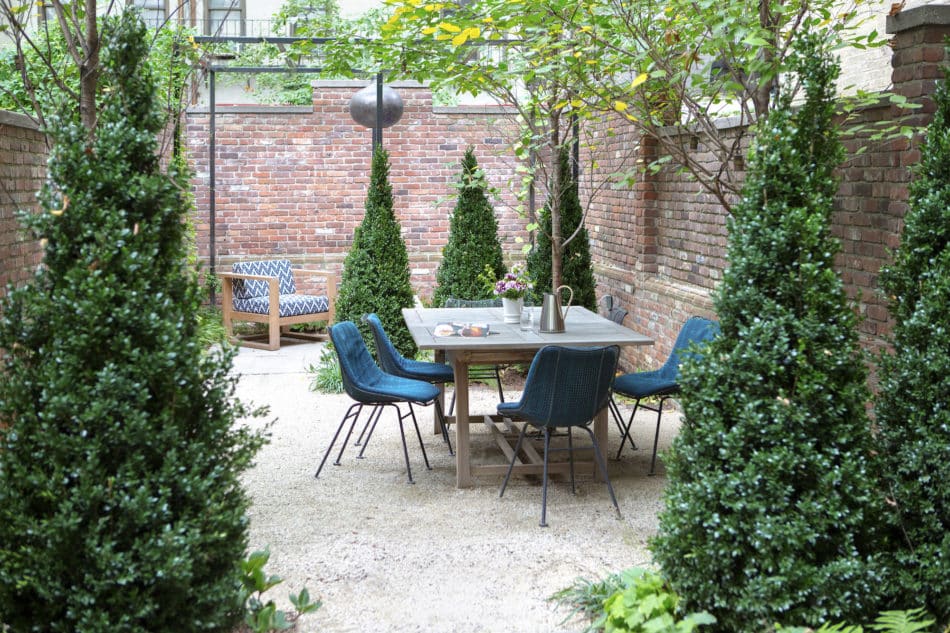 "It's really a place where the family has dinner almost every night," Galli says of the patio, which leads to the kitchen. To extend the home's natural aesthetic, she sought to create a "warm, modern feeling with the blues and greens" and weather-resistant furniture. Here, a cluster of metal Sculptura side chairs by Russell Woodard surround a teak dining table.