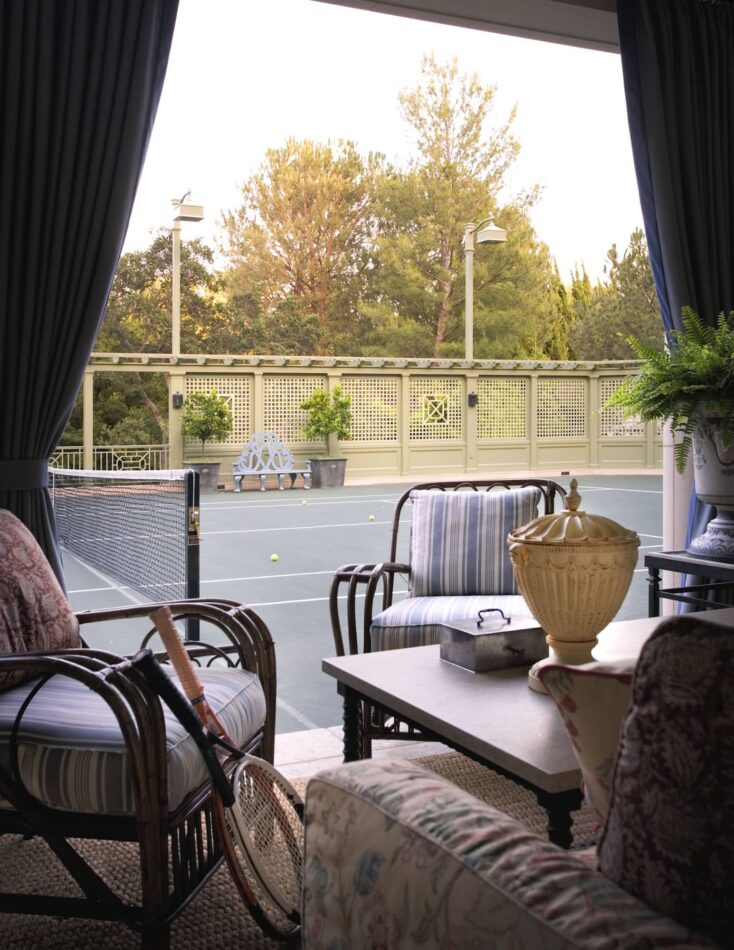 Outdoor spaces are having a major moment in home design. Designers are working to ensure that interiors flow into the exterior, creating a seamless transition into outdoor areas that serve as quiet retreats for their clients.
"People prefer to be outside these days," says Leslie Phillips-Greco, principal of the Texas firm Round Table Design. "We have seen a shift as outdoor spaces have become the center of the design process."
Los Angeles–based Martyn Lawrence Bullard concurs: "Gardens should be used as an extension of our living rooms, finished with super-comfortable furnishings that are movable, allowing you to redesign the space easily to accommodate different needs and functions."
We asked these designers, plus two others, to tell us about their most successful outdoor spaces, why they work, what makes them special and how they can be translated to your own home. Enjoy!
---
Round Table Design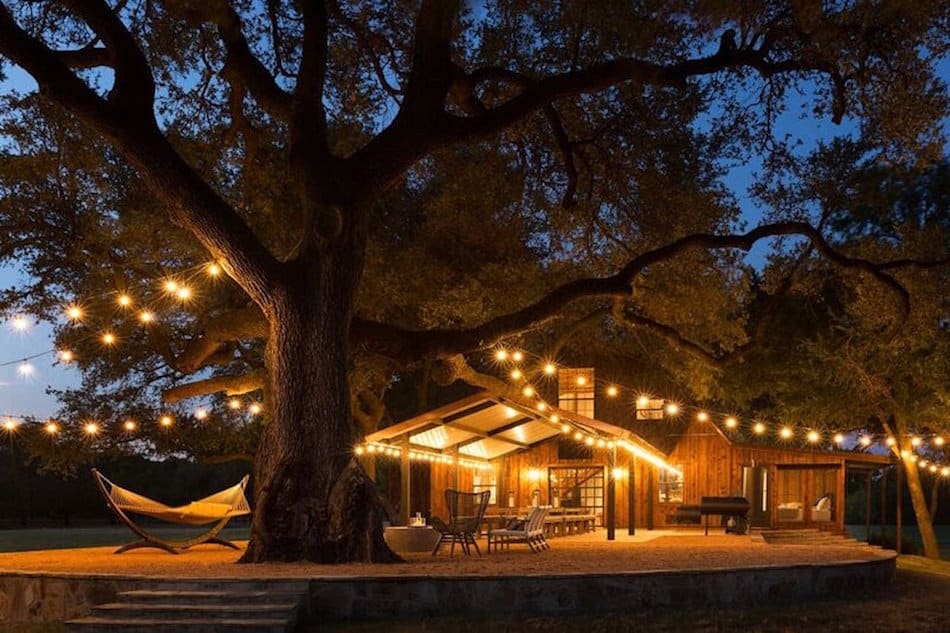 "The river cabin patio is the heart of the property," Round Table's Leslie Phillips-Greco says of this Waco, Texas, home. "It was designed for entertaining and relaxing, paying special attention to where the hot Texas sun rises and sets, to maximize the time that it can be used in all seasons. The property has Brazos River frontage, and we wanted to catch the breezes and views of the river — not to mention those gorgeous oak trees that Texans cherish.
"My clients both attended Baylor University, and now two of their triplets attend as well, which means the family loves to entertain during football season. With that in mind, we chose three large communal tables and benches that will seat roughly 25. The fire pit and outdoor heaters mean it's a useful space year round. We wanted to add a little fun with the free-standing hammocks, and the string lights give a cozy ambiance."
---
Alexander Design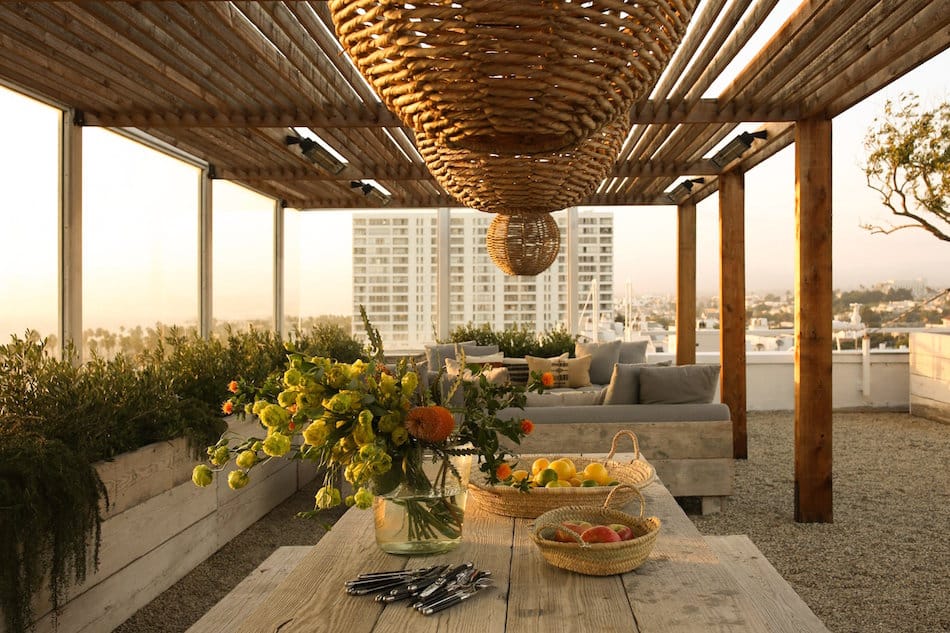 "We continued the style and mood of the rest of the loft onto the roof — fun, playful, masculine, neutral and textured — while taking advantage of the views of the Santa Monica pier, beach and city," Vanessa Alexander says of this Venice, California, penthouse. "It is spectacular and a huge space, which made it challenging to create communal moments. We craned huge 100-year-old olive trees up to the roof, which was terrifying, but it was incredible to see them fly up there! These trees were a big part of dividing and warming up the space, and shade is crucial on a rooftop.
"There is a lounge area with custom communal chaise longues raised on a platform, so you can still take in the view when lying down and basking in the warm California sun. We also incorporated a bocce court made of decomposed granite, plus a yoga platform and an outdoor kitchen with a dining area under a pergola. You can essentially live on the roof!"
---
Kylee Shintaffer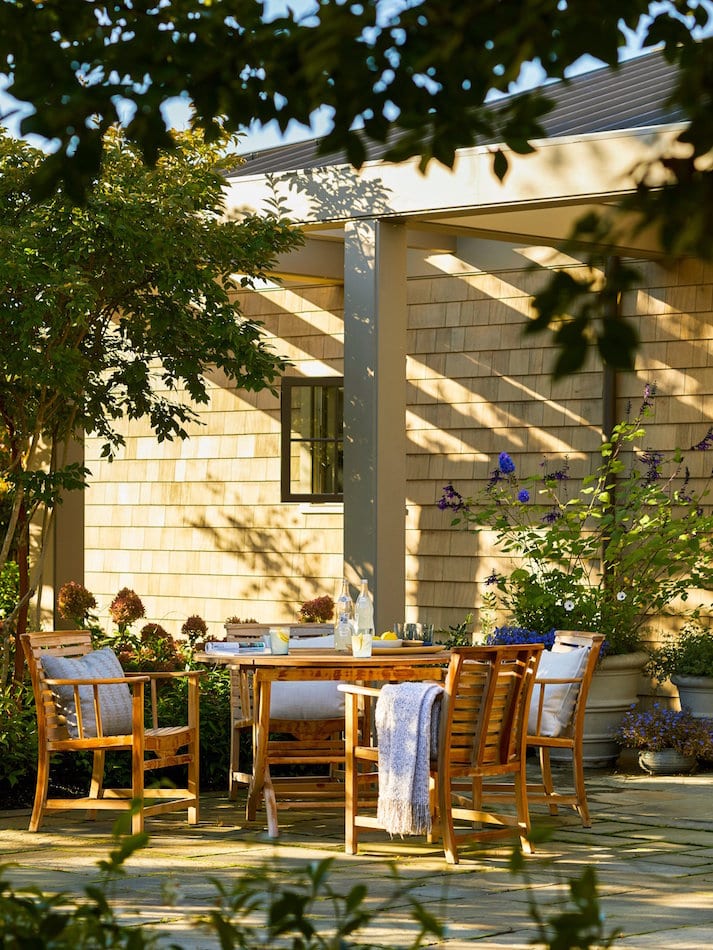 "Surrounded by buildings on three sides, this courtyard is located at the front of the home, and it captures sun throughout the morning and early afternoon," Kylee Shintaffer says of this home locate on one of Washington's San Juan Islands. "In addition to providing a welcoming sense to the home, it offers a sheltered place that is protected from the wind.
"After long, rainy winters in the Pacific Northwest, we try to get as much out of our beautiful summer weather as we can. But sometimes those gorgeous summer days end with cool nights, so I love having throws nearby to make the evenings stretch as long as possible. Votives, serving trays and music are also outdoor entertaining must-haves!"
---
Martyn Lawrence Bullard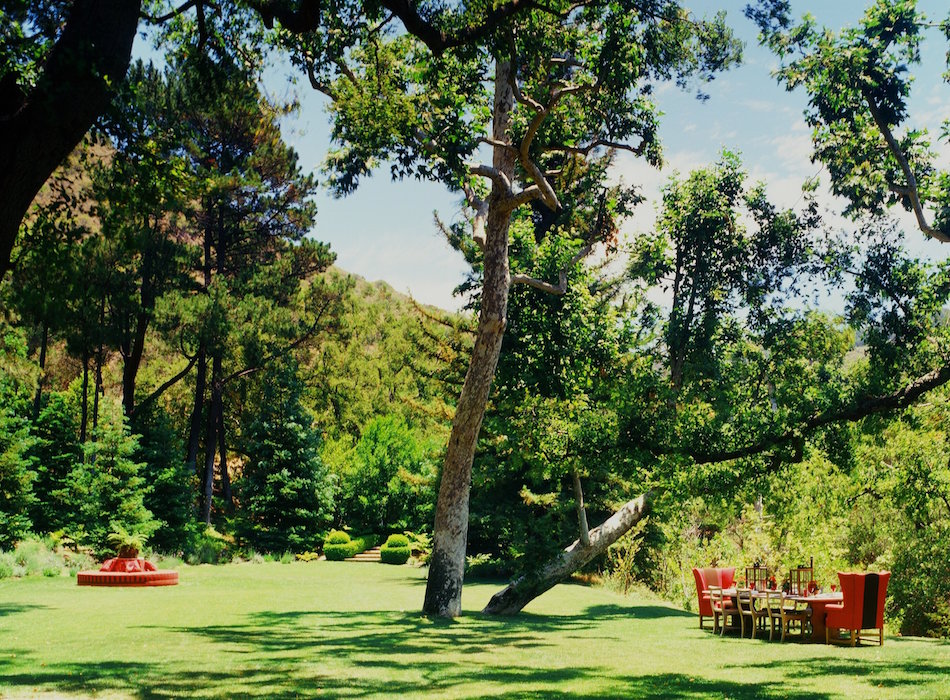 "This space and its furnishings were designed to feel like a secret garden," Martyn Lawrence Bullard says of this California estate. "Situated on a 26-acre ranch in Malibu, there are different areas with different feelings and uses. This part of the garden is used to entertain and have parties in. I created a long table with giant wing chairs that feels very Alice in Wonderland, for fun lunches and afternoon teas. The huge, 15-foot round opera sofa was designed to anchor the space and be a truly fanciful and monumental moment within the garden.
"All the furniture is created to move easily, and we included essential accessories like warm throws to keep you cozy when it gets cooler and garden torches for atmosphere and romance. Additionally, we hid electrical outlets amongst the shrubbery so you can plug in an outdoor projector for outside movie viewing."