The man cave is a coinage with a decidedly negative connotation. It conjures up images of mismatched sofas, overstuffed armchairs and comically over-proportioned television sets clustered into a lightless room with a sub-standard approach to hygiene. Essentially, the man cave is an interior design term that refers to the absence of interior design.
But we're here to address that syllogism. In an effort to correct against the perception that masculinity and thoughtful, refined interior design cannot co-exist, we've rounded up a gallery of 25 images that prove just the opposite. We've dubbed it the "Gentleman's Cave." The below spaces — which range from contemporary to traditional, and belong to men as diverse as James Bond and Norman Mailer — exemplify the qualities of our favorite men: strength, warmth, elegance and style. Scroll down to see the spaces.
---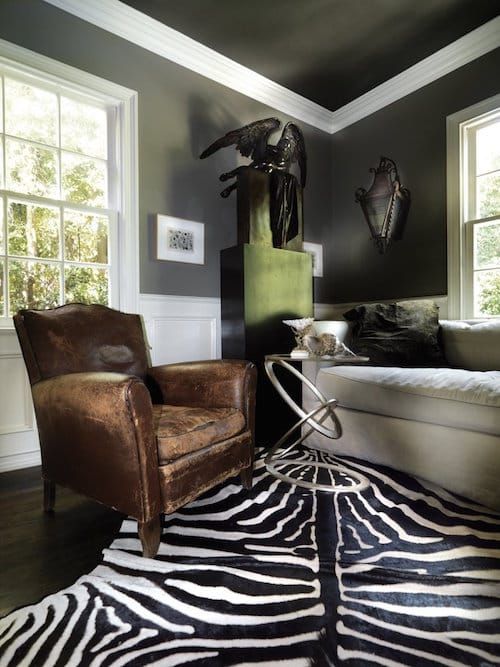 When renovating his own West Hollywood bungalow, interior designer Philip Nimmo, an avid antiques hunter, decided to mix vintage finds with custom pieces. Photo by Roger Davies
---
Taxidermy is used to spectacular effect in this Los Angeles home. Image via Apartment Therapy.
---
Designer Boyd Ferguson set out to emulate "Old World safari style and hunting camps of the 1920s" in this bedroom. See more in Introspective.
---
Left: Dutch designer Fons Cohen transformed a former Amsterdam church into a home for his family. Image via Trendland.
Right: British architect Chris Dyson preserved the industrial qualities of a former warehouse when he converted it to a residence in the Shoreditch neighborhood of London. Photo by Peter Landers.
---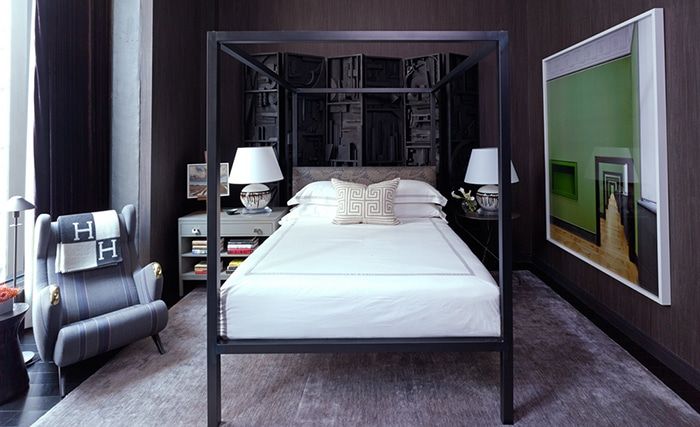 Interior designer Robert Passel called this Manhattan project a "masculine downtown sanctuary." We couldn't agree more.
---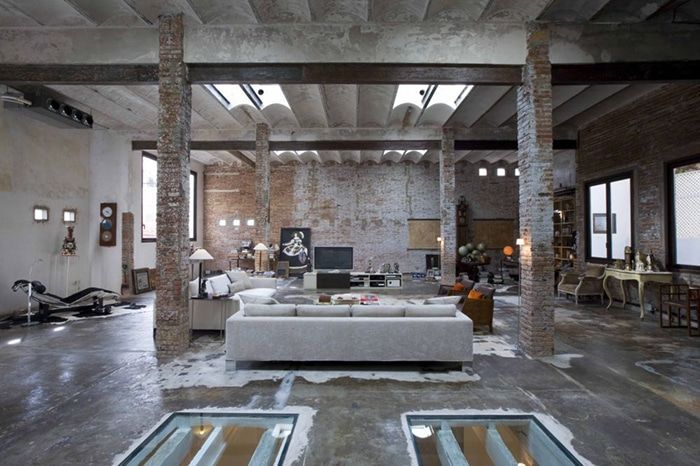 Designed by Spanish architecture firm Villa Blanch, this stripped-down Barcelona loft boasts a cool, industrial pedigree — the building used to house a printing press — and the kind of grand proportions that make a big-screen TV look appropriate, not silly. Photo by Núria Vila.
---
Stained floor boards, a moody color palette and lush fabrications add up to create one incredibly seductive bedroom. Design and photo by Italian furniture studio Minotti.
---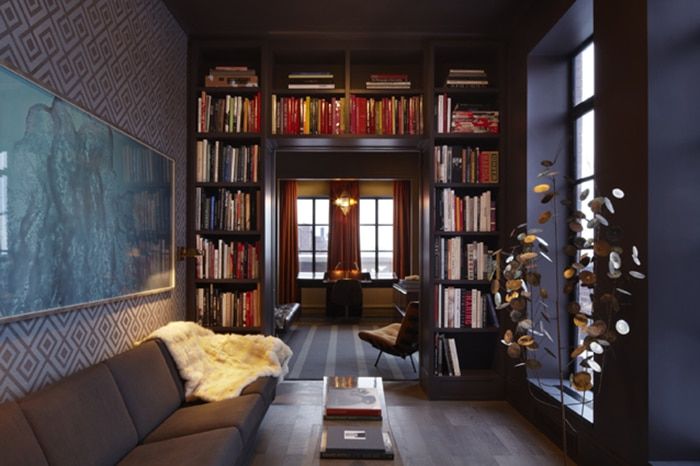 Janson Goldstein created this richly appointed library for a penthouse in Manhattan's Chelsea neighborhood. Photo by Mikiko Kikuyama.
---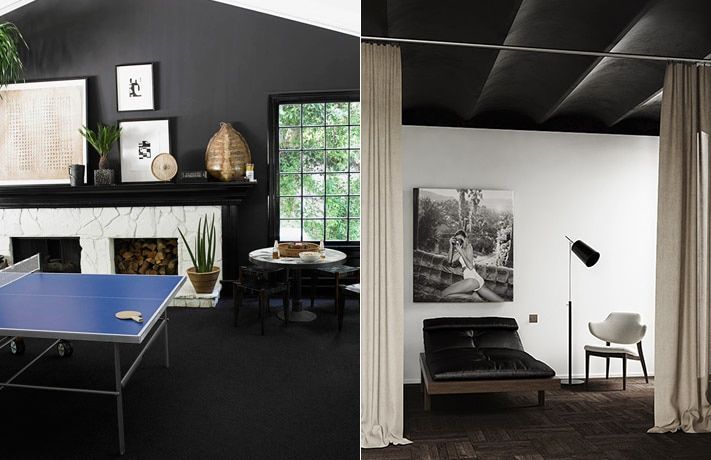 Left: In the game room of her Los Angeles home, interior designer Windsor Smith used a soft black paint to offset the electric-blue ping-pong table — she calls it the "exclamation point" of the space. Photo by Victoria Pearson for House Beautiful.
Right: Barcelona-based decorator and blogger Katty Schiebeck used a creamy, understated palette and high-impact photography to create this spare, sexy nook.
---
"The library was the only place around where I willingly obeyed the rules." See? Even Keith Richards behaves like a gentleman in this lush, layered study. Photo by Christopher Sykes.
---
Designer Laura Santos combined a traditional billiards table with slender, midcentury-inspired seating for this lakeside retreat.
---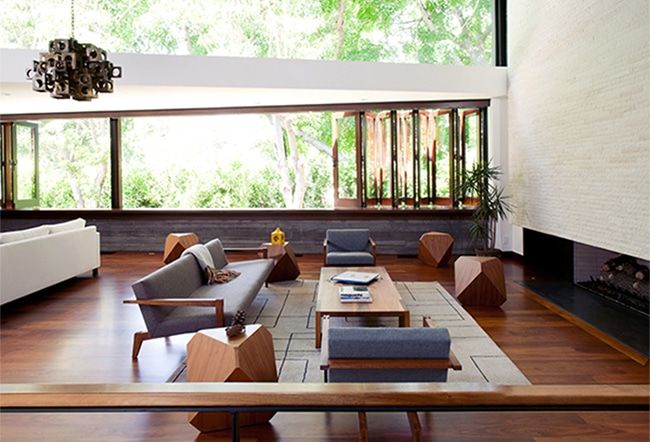 Architect Mike Jacobs used cedar and stucco to add a sense of unfussy warmth in this open, airy Los Angeles home. Please note the incredible Brutalist chandelier. Photo by Michael Wells.
---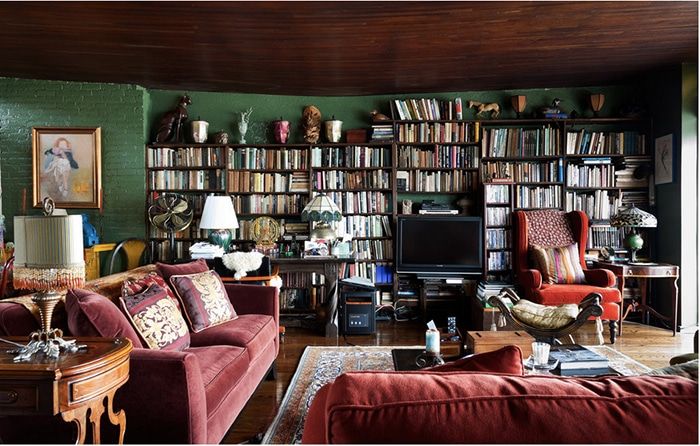 Author Norman Mailer had a famously rocky domestic life — but his book-filled Brooklyn apartment reflects a cozy charm. Photo by Trevor Tondro for The New York Times.
---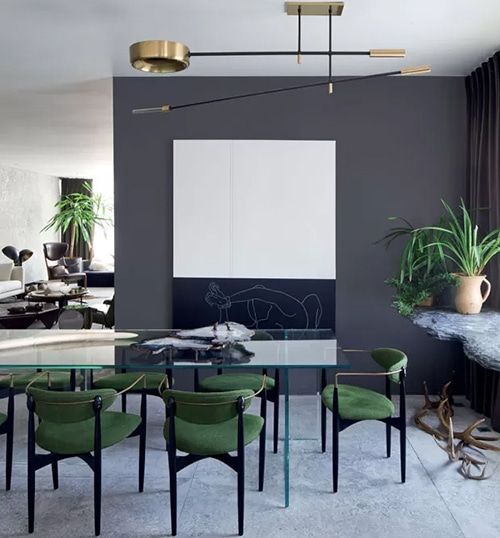 Brazilian architect Osvaldo Tenorio's stone-walled apartment very literally references the notion of a "cave." Photo from Casa Vogue.
---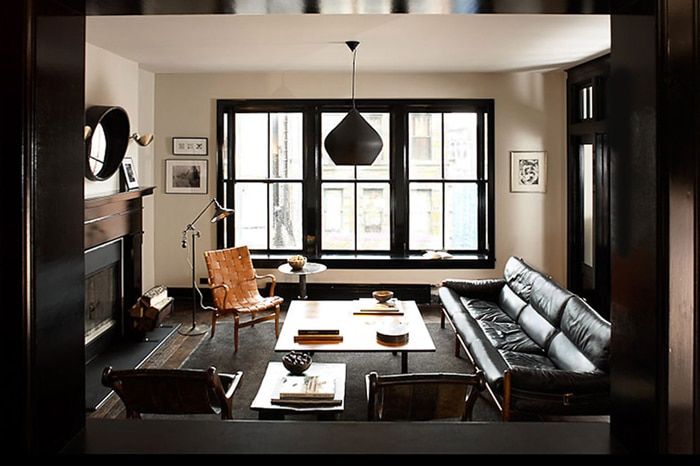 For this downtown Manhattan space, design firm Roman and Williams used high-gloss black paint to convey a sense of "materiality, rigor and craftsmanship."
---
Scott Jarrell and Kristan Cunningham — the owners of stylish boutique Hammer + Spear — bring their design expertise and eclectic taste to bear in their Downtown Los Angeles loft home. Image via Apartment Therapy.
---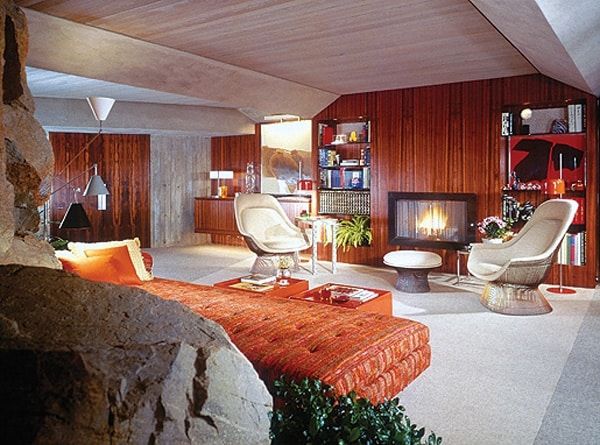 In Diamonds Are Forever, bachelor ne plus ultra James Bond holes up in architect John Lautner's midcentury-chic Elrod House. But more scandalously, the property was used in real life for several Playboy photo shoots. Photo via Palm Springs Life.
---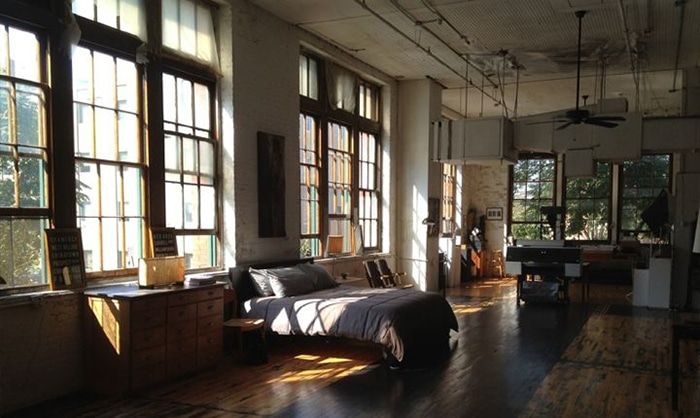 Dutiful Netflix watchers should be able to recognize this raw, stylishly undone loft apartment: It belongs to fictional photographer Adam Galloway from House of Cards. Photograph courtesy of Netflix.
---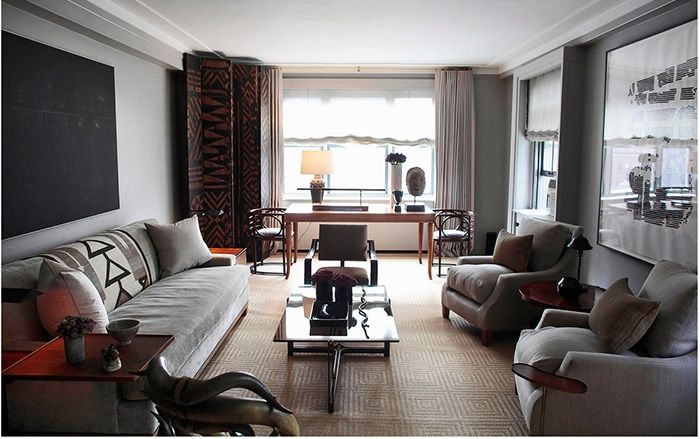 Calvin Klein creative director Francisco Costa has a pared-down Manhattan apartment with a well-edited collection of masculine accents (check out that horn chair in the foreground!). Photo by Nathaniel Brooks by The New York Times.
---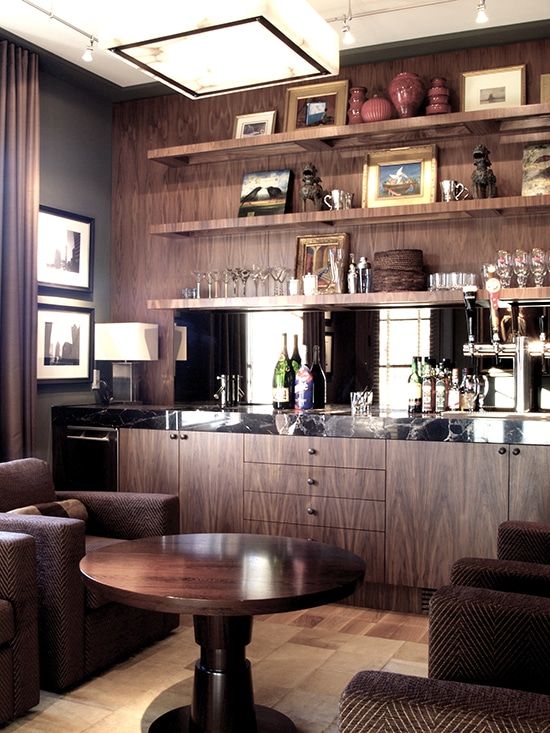 A blonde, patchwork pony hair rug and a long, horizontal black mirror elevate this home wet bar created by Atlanta-based designer Joel Kelly.
---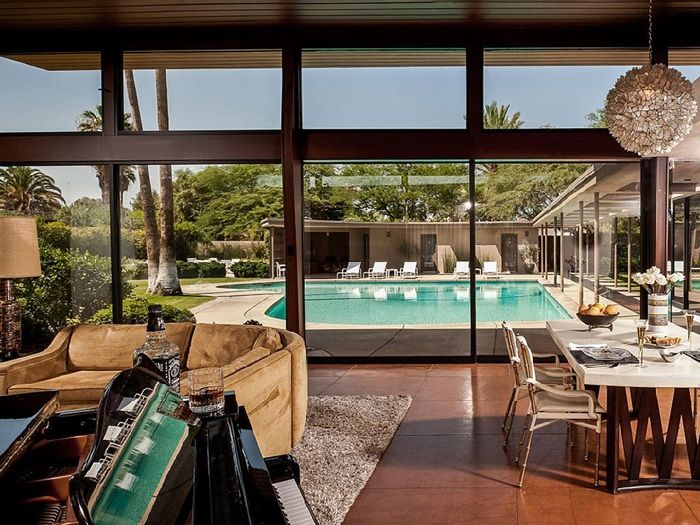 The ultimate bachelor pad? Frank Sinatra's Palm Spring home, Twin Palms, was designed in 1947 by architect E. Stewart Williams — and evidently came equipped with pre-poured cocktails.
---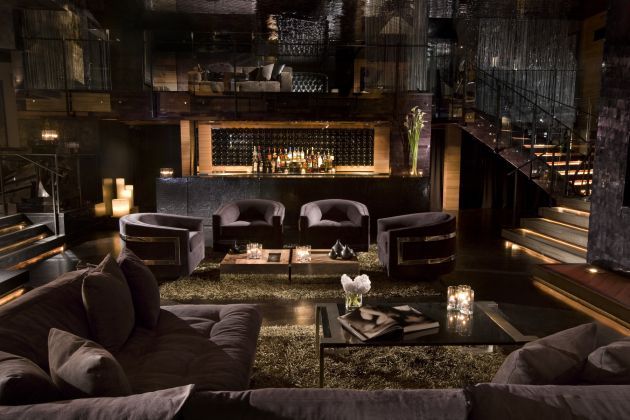 Design firm Dodd Mitchell used shag carpeting, velvet-upholstered chairs and brass accents to create this louche seating tableau for the now-defunct MyHouse nightclub in Hollywood.
---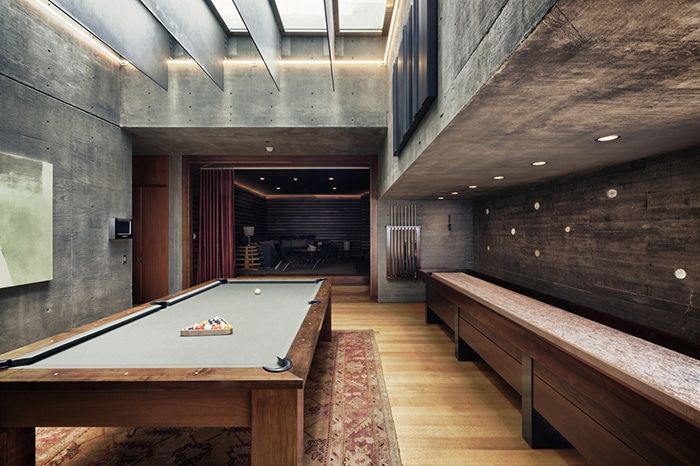 The superb, über-stark billiards room in architect Alberto Kalach's oceanside estate, Atalaya House. Photo by Yoshihiro Koitani.
---