Whether opaque or transparent, precious or semiprecious, natural gemstones are imbued with such vibrant, unadulterated hues that they're boons for any color scheme. Sapphire-blue walls, ruby-red lamps or an emerald-green couch, for example, instantly transform any space. Just as the beauty of a flashy yellow-diamond necklace can bring folks to their knees, hues that mimic their bling-y counterparts convey instant sophistication and luxury — and dressing our homes with them makes us just as excited as we get when sporting the real thing.
Decorating with jewel tones can be as easy as adding some highly pigmented bauble-hued accessories (for the shy) or covering a whole room in a deeply saturated gem-inspired shade (for the bold).
We spoke with the ever-talented Manhattan-based interior designer and author Sheila Bridges — who has worked with the most eclectic clientele (from big-name rappers to President Bill Clinton), and whose Harlem Toile De Jouy wallpaper is in the permanent collection of the Smithsonian's Cooper-Hewitt National Design Museum.
Below, Bridges offers seven useful tips for infusing any room with jewel tones, accompanied by fetching images of jewel-toned products and interiors designed to keep you inspired, including a shoppable mood board.
---
Go Big
"If you want to decorate with jewel tones, you have to commit. Tossing a pair of throw pillows onto a sofa just isn't enough, although pillows do add big splashes of color and texture when you need them. Go for an accent wall! I love paint for so many reasons. Repainting isn't expensive, and it's something you can actually do yourself. Paint is a short-term commitment. If you're tired of your wall colors, you can always change them easily and affordably.
Invest in smaller pieces of jewel-toned furniture — a pair of side chairs, an ottoman or a stool — whether their upholstery or their frames contain the color. This way, if you ever have second thoughts, you can simply remove these small pieces from the space. Going through the trouble of reupholstering a sofa and a pair of loungers isn't exactly cost-effective."
Layer Up
"Successful decorating with jewel tones has much to do with layering so that rooms don't fall flat. Layers and varying textures always create interesting interiors. Experiment by layering one rug over another — say, a large sisal or sea grass one underneath a pretty hand-knotted silk jewel-toned area rug. I love layering rougher-hewn, natural elements with jewel tones. This rough-luxe contrast always prevents bold colors from looking too precious.
And use pillows and accents that are composed of different fabrics and textures — say, a linen pillow paired with a silk one. Even if every one of your accents is the same color, different textures create a layered, thoughtful result."
---
Emphasize with Metallics
"Jewel tones look great with metallics. Using metal finishes like gold, antique or unlacquered brass, nickel and silver always emphasizes the deep hues of sapphire, ruby, amethyst and others, creating a space that looks luxe and bold."
---
Use Black and White
"Using the shades black and white in any space will dampen a jewel tone's intensity. It's a contemporary, stylized way to diminish a jewel tone's loudness, thus it almost becomes a neutral. If you cover your walls in a really brilliant shade of green, add black and white, whether it's via a zebra rug, white furniture with black trim or a powerful print. These accent colors will be what really create the mood of the space, and dictate which direction the jewel tone takes."
Create a Jewel Box
"Colors inspired by gemstones are great for creating drama in small spaces. That's what's meant when boldly colored interesting small spaces are referred to as 'jewel boxes.'
Likewise, if you use jewel tones in a larger living or dining room, you have to strike the proper balance. If walls are bright and bold, you'll also need to reintegrate the color via some upholstered pieces, too. A larger room shouldn't be as concentrated with color as a smaller one."
Temper Bold with Bold
"Here's what I love about highly pigmented jewel tones: They beget more color! It's almost like you're forced to introduce another just-as-bold tone in order for the space to look balanced and anchored — like a rug or furniture containing that same color. When you have a strong color, you have to use another strong one with it in order to make it stand out."
Hide and Camouflage
"In awkward spaces that contain some sort of ugliness — a contractor-grade fire door, an electrical panel or a weird transom, like I have in the back pantry area of my apartment, shown above — making them disappear is a priority. In this space, I sought to draw the eye to something more interesting, my Van Doe wallpaper, which contains reinterpretations of iconic paintings (with deer heads) in a plethora of jewel tones on a deep black, or onyx, background. Black cabinets and moldings that match the wallpaper mask all of the other things I didn't want to see.
Sometimes it's not just about accentuating the beautiful things — it's also about camouflaging the things that aren't. Covering walls' imperfections and awkward details with highly pigmented color tricks the eye into seeing only the color, and any unsightliness just goes unnoticed."
---
A Jewel-Inspired Mood Board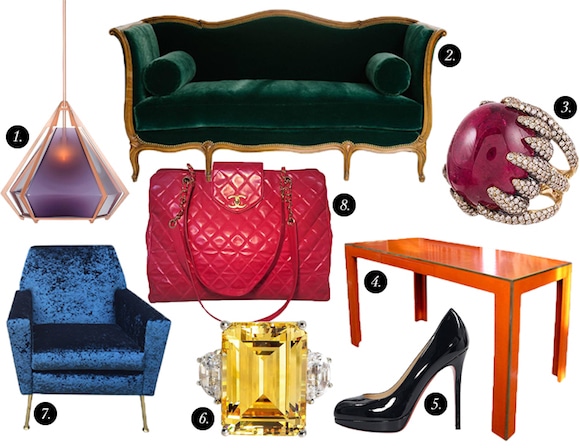 1. Gabriel Scott Harlow pendant lamp, new. 2. Louis XV–style Sultanese sofa, ca. 1880. 3. 95-carat tourmaline and diamond flame ring, 21st century. 4. Gracie Studio lacquer desk, new. 5. Christian Louboutin patent-leather pumps, 21st century. 6. Clive Kandel for Magnificent Costume Jewels faux 25-carat canary-yellow diamond ring, 2012. 7. Italian velvet armchair, 1950s. 8. Chanel quilted PVC travel bag, ca. 1990–99.