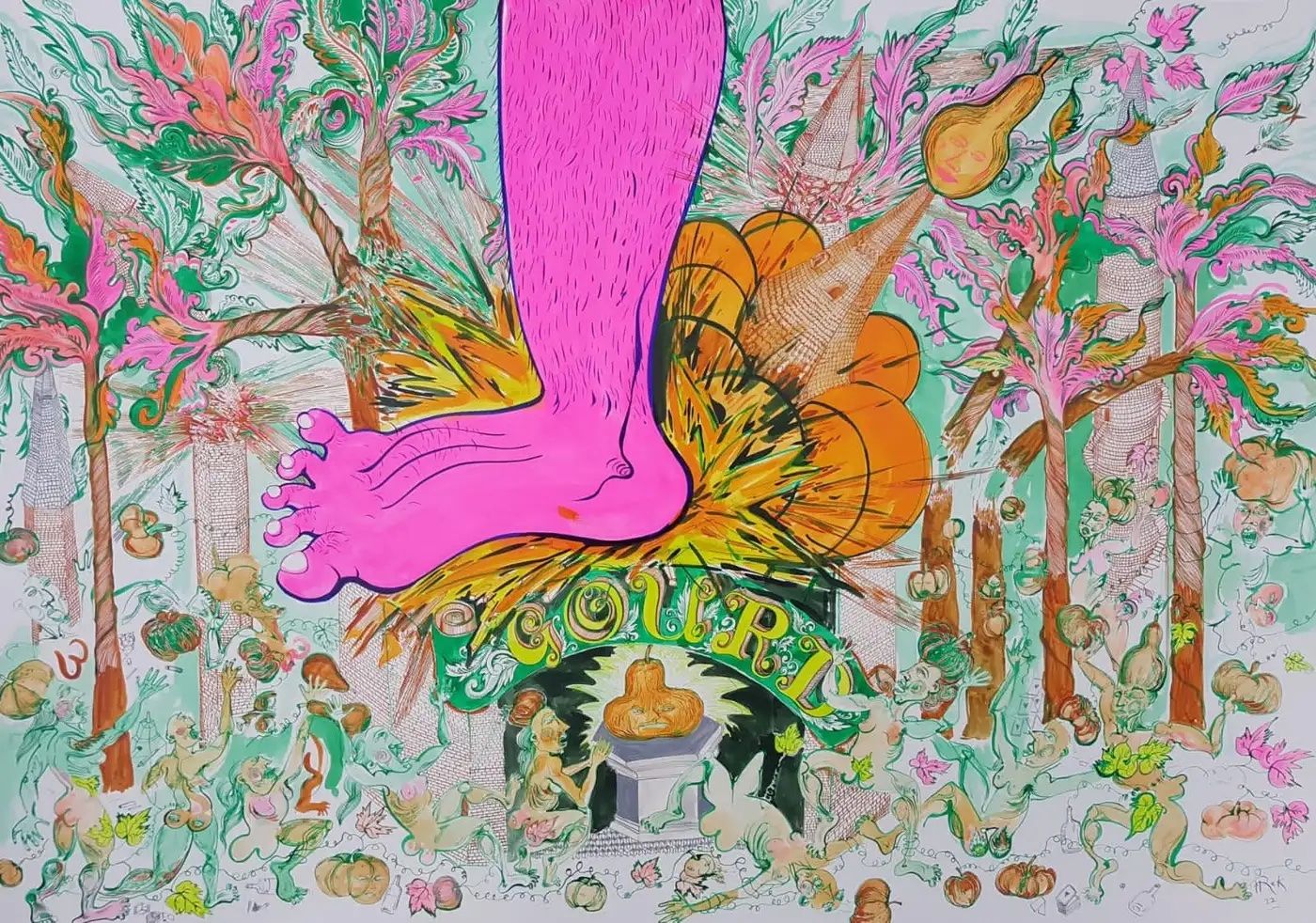 What would happen if everything you adored, even the entire structure of your society, were suddenly smashed to a pulp? That is the question Isabel Rock asks in her spunky, tragicomic acrylic-ink painting Gourd, 2022. The piece portrays a forest-dwelling band of seminaked women panicking as an enormous, pink, hairy foot comes crashing through their gourd-shaped temple on a trajectory to pulverize their god-king, who's a pumpkin.
"It's set in an imagined community of women where they worship a talking pumpkin," the London-based artist explains. "Everything in their life revolves around and is dictated by the pumpkin, from the architecture to their dress, or undress rather! Whether the Gourd is benevolent or malevolent is undisclosed — potentially it is both. It's a playful look at our perceptions of value, ritual and worship."
Rock, who received a master's degree in drawing and printmaking from the Royal College of Art in 2008, finds inspiration in a variety of narrative art sources, including Indian miniatures, Japanese woodcuts, children's books, graphic novels, William Hogarth portraits and Paula Rego paintings and prints. Still, the animated line work, surreal sense of humor and outlandish mythologies in Rock's creations are all her own.
"Gourd was partly inspired by a Japanese fairytale-slash-ghost story about a giant foot that crashes through the roof of a bathhouse. The only way to get rid of it is to wash it," Rock says. "I see the foot as representing the Great White Patriarchy and how the need to dominate — rather than collaborate — can be so destructive."
If Rock's brushwork looks different from almost anything in mainstream contemporary art, maybe that's because she uses a special squirrel-hair implement from India to paint the fine, squiggly lines we see in compositions like Gourd. Her drawings, paintings, prints and collages are packed with chaotic motion, which adds greater depth and action to the fairy tales she spins.
The uniqueness of Rock's style has earned her sold-out shows, as well as honors and awards. Just last month, she won the biannual Evelyn Williams Drawing Award at the Trinity Buoy Wharf Drawing Prize exhibition, which comes with a cash prize, as well as a solo show at Hastings Contemporary.
"Isabel has always been a storyteller," says Laura Williams, cofounder of Art 18/21, in Norfolk, England, which represents Rock. "She challenges her viewers in a direct but almost Buddhist manner. Her work does not demand you agree, but it offers you the opportunity to consider your view."
As Buddhism and Gourd both remind us with a wink, everything is impermanent. Don't get too attached to your leaders, whether they're the Buddha or a bossy pumpkin.