"Nothing by Schlumberger stays in our collection very long," says Mahnaz Ispahani Bartos, owner of Mahnaz Collection, in New York.
One of Tiffany & Co.'s most celebrated talents, the French-born Jean Schlumberger joined the house in the mid-1950s and flourished there until he retired, in the late 1970s. His body of work during his tenure encompassed sculptural, often whimsical forms, bold-colored gemstones and the iconic pailloné-enamel bangle of which Jackie Kennedy Onassis was a fan. He was also the first designer to mount the famous Tiffany Diamond in a jewel.
Schlumberger's brooches are an important part of his legacy, but he had a flair for entrancing ear ornaments, too. "As the designer well knew, earrings that sweep up the ear are most flattering to a woman's face," says Bartos. "And these gorgeous vintage Flame collection earrings do just that — flatter — with diamonds cleverly placed as close as possible to the lobe and cheek to illuminate the wearer's cheekbones."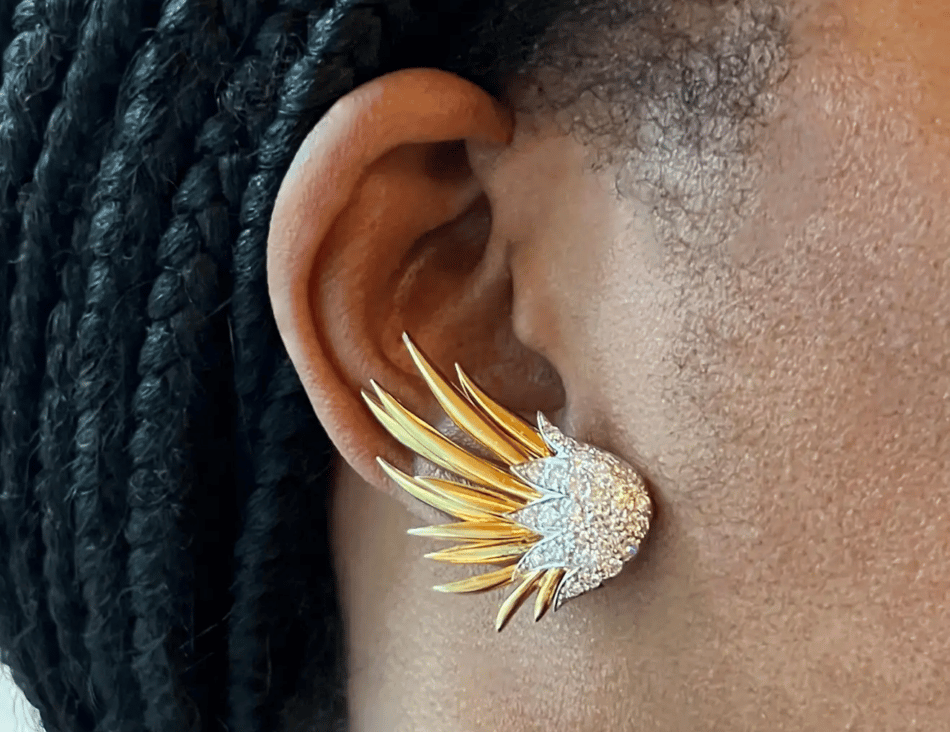 Bartos believes the pair were made in the 1950s. They were "rescued" by a former Mahnaz Collection staffer, who recognized them as the work of Schlumberger when a family came to her wanting to remake them into a modern jewel.
"There are plenty of jewelers who buy those vintage pieces either to melt down for the gold value or to repurpose the stones in some other, often less-improved design," explains Bartos. "This terrific young professional persuaded the sisters, who had inherited them, not to refashion these earrings. Instead, she called me, and we bought them. No one can outdo a Schlumberger design. Another great heritage piece was saved, and I say bravo to our team.
"I think of Jean Schlumberger's jewelry as a one-stop shop for true jewelry lovers in any era, including those of today," she adds. "It is easy to see why Tiffany & Co. is carrying these earrings in the present day. Schlumberger designs have so much life to them."
Now that these Flame earrings have lived to see another day, all they need is a worthy keeper to shepherd them on the next phase of their journey.