Made from richly hued leather, with clean lines, whipstitched details and brass hardware, the Doma lamp manages to be both rustic and refined, which makes for a surprisingly versatile piece. This is thanks in part to the open-minded approach that led to its design.
"Our creative process is always very organic, and it plays out differently every time we embark on something new," says Laura Aviva, founder of New York–based studio L'Aviva Home, which specializes in handcrafted lighting and decor.
Aviva, who worked as the creative director of Travel + Leisure magazine before launching her company, in 2010, seeks out artisans around the world to collaborate with her brand. "A collection evolves according to the relationships we form and the experiences we have," she says. "Our starting point is most often a long-standing tradition or a technique or a material."
The Doma, from the studio's Talabartero collection, is no exception. The line's finely worked leather pendants and sconces are inspired by vintage Colombian saddlery.
The tradition of saddle making in Colombia originated primarily in the region of Antioquia — in the nation's northwest — which has a deeply ingrained equestrian heritage, dating back many centuries. "For the Doma pendant, we drew upon techniques such as stitching, braiding, embroidery and hand tooling," says Aviva, who describes Colombia as one of her favorite countries to visit.
Talabartero means "master saddler" in Spanish, and doma, in an equestrian context, refers to dressage, a very precise and calibrated form of riding. "Fitting names, given the artistic mastery that goes into the creation of these lamps, which are crafted from natural-grain board-formed leather," notes Aviva.
The designs are the result of a collaboration between L'Aviva Home and master craftsman Edgar Beltán Jaramillo, who, together with his skilled team, is based in Bogotá. His meticulous production process consists of 15 distinct phases.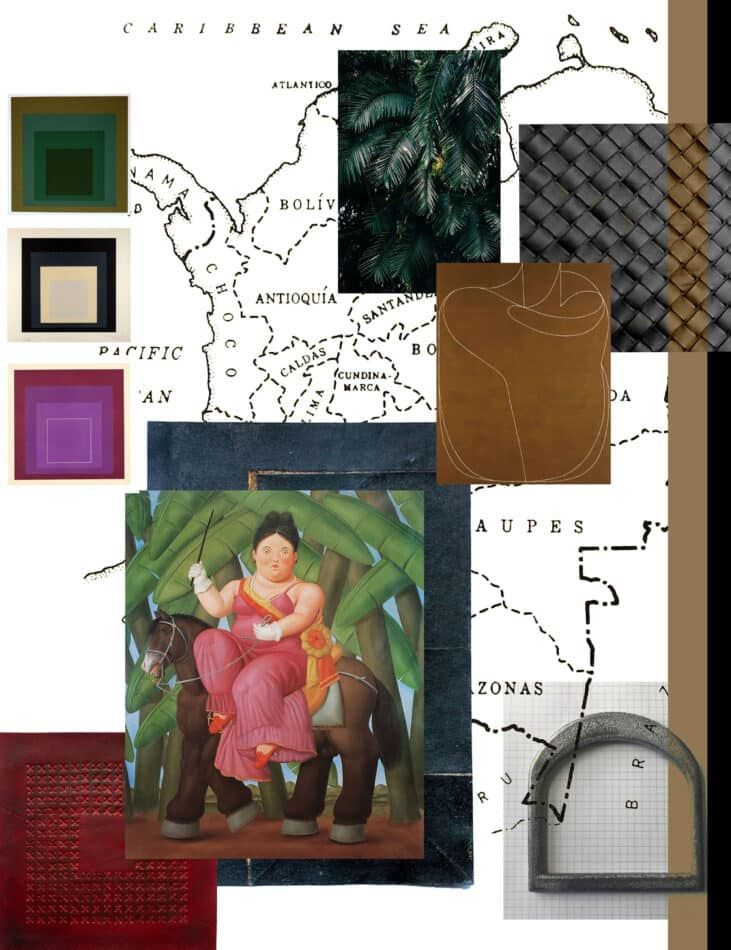 The Doma, with its curves and array of jewel-toned colors — berry, cobalt and emerald green, in addition to classic black and camel — references the work of renowned Colombian artist Fernando Botero, particularly his 1989 masterpiece La Primera Dama, which depicts a woman on a horseback.
"We can bring an idea to the table, a new way to frame a tradition, but it's the artisans who bring their deep knowledge and mastery," says Aviva. "We aim to put ourselves in their shoes and work toward telling a story together."