Lockets — jewels that encase sentimental photos and objects — appeal across generations and style preferences. They've been treasured gifts for centuries, whether given as tokens of familial love or romantic passion.
They were favored by the famously flamboyant Tudor court, often enclosing masterfully painted miniature portraits. In the Stuart reign, lockets were adorned with elaborate engraving or enamel and gemstones; the Grenville jewel, part of the British Museum's collection, is the most famous example this style.
No surprise that this very romantic jewel is frequently shaped like a heart. The motif first emerged in the 1800s, often accompanied by a key (signifying "You hold the key to my heart") or set with gemstones whose initials spell out a secret message — for example, the sequence ruby (R), emerald (E), garnet (G), amethyst (A), ruby (R) and diamond (D) to denote "regard."
In addition to miniature enamel portraits, lockets could also contain locks of hair from a living or departed love.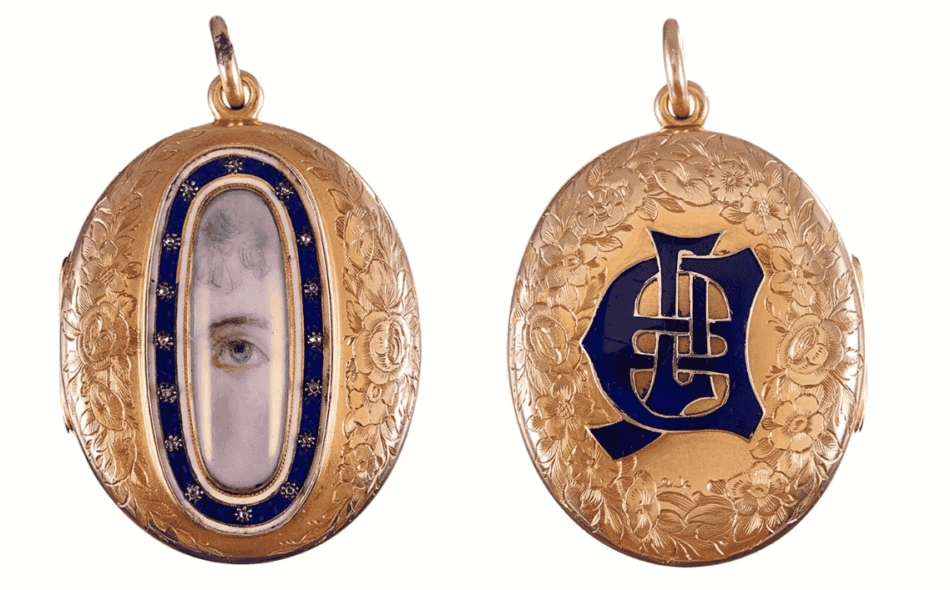 Queen Victoria, the jewelry world's most influential monarch to date, helped popularize sentimental jewels and was a great collector of lockets, especially ones honoring the memory of her beloved husband, Prince Albert.
She received her first locket, a gold heart, from her mother, the Duchess of Kent, on the occasion of her first birthday. Inside were two locks of hair: one from the duchess and the other from the baby princess's father, the Duke of Kent, who had died just a few months before.
Photos of loved ones entered the locket landscape in the 20th century, when advances in photography allowed for the relatively inexpensive reproduction and printing of images that could be sized to fit perfectly within the jewel — for 24/7 safekeeping close to the heart.
Today, jewelry collectors are once again besotted with lockets, whether antique or newly minted. This surge in interest aligns with the popularity of charms, talismans and other symbolic pieces that enable personal expression and storytelling.
"Life is so disconnected and unfamiliar for everyone now," says Alice Kwartler, owner of Alice Kwartler Antiques, in New York City. "Lockets provide a personal, intimate connection between people — a couple, mother and daughter, or friends. They are a perfect medium for celebrating life events such as marriage or the birth of a child. They are held close to the heart. Perhaps that is why, historically, heart-shaped lockets are prized. They are expressions of love, of shared feelings, of [two people] watching over each other."
Kris Bonifas, co-owner of Fourtane Jewelers, in Carmel-by-the-Sea, California, reports that it is common for a collector to acquire an antique locket and fill it with a cherished photo, perhaps one captured on a smartphone for the perfect mix of old and new.
"Lockets are one of those antique essentials for collectors," he says. "There is a nostalgic feeling to holding a loved one's picture in a locket that warms their heart. And with modern technology, pictures are available by the thousand at an instant."
Certainly, lockets are inherently more sentimental than other jewels. But it's a mistake to think 21st-century options lack sophistication or a wow factor. Yes, you can get a standard gold hinged heart at any department store, but look elsewhere, and you'll find options as diverse as they are enchanting.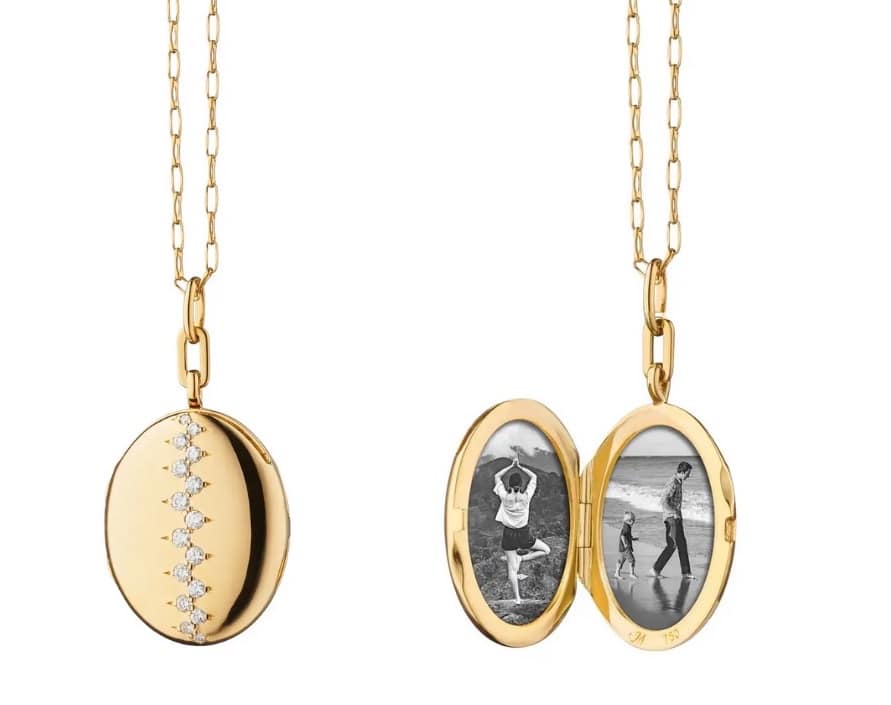 New York–based jewelry designer and former photographer Monica Rich Kosann was among the first to revive lockets as a luxury category, in the early 2000s. A collector of antique and vintage lockets, along with cigarette cases and compacts, she drew on her love of such objects in growing her jewelry business.
"I wondered why nobody was making new lockets that were young, contemporary and sexy," she says. "To me, lockets are the sexiest piece of jewelry a woman can wear. A locket holds her secrets, her inspirations, loves, aspirations, celebrations — it's a secret-message holder. I was determined to design lockets for all generations, all ages. I wanted them to be beautiful and modern and not just to hold photos but love notes and [remembrances of] furry friends, adventures, aspirations and so on."
Today's lockets come in a multitude of shapes beyond hearts. Connecticut-based jewelry designer Faye Kim says that her oval-shaped lockets are best sellers. In addition to photos, her clients have encased within the jewels locks of baby hair, "a teeny tiny note" and a snip of fabric from a treasured item of clothing.
"Traditionally, lockets do have inscriptions and monograms," she notes. "But the majority of my clients like them as is — very clean and simple. Often the locket is paired with a textured or patterned chain. So, I think the simplicity of the locket is what draws them."
Other jewelers use enameling, glittering diamonds and spectacular configurations of colored gems to elevate the lockets they offer. Many also increase the scale, making the modern locket a far cry from sweet-16 dainty.
"The intricate hand-engraved filigree on the face of many our lockets is very reminiscent of patterns that stem from the Byzantine era, giving them an old-world heirloom feel," says Los Angeles–based designer Arman Sarkisyan. "I also always incorporate an element of symbolism in each design, giving it inherent meaning — for example, a North Star in the center to guide you, an evil eye for protection or a dove to bring peace.
"There's nothing more sentimental than keeping your most cherished memories with you at all times," he continues. "And each locket can hold layers of symbolism both outside and in. This idea resonates with many of our collectors, who often use lockets to tell a story with their jewelry."
For those seeking vibrant, sumptuous color, there are Victor Mayer lockets, which are as uncommonly beautiful as they are rich in traditional craftsmanship. Repped by German jeweler Aurel & Portus, in the heart of Pforzheim, the country's famous 250-year-old gold center, these highly collectible pieces are distinguished by guilloche enameling, hand engraving, hard-stone and mother-of-pearl inlays and the finest diamonds and gems.
If you get a whiff of Fabergé from the look of these lockets, you're onto something: For two decades, from 1989 to 2009, Mayer was a Fabergé workmaster, licensed to produce jewelry and objets d'art for the illustrious house. Today, under current owner Marcus Mohr — the great-grandson of Victor Mayer — the firm continues to be one of Fabergé's foremost supplier of certain jewels.
"Almost all models in our company's 130-year history can still be manufactured today," says Mohr, adding that antique Victor Mayer lockets are in high demand. "There are quite a few of them in museums and private collections."
Loving the idea of a locket for yourself or someone else? Take some styling advice from Kosann, a proponent of layering lockets.
"I have a 360-degree rule — like all jewelry, lockets move, so [yours] must look beautiful from all angles," she says. "I wear mine mixed in with all my other pieces. I am usually not without a locket somewhere on my body. It inspires me and serves as a daily reminder to keep positive, persevere and live in the moment."