Decorator Lori Margolis knows her way around designs of decades past. She used to hunt for high-end vintage couture and ready-to-wear to such an extent that in the fall of 2008 she opened an Upper East Side boutique: JBM Vintage. T Magazine even dubbed the shop— located in a "swanky" townhouse —"vast and tantalizing [with] old worldly touches."
It's no wonder then that over the past decade Margolis has transitioned from a clothing aficionado to a design powerhouse. Clients range from commercial offices to ultra-luxurious residential projects across the U.S. She recently imbued a Malibu beach house with her vintage-cum-contemporary aesthetic (all wrapped up in her signature ultra-clean, neutral palette, of course). The resident? Caitlyn Jenner, who loved the completed makeover so much she proclaimed she finally had a home that let her "express myself." Margolis chalks up her ability to conjure up interior hits to her tried and true method of "asking the client questions that reveal his or her interests, lifestyle and sense of style." Her end goal, Margolis says, is always "delivering a home that is special and reflects a client's unique personality" while simultaneously infusing her own taste level and knowledge.
One of her most recent projects took her to a 2,800 square-foot apartment on the Upper West Side overlooking Central Park, which was fully gutted to join two units and create a graceful layout and flow. The residents, a family of four, wanted a home that would be able to properly showcase their extensive art collection. Scroll down to see how Margolis expertly transformed the apartment into a contemporary space with warmth and (for good measure) a bit of high-design drama, too.
---
Living Room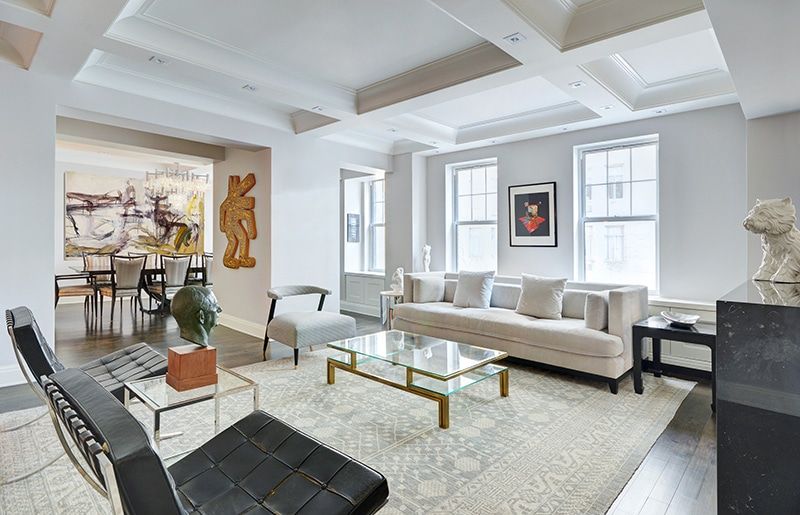 Old and new brilliantly converge in the light-filled living room. Margolis paired the homeowner's original Mies van der Rohe Barcelona chairs with a neutral-hued, custom-made sofa, enabling the artworks by Alex Katz, Keith Haring and Jeff Koons to get full attention. She added a traditional rug as a final layer to the room to "create an eclectic and soft" feel.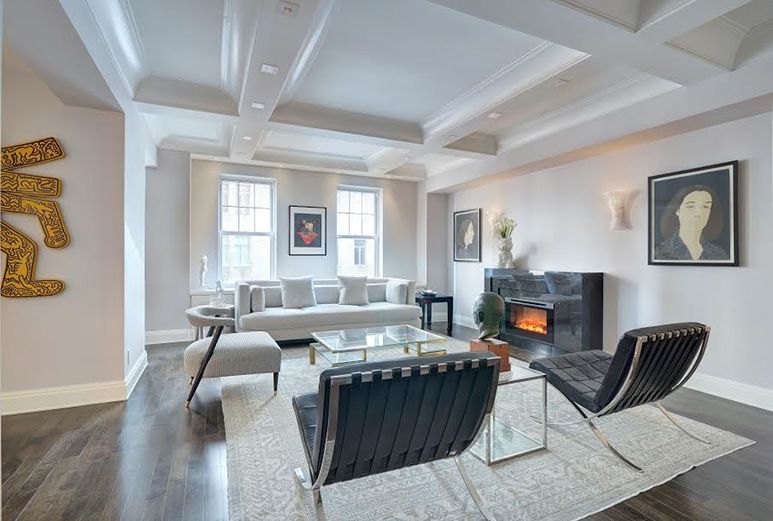 ---
Dining Room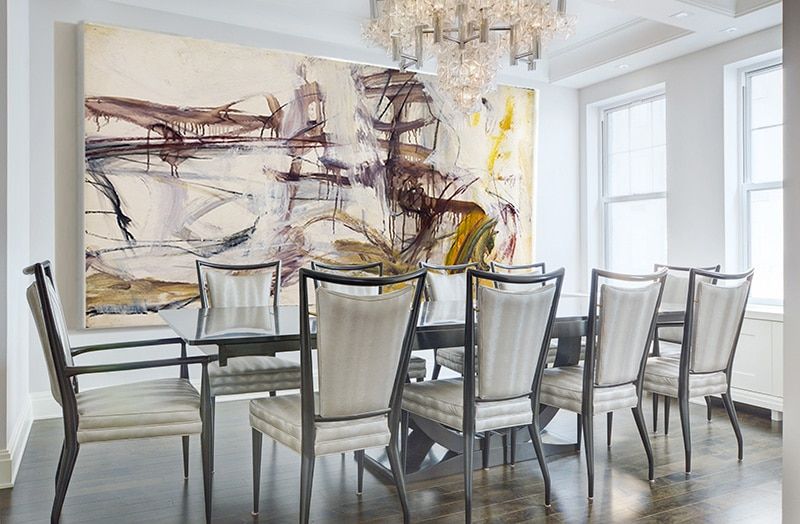 Margolis' starting point for the dining room was the 1930s French dining table and vintage chairs found on 1stdibs. To give the room modern buzz, she added an abstract painting by Despina Stokou.
---
Foyer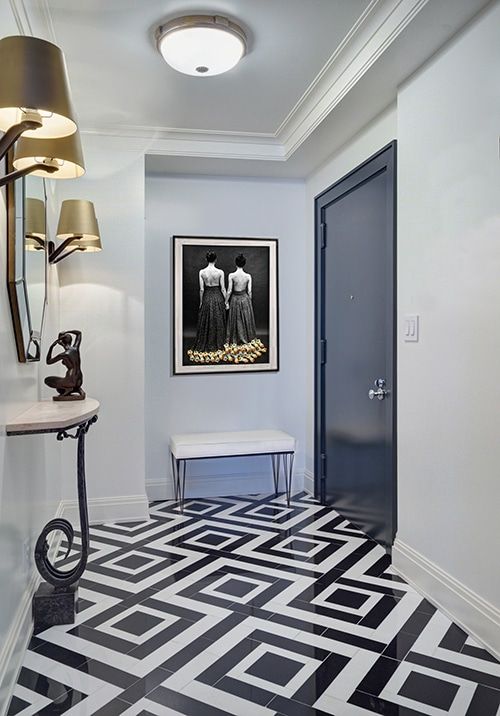 Though square footage in New York City apartments is always a precious commodity, Margolis feels strongly that "a home's entrance should make a grand statement and be a jewel." A black-and-white, geometric tiled floor does just the trick, imparting "a sense of drama and importance."
---
Kitchen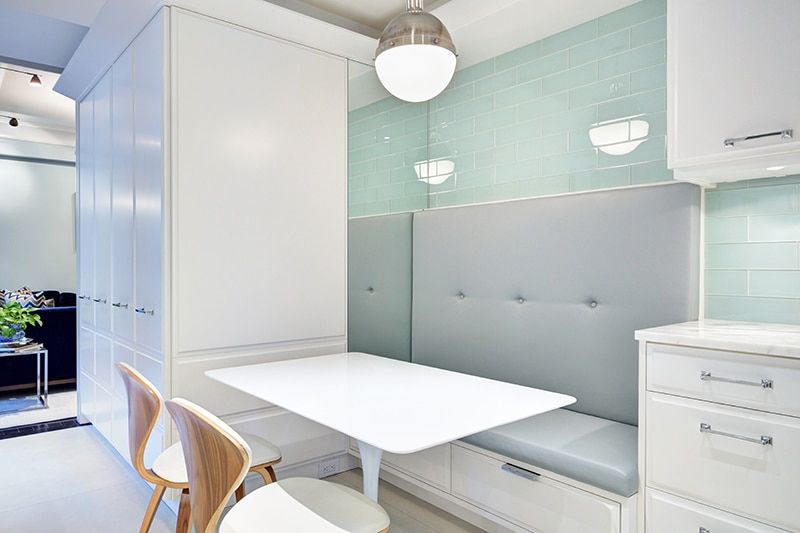 To solve the conundrum of small, narrow kitchens typical in Manhattan apartments, the designer saturated the room in white. She used a reflective glass backsplash to effectively "create a sense of openness and brightness."
---
Guest Bathrooms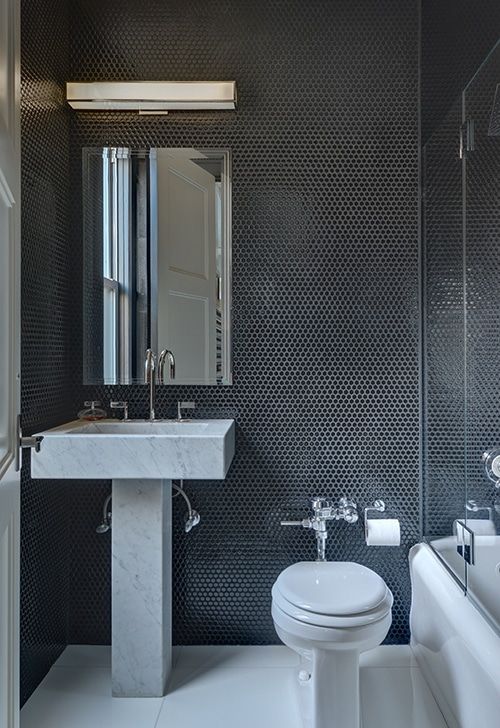 For the guest bathrooms, Margolis effectively used two very different tactics to equally stunning results. She chose to sheath the larger bathroom in inky black tile, as a window in the room offered just the right amount of outside light. In the smaller guest bath, she stuck to textured, white stone walls, better to give the room a feeling of height and airiness.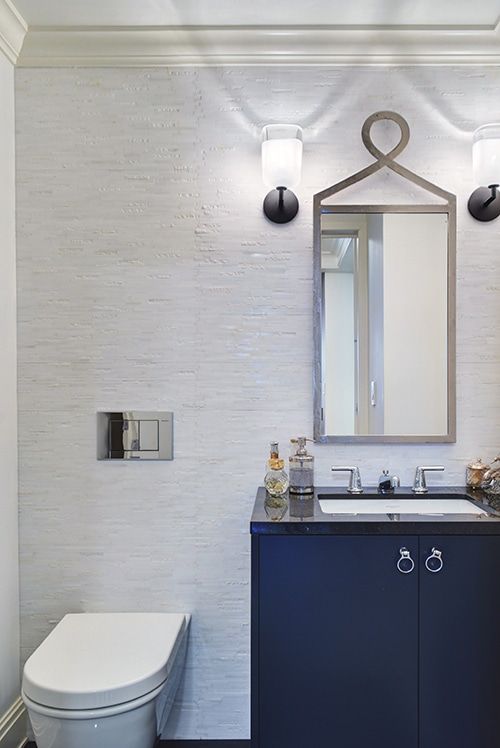 Story by Heather Rabkin. To see more images of designer projects, sign up to receive emails from 1stdibs.