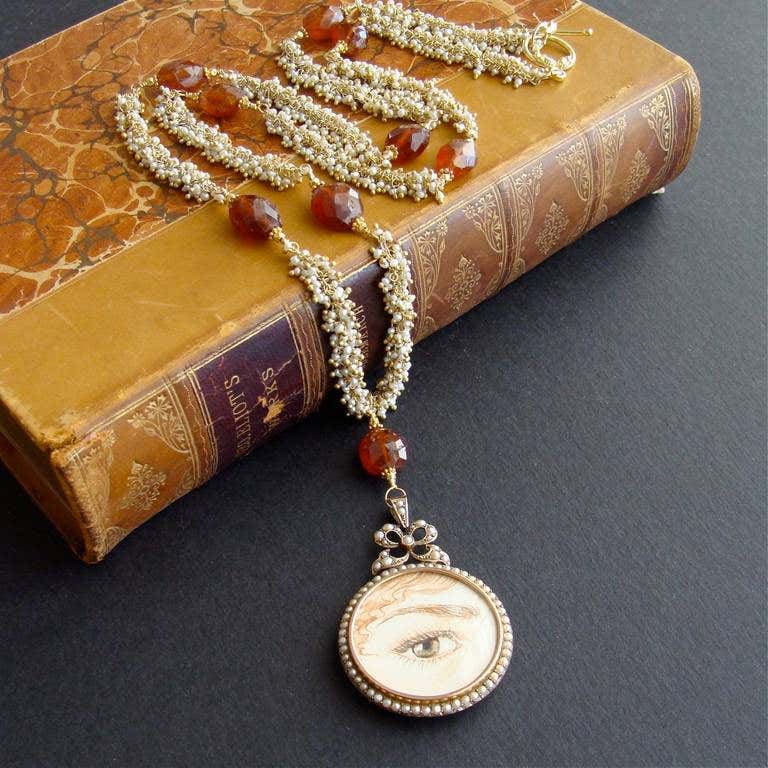 Romantic. Mysterious. Enchanting. Jewelry incorporating what became known as lover's eyes has captured the imagination (and hearts) of men and women for centuries.
It all began in 1785, when Maria Anne Fitzherbert received an unusual jewel from her lover, Prince George of Wales, the future George IV. The besotted prince had commissioned a miniature painting of his own eye for his beloved, a Catholic widow he was tragically forbidden to wed by royal law.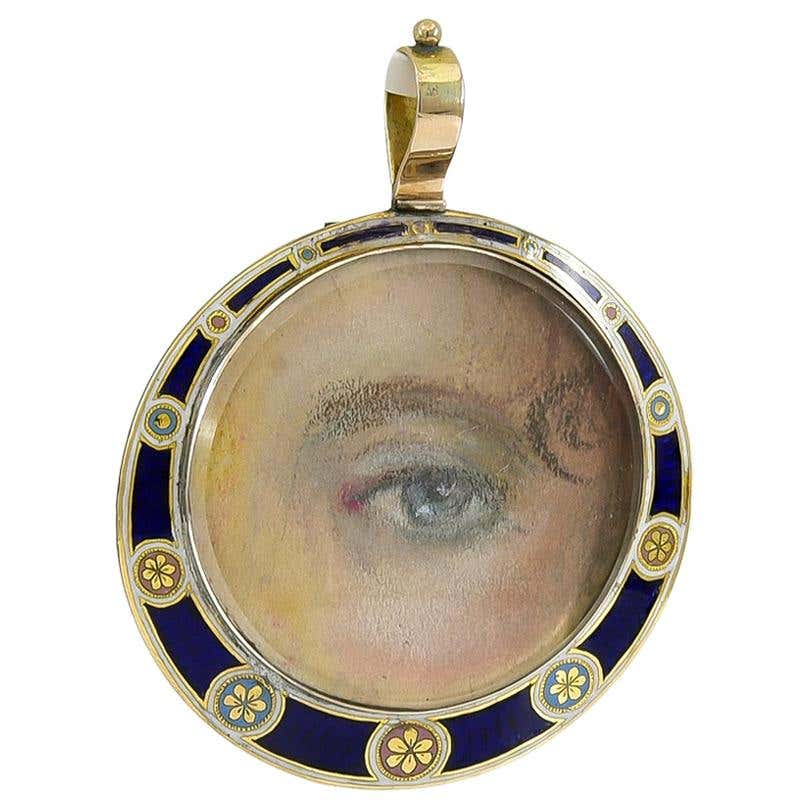 The eye talisman seems to have worked some magic: Soon after it was received, the two exchanged vows in a secret ceremony, and Maria Anne gave George a painting of her own eye encased in a locket — for him to gaze at and to watch over him in the life they were forced to live apart.
Nearly 250 years later, many still covet lover's eye jewels, notes New York–based antique jewelry dealer Alice Kwartler, who has been buying and selling such pieces for more than 40 years. "Lover's eyes are compelling pieces of wearable art," she says. "They suggest an intimate relationship between two people, since the identity of the loved one is not revealed. Only the wearer knows whose eye it is."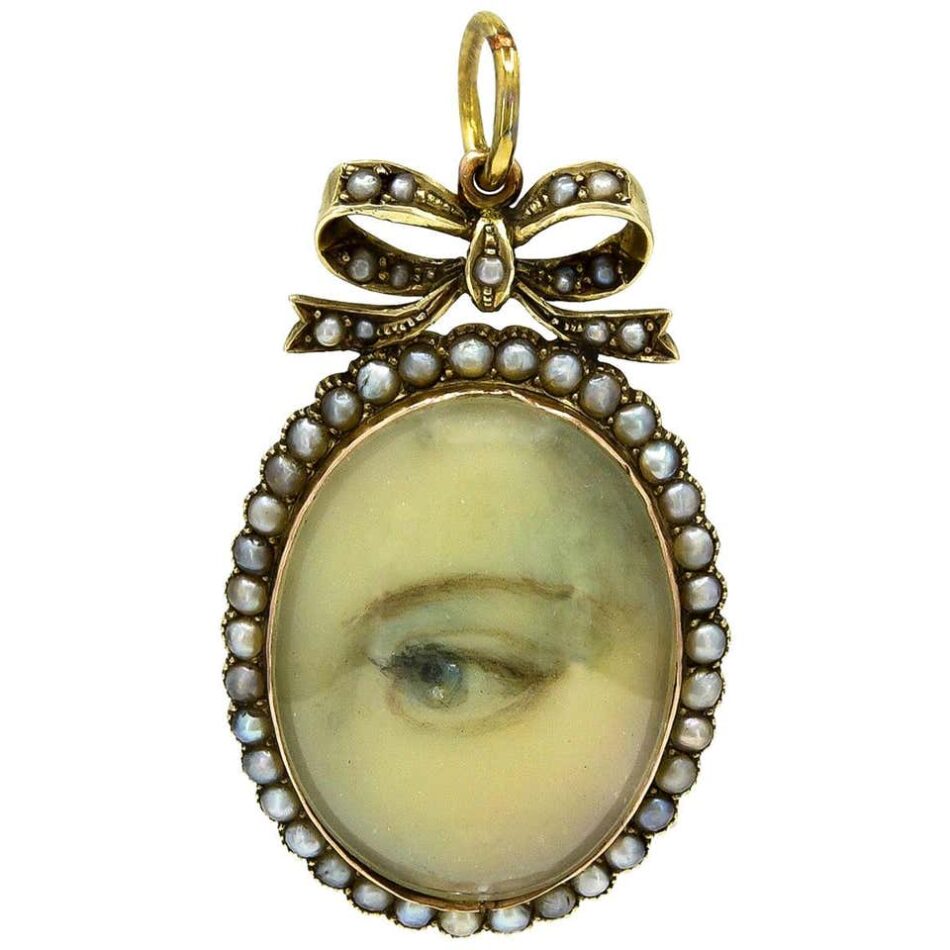 Although the eyes were traditionally worn by lovers, she adds, "I have had mothers buy them for daughters, daughters for mothers, sisters and close friends for each other."
Most lover's eyes are painted on ivory or vellum, set in yellow gold pins, pendants or lockets and surrounded by pearls, diamonds or semiprecious stones like turquoise or amethysts. "The lockets also have hinged glass compartments in the back that open to hold a lock of hair," Kwartler says.
Antique jewelry lovers aren't the only ones beguiled by these amatory charms. Many contemporary jewelers and artists have also caught the fever and integrate lover's eyes into their designs.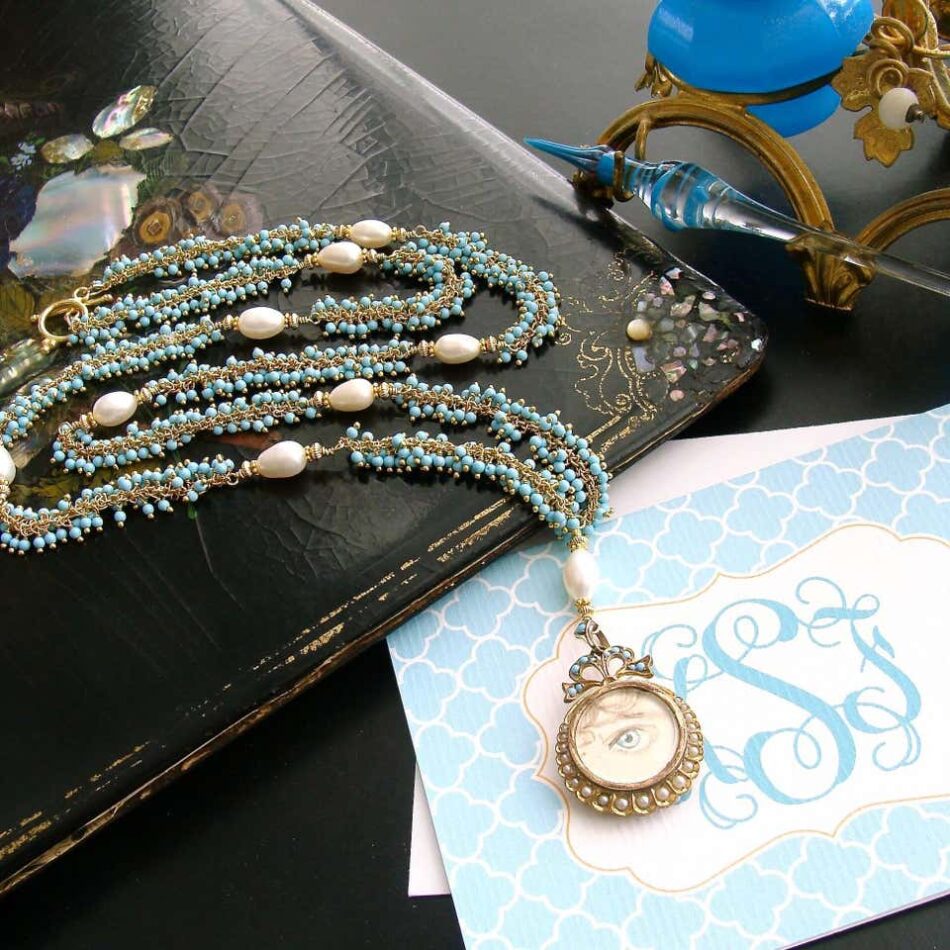 Karen Sugarman, for instance, commissions watercolor artists to paint eyes, ensconcing them in antique lockets that she hangs from chains ornamented with precious and semiprecious stones and pearls — each piece unique. Occasionally, she will also fill the back of a two-sided glass locket with tiny charms or gemstones.
In one striking example, a woman's blue eye, framed by a lock of blonde curls, gazes from a sterling-silver locket adorned with antique turquoises and pearls and attached to a thick chain of pearls and turquoise beads.
"It's an incorporation of old and new," says Sugarman, a former interior designer. "I make no claim that these are old ones. They're newly commissioned, but they're intriguing. People always want to know more about them."
Sugarman's designs replicate the romantic impulse of traditional lover's eyes. The contemporary rings, cuffs and necklaces created by Ana Katarina Dervisevic, on the other hand, are references to "self-love and a reminder of your third eye, which connects you to your higher source," says Dervisevic, founder of the AnaKatarina jewelry line.
More amulet than tokens of affection, Dervisevic's eyes are not painted but sculpted, carved from blue Brazilian agate by a fourth-generation master cameo maker, and incorporated in pieces adorned with diamonds, sapphires and other precious stones.
Each eye is based either on one of her drawings or on a photograph provided by the client — always using the left eye, she explains, "because the left eye is connected to the heart."
Artist Tabitha Vevers takes a more playful approach to the genre. Her first encounter with the form, she recalls, occurred while she was watching Antiques Road Show in 1999. Someone had brought in a lover's eye painting, "and I was so intrigued," she recalls. "They are portraits of an eye, but a way to capture a lover's gaze into one another's eyes while they're apart."
She began painting miniatures on ivorine, using images of women's eyes from paintings created by men, "thus reversing the gaze from that of the artist to that of the model," she says. "It was my antidote to art history, so much of which has been dominated by the male gaze."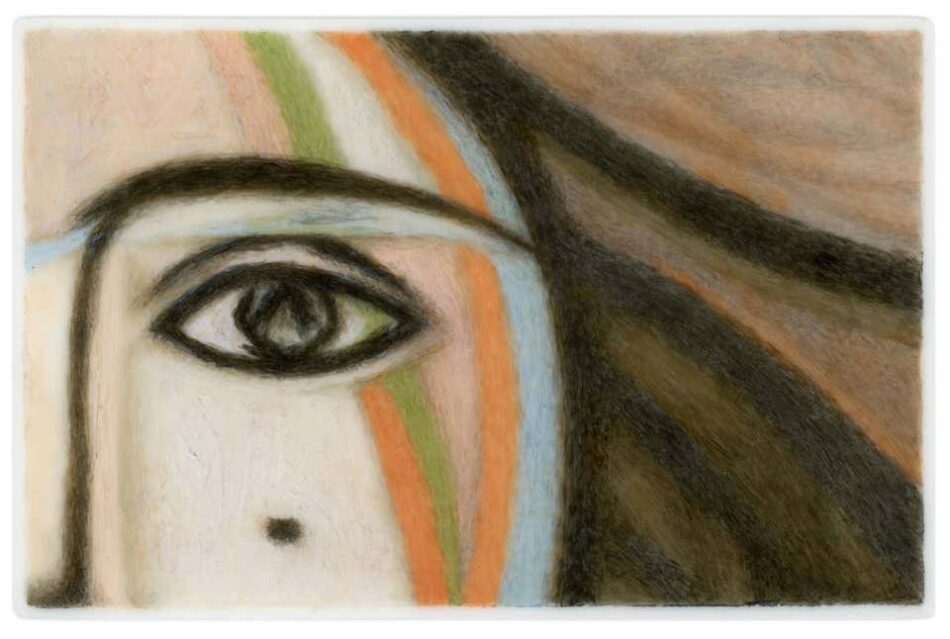 Vevers wound up producing several series of paintings. One, "Lover's Eyes III," explores the different ways Picasso and Man Ray treated the same model by using eyes from images each man made of Méret Oppenheim, Dora Maar, Françoise Gilot and other women they both portrayed.
Vevers calls another series, "Saltwater-Tears," a "meditation on the nature of empathy." For these pieces, she employs crying eyes created by artists ranging from 15th-century Dutch painter Aelbrecht Bouts to late-20th-century Pop artists Andy Warhol and Roy Lichtenstein. Each painting, she explains, "takes me on its own journey."
That might be said of the entire lover's eye genre. "Every piece of this jewelry tells a story," says Kwartler. "It is the still-living representation of an old love story, and it is now being passed to someone else with a story." And those stories, Dervisevic notes, "are always so beautiful."