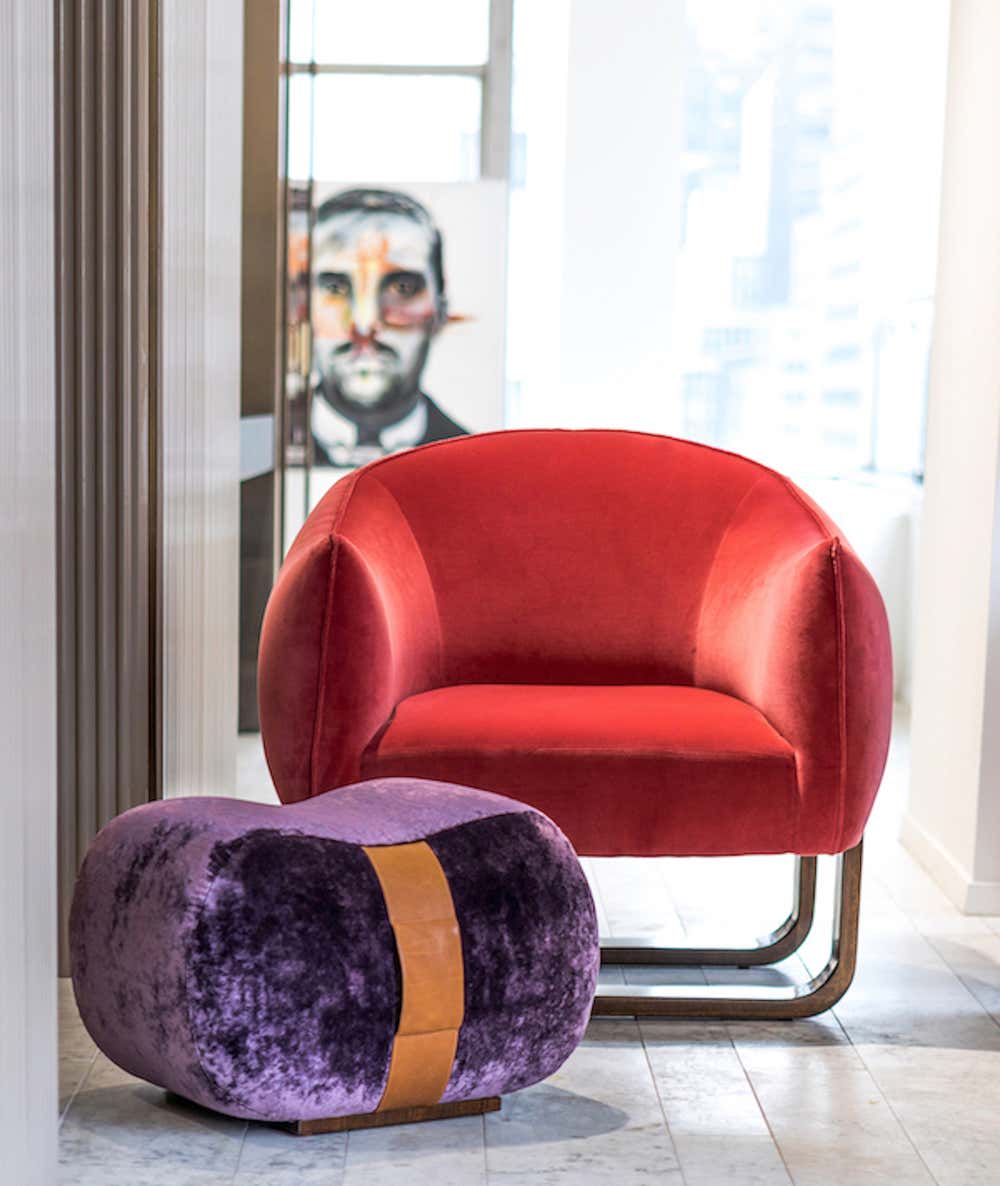 There's a cute new kid in town — the Milo Bean, a petite and versatile addition to designer Marie Burgos's Milo collection, until now a curvy threesome comprising a sofa, armchair and bench.
The lima-shaped Milo Bean, a comfy ottoman with leather accent handles, came about because Burgos, a Los Angeles–based residential and commercial interior designer, suddenly found herself with several projects simultaneously crying out for small occasional seating pieces.
Burgos brought her feng shui training to bear on a new design. As with the rest of the Milo collection, she says, "the idea was to create ergonomic pieces with inviting, comfortable shapes that promote a sense of well-being, and I wanted to represent my Caribbean heritage with the colors of the islands."
The French-born Burgos was raised in Paris by a creative family originally from Martinique. She earned a business degree from the University of Paris, came to New York in 2002 after seven years in the food industry and veered off into interior design, studying the discipline at NYU.
"I'm inspired by two aesthetics," Burgos has said. "The architecture and fashion of Paris and the nature and colors of the Caribbean." Customers often choose plush velvets or playful polka-dot patterns for their Milo Beans, and purchase them in multiples. "Pretty much any fabric would suit that little Bean," Burgos says.
There are infinite ways to use the 16-inch-high pieces. Their child-friendly qualities make them a natural for family rooms, nurseries, children's rooms and playrooms. They can serve as ottomans, of course, be arrayed around a coffee table or deployed in the foyer to perch on while taking off shoes.
"I have clients who ordered a pair for the foot of their bed," says Burgos. "We've also used them as seating in a walk-in closet."
The line is named after Burgos's seven-year-old son, Miles aka Milo, whom his mom calls "a warm and bubbly child, always up for a hug." The Milo Bean "represents his lovable temperament, with its soft curves, huggable shape and happy colors." Perfect for times such as these, when we all could use a hug.