This year has had its share of ups and downs (to say the least), so we're primed for revelry on New Year's Eve. Whether you're cutting a rug, sipping the finest bubbly or simply relaxing with loved ones as the clock strikes midnight, scroll to find accoutrements that will help you make 2019 (or at least the beginning of it) a year you won't want to forget.
We're taking inspiration from bar interiors designed by Lichten Craig and by Workstead, who have captured the spirit of conviviality so dreamily. We can imagine being seated in either of these spaces, happily downing drinks and indulging in deep conversation. Lichten Craig's space (above) is beautifully moody and slightly mysterious, while Workstead's (below) is bright and a smidge informal, complete with a bartender welcoming us in with a smile. Either way, only a holiday Scrooge wouldn't want to pull up a stool at these classy joints.
In the spirit of the season, we've also wrangled up a mood board of celebratory paraphernalia — from cocktail accouterments to show-stopping getups — to help you ring in the new year with maximum style and sophistication.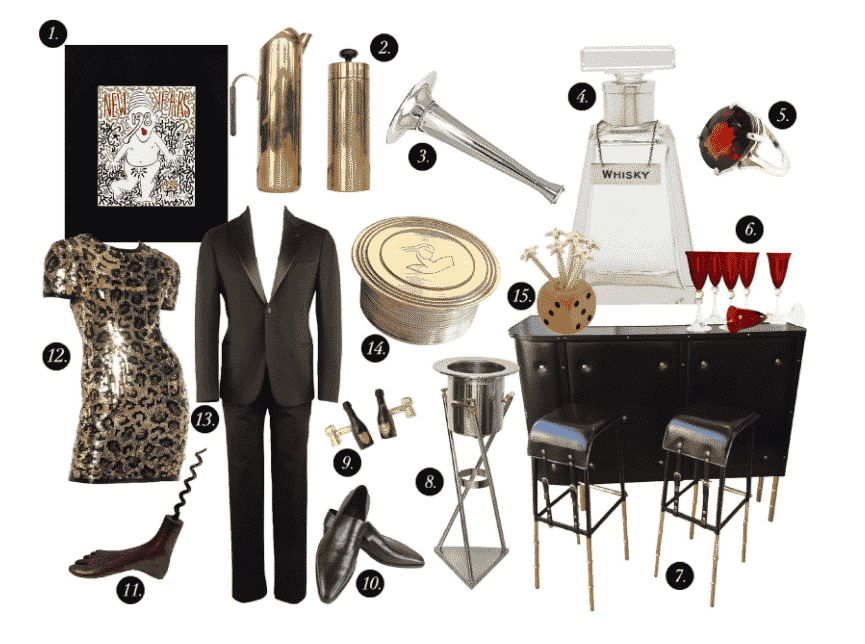 1. New Years 1988, by Keith Haring and Angel Ortiz (L.A. II). 2. Italian brass cocktail set, 1960s. 3. Sterling silver New Year's Eve horn by Tiffany & Co, 1950. 3. Crystal whiskey decanter with sterling-silver tag by A.C. Bloxham, 1925. 4. Hessonite garnet and sterling silver party ring, 2016. 5. Set of six flute glasses by Amelio Cenedese of Maestri Muranesi, ca. 1985. 6. Jacques Adnet bar with stools, ca. 1950. 7. Champagne cooler with a top-hat and cane motif, mid-20th century. 8. Michael Kanners 18-karat gold, tourmaline and quartz Champagne-bottle cufflinks, 2015. 9. Gucci Nero loafers for men, 21st century. 10. Carl Auböck brass foot-shaped corkscrew, 1950s. 10. Leopard-print sequined dress, 1980s. 11. Giorgio Armani peak-lapel tuxedo, 21st century. 12. Georg Jensen sterling-silver caviar server no. 705A by Sigvard Bernadotte, 1925–32. 13. Bakelite dice-motif cocktail stirrer set, ca. 1940s.