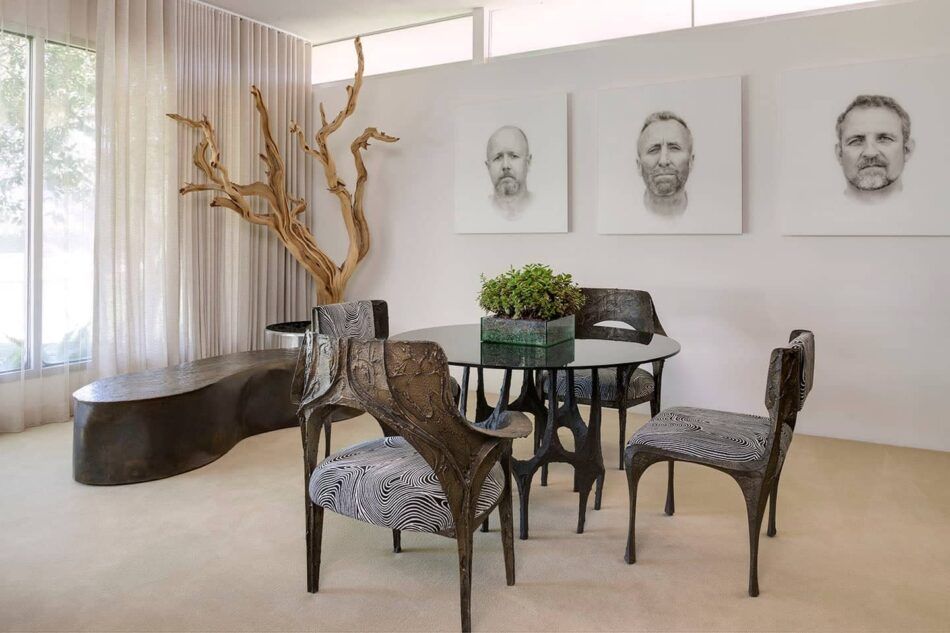 Although many of us are eager to swap the great indoors for the great outdoors this summer, eventually, we'll be heading inside again. And after many long months looking at the same walls and furnishings, we're more than ready to refresh our spaces. The season's top design trends offer stylish inspiration.
There's something for everyone, whether you prefer soft neotenic seating, bright 1980s expressions or rugged brutalism. We looked at interiors and asked designers for insider tips on how to incorporate a dash of newness in our decor in the months ahead.
Neotenic Curves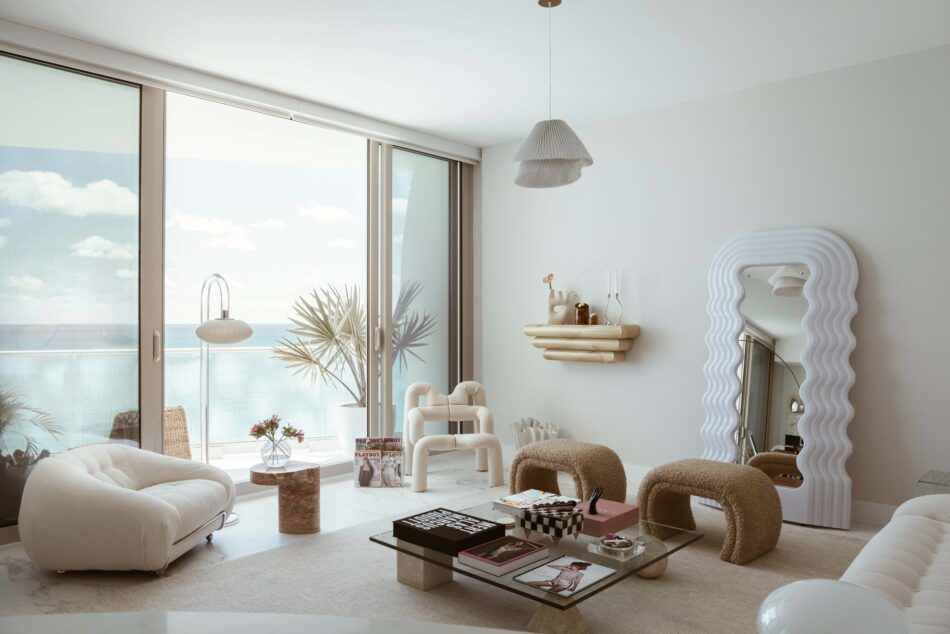 Tiffany Howell, the founder of Los Angeles– and Montecito-based Night Palm Studio, approaches each interior design project with the goal of creating an emotional response. In a serene Miami apartment situated high above the water, she leaned into neotenic design, known for producing a soothing effect with its soft, exaggerated proportions.
"I didn't want anything to compete with the view, so I made sure the materials we used elevated the space," Howell says. "I am attracted to Surrealism and wanted the pieces to feel like something out of a Dalí painting."
Accordingly, she deployed vintage items reupholstered in lush materials, such as the fuzzy brown stools and cloud-like seating, as well as a squiggly, tubular Terje Ekstrom lounge chair she covered in a white Knoll fabric. Howell complemented the neutral furnishings with a wavy white Ettore Sotssass Ultrafragola mirror and a Tempo Vivace ceiling light fixture.
For others seeking to express their softer side with an inherently childlike aesthetic, Howell recommends "having fun with a few statement pieces — let them be the stars of the room. If it's a vintage piece, give it a twist with an unexpected fabric."
1980s to the Max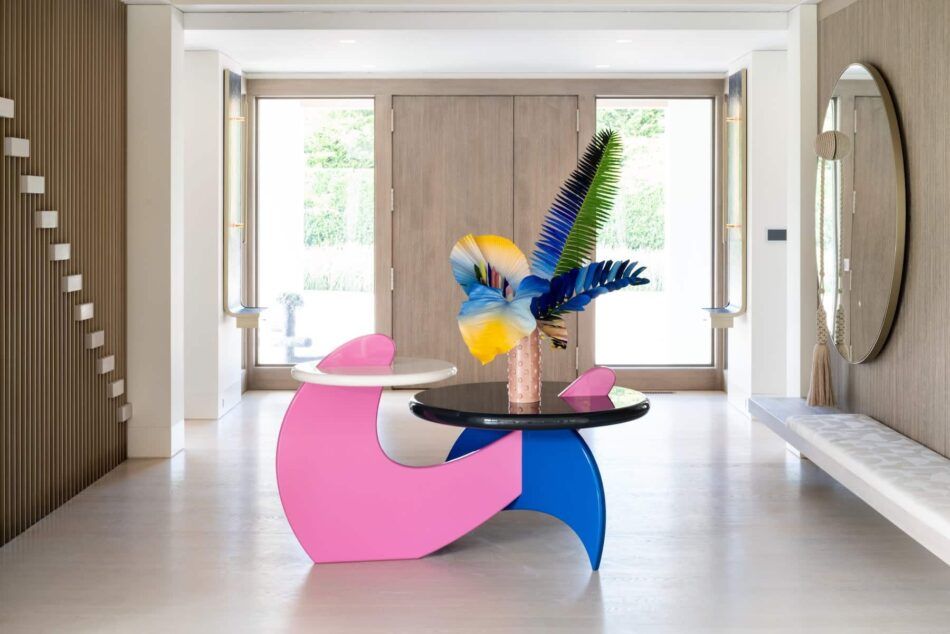 When it comes to giving a room a jolt of joy, interior designer Kelly Behun believes that more is more — within (stylish) reason, of course. In this East Hampton foyer, Behun indulged her passion for lively color and form with a standout piece that nods to 1980s lavishness. The custom lacquer entry table sits smack in the center of the otherwise quiet contemporary space, its poppy-pink-and-blue base creating a striking contrast with the neutral-toned walls and floor.
However you feel about the over-the-top design treatments of the '80s, there's something to said for shaking up an existing space with a shot of postmodern glamour. Luckily, Memphis Milano design, with its playful hues and shapes, is very much back in vogue, both original pieces and contemporary ones inspired by the style.
Furnishings ranging from Ettore Sottsass's exuberant, multicolored Carlton room divider to Behun's Memphis-inflected boldly striped Neo Laminati chairs are artworks in themselves, doing the design heavy lifting in a room.
New Brutalism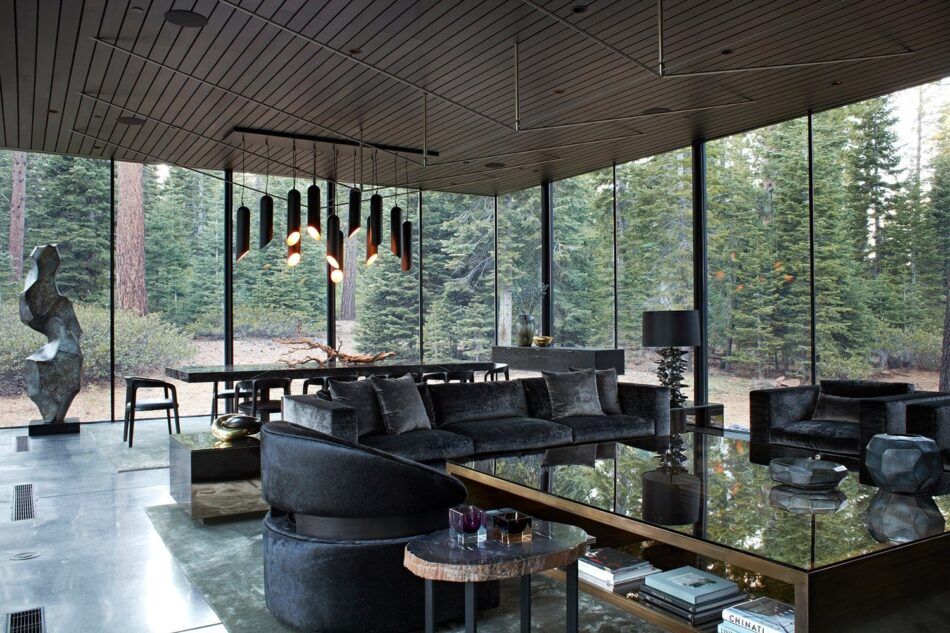 "The client wanted a feel of 'Tom Ford in the forest,' " says Jamie Bush, explaining his mandate for a vacation home he designed near Lake Tahoe, California. To create the requested ambience, he channeled the new brutalist style, an update to the mid-century aesthetic pioneered by Paul Evans and characterized by unfinished materials and blocky monolithic shapes.
Taking a leaf from Evans and his fellow 20th-century architects Le Corbusier and Mies van der Rohe, Bush sought to strike a balance between the living room's dark palette and the surrounding Northern California landscape. "I'm always inspired by nature," he says. "Organic forms, irregular textures and naturalistic patterning are all elements we utilized in this space."
Bush upholstered a custom-designed sofa in a Romo fabric and a Marmol Radziner Vienna Way club chair in Townshend Leather cowhide. He custom-designed the brass-and-mirror coffee table, topping it with a German hand-cut frosted-glass bowl and Guaxs vase that resonate with the other brutalist-inspired shapes in the room.
Bernhardt Design dining chairs upholstered in black leather surround a custom dining table over which is suspended a grouping of Tom Dixon's Pipe ceiling pendants. The patinated-bronze sculpture at left is by Jon Krawcyk. According to Bush, the dark-bronze-framed window walls, black concrete flooring and stained-cedar ceilings allow the "furnishings to recede and the forest beyond to become the main focus."
Brutalism may not fit every space, but Bush has tips for adapting some of its key principles. "I always go back to mother nature," he says. "Introduce one large gesture into a room — such as a huge, irregular wood bowl, a free-form-edge table or a torch-cut vintage brass chandelier — or group a series of brutal forms and objects together to create a vignette in a space, so they read as one big idea."