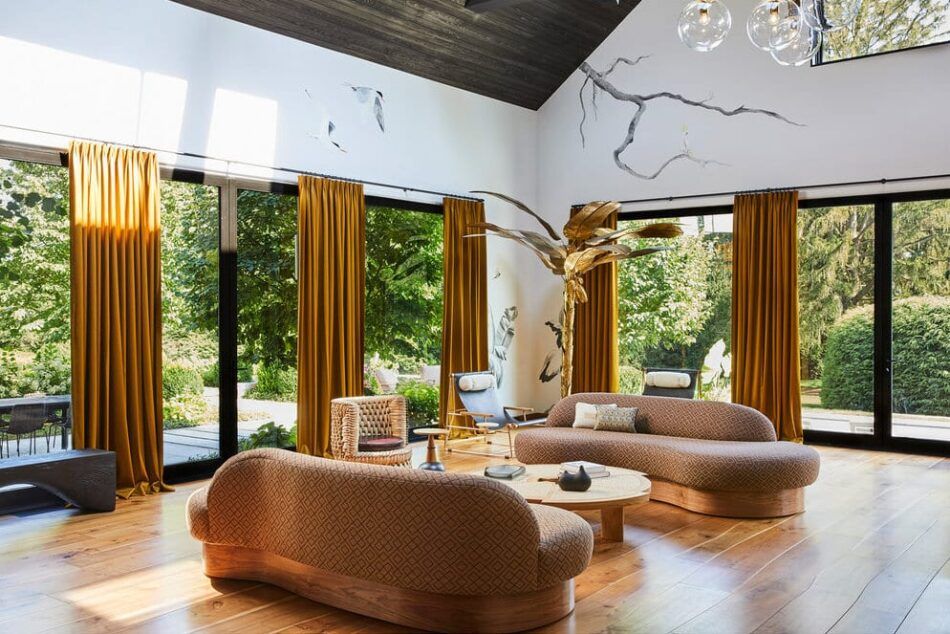 For an open, airy living room in Westport, Connecticut, design firm Jesse Parris-Lamb enlisted artist Christopher Holt to create a mural that brings nature inside. He painted the flora and fauna of South Florida, where the homeowners had met and lived for many years before moving to to the Northeast.
As for the furniture, the designers covered dueling Coup D'Etat sofas in a quiet but striking custom handwoven textile and placed a vintage metallic palm tree in the corner.
---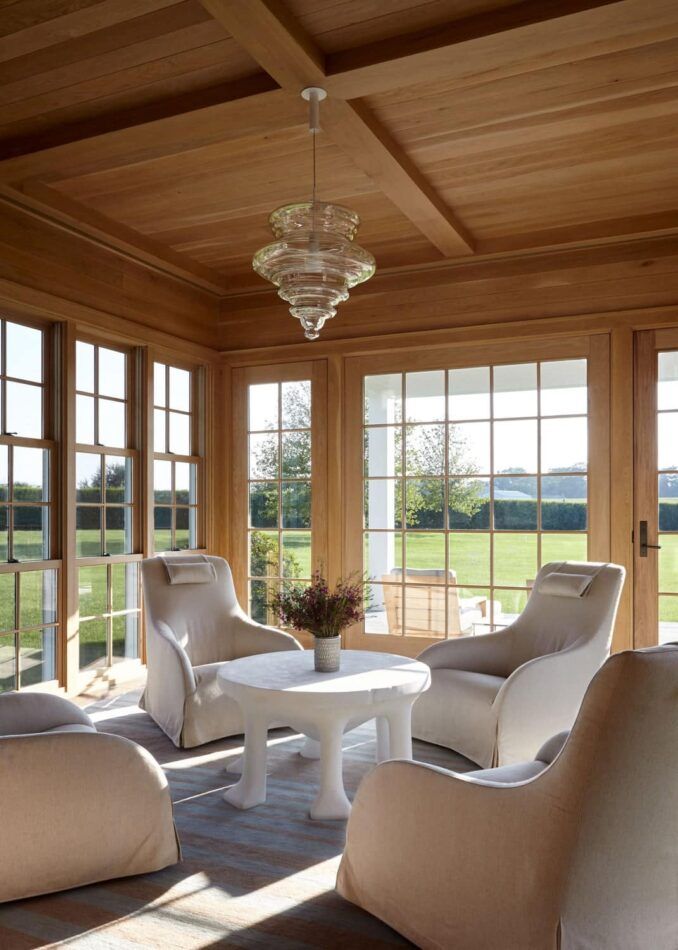 Elena Frampton conceived this wood-paneled sunroom as a contrast to the rest of the mostly white Bridgehampton, New York, house to which it was added. To complement "the subtle striped rug underfoot," Frampton says, she chose "furnishings that have sculptural forms" — which certainly describes the plaster John Dickinson table.
---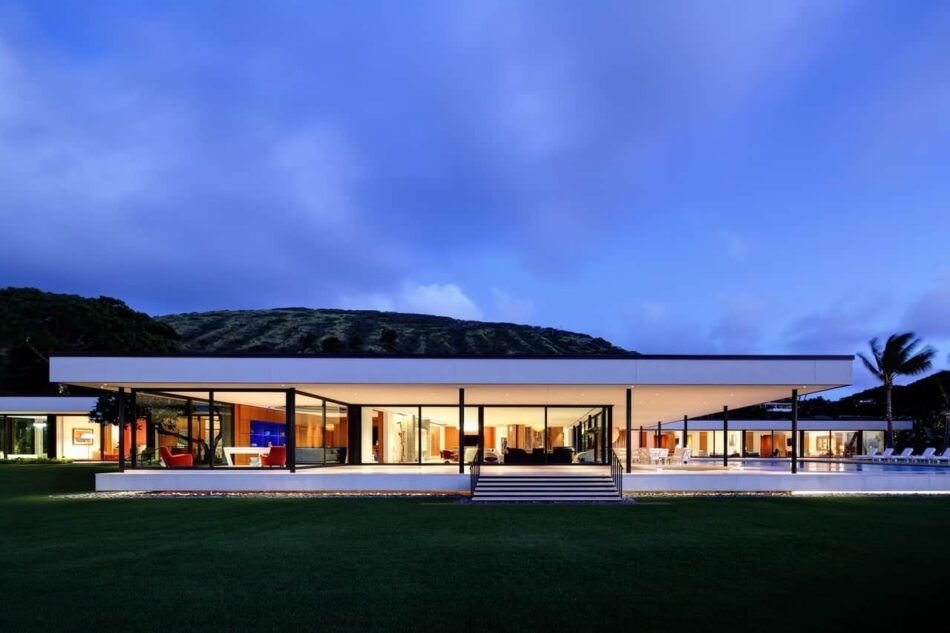 "The starting point for the design is the house itself, which was built by steel magnate Henry J. Kaiser in the late 1950s," says designer David Desmond, referring to this ultramodern Honolulu home. The architecture was inspired by Ludwig Mies van der Rohe's Barcelona Pavilion, where Mies debuted such iconic pieces as his Barcelona chair.
Desmond restored some original elements, like the marble fireplaces, semicircular segmented marble walls and stained-glass skylight, and added new ones, including teak paneling, hand-troweled plaster walls and glass-tile mosaic floors. "The simplest way to describe the house is a glass box with broad overhangs that provide shade from the tropical sun," he says.
---
"We designed this area as a playful and colorful counterpoint to the relative formality of the main house," Martin Horner says of this Naples, Florida, pool house. "Its vibe is easy and relaxed, which you'd expect from a space adjacent to a swimming pool."
Our favorite element? The 1950s rattan armchairs, which Horner reupholstered in a more contemporary fabric. A glossy black garden stool completes the look.
---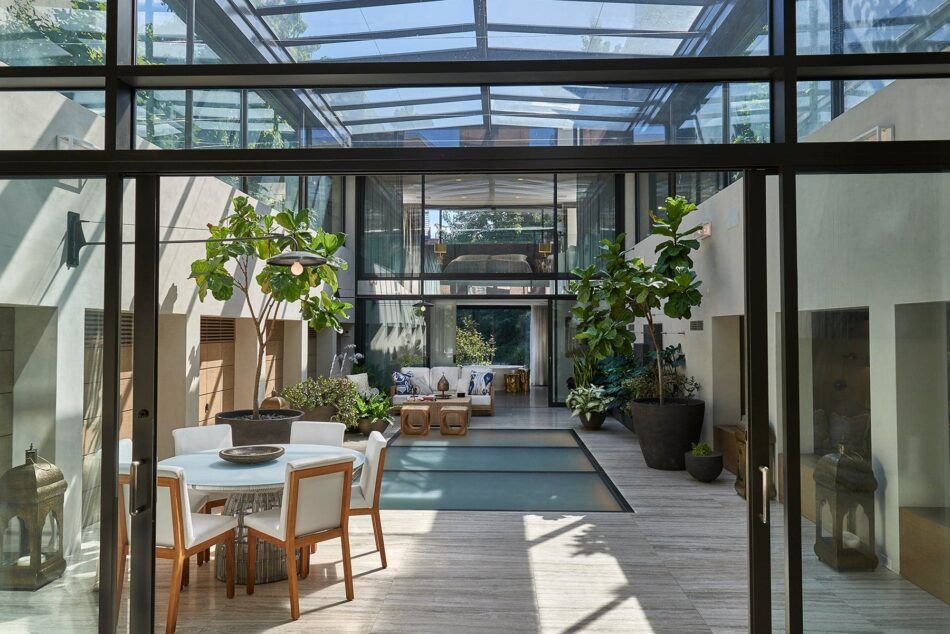 "We reconfigured the interiors of the home, designed a spiral, white lacquer staircase and created living spaces that both spoke to one another and exhibited a beautiful collection of art and furniture," Gray Davis says, describing his design for this apartment in a former factory in New York's West Village.
The designer placed a table and chairs from B&B Italia in the atrium, where homeowners can enjoy a sun-soaked meal followed by an indoor dip. "It's a great home," he says, "and a good example of how you can put outdoor furniture and living elements in an interior to create the indoor-outdoor feeling."
---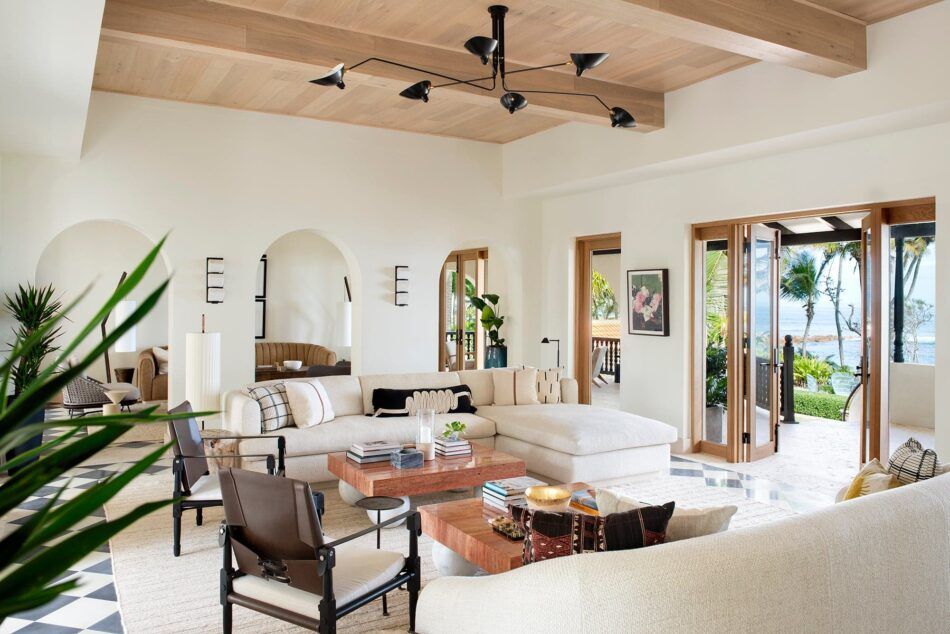 This living room of a villa suite in Dorado Beach, Puerto Rico, was designed to embrace the natural landscape. "We wanted to tap into the spirit of the original property," says Anna Beeber, of Champalimaud, "and created a relaxing hideaway that was just as breezy as its balmy island surroundings."
To bring drama to the pale and creamy space, Beeber added darker elements, like the black Serge Mouille chandelier.
---
"I want to always be connected to the outside," says Mark Zeff, "so our entire house in East Hampton has a glass wall along this facade, which faces an outdoor living and dining room courtyard. Connecting these elements makes the space always changing in terms of light and view as the seasons change."
In the kitchen, Zeff paired a green 19th-century Dutch farm table, sourced on a trip to South Africa, with matching chairs, adding a red rolling cart he found on a trip to Austin. "The red," he explains, "reminds me of the same shade used in France by the famous Maison de Verre of Pierre Chareau, a design idol of mine."
---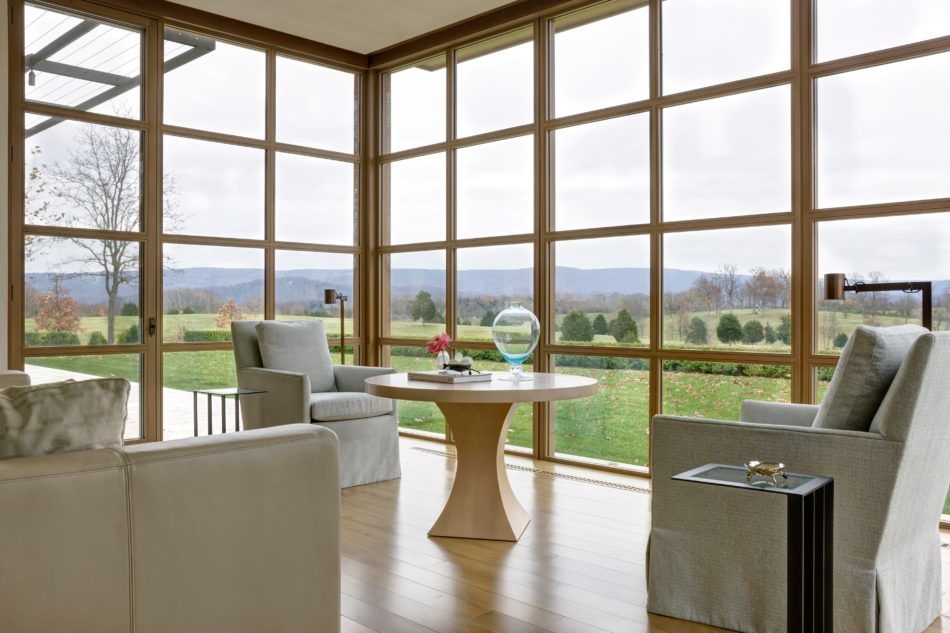 In crafting the living room of a Virginia country retreat, Paul Sherrill and José Solis Betancourt decided on floor-to-ceiling windows, to celebrate the panorama of rolling hills, farmland and Shenandoah mountain.
"For this area, we had a solarium in mind, so we worked with the architect to create a contemporary version of that concept," they explain. "This nook provides a contemplative area to fully immerse in the view."
So as not to detract from the view, they chose furniture with elegant lines and neutral colors, like the J. Robert Scott table and Holly Hunt chairs flanking it.
---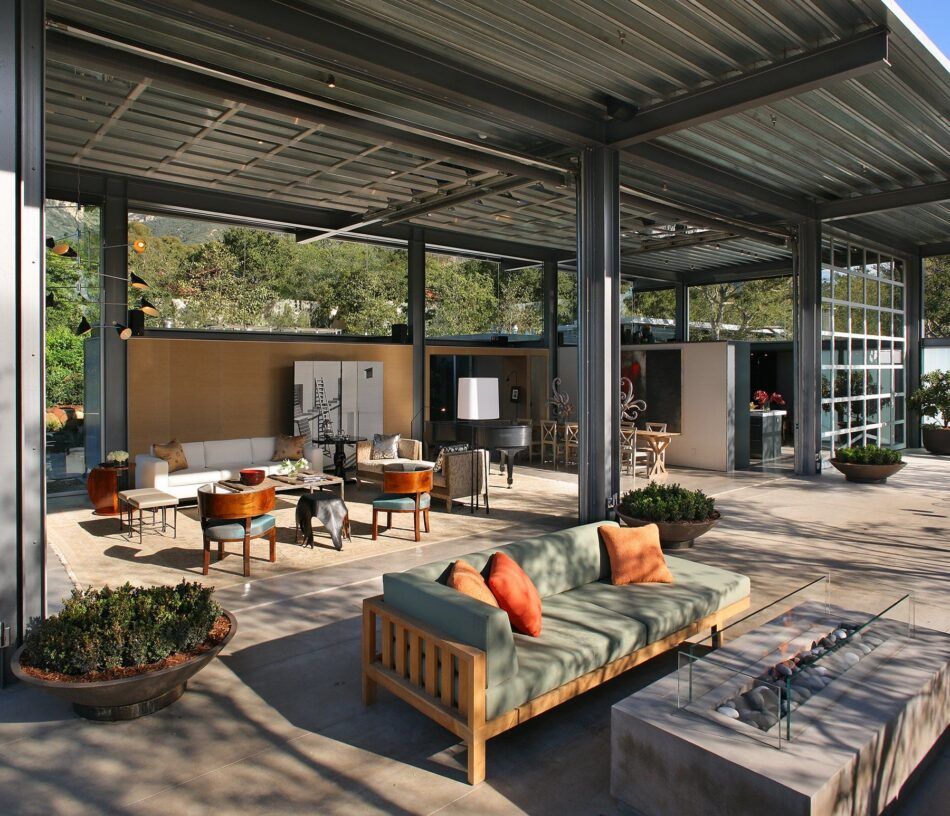 "Our design vision for this Montecito, California, home reflects a true Southern California lifestyle by connecting every space to the outdoors," says Mark Rios, of RHC Studios. Among the pieces making a serious case for indoor-outdoor living is the custom wood-backed chairs in the living area.
---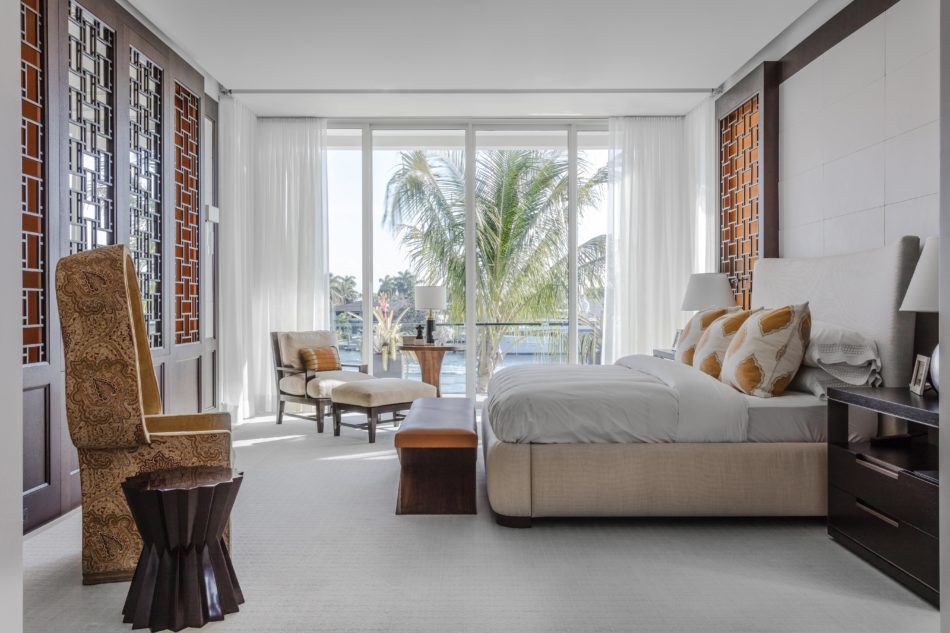 This coastal home may be in Fort Lauderdale, Florida, but its interiors are inspired by the details of Moroccan architecture. "In many ways, this is a modern riad," explains designer Tom Stringer, referring to the traditional Moroccan house with interior garden.
In the master bedroom, Stringer used laser-cut screens on both the cabinetry and the melon-colored, silk-lined light boxes framing the bed. "The client and I had made a trip to Morocco together," he says, "and there are similarities between the way buildings relate to the heat and light in Morocco and Florida."