Nineteenth-century philosopher Friedrich Nietzsche may have been German, but he once admitted that "an artist has no home in Europe except in Paris." Two new Flammarion books — The Parisians: Tastemakers at Home, by Catherine Synave, and Creative Paris: Urban Interiors, Inspiring Innovators, by the folks behind the hip lifestyle blog My Little Paris — prove that the City of Light still nurtures creativity.
Nietzsche came to his conclusion during the Belle Époque, when artists and intellectuals were flocking to the French capital. After touring the residences of the Paris-based visionaries featured in these books, we think the city is in the midst of a new creative Golden Age.
From designer Pierre Yovanovitch's serene château to Julia Rouzaud's Napoleonic hunting lodge turned Art Deco masterpiece, these homes exhibit an attention to detail and sense of style that are unparalleled.
Here, we explore 10 chic abodes of uniquely Gallic genius.
---
Andrew Gn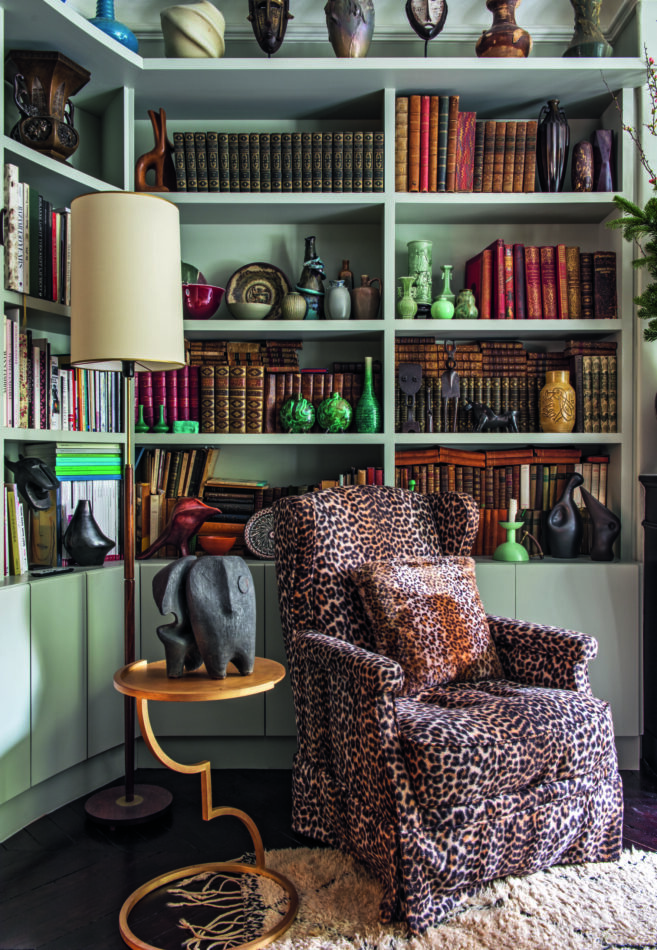 Born in Singapore and educated in England, fashion designer Andrew Gn traces his distinctive style to his parents' refined eclectic tastes: His mother owned nearly 300 Chanel suits and donned haute couture every day, while his father collected 12th-century Chinese porcelain and European paintings.
When Gn moved to Paris from Milan, he decided to outfit his Right Bank apartment with finds from local flea markets and galleries. In The Parisians, we learn about Gn's collection of 17th- and 18th-century Chinese vases and ceramics by such makers as Christopher Dresser, Minton and Primavera, along with a vintage Moroccan rug. The star of the space, however, is the 19th-century wingback chair, slipcovered by the designer in vintage leopard-print fabric.
---
Julia Rouzaud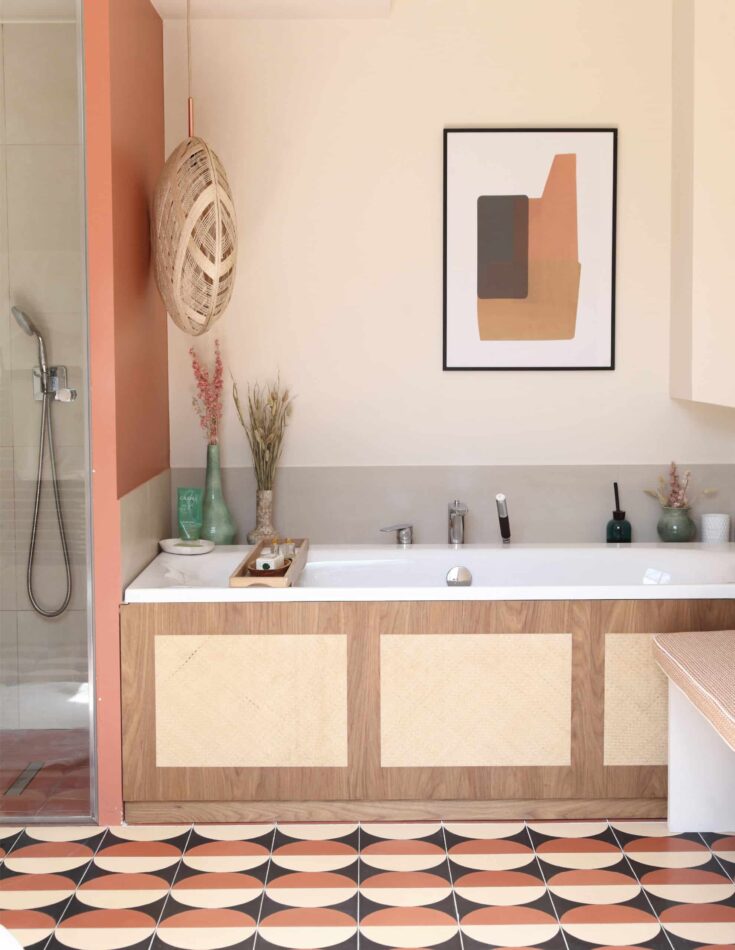 Confined to bed rest by a difficult pregnancy, French native Julia Rouzaud passed the time leafing through every fashion and home magazine at hand. According to Creative Paris, she found herself tearing out the pages she liked best and arranging the pictures into mood boards. Thus was born her company, GoodMoods, a website of curated, shoppable mood boards.
One of Rouzaud's favorite spaces in her Rueil-Malmaison home is the serene bathroom, with its India Mahdavi–designed tile floor, ceramic vases, pale walls and wood-paneled tub.
---
Margot Delesalle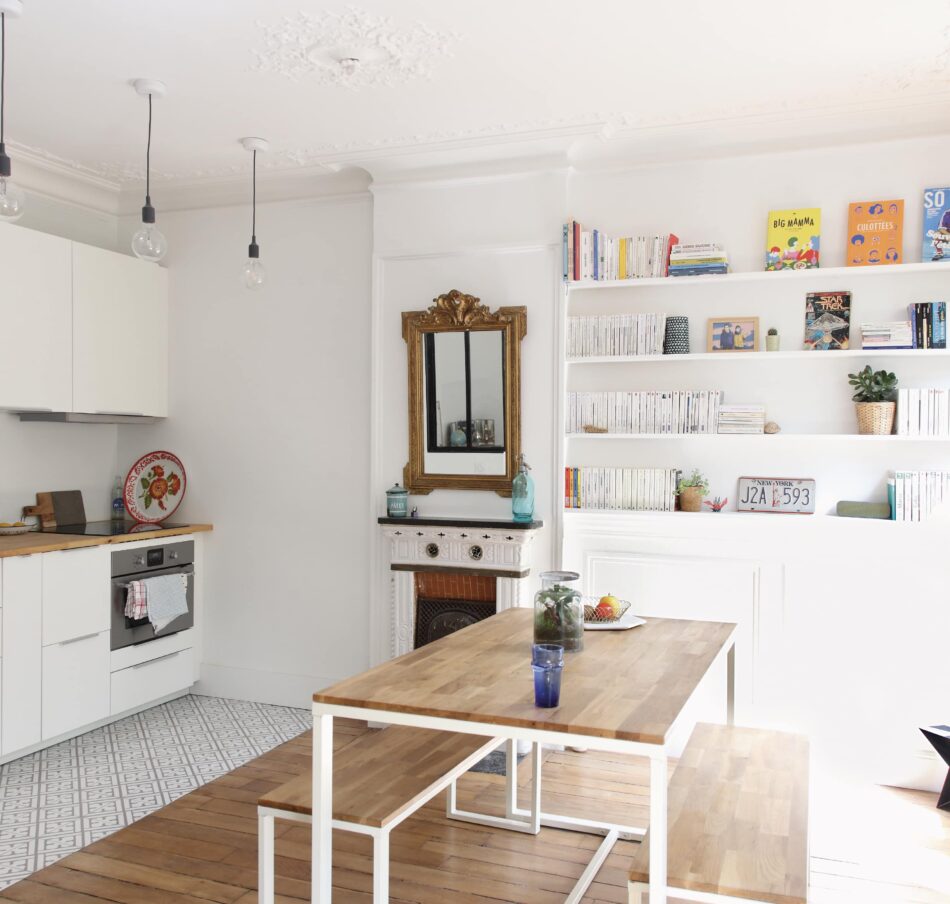 Margot Delesalle, experience manager of My Little Paris, and her husband chose their Montmarte apartment for its abundance of natural light — especially in the kitchen. Delesalle completely redid the room, including painting the walls a bright white. But she left untouched the original tiny fireplace, hanging above it a giltwood mirror from one of Paris's many flea markets.
Delesalle says in Creative Paris, "I love going to flea markets. I grab whole boxes that then disappear into the basement. At the same time my home remains spartan and very minimalist."
---
Patrick Perrin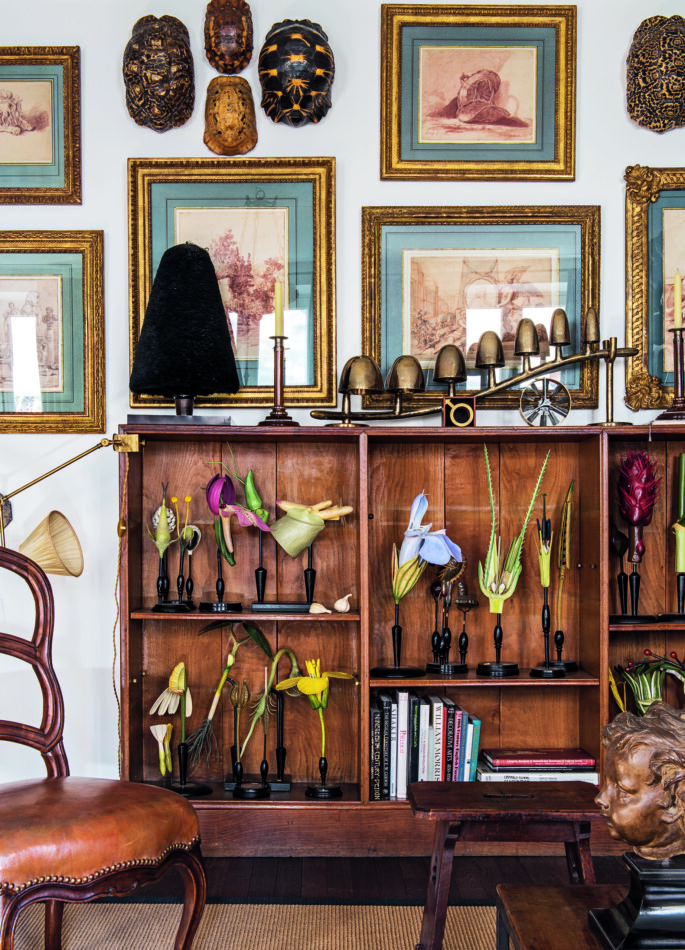 Patrick Perrin's life has always revolved around rare art and decor. In The Parisians, he describes himself as a native Parisian who runs the antique shop on boulevard Saint-Germain founded by his late grandfather, residing in the apartment above it.
In the downstairs study, Perrin proudly exhibits the papier-mâché flowers and tortoise shells he was inspired to collect by a visit to Miami during Art Basel. Among other prizes on display are an Arts and Craft chair, an Alessandro Pron table lamp and, of course, an extensive assortment of fine artworks, including drawings by Jean-Honoré Fragonard, Élisabeth Vigée Le Brun and Jean Cocteau.
---
Pierre Yovanovitch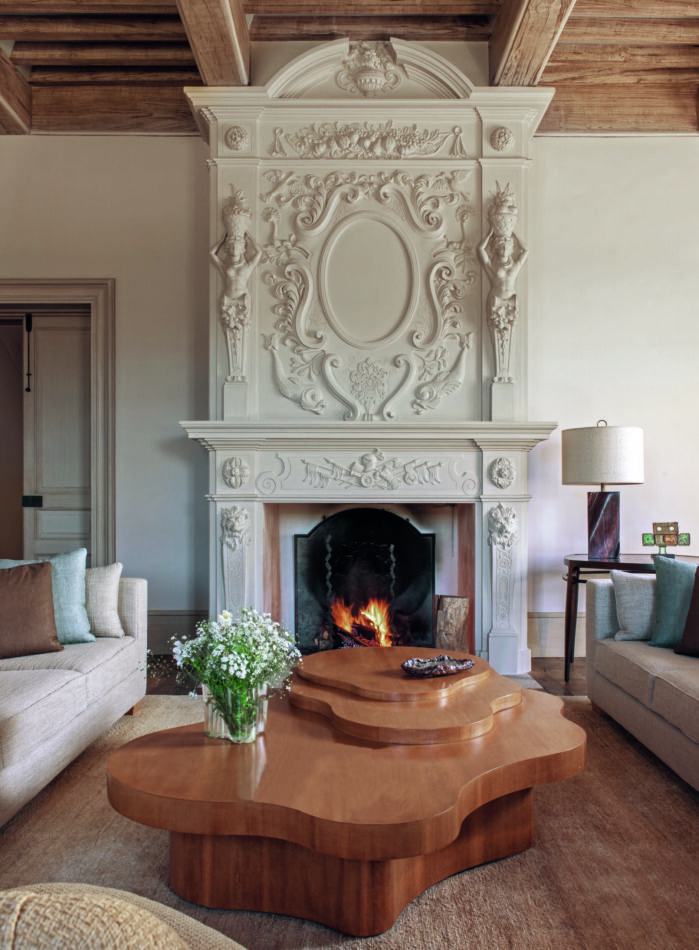 The Paris-based interior and furniture designer Pierre Yovanovitch never thought of himself as a "country house" type. That changed when he stumbled on a real-estate listing for a 17th-century château in Provence. Unable to resist, Yovanovitch scooped it up and set about furnishing it. In the living room, a 1949 coffee table by T. H. Robsjohn-Gibbings sits before the stucco mantel stretching up to the soaring ceiling.
"I adore this house," Yovanovitch says in The Parisians, "but I could never give up Paris, the people you meet there, the conversations you have there, the museums and galleries, everything."
---
Fany Péchiodat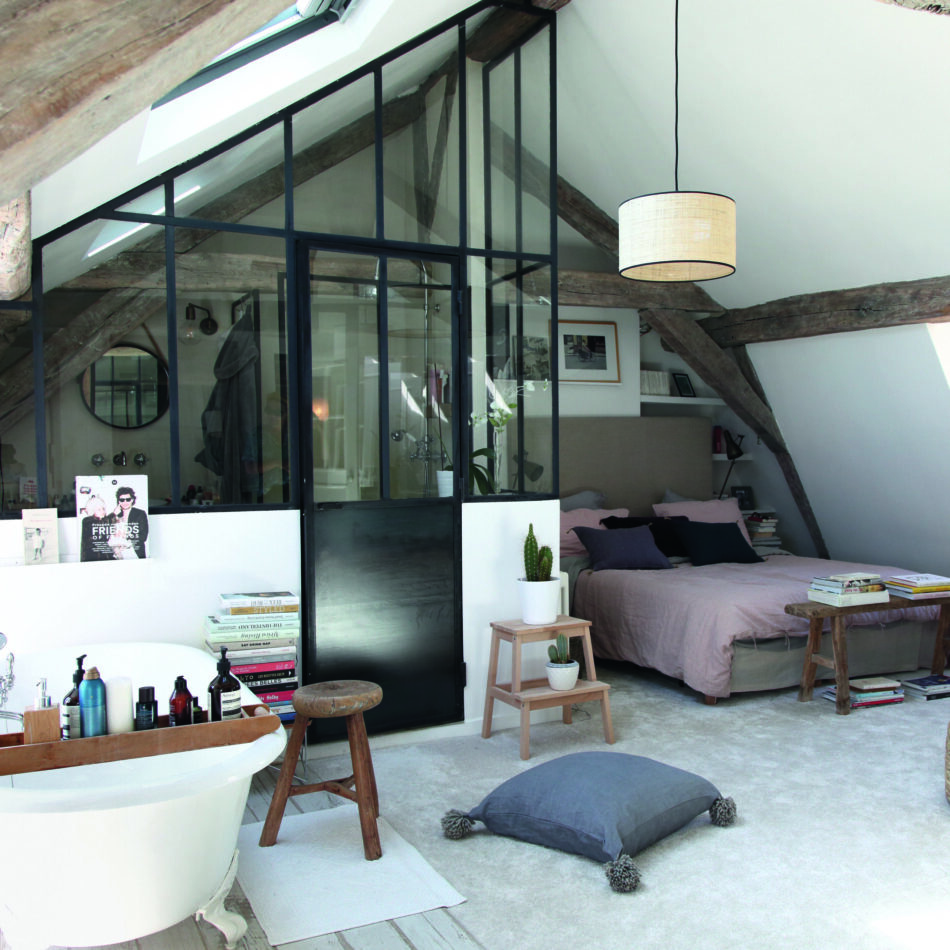 Fany Péchiodat, founder of bespoke cosmetics brand Seasonly and cofounder of My Little Paris, has styled her Paris apartment à la bohème, ignoring interior design's rules and trends in favor of a pared-down, utilitarian layout.
On the second floor, for instance, she transformed the original three bedrooms and one bath into a single giant space with glass dividers instead of walls. "When I moved in, I tore everything down," she reports in Creative Paris, "and the remodeling took only two months."
---
Clémentine Godais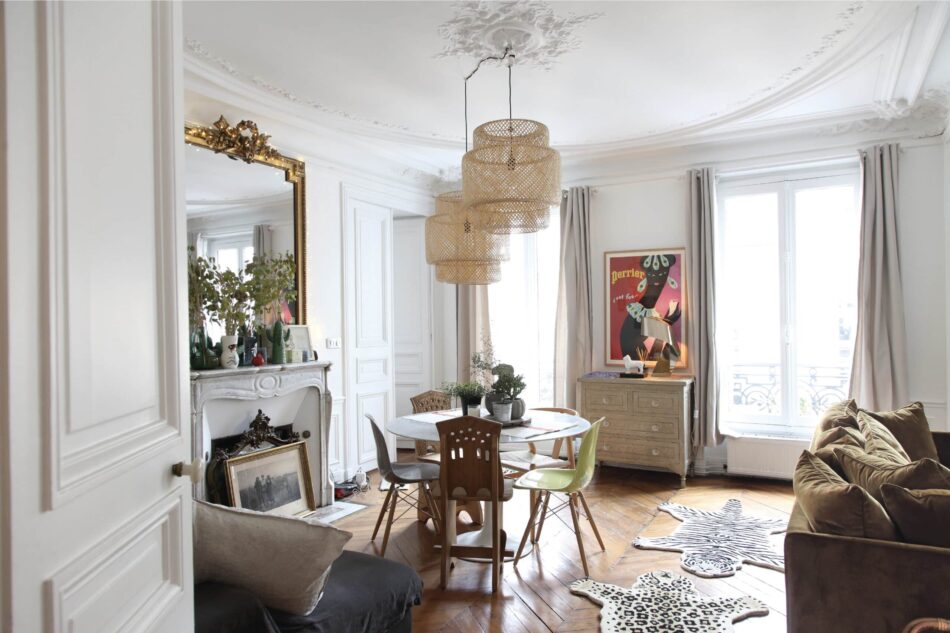 As you would expect from the creative director of My Little Paris, Clémentine Godais's Nouvelle Athènes apartment is unequivocally Parisian. The furnishings — the chairs around the dining table in this multipurpose room, for example — aren't matchy-matchy, instead melding together into an eclectically elegant decor. "I like the idea that your house is like a market filled with a thousand little treasures, some of them unexpected," Godais says in Creative Paris.
---
Marc Minkowski
A "chic junk shop" — in The Parisians, that's how French composer Marc Minkowski lovingly describes his apartment, chock-full of unique pieces he's amassed over a lifetime of traveling. Among his favorite items: antique and vintage conducting batons.
In the moody parlor, paintings discovered in Amsterdam flea markets lead the eye up the winding staircase, while the rich hue of the walls is picked up in the colorful oriental rug.
---
Philippe Anthonioz
In the 1970s, a young Philippe Anthonioz was on an architecture path, studying at the École des Beaux-Arts, in Paris. While traveling the world, however, he became enamored of Mayan art, especially the sculptures, and upon his return to France, started to fashion his own works. Not long after, he set up this Paris art studio.
Like many such spaces, it contains more art than furniture. What furniture there is, however, is top-of-the-line, like the Le Corbusier chaise and Eames lounge chair. Also notable is the oversize resin chandelier, which presents a light counterpoint to the heavy wooden pieces below it.
---
Lili Barbery-Coulon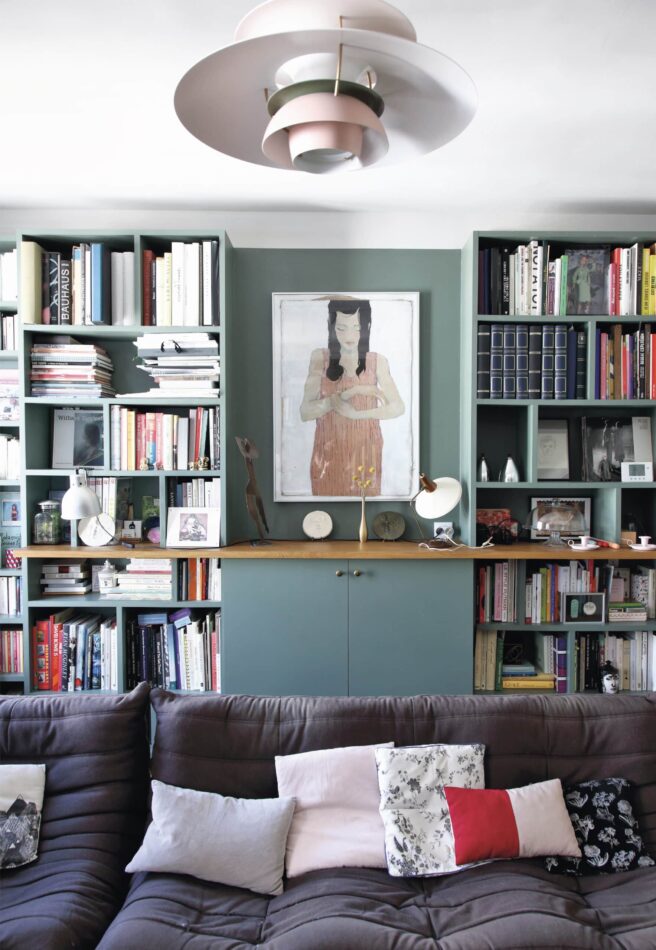 Former Vogue beauty editor Lili Barbery-Coulon now helms her own eponymous lifestyle blog. A self-proclaimed expert in "me time," she eschews trends in her decor, taking inspiration instead from timeless Japanese design.
"Our couch is an invitation to sprawl," Barbery-Coulon says in Creative Paris, describing her living room, whose jewel-toned bookshelves frame a very personal artwork. "The drawing is by my husband, Bastien," she explains. "He painted this image of a young girl well before our daughter Jeanne was born, but it looks very much like her."