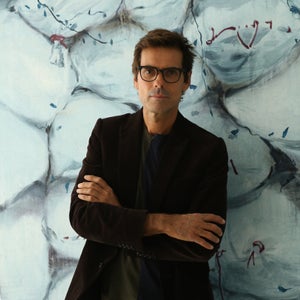 Pierre Yovanovitch Architecture d'Intérieur
Latest Project by Pierre Yovanovitch Architecture d'Intérieur
About Pierre Yovanovitch Architecture d'Intérieur
Extreme luxury tempered by a restrained, purist sensitivity defines the " Made in France" signature of interior designer Pierre Yovanovitch whose projects stand out for their refined sense of architectural scale over ostentation and fickle design trends.
Since 2001, prestigious commissions include a 5-star hotel in the heart of Paris, a 17th century château in Provence, high-end contemporary residences in New York as well as the scenographies of a number of international exhibitions. Each commission is conceived as a one-off project tailored to the space as well as the personality and lifestyle of the client.
A true sense of strength and sobriety characterizes a Pierre Yovanovitch interior, achieved through a masterful interplay of harmonious volumes and strict lines softened by lighting and authentic materials – wood, stone, marble, metal. All floors, lighting fixtures and furniture are made to measure, working with an elite network of artisans. An eclectic, curated selection of works by international artists underscores the couture approach. Sobriety, balance, comfort and modernity are his key words. The ultimate perfectionist, Pierre Yovanovitch conceives each project as a work of art.
Contemporary art is an important component of Pierre Yovanovitch's work, who has been, for many years, a true lover of modern art and a passionate collector. He creates strong yet subtle interiors that serve as beautiful backdrops for exceptional works or in situ creations by well-known artists or up-and-coming artists.
At once intuitive and a rigorous aesthete, Pierre Yovanovitch with his vision of contemporary elegance is making waves as the ambassador of a new French touch.
Articles Featuring Pierre Yovanovitch Architecture d'Intérieur