Around 1853, Baron Georges-Eugène Haussmann got to work on what is arguably the most successful — and most admired — renovation project of all time: a comprehensive overhaul of the streets, parks and buildings of Paris. After all, he is the man who untangled the city's original medieval footprint, called for a vast annexation of surrounding suburbs and unfurled wide boulevards in tidy lines across the city. Haussmann also played an integral role in shaping the architectural profile of Paris. The city's glorious, distinctive residential buildings were built to Haussmannian specifications: large (often whole-block), stone-faced, five-floor structures marked by the perfect alignment and symmetry of their balconies, windows and mansard roofs. Inside, the spacious apartments featured equally elegant architectural flourishes: high ceilings, parquet flooring, floor-length windows and intricate wood and plasterwork.
In addition to being incredibly sought-after by homeowners, these details form the archetypal image of a Parisian apartment. At a time of year when French festivities of all types — Bastille Day! The Tour de France! Haute Couture Fashion Week! — converge, we've assembled a gallery of 16 images that highlight the versatility and timeless chic of the classic Paris apartment. Below, see some of the crème-de-la-crème of Parisian interior design.
Architect and designer Jean-Louis Denoit calls the living room of this Paris pied-à-terre an "ode to gray." Image by Xavier Bejot, courtesy of Rizzoli.
---
The Israeli design firm Ando Studio mixed French Modern, Op-Art and Industrial pieces for this eclectic-yet-elegant St. Germain sitting room.
---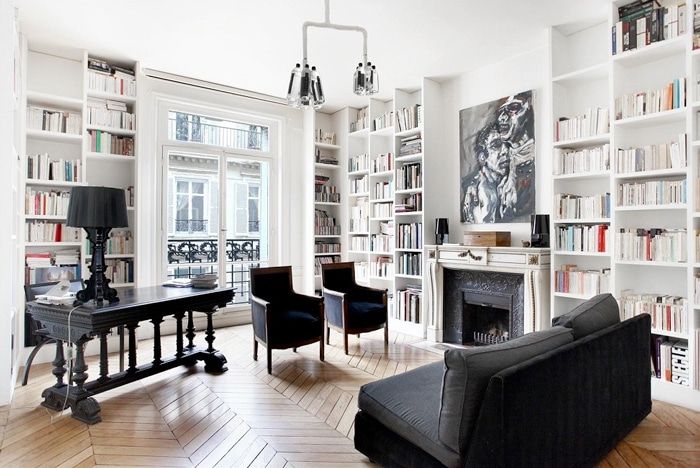 Classic Parisian touches — chevron floors, a wrought-iron balcony — are offset by more contemporary elements, like a Ferruccio Laviani lamp, in this stunning library. Image via Designs With Jessica.
---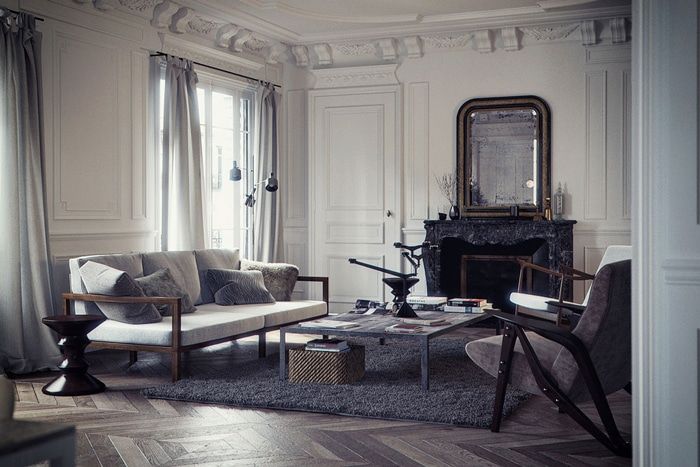 A traditional Haussmannian interior, updated with a moody, gray palette and plush textiles by designer Bertrand Benoit.
---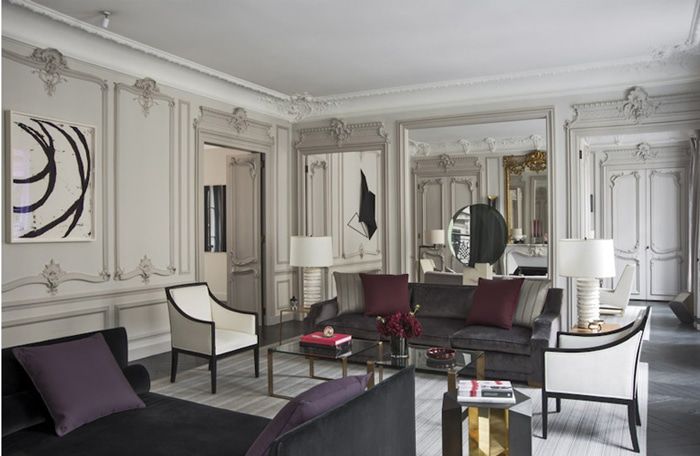 Design duo Champeau & Wilde added gilded, glamorous accents to this airy abode in the Nouvelle Athènes neighborhood of Paris. A gray velvet sofa perfectly complements the space's exquisite point de hongrie parquet floors.
---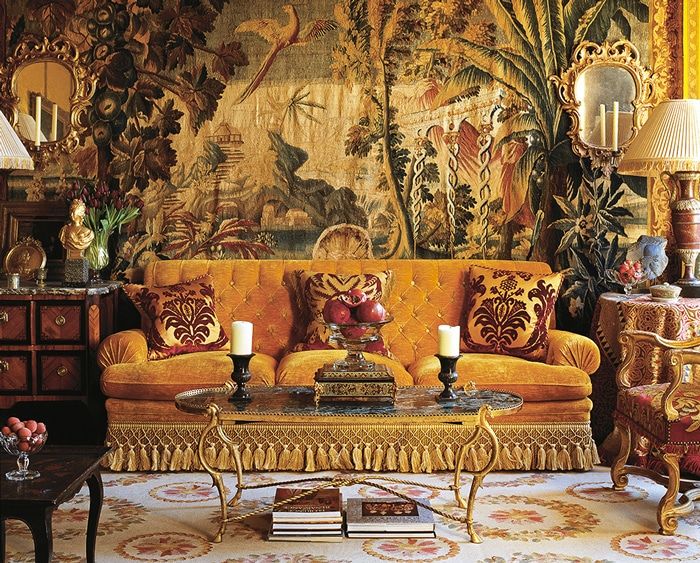 Interior decorator Alidad describes his designs for this lavish Parisian drawing room as "the embodiment of beauty, warmth, character and comfort." Photo by James McDonald, courtesy of Rizzoli.
---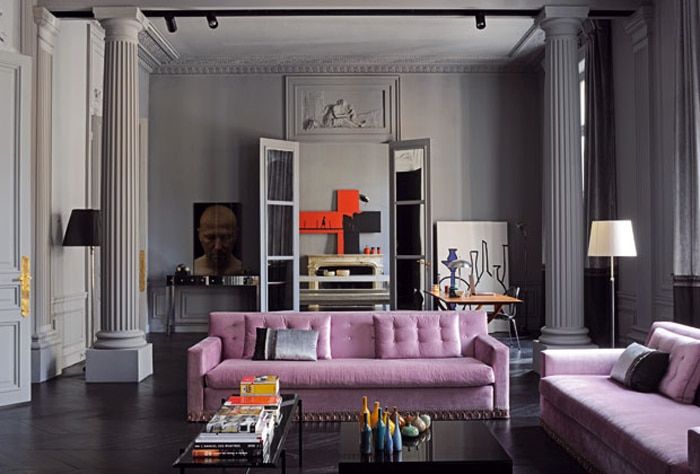 The grandly proportioned home of Florence Badoux is an ideal showcase for the designer and architect's collection of contemporary art — and an advertisement for the unlikely combination of lilac, tomato and dove gray hues. Photo by Richard Powers.
---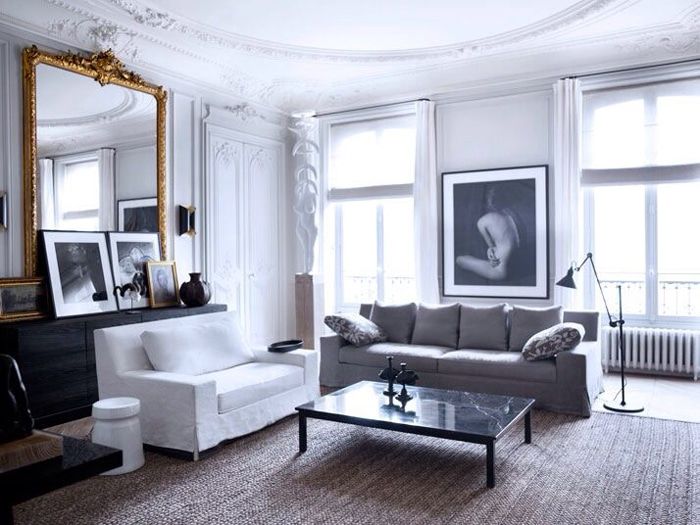 The Paris home of Patrick Gilles and Dorothée Boissier — the principals behind top-drawer design firm Gilles & Bossier — seamlessly blends 19th-century architectural flourishes with 21st-century furnishings. Photo by Birgitta Wolfgang Drejer.
---
Designer Jacques Grange created this witty, energetic space — a former cabinet-maker's workshop in the Bastille district — for a client who appreciates contemporary art and Jean Royère's designs. Photo by Alexander Bailhache.
---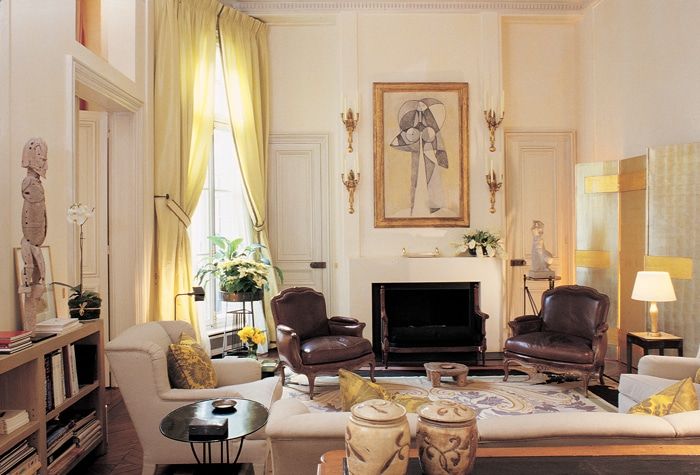 This Parisian living room — another project by Grange — is both spirited and graceful, thanks to its deft employ of lush volumes, a creamy palette and precisely balanced groupings. Image by François Halard.
---
The Place Saint Georges home of Argentinean designer and architect Luis Laplace boasts breathtaking boiserie, or intricate wood paneling, and plasterwork.
---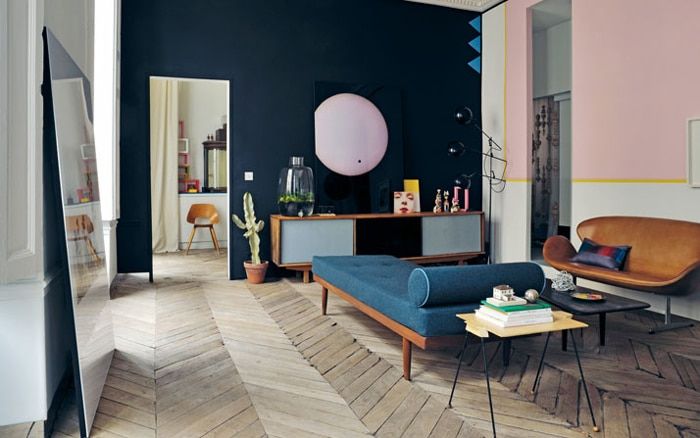 Jean-Christophe Aumas — an art director for Voici/Voila, whose clients include Louis Vuitton and Céline — filled his 10th-arrondissement flat with icons of midcentury modernism, including an Arne Jacobsen Swan sofa. Photo by Christian Schaulin for Dwell.
---
In the Paris home of Lauren Santo Domingo, legendary interior designer François Catroux used a mix of elements — like a chrome Herve van der Straeten chandelier — to telegraph "a mixture of grandeur and bohemian style." Photo by Oberto Gili for Vogue.
---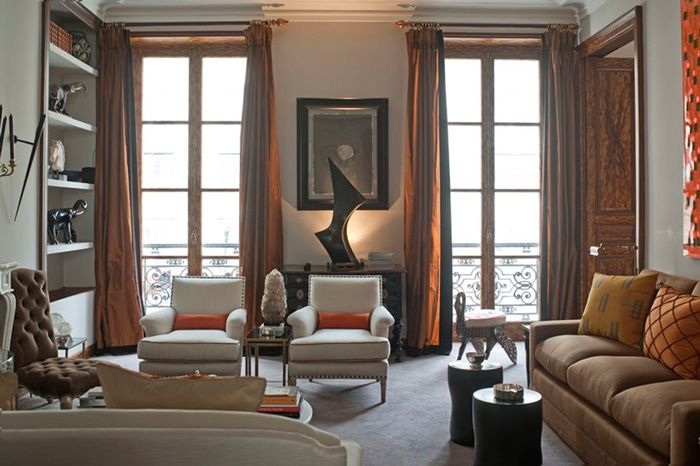 The Left Bank duplex of interior designer Tino Zervudachi — one of namesakes behind the firm of Mlinaric, Henry & Zervudachi — is at once sophisticated and inviting. Photo by Marianne Haas.
---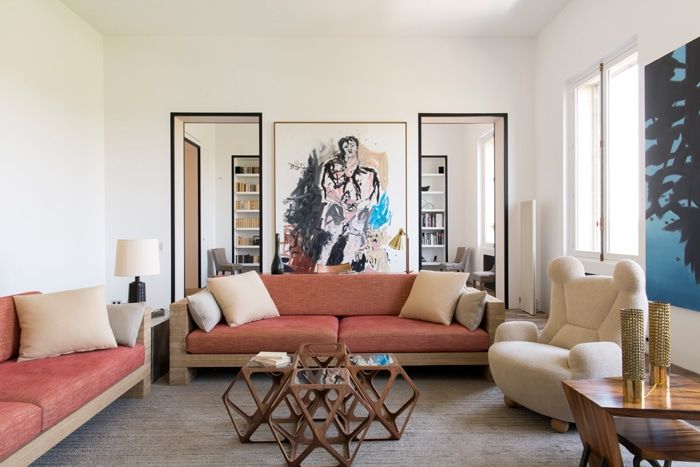 In this Quai Anatole apartment, French designer and architect Pierre Yovanovitch showcases his mastery of composition and curation. Image courtesy of Lux Productions.
---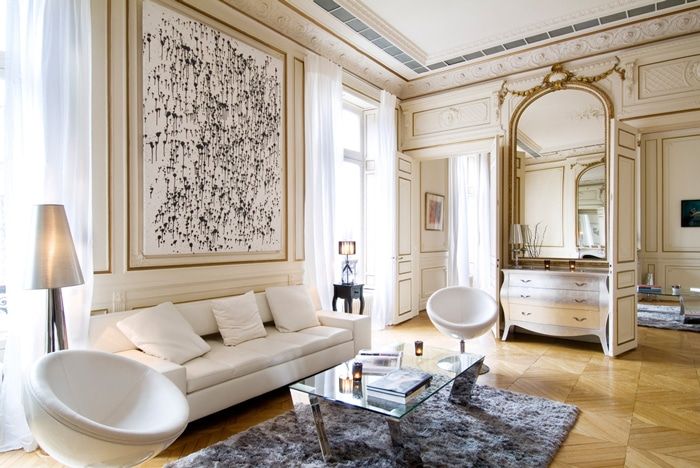 Classical finishings and contemporary furnishings work hand-in-hand in this Paris home, highlighting the timeless, versatile character of Hausmannian architecture. Photo by Sara Niedzwiecka.
To create your own Paris-inspired home, shop French Furniture on 1stdibs!