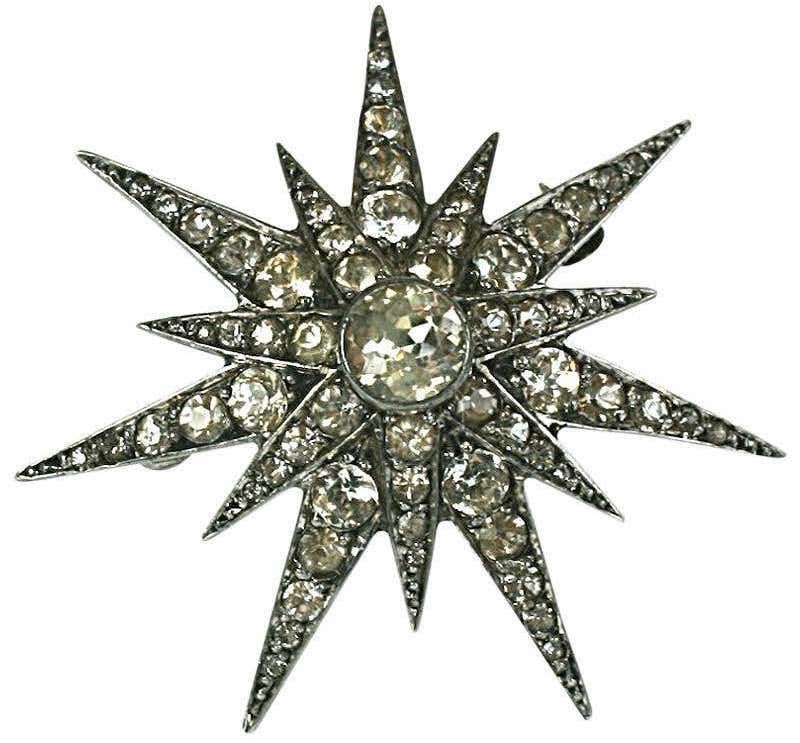 I've had a love affair with paste jewelry since I was a little girl. One of my mother's hobbies was decoupage, and I used to go with her to a notions and trimming store in midtown Manhattan to buy materials. We'd walk up a dark flight of stairs and enter an Ali Baba's cave stocked with ribbons; Victorian images of birds, butterflies, cherubs and flowers; decorated buttons; rolls of sequins from the 1920s; and boxes and boxes of crystal flat-back rhinestones in every color and shade.
At home, my mother would put her purchases in a closet outfitted with shelves to hold her tools and materials. I was encouraged to avail myself of anything that struck my fancy to make my own arts and crafts projects. Mostly, I was drawn to the stones and sequins and used them to decorate small boxes I would give as gifts.
I didn't realize those stones were different from the ones in my mother's jewelry box until I glued a pair of her round drop diamond earrings onto one of my creations, which I then gave to our babysitter on her birthday.
Luckily for me, the babysitter was an honest soul and returned the earrings to my mom. After that, I was banned from the jewelry box and taught the difference between real and make-believe.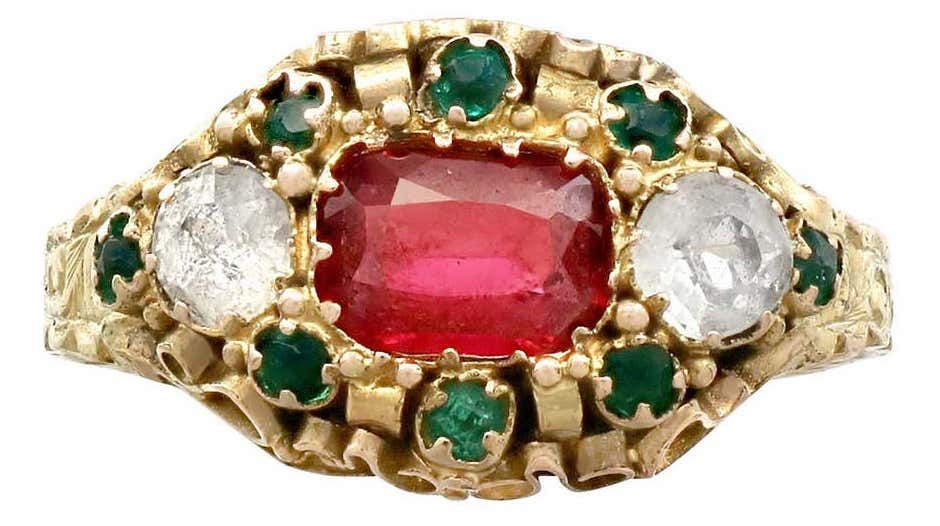 Paste jewelry didn't come back into my life until I became a novelist and was having a hard time fully realizing my main character. In desperation, I came up with the idea of going shopping with her to learn her likes and dislikes, an excursion that would include buying something of hers I could wear while writing, as a talisman of sorts. I settled on an engagement ring, imagining a ruby surrounded by diamonds.
What was I thinking? I was an unpublished author — I couldn't afford rubies and diamonds! But I had convinced myself that I wouldn't be able to write the book without the ring. And that's when I remembered the "make-believe" stones I used to play with. So, I left Tiffany and began scouring antiques stores.
Paste, I was told by the dealer who showed me just the ring I was looking for, was an outgrowth of ancient cultures' veneration for glass. Throughout history, royals had their own paste jewelers. Napoléon gave a parure of paste to Joséphine. The finest such pieces are made using the same techniques as fine jewelry and often employ precious metals like gold or silver. The best paste stones are even cut like real gemstones.
---
---
As my collection of paste has grown over the years, so has my interest in the material and its history. So much so that in my most recent novel, Cartier's Hope, which takes place in 1910, I created a jeweler named Joshua Asher whose grandfather had his own secret paste formula, as many jewelers actually did.
Here is how Joshua explains it to my main character, Vera Garland:
"The ancient Romans excelled in creating colored stones from a highly polished glass paste. There are wonderful examples of their lapis lazuli and emeralds in the British Museum. But it was in the eighteenth century when paste was perfected. We don't know who is responsible. There are conflicting stories. Some say it was a goldsmith in Vienna named Joseph Strasser in 1758, and others say it was a French jeweler named Georges Frédéric Strass in 1724. The closeness in their names always struck me as very strange. But either way, the result was leaded glass polished with metal powder that produced stones that matched the diamonds and other gems in the crown jewels. To the naked eye, even jewelers couldn't always tell the paste from the mined stones. And they were very valuable, always set in real gold or silver. More recently, Daniel Swarovski, a man living in Austria, has invented a glass-cutting machine that creates even finer stones. But I like to think my own grandfather's secret formula creates the most realistic paste. He taught my father, who taught me. He called it 'evil knowledge.' "
"Why is it secret? And why evil?" I asked.
He shook his head and frowned.
"What's wrong?"
"It's not something I talk about. Ever. I've already said more than I should."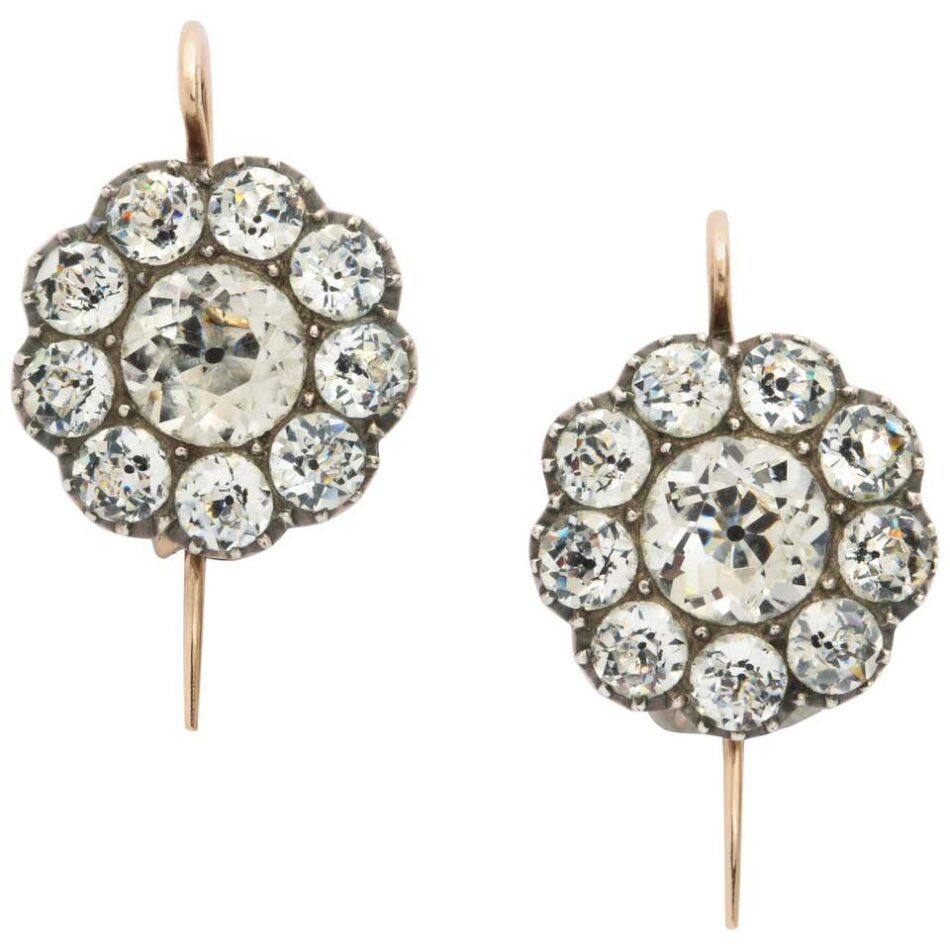 The reason paste is so dangerous is that, without a loupe, even a jeweler can mistake a well-made stone for the real thing.
I asked Stephanie Levy, of Stephanie Windsor, who has been a celebrated jewelry dealer for more than 30 years, for some advice for paste collectors.
"Paste jewelry was all the rage in the 18th and 19th centuries and quickly became the go-to travel jewels for the upper class and the antidote of style for those who could not afford diamonds," Levy says. "Today, the love of antique paste continues, as it's so collectible and wearable. The real-deal 18th-century paste can be more expensive than diamonds today. Things to look for are quality and craftsmanship."
You can see both those attributes in my most recent acquisition: paste diamond drop earrings, which happen to come from Stephanie Windsor. They aren't real, like my mother's earrings that I almost gave away, but if you don't tell, I won't.
---
---
M.J. Rose is a New York Times–bestselling author. Her most recent novel is Cartier's Hope (Atria Books).