If you took up chess in the last few months, chances are you'd been watching the The Queen's Gambit, the hit Netflix series chronicling the life of fictional chess prodigy Beth Harmon. According to a recent report, Google searches for the game have doubled since the show debuted this past autumn. A record-setting 62 million households streamed the show in its first 28 days, and game manufacturers have been selling chess sets faster than they can produce them. (Fortunately, a few deluxe and vintage sets are still available on 1stDibs.)
Set in the Cold War era and during the cultural revolution of the 1960s, The Queen's Gambit, based on Walter Tevis's novel of the same name, is a compelling step back in time as well as a gripping coming-of-age drama. The story traces Beth's journey from orphaned child to gifted adult battling with addiction to rise through the grand master ranks.
Over the course of seven episodes, Beth's competitive drive takes her to Mexico City, New York, Paris, Las Vegas and Moscow. Along the way, she's exposed to — and embraces — daring new fashions and the latest pop music. As the series and the decade progress, so does Beth's style.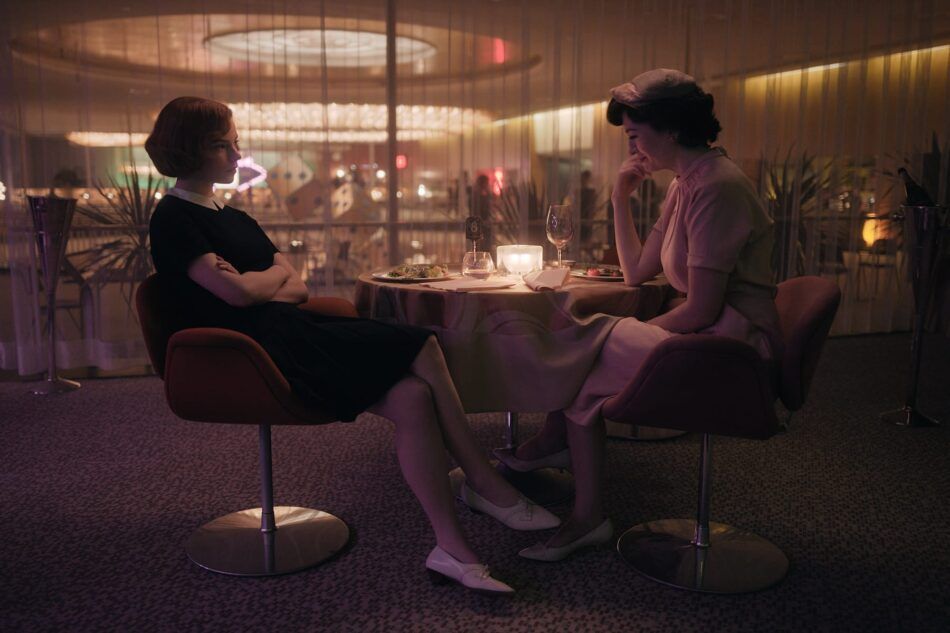 By her late teens, she has ditched her drab suburban wardrobe (think dowdy pinafore dresses) for gamine garb, replete with Peter Pan collars, thigh-skimming hems and pastel prints (checkered of course). The looks are inspired by the rebellious aesthetics of the era's most notable designers, who were keen to reflect the uncompromising energy of a vibrant youth generation.
The ensembles were created for the main characters by German costume designer Gabriele Binder, who also managed the 30-person wardrobe team responsible for dressing the large cast of supporting actors and extras. (Remarkably, most scenes, including those shot in Mexico, were filmed in her home city of Berlin.) For Beth's outfits, Binder drew inspiration from names synonymous with the fashion revolution of the 1960s.
"Cristobal Balenciaga is one of my favorite designers," Binder tells us over the phone from her Berlin-based studio. "His work is so pure and sculptural. His radical pieces from the '60s were especially inspirational. In Ohio [in episode five], Beth wears a red coat that nods to his fluid style. In New York, she's seen in a gray miniskirt that references one designed by Nicolas Ghesquière for Balenciaga in the early 2000s, which is based on a vintage silhouette by the couturier. So, these looks travel effortlessly through time."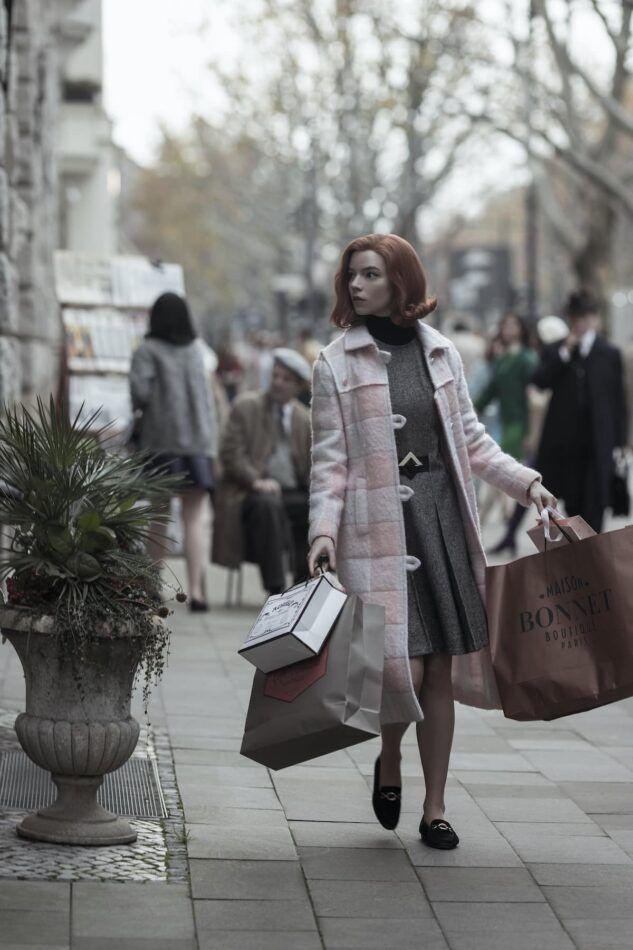 Binder describes Beth's interest in fashion as stealthy. She gradually evolves from wallflower to geeky teen whiz to coquettish wonder woman as she becomes immersed in her adventure. Indeed, Beth's costumes reflect not only the colorful counterculture of the 1960s but also her own confidence as she ups her game.
In New York, she's influenced by a Warholian Factory Girl look, while in Paris, she becomes a French soubrette in the image of a young Catherine Deneuve or Françoise Hardy. In Moscow, she mixes a killer instinct with kittenish femininity, exemplified by her green velvet baby-doll dress with large decorative bow collar, inspired by an original design by Biba, whose skimpy cuts and sumptuous fabrics summon the famous Swinging London style.
"Beth has an edge, but she finds it through misunderstandings rather than intuition," says Binder, citing the awkward moment in episode three when the chess champ attends a high school party in a flouncy little black dress. She hopes to fit in with the popular girls but winds up looking uncomfortable.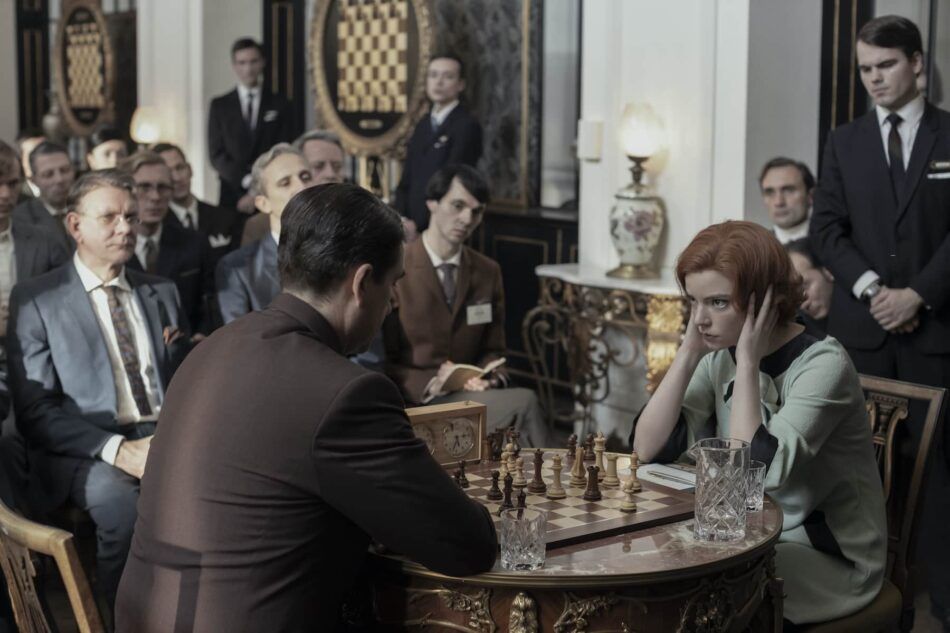 Beth's true style, which she has yet to assert, is more "natural and unfussy," says Binder. For later scenes, the costume designer looked to the graphic and sharply minimalist designs of André Courrèges and Pierre Cardin. The iconic shift dresses of Yves Saint Laurent were also a reference point: "In Paris, she wears a nude-colored shift dress with a black block design, which was our version of a YSL Mondrian dress," Binder notes, "although there's a hint of Cardin there too, as it's quite futuristic."
Green is definitely Beth Harmon's go-to color. It complements her signature red bob, of course, but also carries hidden meaning. When we meet her at the age of eight, she's wearing a pale-green dress embroidered by her mother with her name and a heart design.
Significantly, Beth wears this delicate green again, in a structured mini dress, for the suspenseful game of the finale. According to Binder, this sartorial "loop back in time" connotes a kind of homecoming, as Beth finally makes peace with her past.
Even more symbolic is the all-white ensemble that she wears in the very last scene of the series, as she walks through a Moscow park. The sleekly tailored Left Bank beatnik look has more than a hint of Courrèges flair, not least because it conveys the sense of avant-garde newness championed by the futuristic French couturier, who was known for his minimalist lines and geometric shapes.
Binder initially looked to a more literal source of inspiration, however. "Her long white coat and white pom-pom beret are directly drawn from the shape of the queen figure on a chessboard," says the designer. "The challenge was to create an ultra-modern cut and not something that could be mistaken for traditional Russian dress." The deceptively simple attire carries allegorical complexity, as Beth realizes she is queen of her own destiny.
Some outfits from the show can be explored in detail, thanks to the virtual exhibition "The Queen and The Crown," presented by the Brooklyn Museum. Does Binder have any favorites?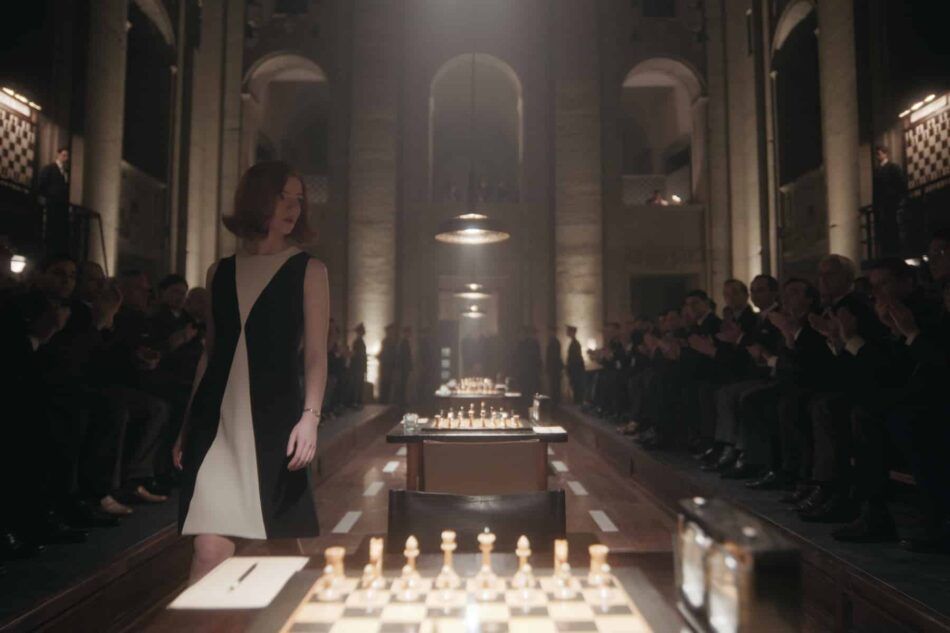 One is the blue T-shirt with a bateau neck that Beth wears tucked into a billowing white skirt during her match at the U.S. Open in Las Vegas in episode three. "You'd think it would be easy to buy," Binder says, "but actually this piece was cut and structured so that it looks good at every angle."
Many of the vintage pieces sourced by Binder for research were unbranded, crafted by hand at home and inspired by the mod styles of such firebrand designers as Mary Quant in London and Rudi Gernreich in Los Angeles.
But there were some couture-related revelations, including the beige-and-black check coat with choker-style collar that Beth wears on her way to her last tournament. "It was sourced from a costume house in Los Angeles and was made by André Courrèges for an American fashion label I knew little about called Samuel Robert," says the designer. "It is really one of Beth's most memorable looks," highlighting the fact that the most enduring styles are those that express elegance with a touch of mystery.
It just goes to show that fashion and chess really aren't so different.