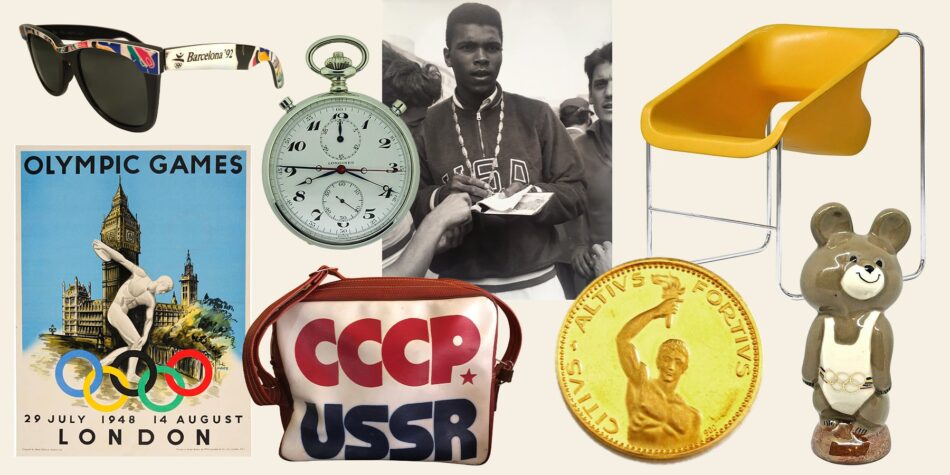 In honor of the Games of the XXXII Olympiad, which will be held in Tokyo from July 23 to August 8, we have selected a dozen stunning pieces related to historic editions of the games that are sure to delight the sports enthusiast in your life.
---
The Games of the XIV Olympiad were the first Summer Olympics held after the end of World War II, which had caused a 12-year hiatus in the event. Because of rationing and harsh postwar economic conditions, people called them the Austerity Games.
---
Crafted for the 1932 Summer Olympics in Los Angeles, this ready-to-frame garment is emblazoned with sporting images, encouraging slogans and the fragment of a song score.
---
This watch, which allows the user to time two contestants in one race, was likely produced for and used in an Olympics. Longines was the official timer of the Games for almost 30 years.
---
This classic Canadian modern design was created for the 1976 Olympics in Montreal.
---
Eighteen-year-old Cassius Clay, who later changed his name to Muhammad Ali, won a gold medal in the light heavyweight division of the 1960 Summer Games in Rome.
---
Designed by Surrealist master Salvador Dalí and produced by Intercoin, a German minting company, for the 1984 Olympics in Los Angeles, these medallions bear images representing the different events on the obverse and the official emblem of the United States Olympic Committee on the reverse.
---
These vintage Ray Ban Wayfarer sunglasses celebrate the 1992 Summer Games in Barcelona.
---
Misha the bear, the official mascot of the 1980 Moscow Summer Olympics and considered an icon of Olympics marketing, was conceived by children's-book illustrator Victor Chizhikov.
---
Each of these coins commemorates a different Olympiad, from the first Games of the modern era — held in Athens, Greece, during the summer of 1896 — to the 1972 Summer Olympics in Munich, Germany.
---
Crafted from Naugahyde, this handy bag was probably designed by Adidas for the 1984 games in Sarajevo, Yugoslavia.
---
This collection comprises participation medals from the 1936 Berlin and 1952 Helsinki Games, plus a Coca Cola–branded manual "computer," which displays a cornucopia of information about the 1932 Los Angeles Olympics along with stats from the 1928 Amsterdam competition.
---
Levi Strauss & Co, the official outfitters of the U.S. team for the 1980 Moscow Olympics, ran a promotional campaign featuring these international posters in the lead-up to the event. As it turned out, more than 60 countries, including the U.S., withdrew from the Games to protest the Soviet invasion of Afghanistan.
---