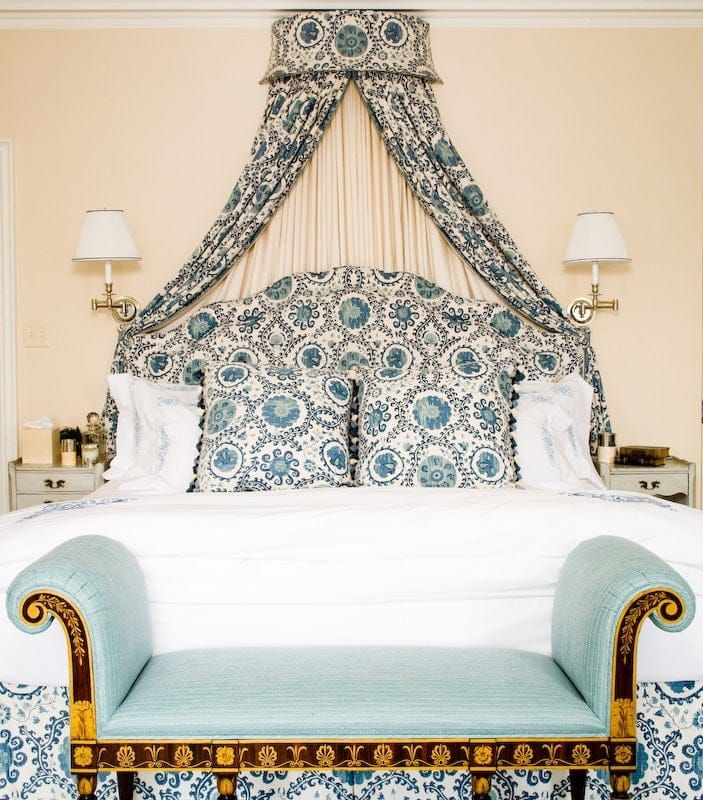 With maximalism riding high in the design world, bedrooms are getting on board with vibrant upholstered headboards. Here, a handful of established designers share what inspired their stunning creations.
---
Rachel Chudley in East London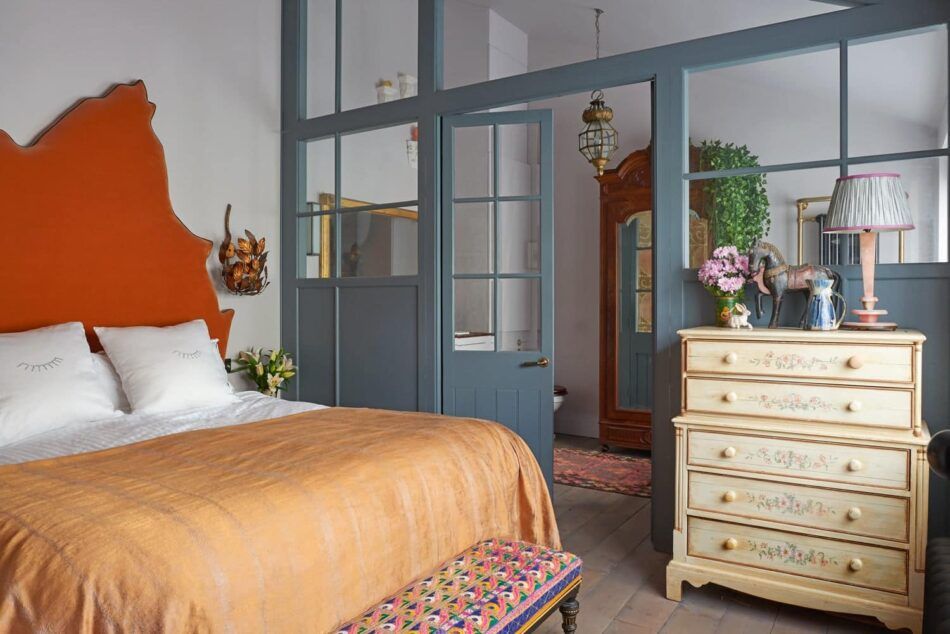 Rachel Chudley makes her home, fittingly, in a building on East London's Winkley Estate, an area developed toward the end of the 19th century for cabinetmakers and upholsterers. In honor of the neighborhood's craft-filled history, Chudley created interiors with quirky and colorful character.
"My design for the orange velvet headboard in the main bedroom was inspired by the French toleware lights that flank it," says Chudley, who enjoys creating her own furniture. "This was also my chance to have fun, so I played around with the shape of the leaves on the lights until they became abstracted and morphed into this epic bedhead."
---
Beata Heuman in Hammersmith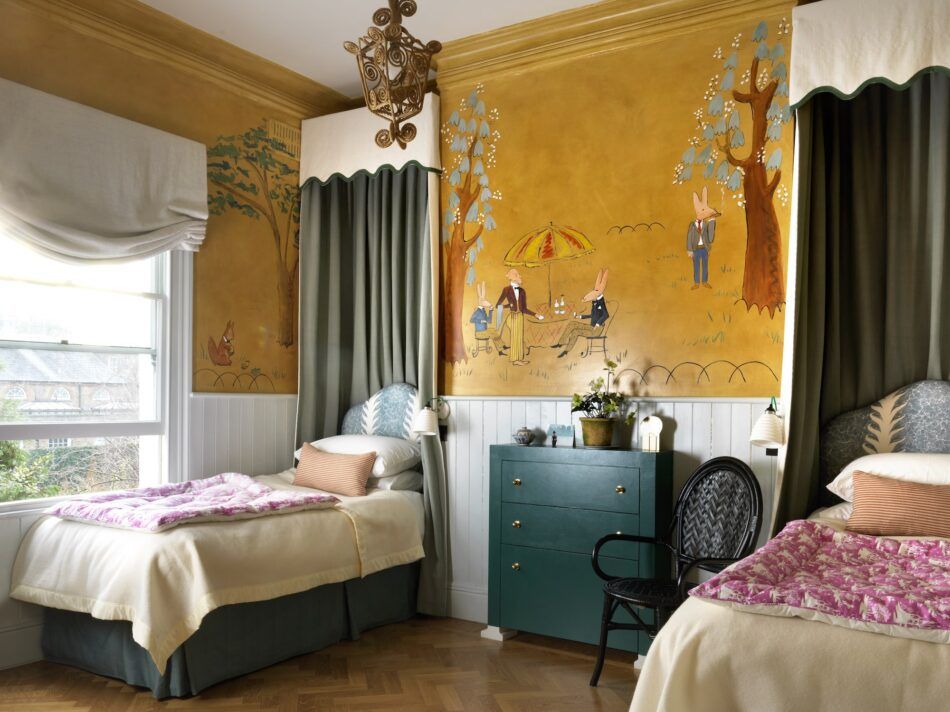 "I wanted a room that would spark the imagination of my two daughters," says Swedish designer Beata Heuman, describing the whimsical space she created in her townhouse in the riverside district of Hammersmith, London.
A playful wallpaper inspired by Madeleine illustrator Ludwig Bemelmans, whose murals embellish New York's Bemelmans Bar, was the starting point. Canopy beds "evoke a fairy-tale feeling," Heuman notes, and, more importantly, she adds, provide each sibling with a sense of personal space — a must when sharing a room. The headboards, upholstered in Heuman's Palm Drop fabric in Sky Blue/Plaster, recall the serene swimming pools in David Hockney's paintings.
---
Gary McBournie in Boston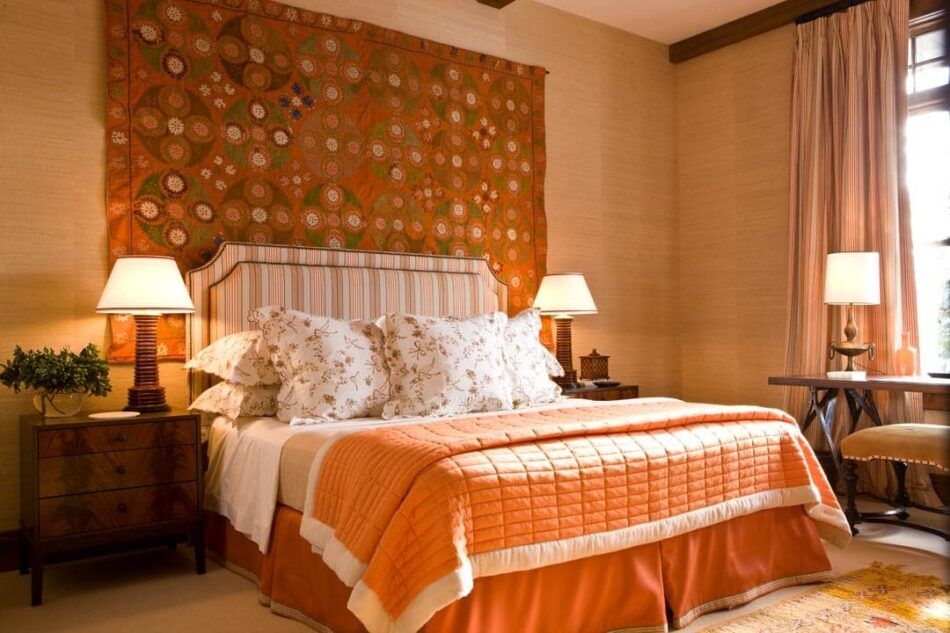 Boston designer Gary McBournie went for a calming vibe in this bedroom belonging to a client's jet-setting daughter in the exclusive Yellowstone Club, near Big Sky, Montana.
Basing their palette on the locale's spectacular sunsets, McBournie and his longtime personal and business partner, Bill Richards, used a tan woven covering for the walls and striped Pierre Frey fabric for the headboard and drapes. An orange floral suzani, found on a trip to Marrakech and hung above the bed, gives the scheme an exotic twist. A pair of ribbed Christopher Spitzmiller lamps sit on nightstands from McBournie's home collection.
---
Mariana d'Orey Veiga in Rio de Janeiro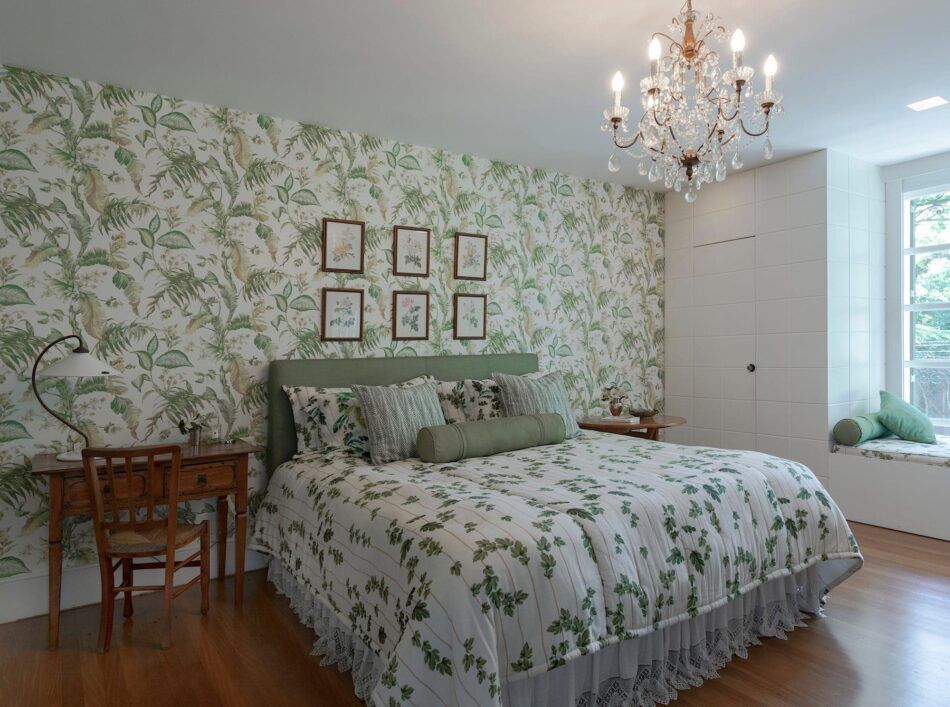 When Marianna d'Orey Veiga's parents asked her to convert her childhood bedroom into a welcoming guest room, the Brazilian designer decided to create a space that combines, she says, "all the comfort of a master with the whimsy of a vacation space."
The house is in the center of Rio de Janeiro, and she brought the outdoors in, selecting textiles and wallpaper whose vivid patterns reflect the lush tropical landscape. The bedding and curtains were custom made by a local vendor, while the simple rectangular headboard came from Veiga's teenage bedroom. (It was originally done in tufted white leather.) Another nostalgic touch: the crystal chandelier, which hung in Veiga's nursery.
---
Miles Redd in Houston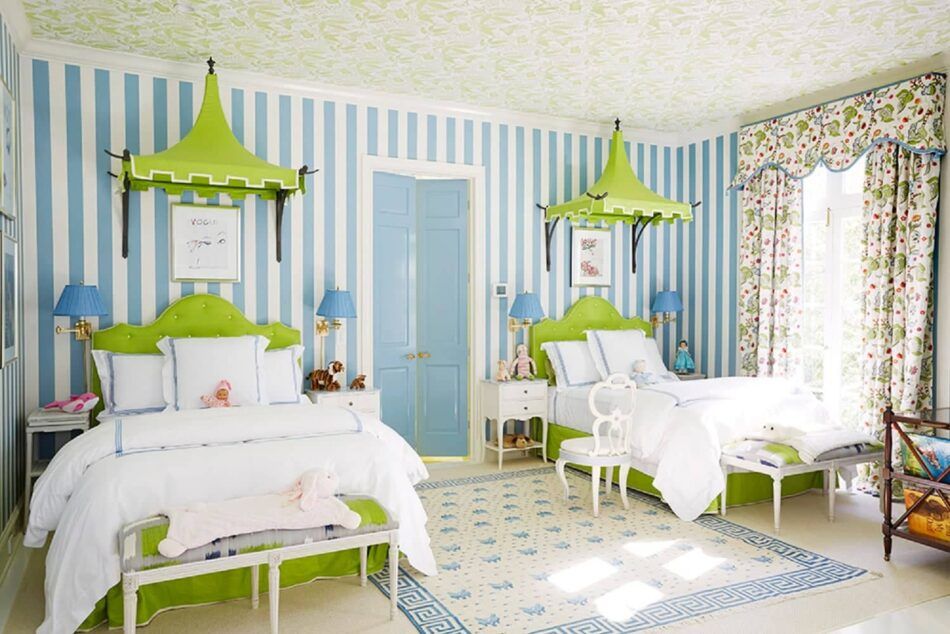 This boldly designed bedroom in Houston seems straight out of a Hans Christian Andersen fairy tale. "We wanted a sense of fantasy and fun," says New York–based designer Miles Redd, who used a blue-and-white-striped paper on the walls and pale green Marthe Armitage paper on the ceiling.
The Kelly green headboards and steeple-shaped canopies — by Oscar de la Renta for Century Design, notes Redd, formerly creative director of the late designer's home collection — are further fantastical touches.
---
David Scott in Southampton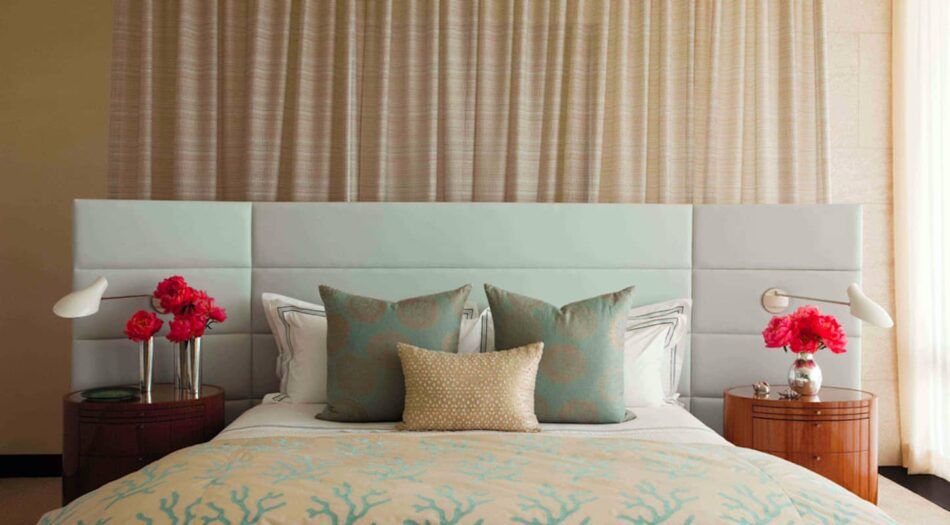 "For this contemporary oceanfront Southampton residence, I designed a completely custom floating bed for the master suite," says New York designer David Scott, proudly.
Anchoring the bed is a wide upholstered headboard screen that "reaches out to embrace you," he adds. A pair of David Weeks lights adds just the right sculptural flair. As for the the color scheme, Scott explains, the "serene blues and neutrals are drawn from the ocean and dunes just outside."
---
Hurley Hafen in Napa
Justin Hafen, cofounder of Napa, California, firm Hurley Hafen, says that the guest bedroom in a Napa Valley vacation home, created for a Silicon Valley couple, was intended to have a sexy, slightly Moroccan feel. "We started with this beautiful Dedar Milano fabric and built the room around the massive six-foot custom headboard. The lacquered nightstands, also custom, have brass bases, which relate to the mirrors above."
---
Studio Ashby in Mayfair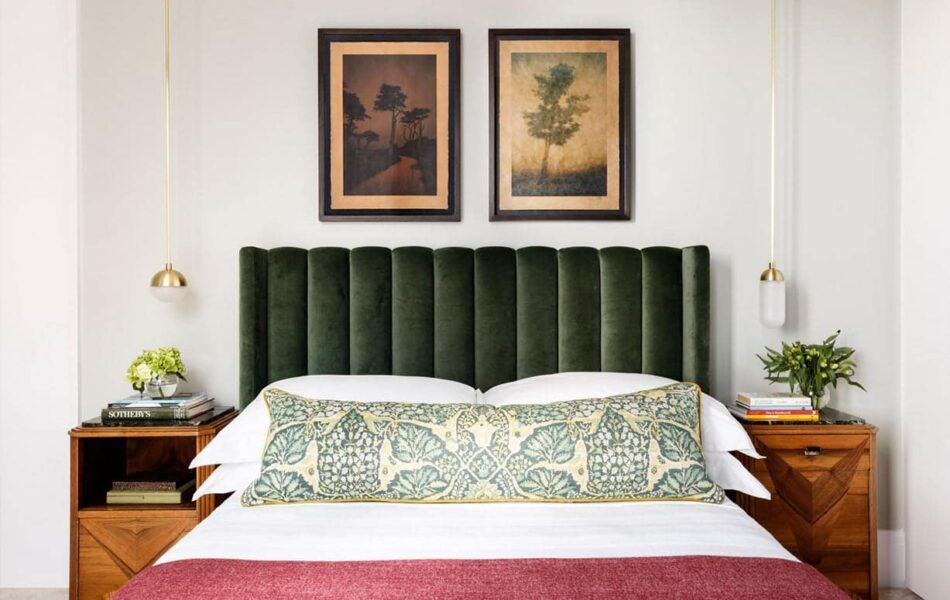 The palette for this bedroom of an art-filled apartment in Mayfair's bustling Burlington Gate was drawn "from the surrounding area, in particular the colorful shops in Burlington Arcade" and Green Park, explained Studio Ashby founder and creative director Sophie Ashby in a statement.
Ashby also commissioned the channel-tufted headboard in a soothing emerald velvet, which, with the chalk-white walls, makes a natural backdrop for the art she wanted to showcase. A cherry-red throw and lumbar pillow add interest, while the mismatched lights carry on the theme of contrasting elements.