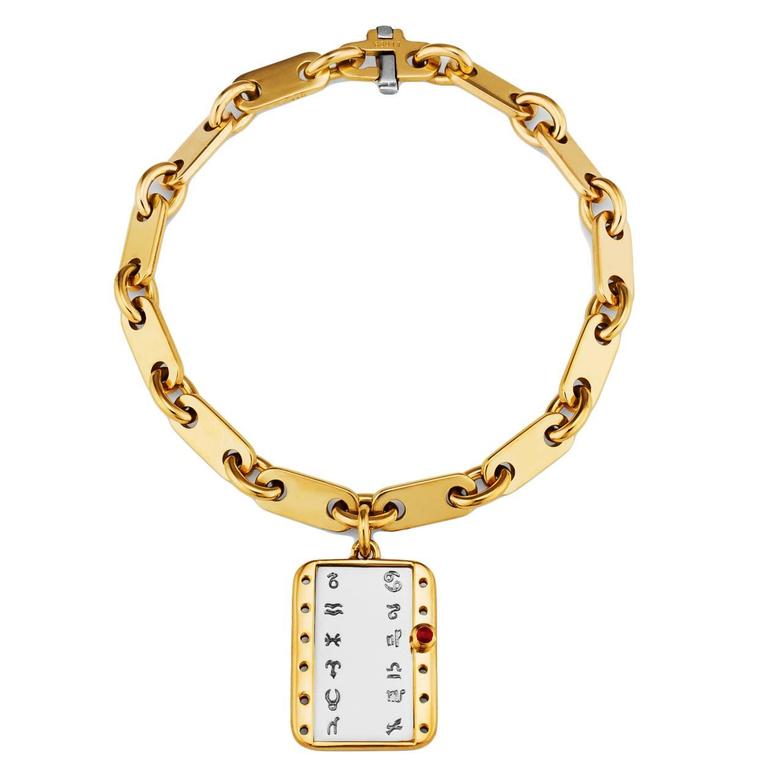 During the disco days of the 1970s, the zodiac was as much a part of popular culture as the Watergate scandal, Saturday Night Fever and Halston's ultrasuede wrap dresses.
"What's your sign?" was not just a notorious pickup line during the period but a serious question, asked by people who felt passionately about horoscopes. The astrological fascination was prevalent enough that the most esteemed jewelry labels in Paris and New York — including Cartier, Tiffany & Co. and Van Cleef & Arpels — created daytime gold jewelry incorporating zodiac symbols.

Although it reached its fashionable height during the 1970s, the zodiac trend began in the 1960s and is reflected throughout the latter part of the 20th century in fine jewelry ranging from over-the-top brooches and gigantic gold pendants to minimalist silver rings. These vintage pieces are currently experiencing a resurgence in popularity.

Why is the zodiac coming back into fashion? The answer may simply be that the stars are aligned: In uncertain times like these, people wear jewelry as a form of comfort. "Wearing one's sign is like wearing an amulet, a talisman, a personal thing," says Mahnaz Ispahani Bartos, of the Mahnaz Collection. "It makes you feel connected to yourself and to a specific, if vast, earthly community."

Finding a great vintage piece representing a particular sign, however, can be a real treasure hunt. "Zodiacs are hard to design, because the subject is not always beautiful," says Amie Park, of Alice Kwartler Antiques.
Pisces, Leo and Cancer generally inspire the most stunning designs. In fact, almost any animal sign translates well into jewelry. In contrast, crafting figure signs, like Aquarius and Virgo, into attractive jewels is challenging. One workaround that has been successful is to create pieces that feature astrological glyphs instead of figures or that incorporate all the zodiac symbols and have a way for the jewels' owners to mark theirs. See below for our favorite zodiac picks.

---
CAPRICORN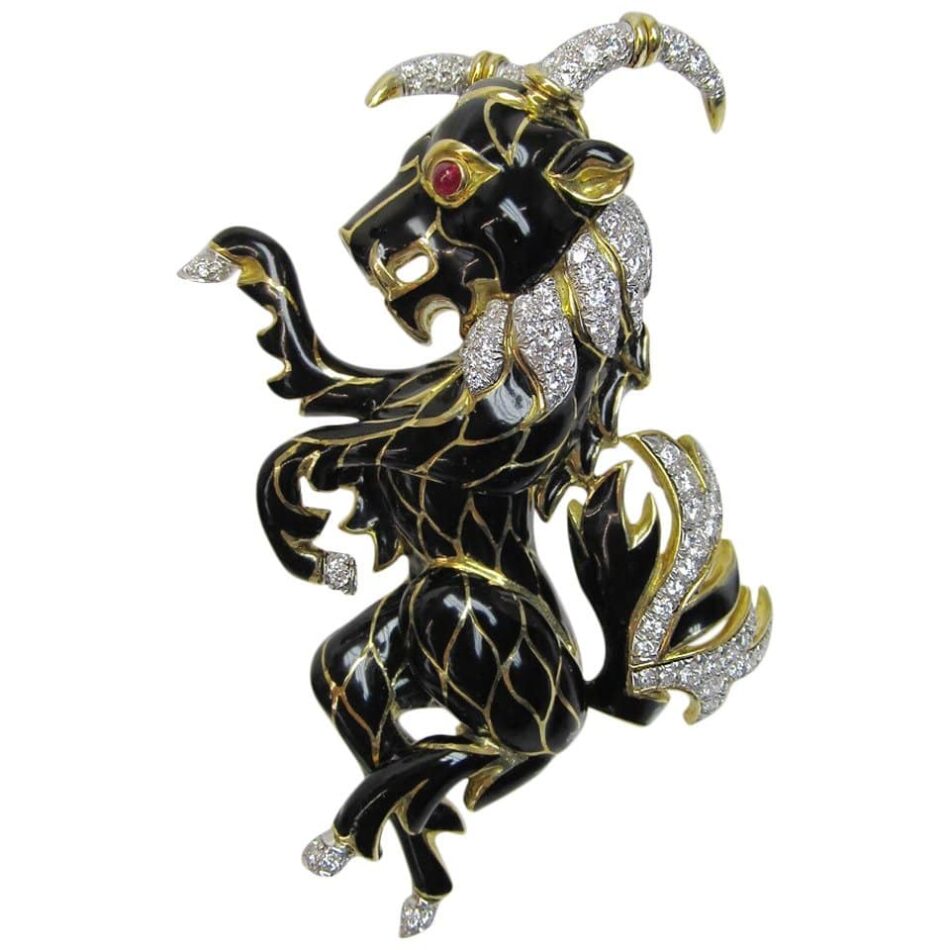 American designer David Webb made lots of jewelry inspired by the zodiac, including his signature daytime jewels. Beginning in the 1960s, he created enameled animal figures with gems for eyes and accenting other body parts. He also made bold gold astrological designs and gigantic gold pendants bearing zodiac glyphs.

---
AQUARIUS
January 20 – February 1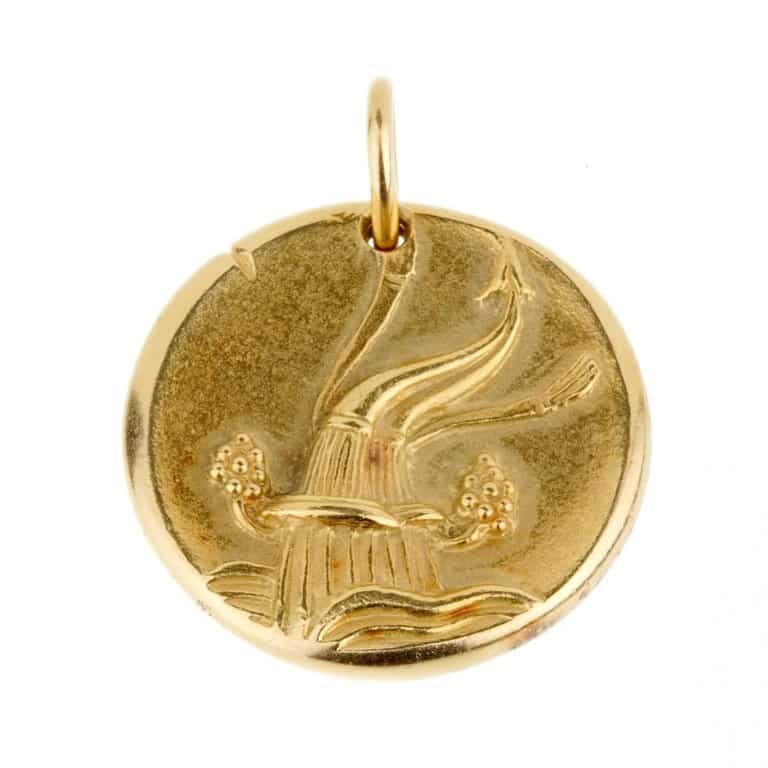 Among vintage astrological jewels, some of the most coveted and hard to find today are the Van Cleef & Arpels round zodiac pendants made during the 1970s. Modeled on ancient coins, they have zodiac signs on the front and the signs' dates in Roman numerals on the back.

---
PISCES
February 19 – March 20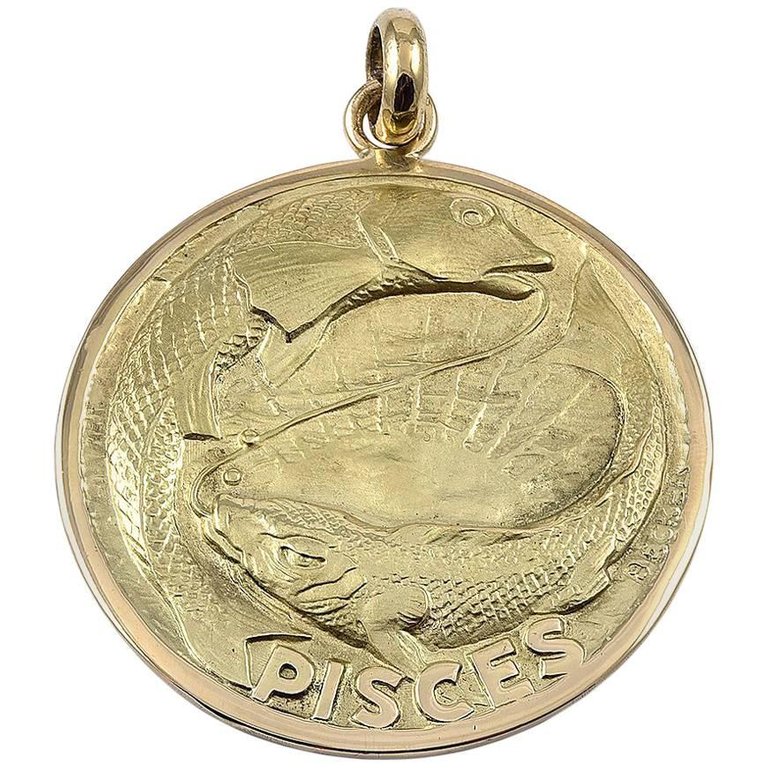 This rare zodiac pendant was designed by Edmond Henri Becker, one of the super-talents who worked for Boucheron during the early years of the 20th century. "It is a solid heavy piece, and you can feel the hours and weeks and the technique that went into making it," says Park. "It is a nice rendering of the fish. They are not caricatured."

---
ARIES
March 21 – April 19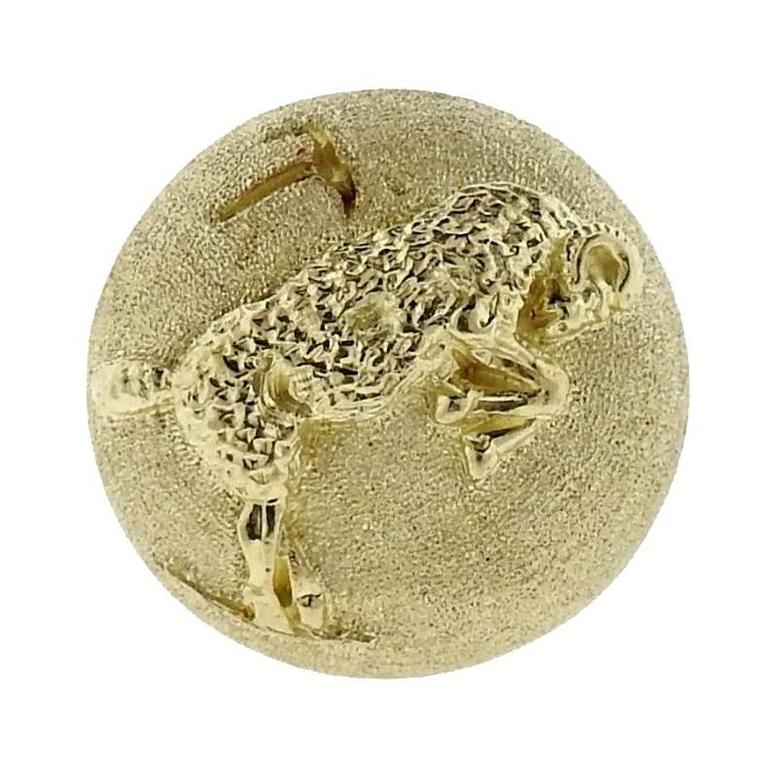 The Italian jeweler Buccellati applied the velvety finish that distinguishes its fine gold work to a series of silver zodiac pieces. "It is a lightweight design for a large dome-style ring, and the color and texture of the brushed sterling silver give it the brand's signature look," says Sasha Krivitsky, of OakGem.

---
TAURUS
April 20 – May 20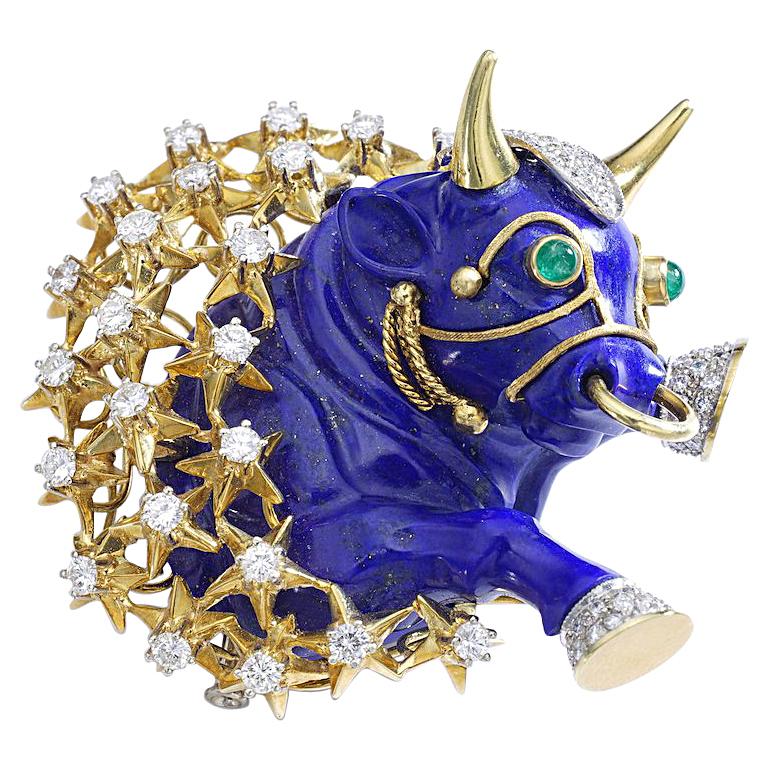 Taurus lends itself to strong designs, but few make quite as big a statement as this sculptural lapis lazuli bull charging out of a circle of gold stars. Made in Italy during the 1970s, the dynamic creation is almost the size of your palm.

---
GEMINI
May 21 – June 21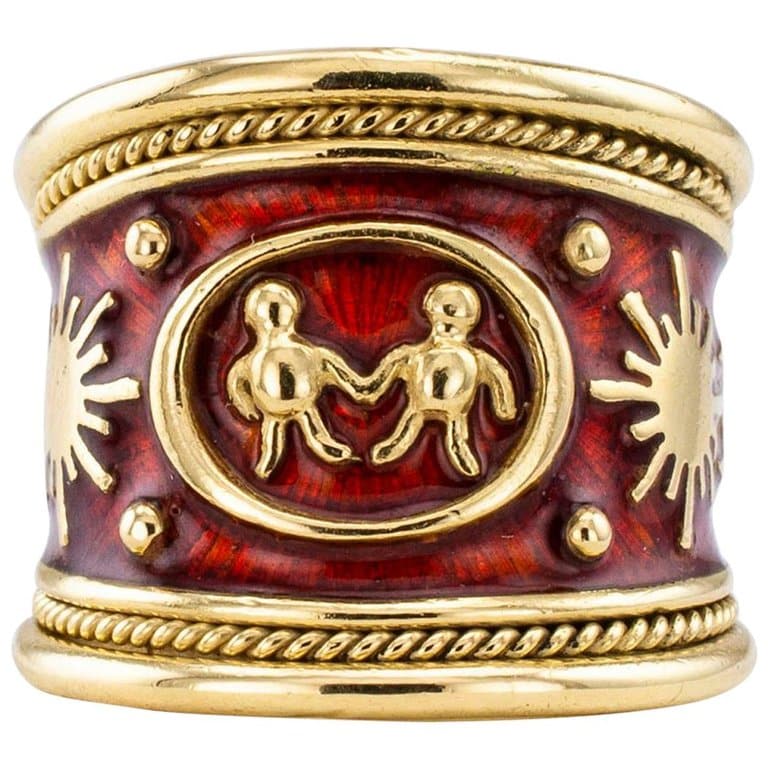 The English jewelry designer Elizabeth Gage's zodiac rings, which come in a range of colors, are inspired by cigar bands. "This ring is a great alternative to a big statement piece," says Jacob Gipsman, of Jacob's Diamond & Estate Jewelry. "When people look at this design, they don't even realize it is a zodiac until we tell them."

---
CANCER
June 22 – July 21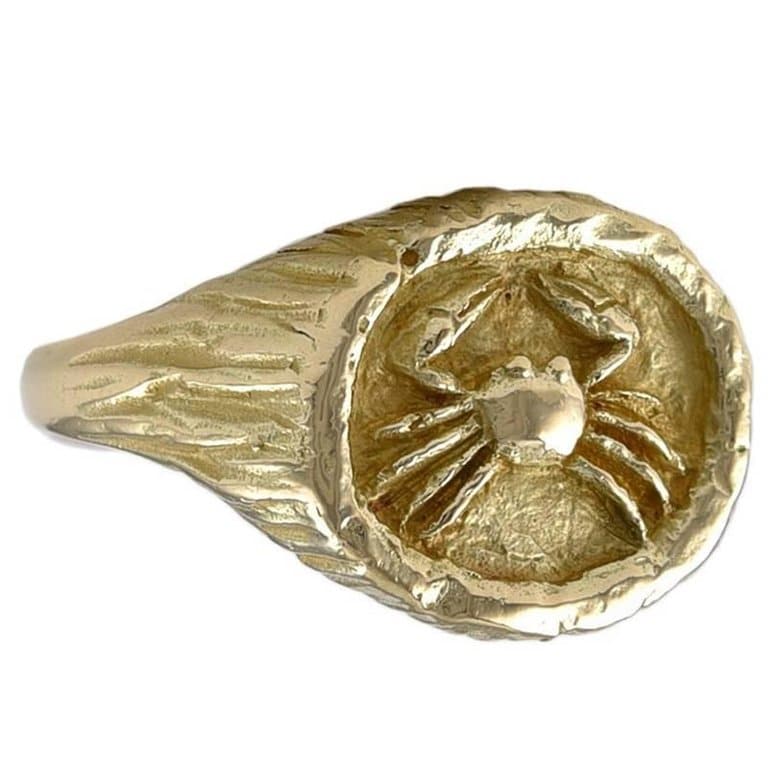 Tiffany zodiac rings, made during the 1960s and much sought after today, resemble signet rings with astrological signs in place of the usual seal or mongram. "Funky and artistic" is how Park describes the textured gold surface.

---
LEO
July 24 – August 23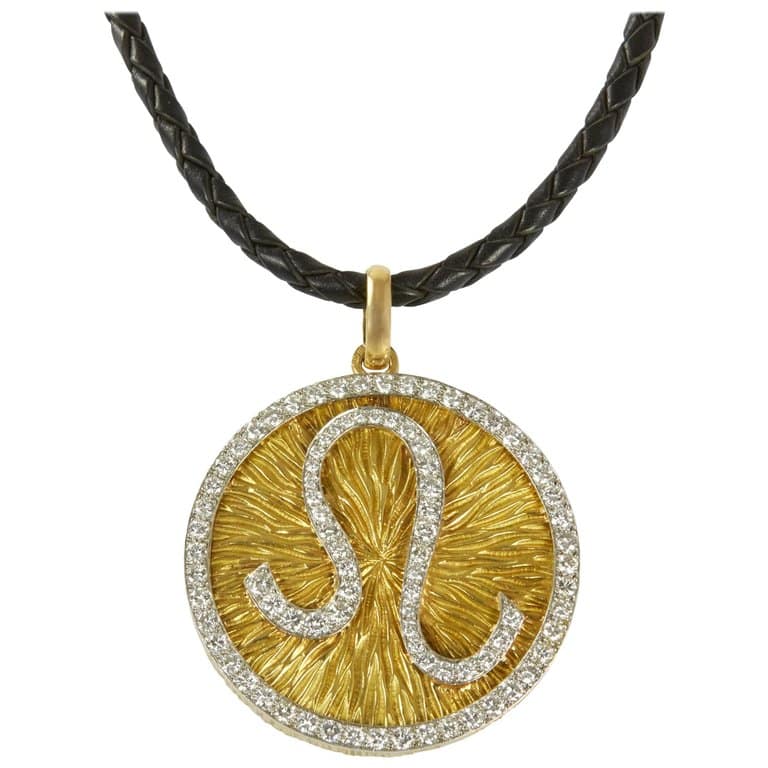 David Webb's supersize gold and enamel zodiac pendants are more than two inches wide. "This weighty Webb design centers on a diamond-studded glyph, which is such an elegantly flourishing design for Leo," says Ispahani Bartos. "I love the textured look of the chased and hammered gold. It feels like gold in nature."

---
VIRGO
August 24 – September 22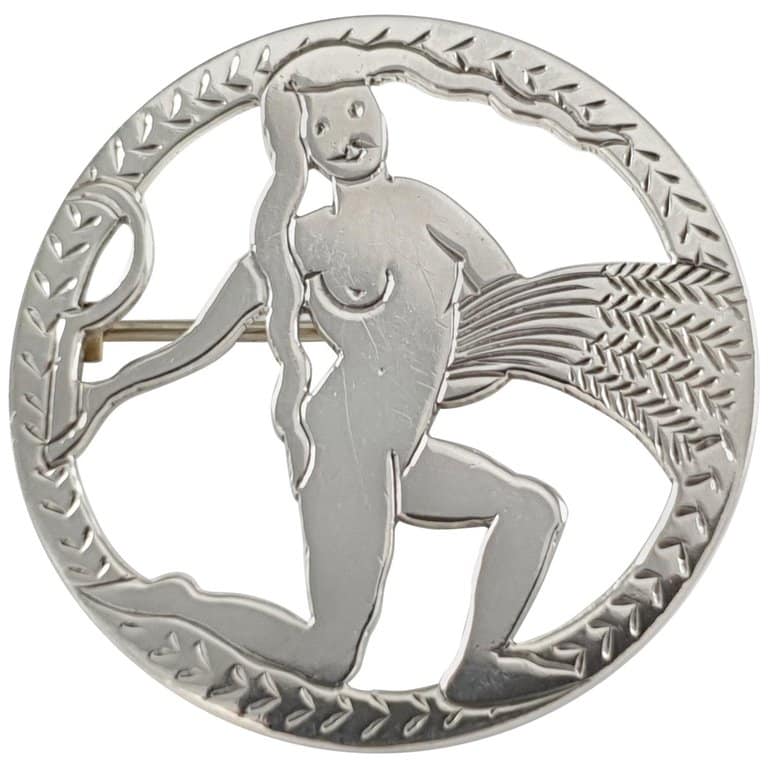 The celebrated English silversmith H.G. Murphy created zodiac brooches during the 1930s. The Virgo figure in this geometrical Art Deco design is similar in spirit to the Prometheus sculpture by Paul Manship that floats within a ring inscribed with zodiac signs, representing the heavens, in New York's Rockefeller Center.

---
LIBRA
September 23 – October 22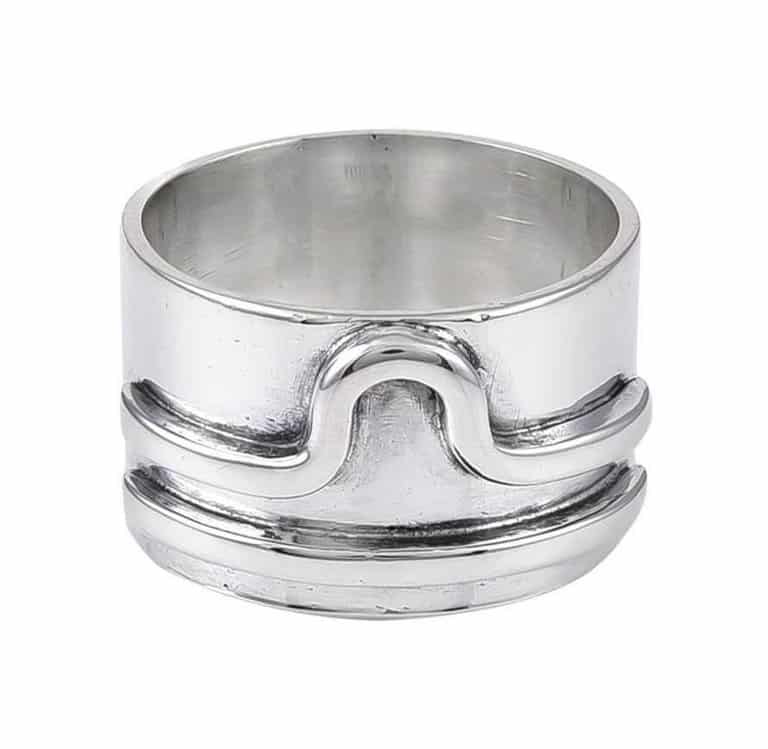 This wide silver band, made during the 1960s, features the glyph for Libra. "The design is modern and clean," says Park. "It really spoke to us because it is a minimalist interpretation of the zodiac."

---
SCORPIO
October 23 – November 22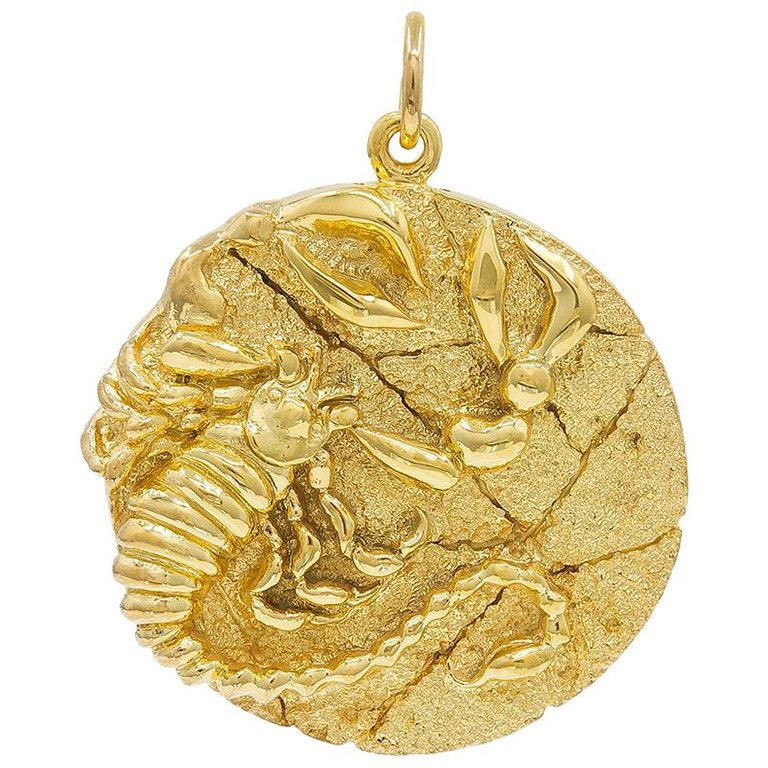 The chunky gold pendants made by Tiffany in the mid-1960s have sculpted zodiac figures on the front and glyphs on the back.

---
SAGITTARIUS
November 23 – December 20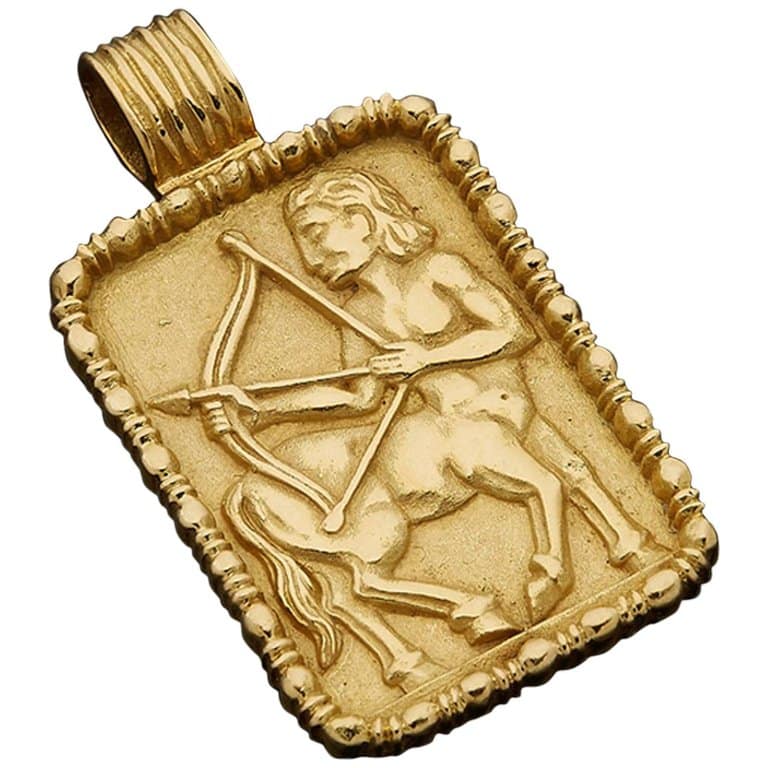 Sagittarius is notoriously difficult to craft into a jewel, but Fred of Paris manages it magnificently in this piece from the firm's 1970s zodiac collection. The collection's bold designs were most likely conceived as unisex. "The Fred of Paris zodiacs are rectangular and a little tougher than the ones by Van Cleef & Arpels, so we often also sell these to men!" says Leonore van der Waals, of Kunsthandel Inez Stodel.