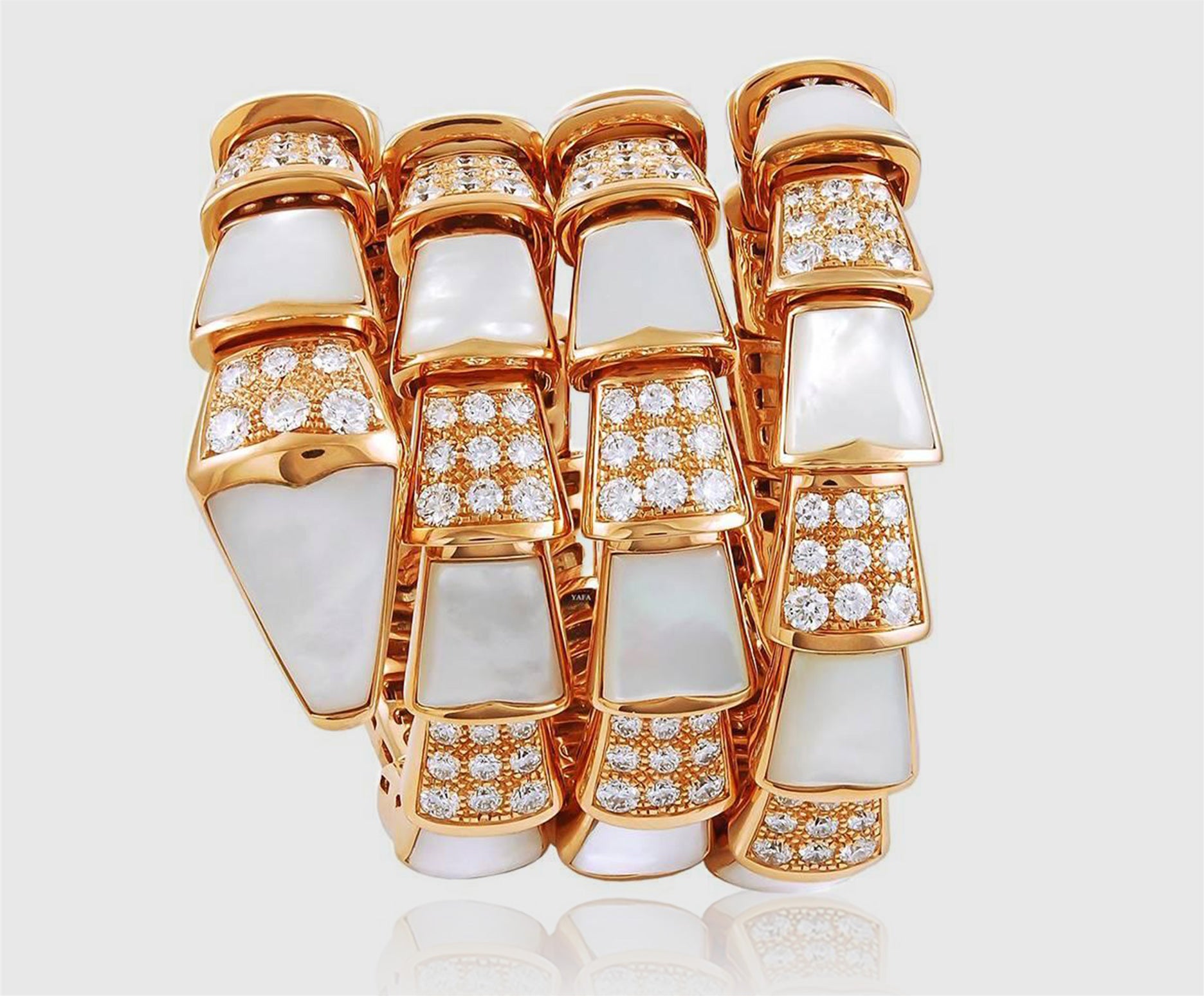 Iconic Designs
Serpenti Bracelet
About the Design
BVLGARI's classic serpent first reared its head in the late 1940s. BVLGARI founder Sotirios Voulgaris's sons, Giorgio and Constantino, took over the Italian fine-jewelry house when their father passed away in 1932, and the brothers conceived the motif for a series of wristwatches — a nod to snakes' mythological association with the beginning and the end of time — which became the basis for an entire line of jewels. The design was immediately popular among BVLGARI aficionados, but its star turn came in 1962, when it graced one very famous wrist.
That year, Elizabeth Taylor was in Rome shooting Cleopatra alongside her future husband, Richard Burton. In a publicity photo released from the set, the actress can be seen with a gold cuff coiled around her wrist, ending in a pavé diamond snake head — a BVLGARI Serpenti bracelet. Taylor's relationship with the jewelry house ran deep: she and Burton allegedly used the back doors of its flagship store in Rome to escape the paparazzi during their much-buzzed-about affair. "The only word Elizabeth knows in Italian is BVLGARI," Burton famously said. 
Taylor's stamp of approval catapulted the Serpenti to international fame, and the jewelry house began experimenting with variations on the motif, setting jewels along the cuff or on the head. In still another version, dozens of individual enameled scales are painstakingly attached to a central core.
The snake's myriad meanings across cultures no doubt contribute to the Serpenti design's allure. In some cultures, it connotes evil, in others fertility. In Voulgaris's native Greece, the coiled serpent symbolizes everlasting life. 
Bulgari Serpenti Bracelet
Previously Available Items
More Bvlgari Designs