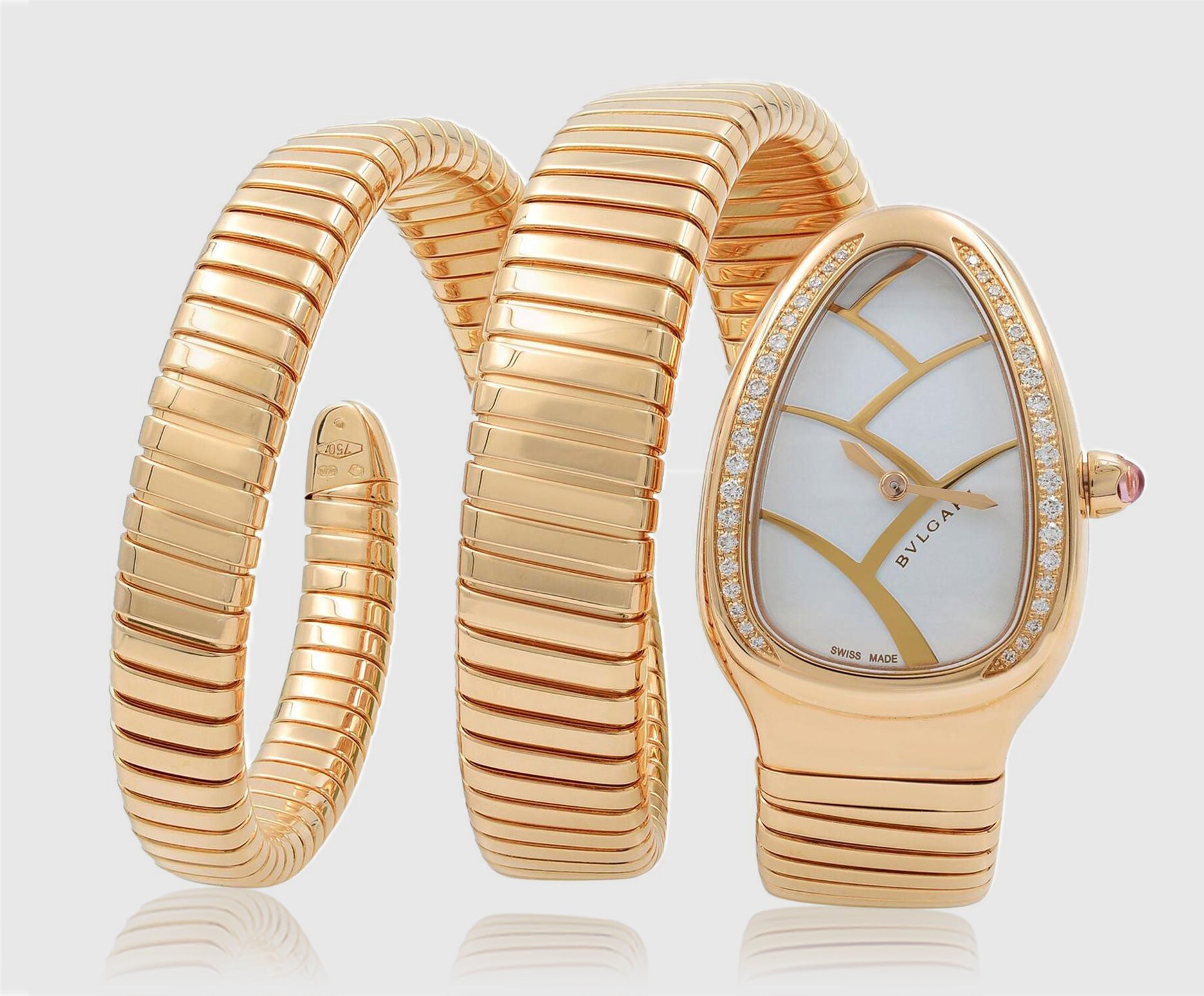 Iconic Designs
Serpenti Watch
About the Design
While the BVLGARI Serpenti watch technically arrived first, it was a decorative bracelet from the Italian luxury jewelry house's signature line that made a notable impact, thanks to a little help from Hollywood.
In 1962, the brand garnered international attention after its now-legendary serpent motif made its way into a photograph taken on the set of the star-studded historical epic Cleopatra. A BVLGARI Serpenti bracelet — with its stunning snake head encrusted with diamonds — was wrapped around the wrist of the film's star, Elizabeth Taylor, and the already desirable design was suddenly splashed across the pages of the tabloids, particularly as news of the actress's romantic affair with Richard Burton made the rounds. The serpent motif had by then been around for nearly 15 years, as Giorgio and Constantino Voulgaris — the sons of BVLGARI founder Sotirios Voulgaris who'd taken over the business when their father passed away in 1932 — introduced a wristwatch with a case that resembled the head of a snake in the 1940s.
Elegant and artful, BVLGARI's snake motif began as an homage to jewelry of the Roman and Hellenistic eras. And fittingly, serpents have long been symbolic of time — of eternity and renewal. Credit for decades of demand for jewelry adorned with reptiles can be attributed to Queen Victoria's illustrious engagement ring, which took the form of a gold snake set with rubies, diamonds and an emerald (her birthstone). When Taylor's Serpenti bracelet appeared, the attention had artisans at BVLGARI exploring variations on the house's popular theme, but the original snake, in 1948, was characterized by a golden yellow body, its tail and head encrusted with diamonds. 
The debut of the inaugural Serpenti watch coincided with BVLGARI's adoption of the Tubogas, or gas-pipe, goldsmithing technique, in which bands of gold are wrapped around a steel core without soldering, bringing the flexible braided bracelet to fruition. The design was quintessentially BVLGARI: bold, colorful and eye-catching. The snake was more abstract in appearance back then; over the years, the timepiece has assumed more of its namesake's tangible physical features. Variations were introduced that had the face obscured by a hinged cover, which better emulated a snake's head, and today, watches featuring the snake motif are available in a wide range of different styles, including bands dotted with hexagonal patterns inspired by snake scales and more. 
Today Serpenti is one of BVLGARI's most popular collections.
Previously Available Items
More Bvlgari Designs