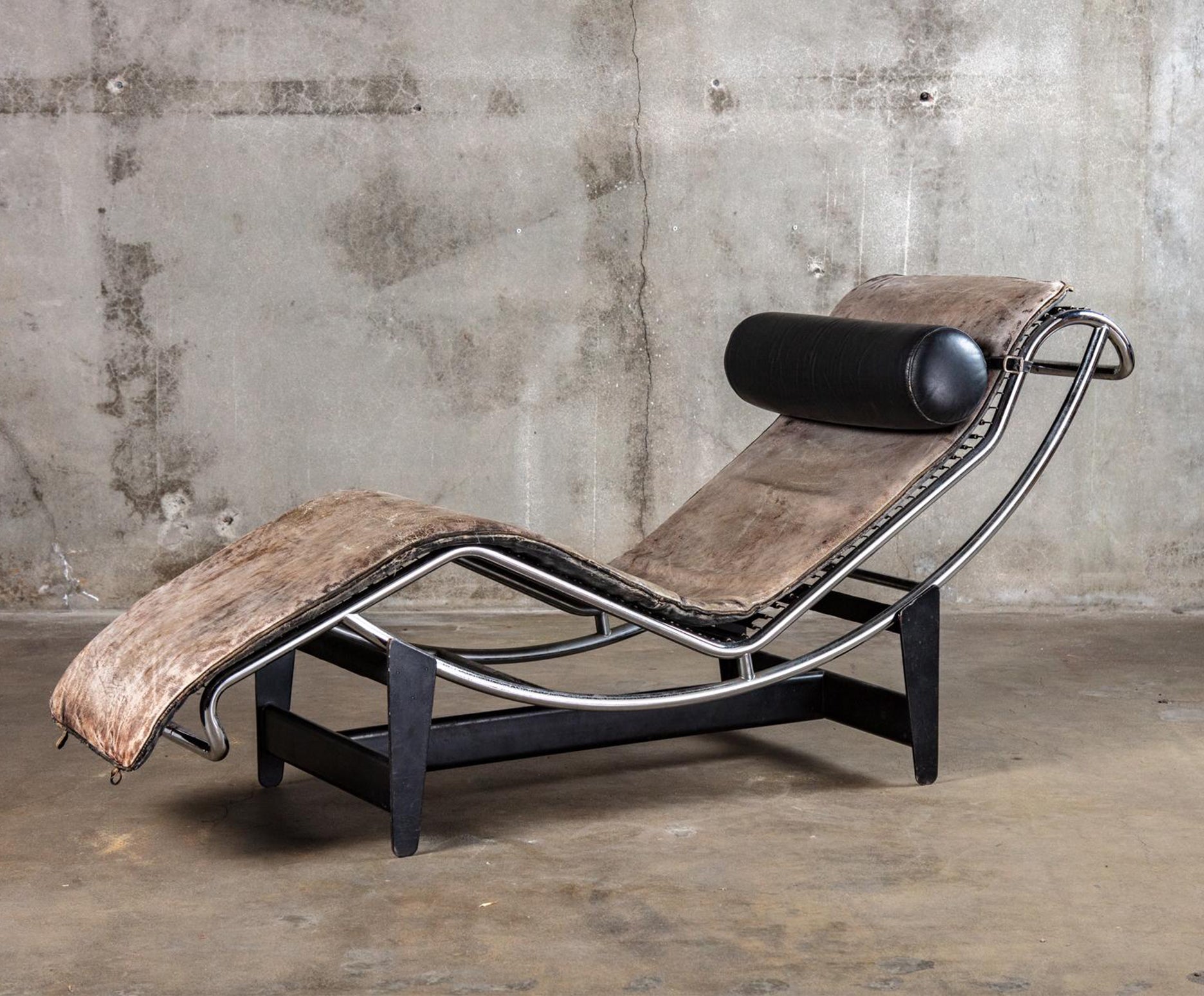 About the Design
Charles-Édouard Jeanneret, the Swiss-born designer and architect known as Le Corbusier (1887–1965), famously described the houses he designed as machines to live in. It is only fitting then that he would furnish each home with its own machines built to meet specific needs. Designed in 1928, the LC4 chaise longue is a "relaxing machine," according to Le Corbusier, its curves mimicking those of a lounging body. Part of his first-ever collection of furniture, made in collaboration with designer Charlotte Perriand (1903–99) and his cousin Pierre Jeanneret (1896–1967), the LC4 is an ode to the principles of modernism: rejection of ornament and the prioritization of functionality.
Le Corbusier believed that furniture should be an extension of our limbs and that it should adapt to our functions. In reflecting his sketches of the various positions of the lounging human body, the LC4 chaise longue features a fully movable frame that adjusts at the base, allowing the user to set it upright or fully reclined. The curved tubular steel base echoes the material exploration taking place at the beginning of the 20th century, in which designers experimented with the flexibility of steel, plastics and molded plywood. But the upholstery was cowhide or leather, the softness of which starkly contrasts with the industrial steel and angular shape. The LC4 has a sculptural presence in any given room, which is perhaps a result of Le Corbusier having dispensed with the metric system and instead drawing on his own system of proportion based on the "ideal" male body. 
Furniture designed by Le Corbusier in collaboration with Pierre Jeanneret and Charlotte Perriand — a gifted innovator who was initially dismissed by the French architect but was later tasked with creating furniture and interiors — was originally produced by Austrian manufacturer Thonet. But in 1964, the Italian furniture company Cassina acquired the production and sales rights to the LC4 chaise longue, and the LC collection, as it was christened, has been in production there ever since. The collection originally included 19 pieces, each titled in the same alphanumerical style — LC1, LC2, LC3 and so on — that encapsulated a full range of furniture, from armchairs to dining tables. 
The LC4 remains the definitive chaise longue of the 20th century, its position secured by its unusual form and its representation of functionality and modernism. With the LC4, Le Corbusier also confronted the inconceivable challenge of making an object built like a machine feel inviting and comfortable.
Previously Available Items