Pierre Yovanovitch juxtaposed low-slung contemporary seating with an exquisitely carved antique fireplace and an exposed-beam ceiling in the living room of a Provençal château.
Photo by Matthieu Salvaing.
---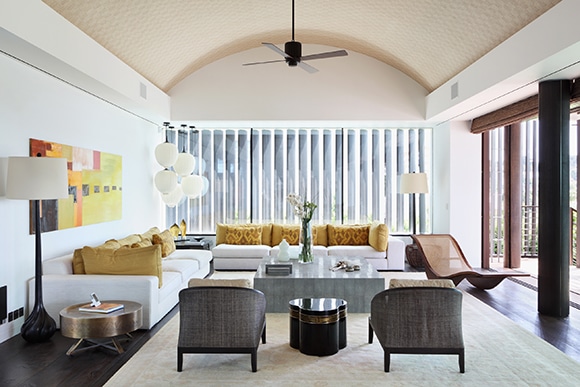 This bright and airy home in Cap d'Antibes by Carden Cunietti features a prototype chaise longue by Brazilian designer Igor Rodrigues and a Mastercraft side table.
Photo by Alexander James.
---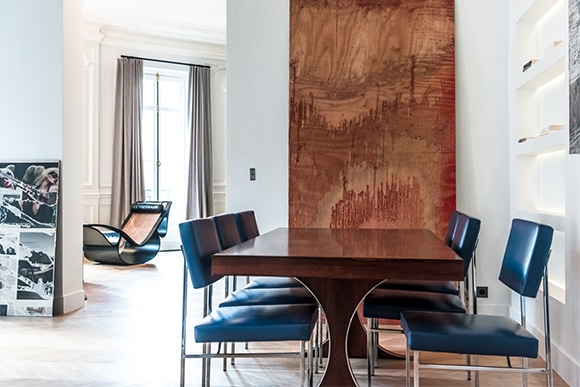 In Paris, Isabelle Stanislas used clean, neutral-toned pieces to emphasize the home's architectural details and the client's collection of contemporary art.
Photo by Olivier Löser.
---
The dining room of a Paris home by Bismut & Bismut features a 2+1 table by the designers, 1970s chrome chairs, wall art by Claire Adelfang and an existing 19th-century console that the brothers topped with polished blue onyx.
Photos by Francis Amiand.
---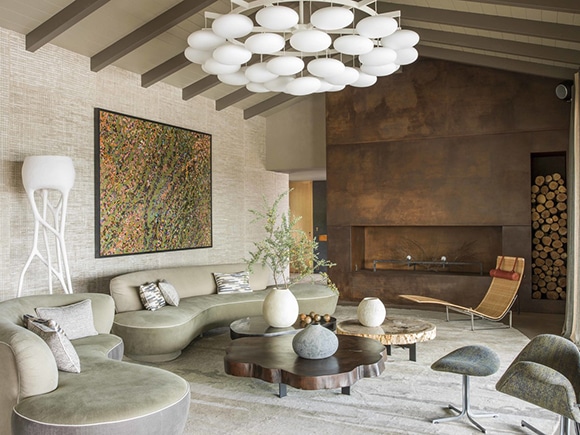 Organic forms prevail in this Corsica home designed by Jean-Louis Deniot. The Serpentine sofas are by Vladimir Kagan and the woven chaise longue is by Poul Kjærholm.
Photo by Ian Philips and Stephan Juillard.
---
For a "linear, geometric and elegant" vacation home in Cap D'Antibes, architect Nicholas Schuybroek created spaces that integrate seamlessly into the lush natural surroundings. In the living room, he combined mid-century chairs byJean Prouvé and Pierre Jeanneret with a custom-made sofa upholstered in Belgian linen.
Photo by Claessens & Deschamps.
---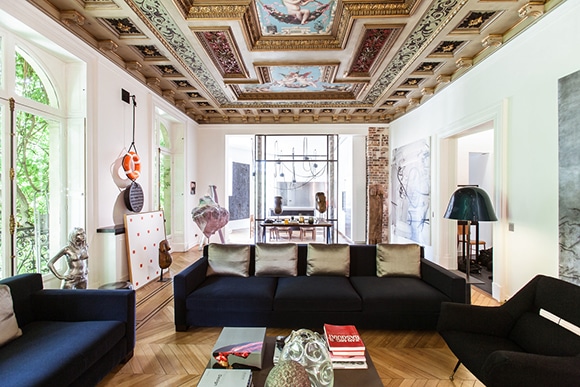 With its spectacular 19th-century painted ceiling and herringbone parquet flooring, this Paris apartment embodies the ideals of the city's Hausmannian architecture. Isabelle Stanislas sought to create a dialogue between "old and new" when designing the space for an art collector client.
Photo by Olivier Löser.
---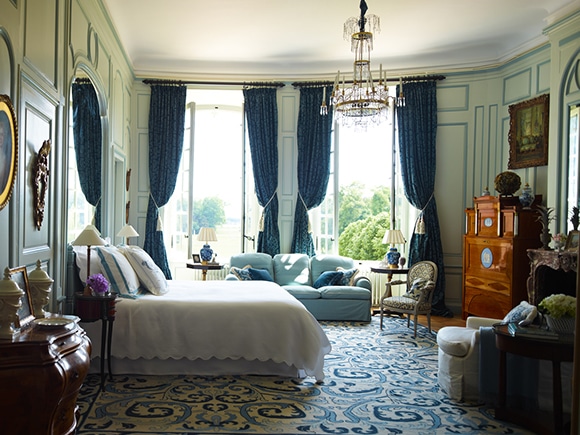 Each of the 14 bedrooms in Timothy Corrigan's 18th-century Loire Valley estate Château du Grand-Lucé reflects a distinct design sensibility. This blue-gray guest room includes an antique Portuguese rug, an 18th-century Swedish chandelier, a pair of 19th-century British side tables and a Louis XVI chair.
Photo by Eric Piasecki.
---
In a historic, 18th-century hôtel particulier, Suduca & Mérillou painted the walls a dusty blue color to "awaken the woodwork." The firm mixed pieces from the 17th-, 18th- and 20th centuries to create a decorative mix that was "sumptuous and impertinent."
Photo by Manolo Yllera.
---
This Paris bedroom by Thomas Pheasant includes sconces by Agostini, an Herve Van der Straeten lamp and a games table by the designer. The room's palette was inspired by the limestone buildings that line the city's streets.
Photo courtesy of Thomas Pheasant.
---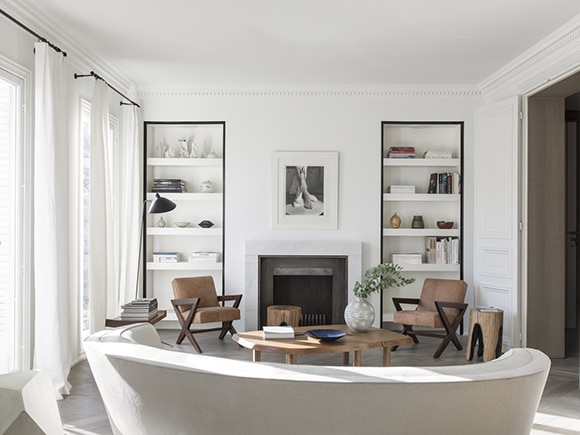 Nicholas Schuybroek's clean, minimal design for this Paris apartment emphasizes natural light and adopts a restrained approach to finishes. The L'Oeil coffee table is by Pierre Chapo and the pair of armchairs are by Pierre Jeanneret.
Photo by Stephan Julliard.
---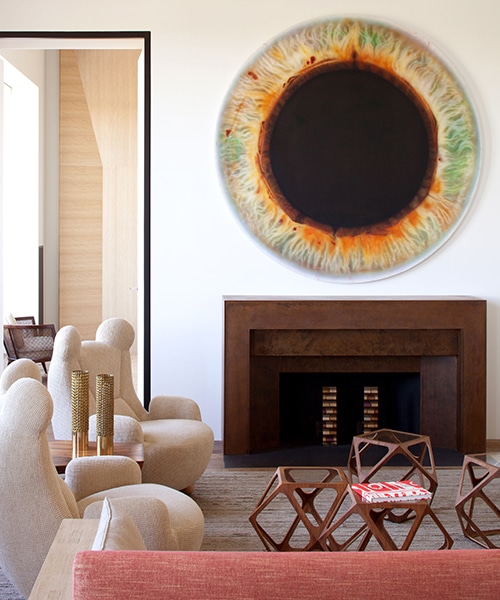 In Pierre Yovanovitch's Paris apartment, a large oil painting by Marc Quinn takes center stage above an acid-washed iron fireplace surround. The sofa and armchairs are Yovanovitch's own designs and the four cocktail tables are by Rasmus Fenhann.
Photo by Jean-François Jaussaud/LUXPRODUCTIONS.
---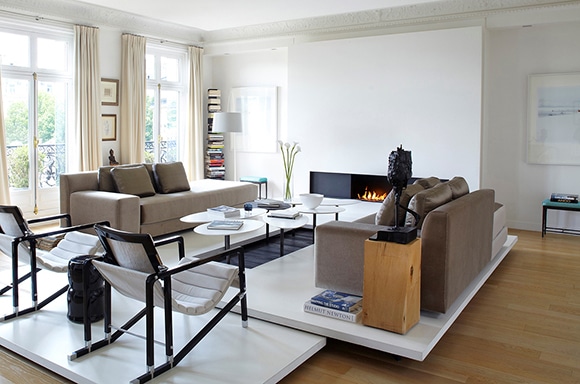 In a Paris residential project known as Apartment 002, Bismut & Bismut placed objects, including Eileen Gray Transat armchairs and a bronze César sculpture, on white platforms that seem to hover around a PETAL coffee table by the designers.
Photos by Francis Amiand.
---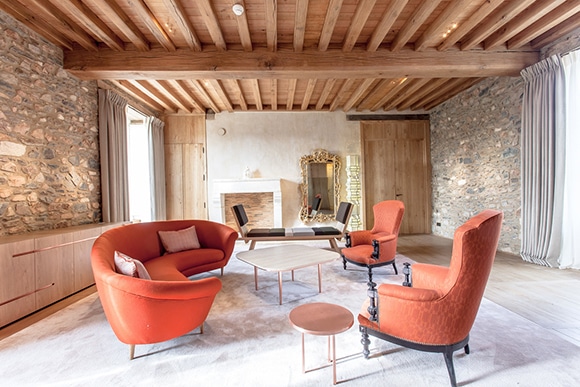 Designer and architect Isabelle Stanislas refreshed this 11th-century chateau in Massignac with citrus-hued pieces by Gio Ponti and Martino Gamper.
Photo by Olivier Löser.
---
Suduca & Mérillou used "rigorous" pieces by Jean Prouvé, Jacques Adnet and Maison Jansen to furnish this town house in Toulouse.
Photo by Manolo Yllera.