There's something so romantic about an antique engagement ring.
It carries its own rich history​ ​—​ ​imbued with the hopes and dreams of a bygone era​ ​— and remains just as relevant today.
Three influential eras stand out for their striking design and refined craftsmanship: Victorian, Edwardian and Art Deco.
---
Victorian 1837–1901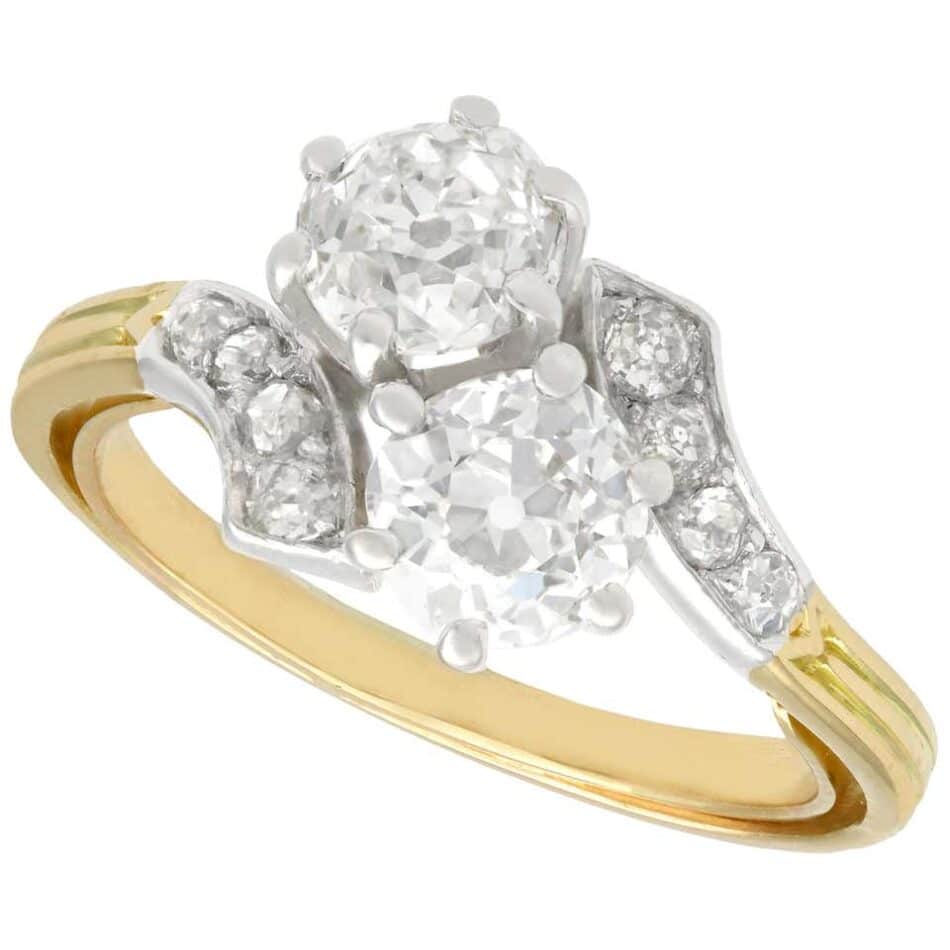 Named for the time when Queen Victoria reigned over the United Kingdom, this era was influenced by her storied marriage to Prince Albert.
Victorian ring designs often include quite feminine and complex motifs, featuring repoussé and chasing​ ​—​ ​techniques of hammering patterns into metal. The popular buttercup setting created a scalloped edge reminiscent of flower petals.
The collet setting held the stone within a ring of metal, with prongs and a closed back. Diamonds tend to be small rose cuts or old mine cuts, often complemented by colored gems.
The California gold rush led to an abundance of this precious metal, and advancements in manufacturing made more-ornate styles possible. Cluster rings became popular, as did the swirling two-stone toi et moi rings that symbolize an eternal bond.
When Victoria married Albert, he presented her with a gold serpent ring, a symbol of renewal and enduring love. This initiated a widespread craze for snake jewelry.
---
Edwardian 1901–1910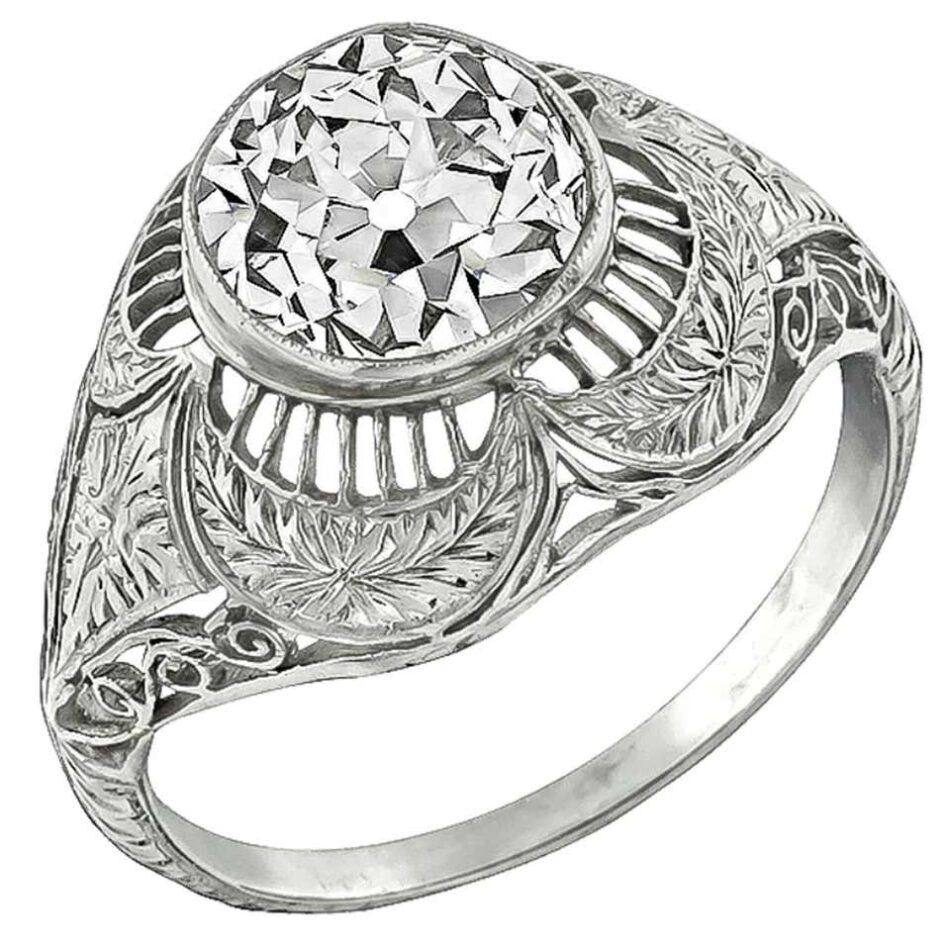 Upon Queen Victoria's passing, in 1901, her son, King Edward VII, ushered in a period of refined luxury that was also reflected in America and across Europe. In France, this time became known as​ ​La Belle Époque, "the beautiful era."
When Edward was 21, he married 18-year-old Alexandra of Denmark. Due to the particular tastes of Queen Alexandra and to the influence of the concurrent Art Nouveau movement, nature motifs continued to flourish.
The discovery of diamonds in South Africa resulted in a proliferation of larger stones and new cuts.
Platinum became more available, and advancements in metalsmithing enabled artisans to work with it in new ways, creating airy, delicate rings that distinguish the jewelry of this time.
Edwardian rings often feature lacy filigree and exquisite millegrain, close-set rows of tiny beads used as decorative borders.
Hallmarks and stamps commonly found on jewelry from this era serve as a key to vital information on each piece's origins. The four main types denote the maker's signature mark, metal purity, the place and the date where it was made.
---
Art Deco 1920–1939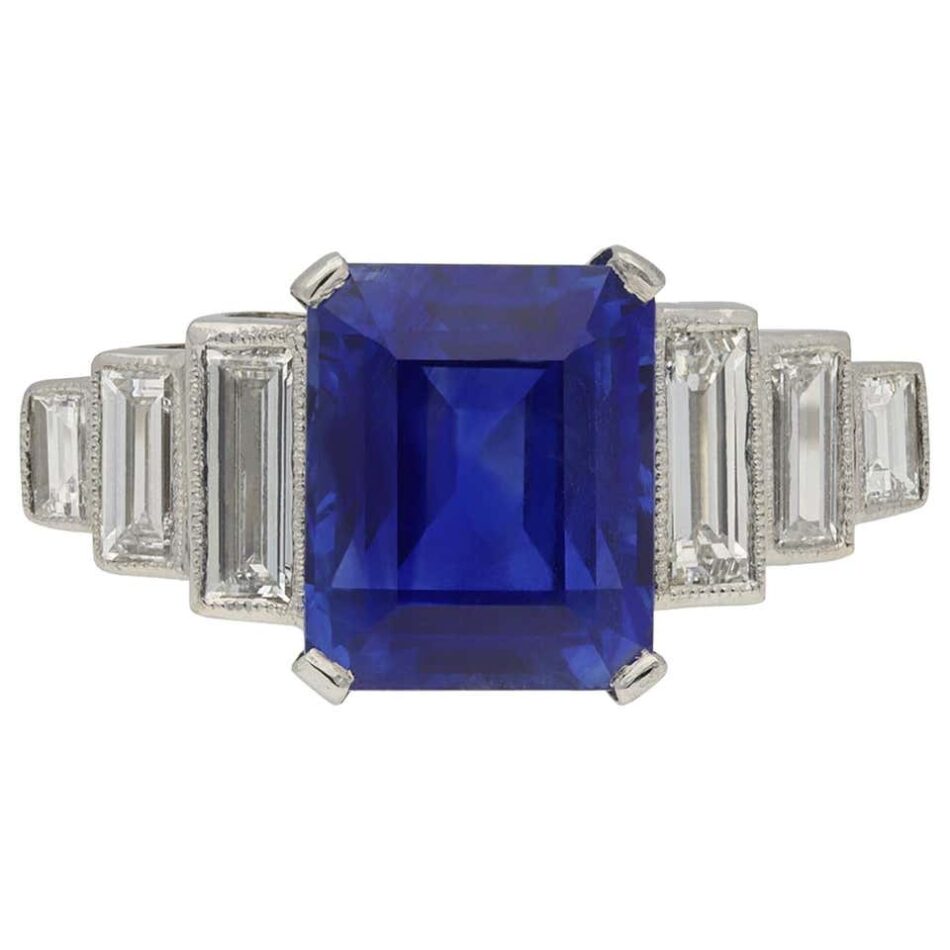 As new social freedoms changed the courtship rituals that had been in place since Victorian times, people began to marry for love rather than family expectations. This was a time of glamour, exuberance and powerful modernity in design as in life.
Inspired by the 1925 Exposition des Arts décoratifs et industriels modernes in Paris, jewelry turned to geometric forms exquisitely rendered in platinum or white gold. Yellow gold fell out of style.
Diamonds in Old European and emerald cuts were mounted in channel settings against black onyx, rubies, sapphires and emeralds to create color-block effects. Cubism, futurism and the machine aesthetic all influenced Art Deco design. The resulting clean-lined compositions often incorporate complex patterns and repetitions.
Rings of this era also favor cuts with larger facets, which are said to draw the eye more deeply into the stone — almost like getting lost in a lover's gaze.
The experts at 1stDibs are here to help you find the ring that perfectly expresses your true love story, so that your romance, too, will go down in history.