Leave it to the ultra-savvy designers at ASH NYC to have access to some of New York's most sought-after real estate. The multitalented Brooklyn firm, founded by the Ari Heckman and Jonathan Minkoff, maintains a portfolio of luxe rental properties and has developed some of the hottest hotels, on top of designing private interiors and furniture collections. Here, Andrew Bowen, director of staging at ASH NYC, tells us how the firm has outfitted some of the most coveted properties on the market.
---
Carnegie Park Residence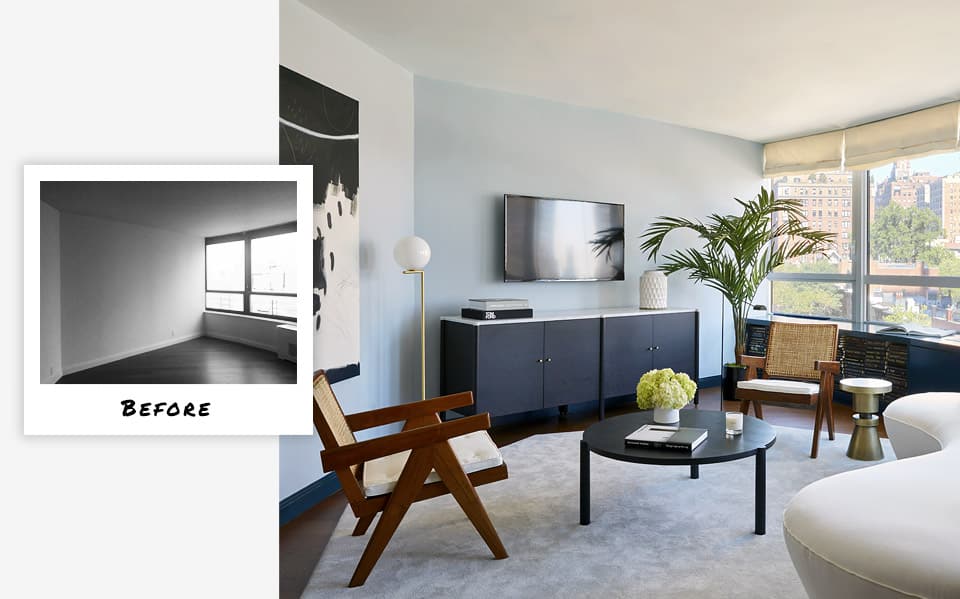 "We decided to use a custom octagonal rug, Vladimir Kagan serpentine sofa and our own round black oak WC1 cocktail table in order to mediate the extremely unusual shape of the space. This allowed for freedom of movement, and took advantage of this special opportunity to create a completely unique composition that would be memorable for prospective buyers," Bowen says. The space also features Pierre Jeanneret easy chairs, a credenza by Egg Collective, and a brass floor lamp by Michael Anastassiades.
Photo by Christian Harder
---
Tribeca Triplex
"The living room pictured here is north-facing and does not receive much direct sunlight. So we wanted to make the space feel as bright as possible without being sterile. We decided to remove all of the grasscloth wallpaper, paint the walls a warm white and the trim near black, install new curtains and bring in all new furniture, art and accessories for an eclectic and studied vibe." The cocktail table is by Milo Baughman, the lounge chair by Oggetti Arata, sofa by Harvey Probber and the chaise by Charles and Ray Eames.
Photo courtesy of Elliman
---
West Chelsea Home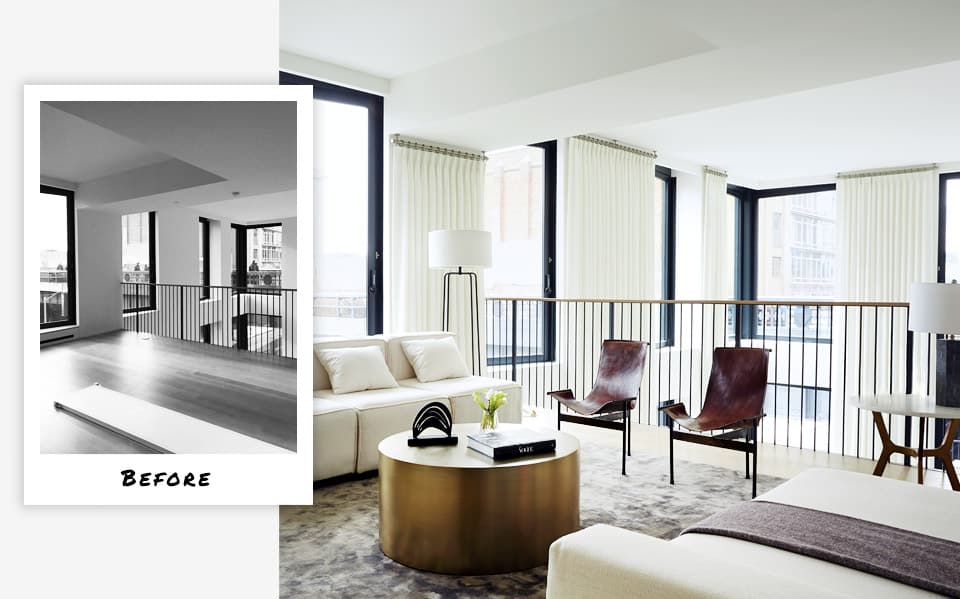 For a West Chelsea living room, with interior architecture by Thomas Juul Hansen, ASH NYC aimed to provide ample seating for an informal gathering, while also providing a certain level of sophistication. "It was also important to leave open space for walking behind the furniture so that one could admire the great room below and views of the High Line, but not at the expense of the seating capacity of the room itself." The modular sofa and leather daybed are by ASH NYC and the leather sling chairs by William Katavolos.
Photo by Christian Harder
---
Southampton Getaway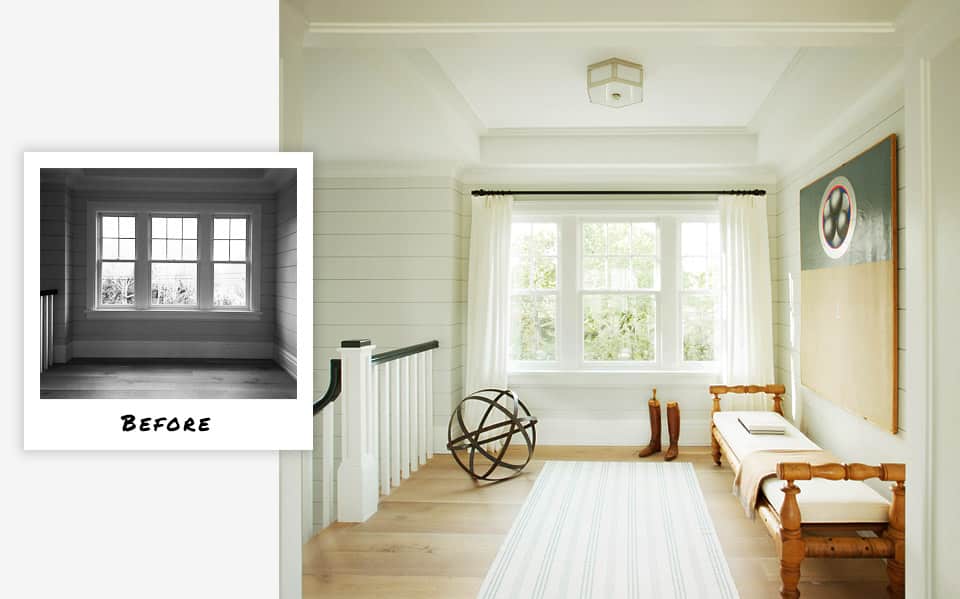 For the second-floor landing of a Southampton, Long Island, house, the designers strived to keep things light and local, bringing in items mostly found in small East End shops, including a vintage iron orb and a pair of leather boots. "We flanked the windows with full white linen curtains hung on a blackened iron rod to complement the floor sculpture. The wall where we hung the large oil painting is a major art-slash-furniture moment for the home, so we decided to emphasize that by incorporating large-scale artwork and a vintage, flexible furniture piece for scale."
Photo by Patrick Cline
---
Austin Nichols House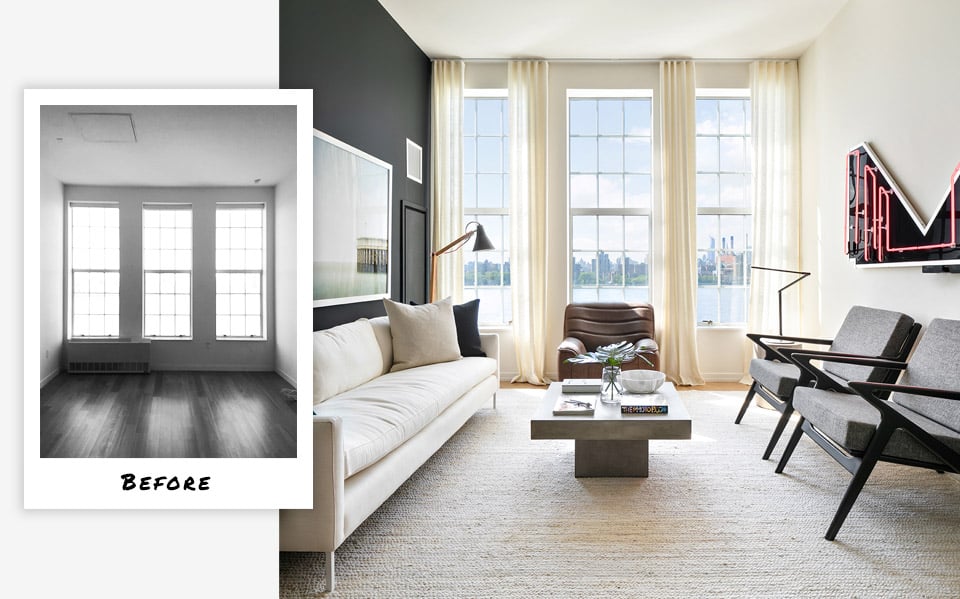 The work that ASH NYC did within Austin Nichols House, a historic condo conversion by Morris Adjmi, provides a template for what to do with efficiently scaled New York City apartments. "We accentuated the height of the ceilings, which are quite tall, by installing floor-to-ceiling ivory curtains on a modern ceiling-mounted track system to frame the incredible river and city views." The lounge chair is by De Sede, the sofa came from ABC Home and the neon art was created by Max Langhurst.
Photo by Christian Harder
---
The Rocket Factory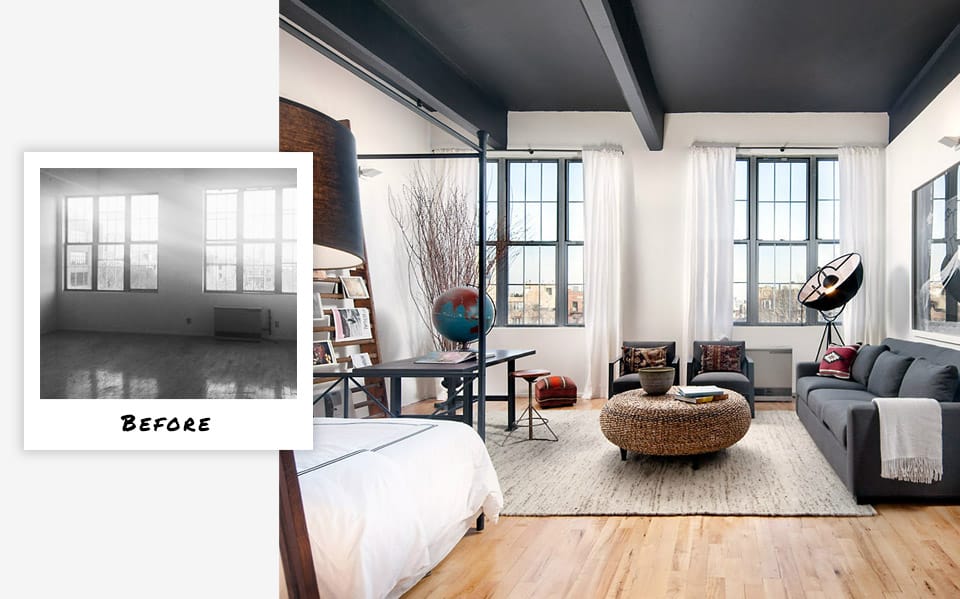 ASH NYC elevated this single-room studio into a multifunctional Brooklyn oasis for creatives, with a vintage ladder and artist's stool. "To emphasize the ceiling height and drama of the design, we decided to paint the entire ceiling black. We wanted to honor the history of this building and speak to the kind of person who would like to live here by incorporating a bevy of vintage finds, with a few choice contemporary items for modern convenience. Within one room, you're able to see the potential for living, dining, sleeping, studying, reading — really everything you could possibly need."
Photo courtesy of Citi Habitats
---
Brooklyn Heights Brownstone
"While this townhouse had just been renovated, our first instinct was to remove the mirror between the windows, as it felt like such a better opportunity for negative space. We then installed custom curtains on classic black rods to complement the massive, double-hung, historic windows. We were feeling inspired by the fireplace's stone and the existing warm white paint color, so we went with a cream and black scheme with notes of dark green and browns-slash-woods for added warmth." Furnishings include a Jonathan Adler cocktail table, armchairs by ABC Home and a Vitra Eames House Bird sculpture.
Photo by Christian Harder
---
Prospect Heights Condo
"We wanted to show large-scale pieces to demonstrate how much of an opportunity this otherwise thin and plain room could be for someone with a large art collection. The deep sofa conveys a sense of comfort, and the narrow cocktail table accentuates the length of the room while not overwhelming, thanks to its atypically low height." The light sculpture is Akari by Isamu Noguchi and the painting is Antonio Bokel.
Photo by Sascha Pflaeging
---
West Village Airy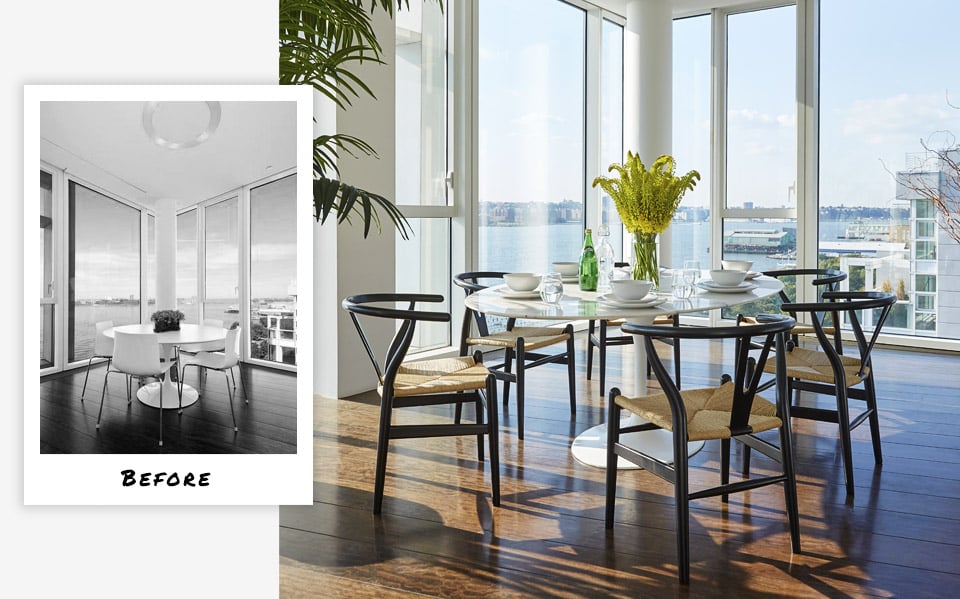 For this apartment in a coveted West Village Richard Meier building, ASH NYC wanted to completely augment the perceived scale of dining space in the relatively open plan layout. "We decided to ignore the ceiling light fixture, brought in a much larger table, additional chairs, and set the table with layered casual dining accents to convey depth and livability." Around the new dining table are Hans Wegner Wishbone chairs.
Photo by Christian Harder
---
Greenwich Village Abode
For a highly desirable Greenwich Village property, with interior design by Eric Cohler, ASH NYC incorporated a pair of contrasting Nagato taborets by Christian Liaigre and a cocktail table of their own design. "We felt inspired by the European masters here and incorporated a mix of vintage furniture and contemporary, sleek pieces in comfortable, natural and organic materials like linen, wool, cotton and cashmere. The sumptuous seating arrangement illustrates the vastness and the opportunity for formal entertaining guests and casual relaxing with loved ones."
Photo by Christian Harder