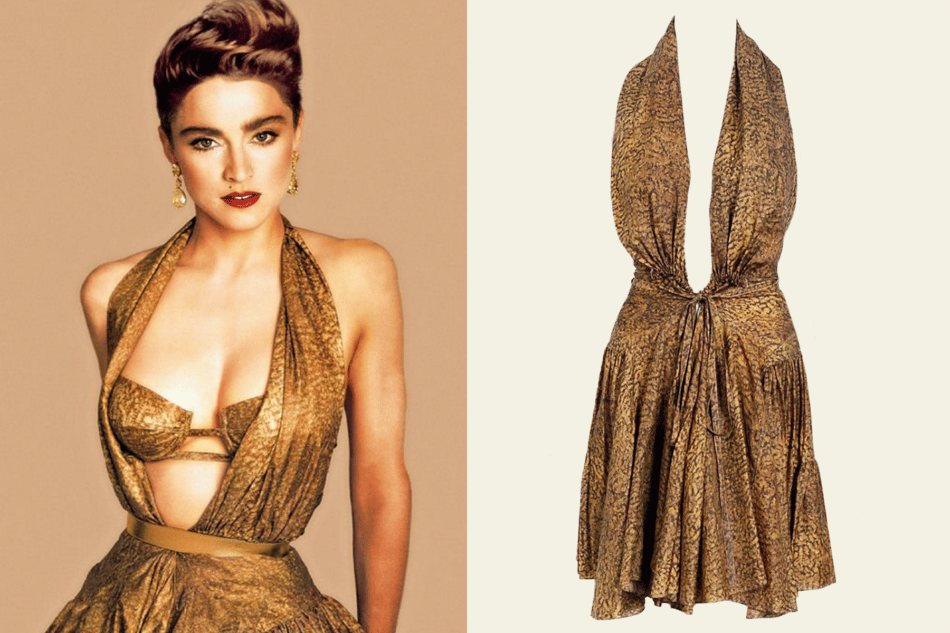 For the editors and buyers who attended the Azzedine Alaïa Spring/Summer show in October 1986, the excitement was high. More was at stake than just hemlines. In fact, the New York Times likened the experience to "having ringside seats for a championship bout."
Behind the drama was a recent story about Alaïa in Women's Wear Daily that "read like an obituary," according to the Times. Business was bad, WWD pointed out, asking if the designer known as "king of cling" would survive.
The answer was prompt. Sticking to the boxing metaphor, the Times declared the collection "a knockout," with a "soft new look" that switched the designer's focus from the derriere to the décolletage.
From the moment it hit the runway, this gold silk dress with marbled print embodied Alaïa's new approach to body-conscious design. "Alaïa had the body in mind with absolutely everything he created," says Lauren Lepire, proprietor of the Beverly Hills boutique Timeless Vixen. "In the 1980s, there was so much of the big shoulder pads and the oversize clothing. Alaïa was on the other side, saying, 'Let's give the figure some freedom.'"
The designer knew, however, that there is no freedom without security. "He wanted women to feel free and sexy," says Lepire. "So, the way he makes things, you can feel confident wearing them. This dress is light against the skin. But the way it closes, you know you're protected. It feels heavenly."
Indeed, this exemplar of soft dressing was heavenly enough to be sported by Madonna on the cover of the July 1987 issue of Cosmopolitan magazine. Of course, when the "Like a Virgin" singer wore it, the plunging halter dress was styled to reveal a matching bra.
Lepire believes the current moment is especially perfect for this dress. "It's a great transitional piece," as warm weather continues into the fall season, she points out. That said, Alaïa's designs are correctly acknowledged to be timeless. "My obsession is to make women beautiful," Alaïa once said. "When you create with that in mind, things can't go out of fashion."