For the living room of a Spanish Revival-style home in Los Angeles, Madeline Stuart used a 19th-century Bakhtiari carpet, an 1820s carved white gold Italian chandelier and an early-19th-century Pietra Serena mantle to complement artworks by Frank Stella and Willem de Kooning. The armchairs and sofa are Stuart's own design.
Photo by Janice Barta.
---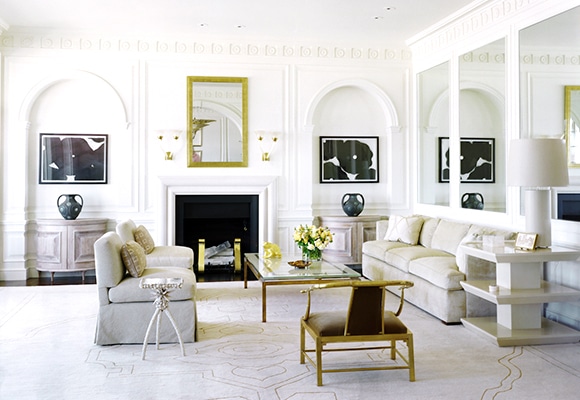 Inspired by the location of this 1920s San Francisco home — it sits atop a steep hill in the city's Pacific Heights neighborhood — Fisher Weisman pursued a floating, cloud-like mood for the living room. The area rug and upholstery are custom designs by the firm.
Photo by François Dischinger.
---
Inspired by the relaxed refinement of California design, Ashe + Leandro designed this Venice beach house to be open, modern and flecked with color. The dining and coffee tables are by Doug McCollough and the rainbow pendant light is a vintage Austrian fixture.
Photo by Fran Parente.
---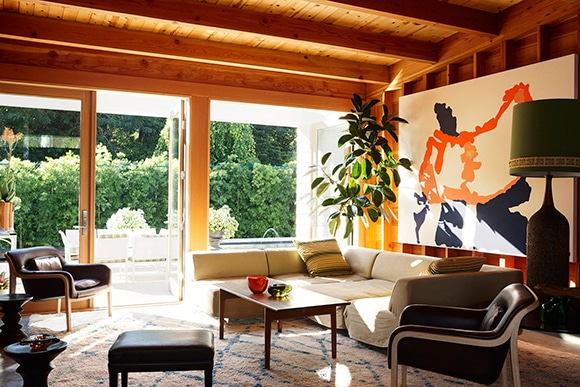 Architect Barbara Bestor created this Breuer-inspired "surf shack" in Santa Barbara for a photographer and his young family. Interior designer Paul Fortune selected a pair of mid-century armchairs and a pale suede-upholstered sofa to complement the low-slung modularity of Bestor's design.
Photo by William Abranowicz.
---
BoydDesign's high-concept restoration of Oscar Niemeyer's 1964 Strick House in Santa Monica emphasized a dialogue between French designers and the Brazilian architect. Stressing the importance of finding a narrative among patinated pieces, the home is filled with a blue-chip mix of mid-century works by the likes of Jean Prouvé, George Jouve, Serge Mouille and Gerrit Rietveld.
Photo by Richard Powers.
---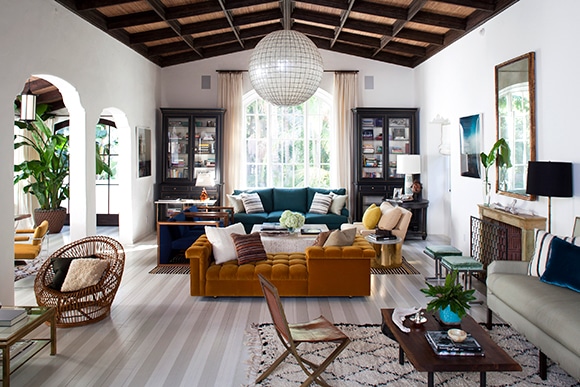 Nate Berkus Associates sought to create a "light, livable and airy" atmosphere for the owner of this Los Angeles home using a diverse approach to materiality — the room includes iron, brass, rattan and greenery — plus jewel-toned upholstery and painted wood floors.
Photo by Roger Davies.
---
Nicole Hollis designed this custom, hotel-inspired bed to "float" inside her client's Larkspur home. The faceted sculptures on the head board come from The Future Perfect.
Photo by Laure Joliet.
---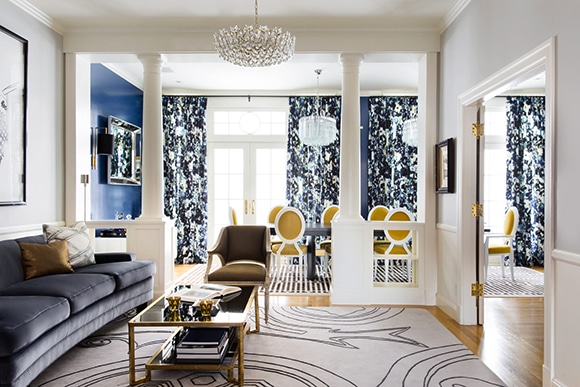 Catherine Kwong lists her client's "fashion-forward" style as a primary inspiration for this sunny, elegant San Francisco home. The custom-made rug borrows a motif from a Francisco Clemente painting and the slate gray sofa is from Habité. The dining room chandelier is by Venini, and the sitting room chandelier is by Sciolari.
Photo by Bess Friday.
---
---
Jay Jeffers's take on a family-friendly vacation home in Saint Helena used oversize, pillowy modern furnishings that pleasingly contrast with the traditional architecture.
Photo by Matthew Millman.
---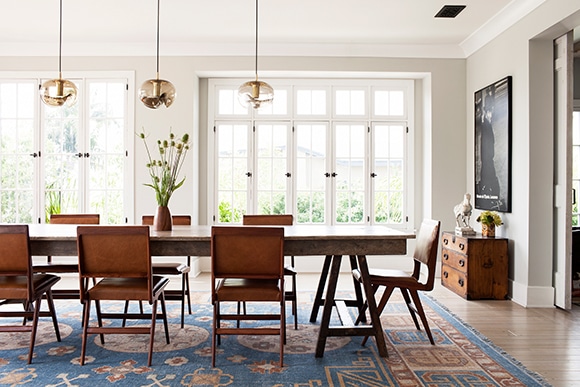 Kishani Perera used eclectic, bohemian touches to add warmth and dimension to this late-mid-century home in Los Feliz. The dining table was purchased at Obsolete, and the glass pendants come from Gallery L7.
Photo by Joe Schmelzer.
---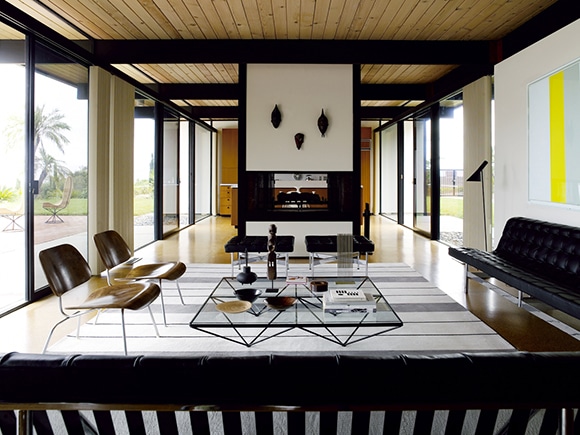 BoydDesign's thoughtful work on Craig Ellwood's 1956 Steinman House in Malibu relied on historical scholarship and a client directive to use only top-drawer pieces and materials. The leather sofas and chairs are by Laverne — with whom Ellwood manufactured furniture pieces — and the Eames LCM chairs are rosewood, a rare combination.
Photo by Richard Powers.
---
In Shasta Lake, Philip Nimmo created this sitting room — part of a 2,500-square-foot closet wing — for a client with a deep appreciation of French antiques and Hollywood Regency style. The designer purchased the portrait of Jacqueline Kennedy Onassis, resting on an easel in the corner, at an auction of Onassis's personal belongings.
Photo by Roger Davies.
---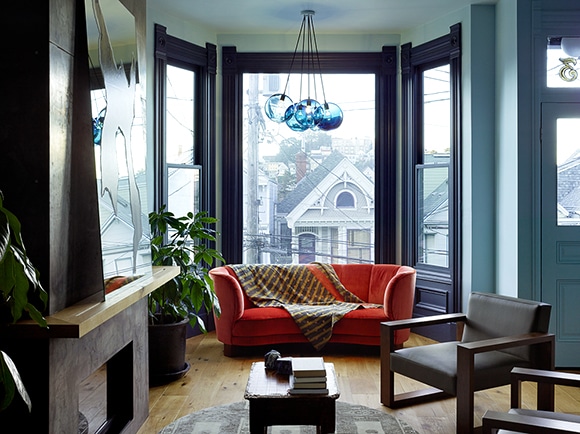 Geremia Design utilized industrial textures like steel and concrete to add a modern appeal to this San Francisco Victorian. The vintage upholstered sofa was sourced at Chris Howard Antiques in Berkeley.
Photo by Matthew Millman.
---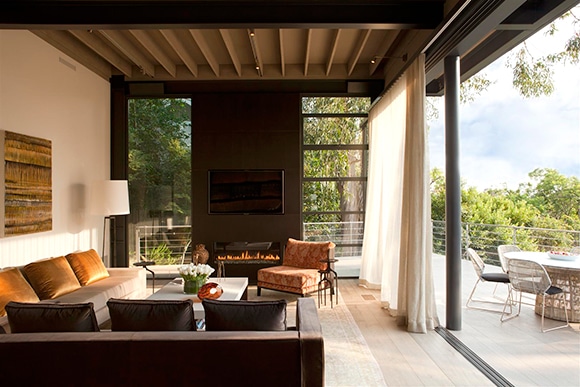 In Los Angeles, Rios Clementi Hale used a vintage rug from Mansour and seating by Christian Liaigre to add warmth to a glass, steel and concrete home.
Photo by Undine Pröhl.
---
Jarrett Hedborg used Fortuny fabric to upholster a set of Rose Tarlow dining chairs in this 1925 Spanish Colonial Beverly Hills home. A number of 1930s Coppertone pottery pieces line the space's console table.
Photo by John Coolidge.
---
Landry Design Group used vaulted ceilings, reclaimed oak herringbone floorboards and smooth plaster walls to create a casual, inviting dining room for this Los Angeles residence. The table and chairs are custom pieces by the home's interior decorator, Joan Behnke.
Photo by Erhard Pfeiffer.
---