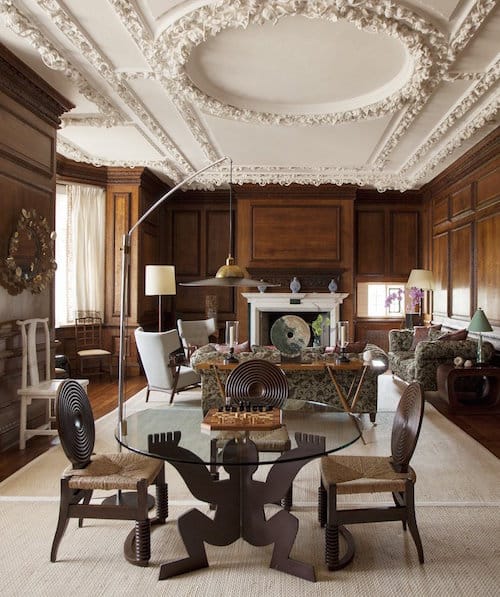 This country home in Hampshire, England, was built from chalk in 1904, and it was used as a boarding school for decades. The homeowners didn't want a straightforward renovation, so Robert Couturier updated the space — which still has the original plasterwork ceiling — with contemporary furniture, art and objects to give the home a dynamic tension.
Photo by Tim Street Porter
---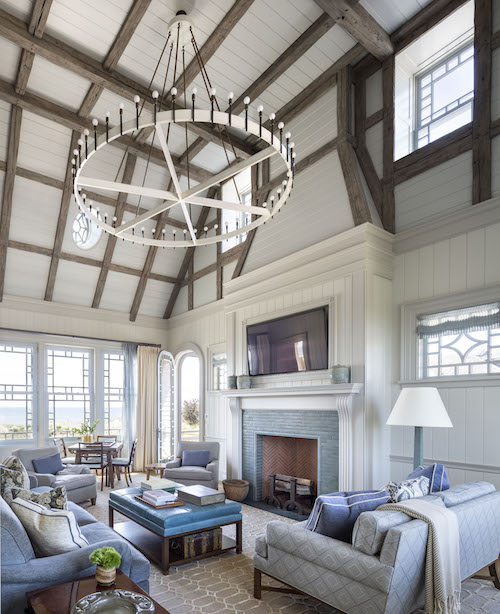 "In a two-story house subject to strict coastal height limits, our client sacrificed one second-floor bedroom to realize the family room, set between the kitchen and the swimming-pool terrace, as a double-height space," says Gary Brewer, the partner at Robert A.M. Stern Architects who led the design of this house in East Quogue, New York. "With windows on three sides and a fireplace front and center, we introduced a cornice and a crown, wrapping the room below in reclaimed hand-hewn timber framing over a white-painted V-joint board ceiling."
Photo by Peter Aaron / OTTO
---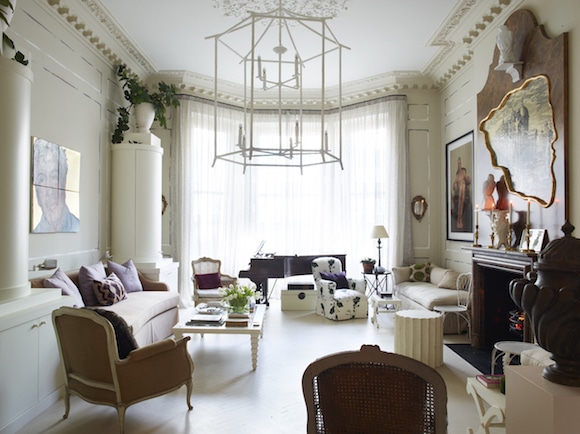 An oversized Giacometti-esque chandelier hangs over the drawing room of designer Nicky Haslam's London apartment. The space also features a brown marble fireplace with a tall matching surround, which showcases surrealist artworks.
Photo by Simon Upton
---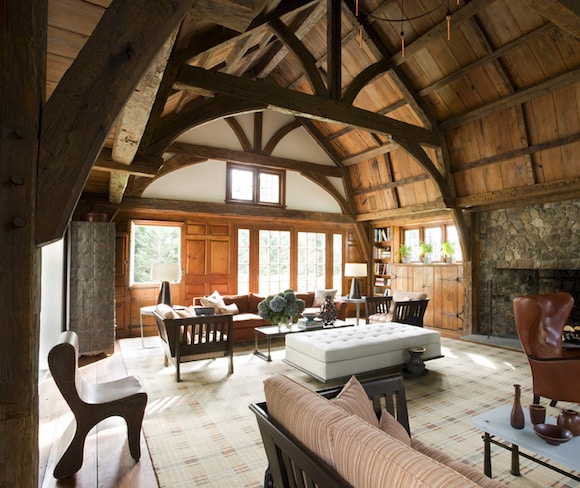 Shawn Henderson updated this farmhouse in Lakeville, Connecticut, part of which dates back to the 1700s and has a soaring trestle ceiling. "The wood ceiling was original to the barn structure, and it drove the entire color palette of the house," Henderson says. The furniture includes a custom daybed and sofa by Henderson, along with a 1920s wood sofa and chairs.
Photo by Steve Freihon
---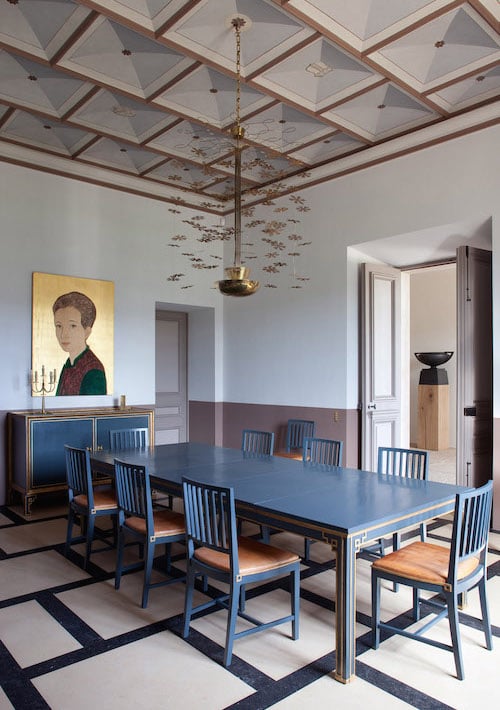 The dining room of Pierre Yovanovitch's 17th-century château in Provence boasts a fanciful Paavo Tynell lighting fixture and a portrait by Stephan Balkenhol.
Photo by © Jean-François Jaussaud
---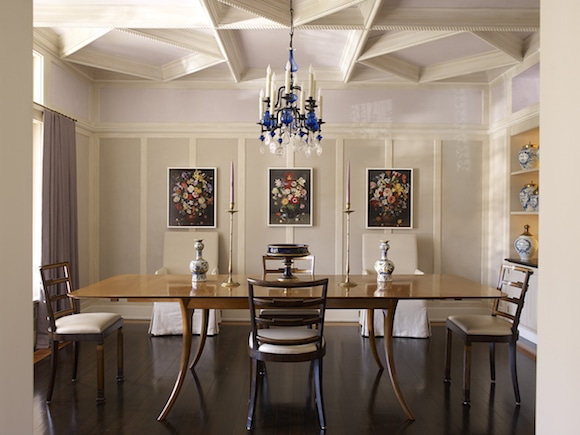 "The coffered ceiling makes the room feel like a formal space for entertaining," says Alexandra Loew of this dining room she designed in a Dutch farmhouse on New York's Long Island. "The diamonds run on the bias, making them dynamic, which is echoed in the elegant splay of the saber leg on the T.H. Robsjohn Gibbings table from Converso. The room was treated with strie and plaster applications by our specialty painter, Louise Crandall of Serpentine Studio."
Photo by Brandon Schulman Photography
---
"An artist hand-painted one center design and one border design, and we actually giclėed his work onto multiple canvases before installing like wallpaper into the coffers," says Kemble Interiors' Mimi McMakin of this Palm Beach living room, which features custom sofas, coffee table, mirror and lantern. "We coordinated with the architect to design the millwork and highlighted details of the trim with a cantaloupe glaze that reflected the walls."
Photo by Kemble Interiors
---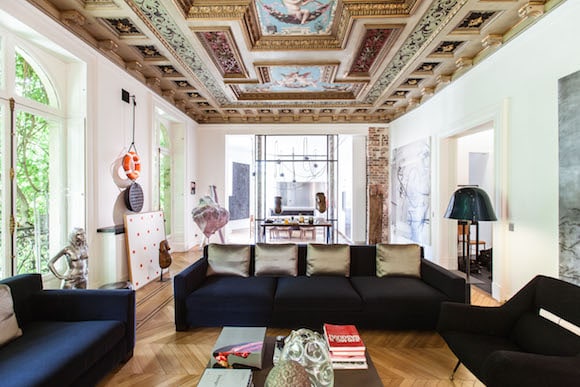 "This fabulous ceiling has ornament — that's what makes it so special," says Isabelle Stanislas, who designed this apartment in Paris's seventh arrondissement for a contemporary-art collector. "The ceiling is sculptured and painted at the same time," she says of the 19th-century ceiling. This particular sky blue and this red are not obvious colors, but they are incredible."
Photo by Olivier Löser
---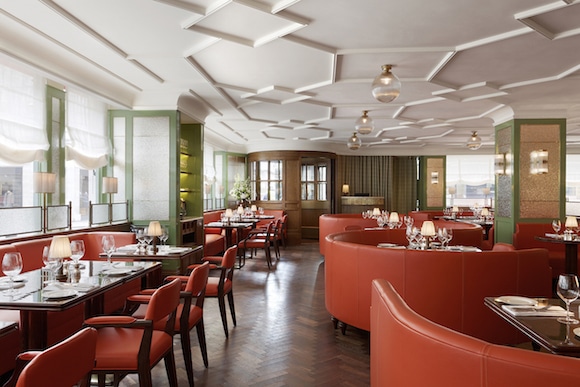 "The ceiling showcases an Edwardian-inspired patterned bead, which works perfectly with the theme of blending old and new," says Martin Brudnizki of 45 Jermyn St., the London restaurant he designed in the former Fountain space. "The traditional oak parquet flooring, rosewood tables and neutral-swathed curtains, alongside the low yet distinctive ceiling, complement the silver walls, composed of textured glass bonded to mirror to create a reflective and modern texture."
Photo by James McDonald
---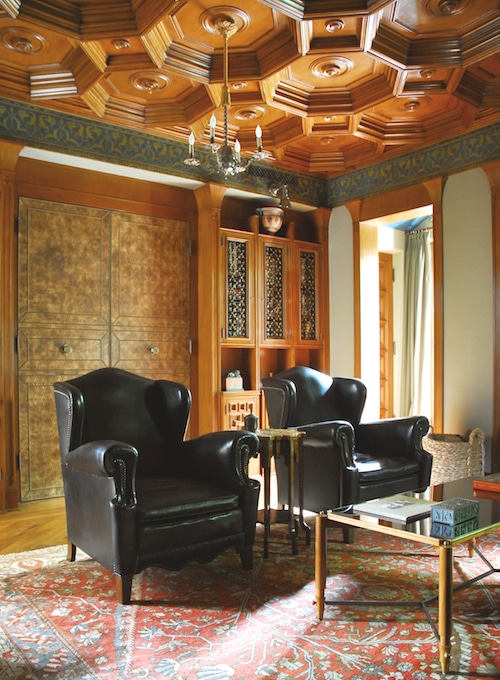 This Spanish-style home in Santa Monica, California, is by Madeline Stuart, and the study includes a pair of Danish leather wingback chairs from Lief, a Jules Leleu cocktail table from Lebreton and silver-plated chandeliers from Robuck. The room features a mahogany ceiling designed by Kevin Clark, intended to evoke the European influence in 1920s Spanish Revival architecture.
Photo by Janice Barta
---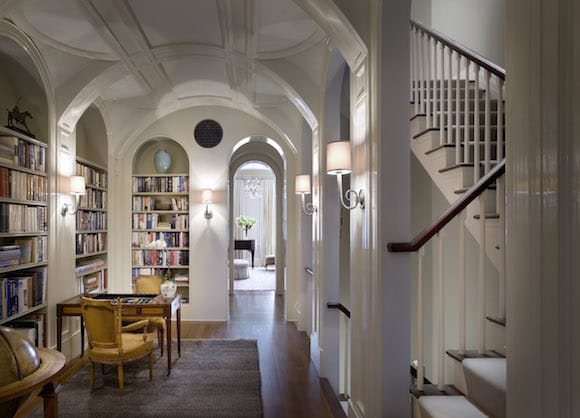 The ceiling of this Manhattan townhouse library by Peter Pennoyer Architects is based on hand drawings that were then modeled in 3D using design software. "This modeling allowed the craftsmen to form the vaults and moldings as a unified design element," according a Pennoyer associate. "Our inspiration was James Wyatt's Heveningham Hall in Suffolk — the interiors were designed by Wyatt circa 1781-84 — as a much more elaborate expression of the beauty of intersecting apsidal and vaulted forms."
Photo by Scott Frances/OTTO
---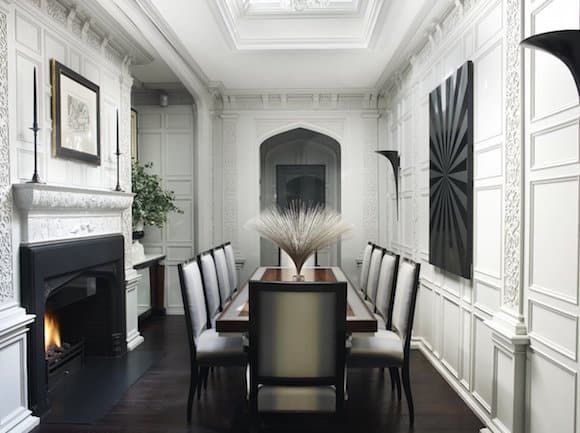 For this 1920s Georgian townhouse in London, Hubert Zandberg Interiors opted to keep the dining room's original Jacobean panelling, originally in a dark chocolate brown, but updated it to French gray for a fresher, lighter look. The room was previously a study with no windows, so Zandberg added a skylight and hung a chandelier in the middle of it, which is only visible to seated diners in the evenings, but in the daytime it catches and reflects light.
Photo by Simon Upton
---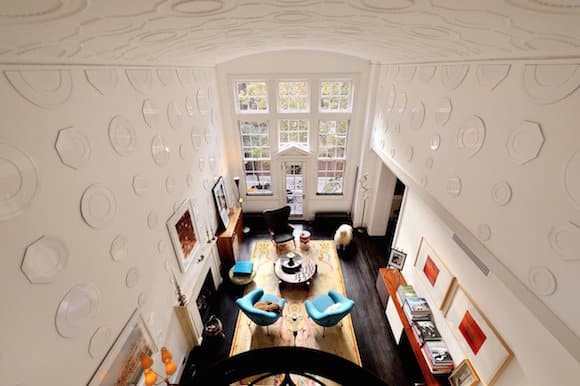 "The new wall surface interprets the original — and restored — barrel-vaulted coffered ceiling pattern of circles and octagons," architect Michael Haverland says of this Greenwich Village duplex. "The computer-milled shapes decrease in scale and spacing as they descend from the ceiling, symmetrically organized around the axis of the room — but with a more playful composition. The shiny, precise lacquer finish contrasts with the matte plaster ceiling."
Stephen Smith/Kristi Stiff Imaginare Co.