As the weather grows colder, our minds turn toward nesting and all things soft and cozy. But that only partly explains why designers are flocking to shearling, sherpa and bouclé wool. Do we crave a cocoon-like respite from these troubling times? Or is it a reaction to Scandi minimalism? Whatever the reason, designers are challenging our assumptions about these fabrics, partnering shearling with solid white oak, as in Ben & Aja Blanc's Marfa chair, or wrapping metal tubes with sheep fur, as Aranda Lasch does in their Railing armchair. We spoke to the designers behind some of our favorite furry furniture and interiors to see what inspired them.
---
Why pay homage to Donald Judd with a chair? Because Ben and Aja Blanc think Judd's own seating pieces are pretty much perfect. Not perfect for comfy sitting, of course —"they are all hard angles and hard surfaces," the Providence, Rhode Island–based designers admit, "but the scale and composition are so right they have what we call 'visual comfort.' "
The duo imagined what might happen if they, Judd and the Swiss Surrealist Meret Oppenheim had a conversation. The result was a chair that combines, they say, Judd's "hard line angles," Oppenheimer's absurdist bent and the Blancs' interest in complex woodworking techniques that look "deceptively simple." The designers chose short-cut curling shearling from New Zealand to give a sense of "visual comfort and contrast while providing natural texture, color and warmth." Judd would approve.
---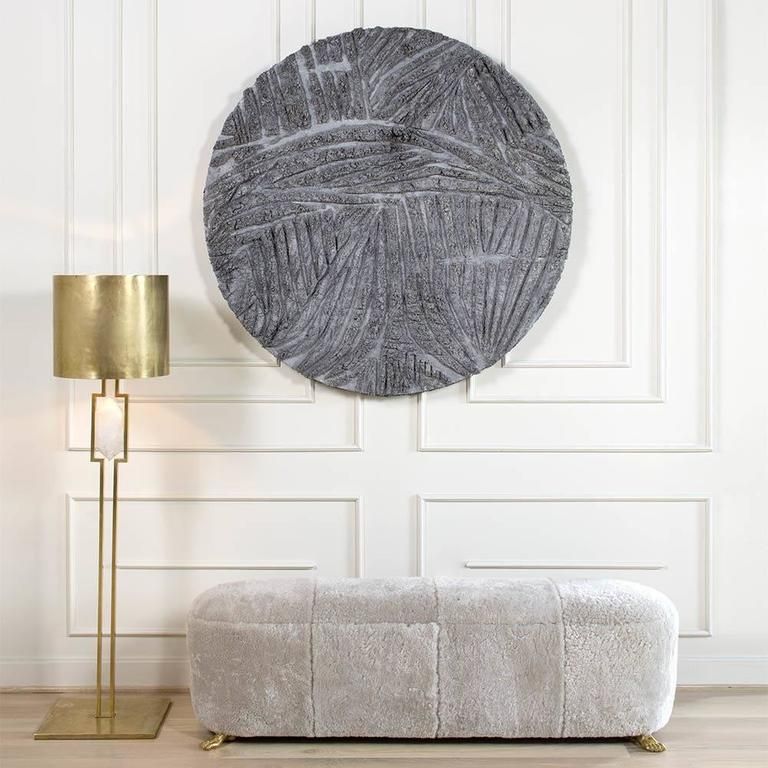 For this partner to her iconic foot stool, Wearstler says, she again juxtaposed "the soft, textured and luxurious shearling against the cast and burnished brass feet." While shearling makes any space feel inviting, the Los Angeles designer explains, "mixing raw with refined creates an added depth." Wearstler foresees multiple uses for the piece. She'd love to see the Foot bench in an entry, at the end of a bed, in a dressing closet or in a living room as an occasional seat. "There are so many possibilities," she says. "It's a very versatile piece."
---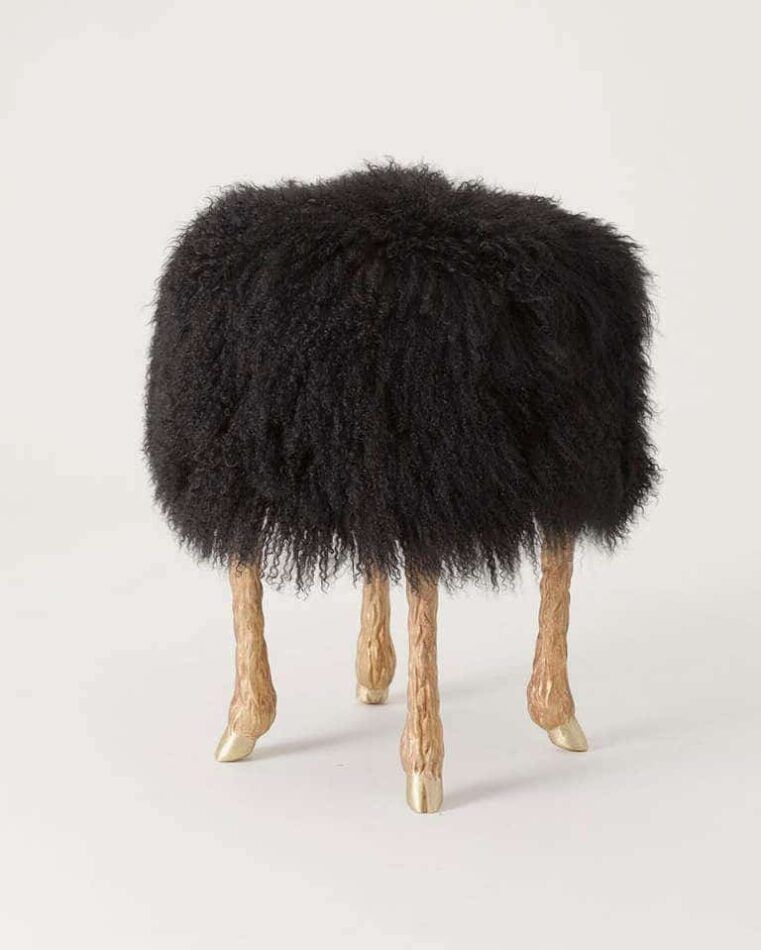 The main inspiration for the multitalented artist's stool was nature — specifically, furry animals. Having spent his 20s in Corsica, organizing music festivals and founding an artists' colony, Bankowsky was familiar with the goats and rams that populate the landscape. He was particularly fond of goats with long shaggy fur and hoped to convey the same sense of ridiculousness with his classically lifelike stool. It's doubtful his stools will ever visit the Corsican countryside, but Bankowsky would be as pleased to see them in a room with paintings of the quattrocento as paired with works like those of the late American painter Ellsworth Kelly.
---
Memories of lazy summer days spent lying on the ground gazing up at the sky informed Carbonell's vision for this sleek rocking chair, which she imagined as a "sliver cradling the body just above ground." Cowhide was chosen "to add a layer of warmth and rawness against the steel plate," she says, but perhaps her favorite aspect of the piece is its sinuous form. Although the weight of the steel makes the rocker hard to move, several prototypes have become her go-tos for recharging in her Miami studio.

---
The Danish architect may go down in history as the guy who made the Clam chair, but who says that's a bad thing? Although for decades, the piece was the victim of cheap reproductions and misattributions — to fellow Scandinavians Viggo Boesen and Martin Olsen, among others — in recent years it has steadily climbed the ranks in the trophy market, going for hundreds of thousands of dollars at auction. Today, it's one of the fashion set's most beloved pieces, with fans as starry as Los Angeles art dealer Maggie Kayne and style setter Vanessa Traina.
---
Interiors with Furry Furniture
To heighten the '70s feel of this Miami home, Rob Brown, of Brown Davis Interiors, avoided the predictable setup of chairs arranged around a sofa and instead designed these ottomans for sitting and lounging. The pieces, which accommodate more than one person, can be moved to suit any group, says Brown, and, as a bonus, their soft furry coverings send a "welcoming message" to guests.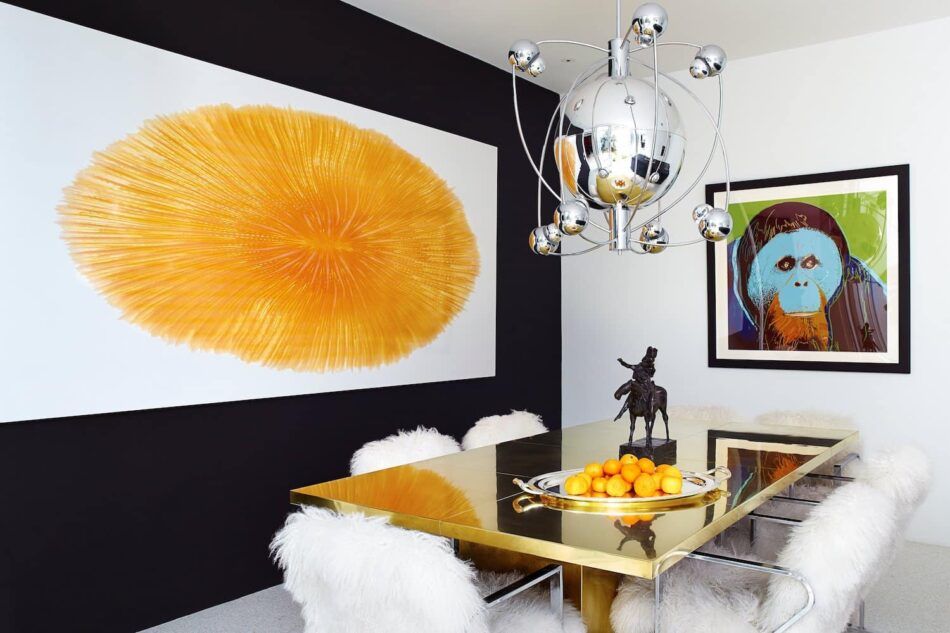 This clean contemporary space ran the risk of feeling "cold," says Brown, so "we upholstered the chairs in Mongolian hides for a playful twist." Although the decorative elements feel refreshingly new, they're actually vintage, giving the room more soul. The chandelier and showstopper brass dining table are Italian from the 1970s and 1960s, respectively. "The bold Warhol, from the artist's 'Endangered Species' series, seemed like the perfect accompaniment," says the designer.