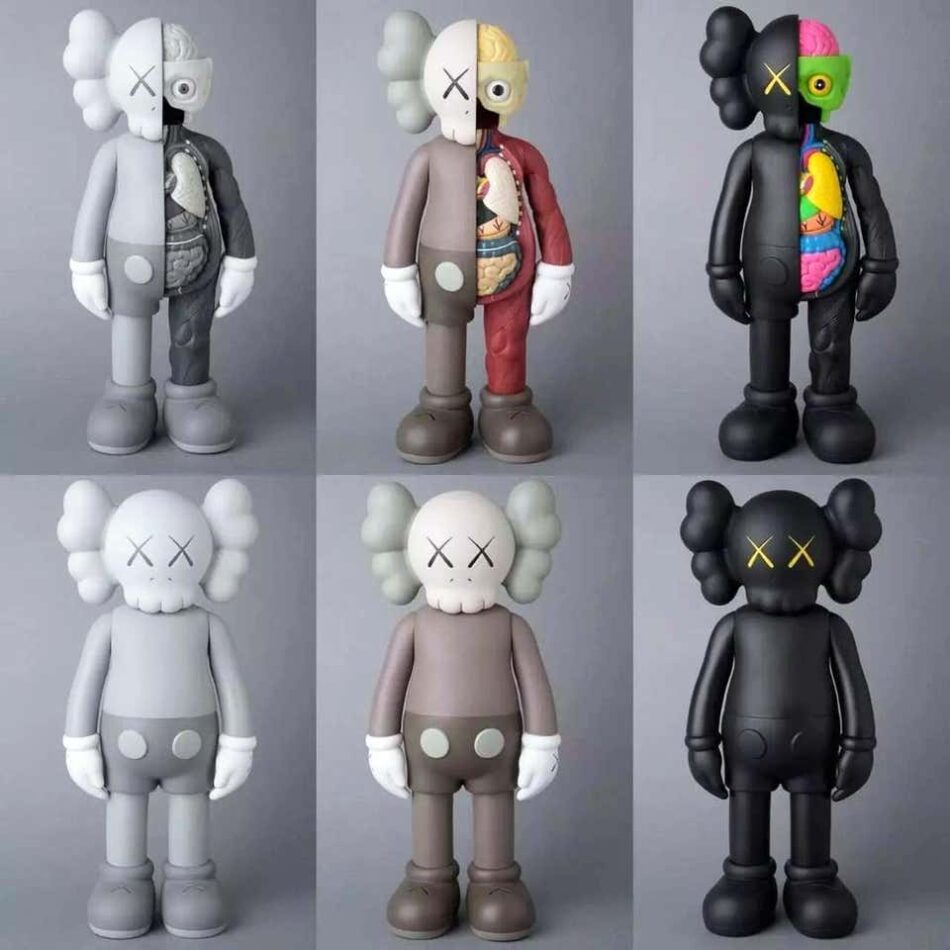 In the beginning, Brian Donnelly was just a kid from Jersey City, New Jersey, who got into the graffiti thing. KAWS was his tag, chosen simply because he liked the way it looked. Today, KAWS's oeuvre encompasses art toys, sculptures and colorful paintings and prints that appropriate pop phenomena like the Smurfs, the Simpsons and SpongeBob SquarePants.
In the late 1990s, and the artist, a 1996 graduate of New York's School of Visual Arts, was making a living as an illustrator for the animation studio Jumbo Pictures. Like young Hansel and Gretel with their trail of crumbs, KAWS would mark the morning route to his downtown Manhattan office with "subvertising," "interrupting" fashion advertisements by adding his colorful character Bendy, its sinuous length sliding playfully around the likes of a Calvin Klein perfume bottle or supermodel Christy Turlington.
These creations gained a following, to the point where work posted in the morning would disappear by lunchtime. Even in those early days, KAWS was hot on the resale market.
"When I was doing graffiti," he once explained, "it meant nothing to me to make paintings if I wasn't reaching people." Instead of seeking entrée to the elite New York art world (which, frankly, wasn't looking for a street artist anyway), KAWS moved to Japan, where a flourishing youth culture welcomed visionaries like him.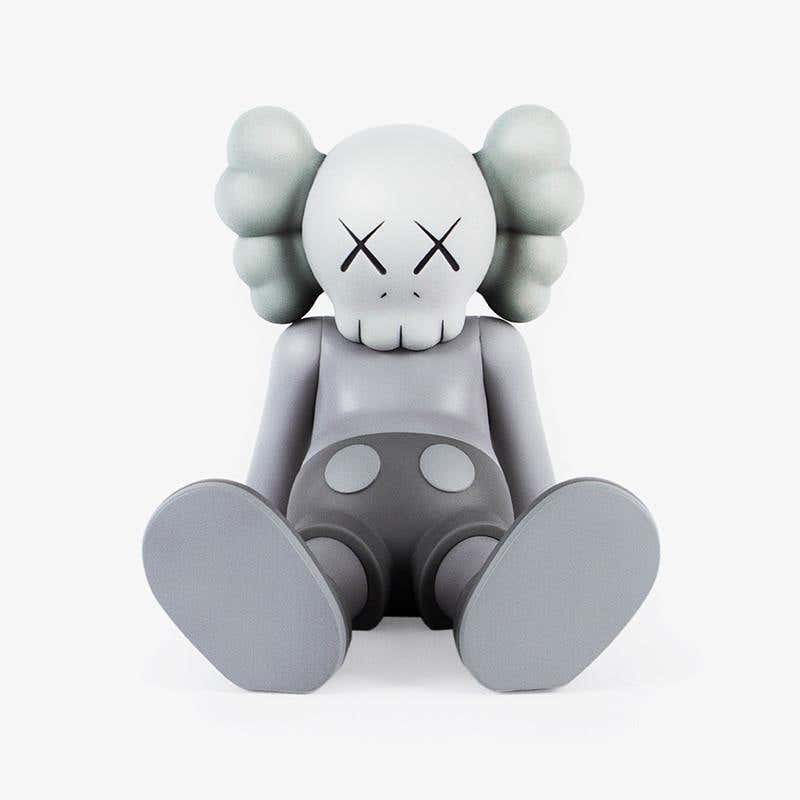 In 1999, he partnered with Bounty Hunter, a Japanese toy and streetwear brand, to release his first toy. Companion — an eight-inch-tall vinyl reimagining of Mickey Mouse, with a skull-and-crossbones head and trademark XX eyes — debuted with a limited run of 500. It sold out quickly.
Companion was the first of more than 130 toy designs, which came to include such characters as Chum, Blitz, Be@rbrick, BFF and Milo, each immediately recognizable as KAWS figures by their XX eyes. Fans have proved insatiable. In 2017, MoMA's online store announced the availability of a limited supply of KAWS Companion figures; as avid collectors logged on to stake their claim, the website crashed — multiple times.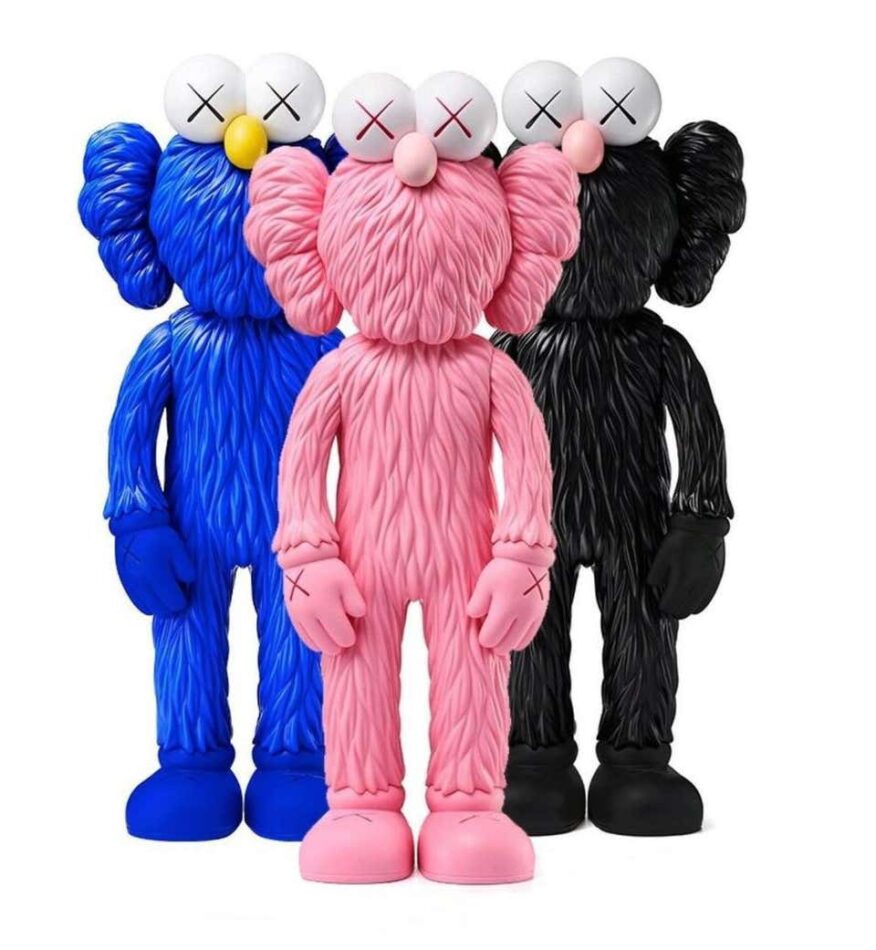 Companion is the most visible of the KAWS posse, appearing over the past decade in new postures and combinations in monumental works. These include Along the Way (2013), an 18-foot-tall wooden sculpture of two Companions leaning on each other for support; Together (2016), two Companions in a friendly embrace, which debuted during an exhibition of KAWS's work at the Modern Art Museum of Fort Worth, in Texas; and KAWS:HOLIDAY (2018), a 92-foot-long inflatable Companion floating on its back in Seoul's Seokchon Lake. The sculptures were re-created as toys, blurring the lines between art and commerce.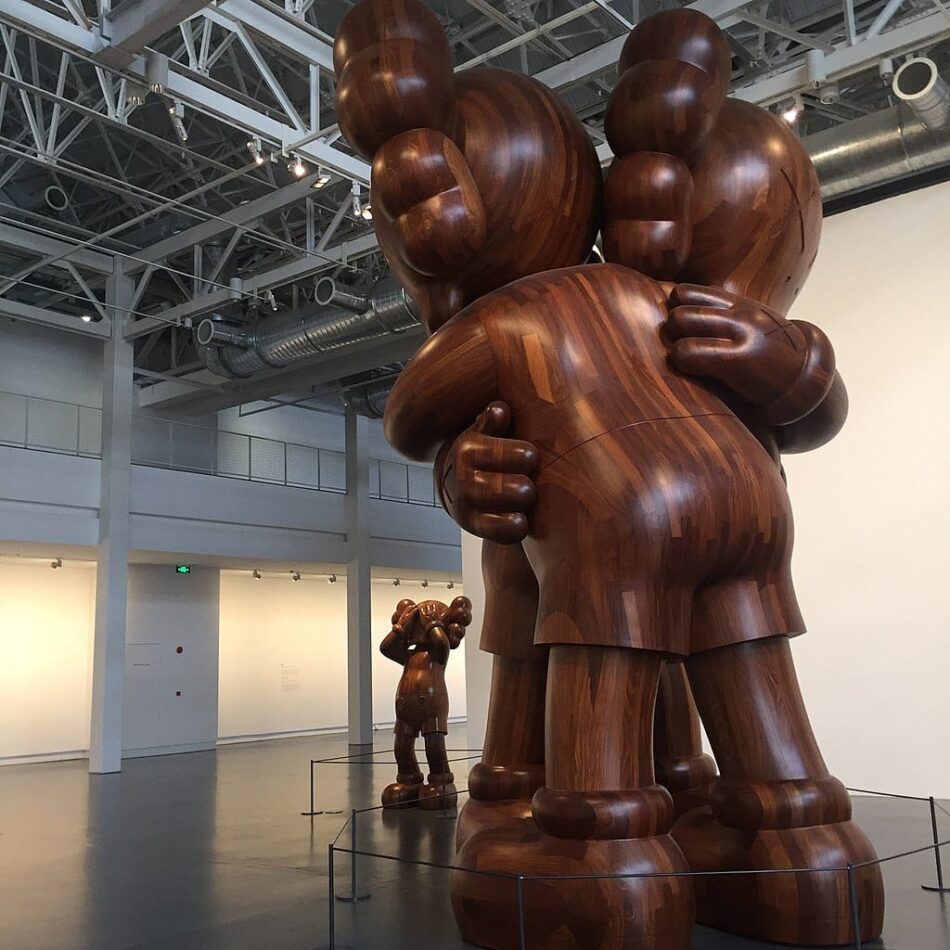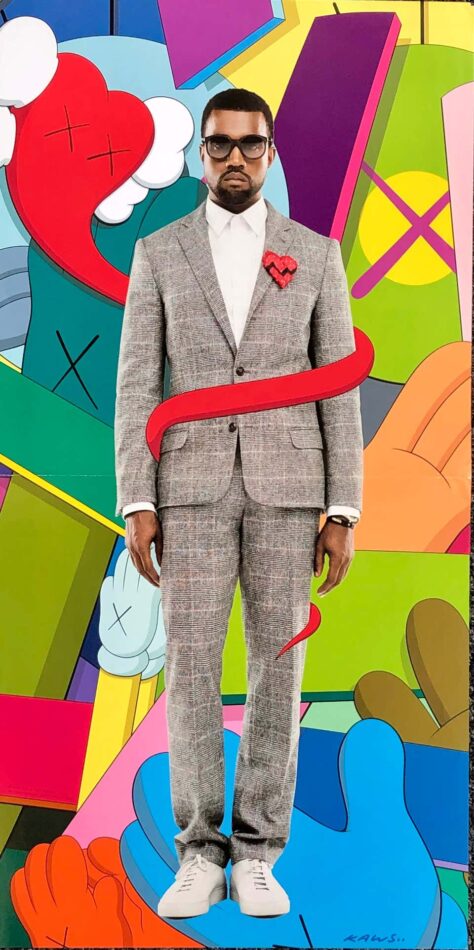 KAWS's visual language may be drawn from cartoons, but his work doesn't necessarily evoke childlike joy. "My figures are not always reflecting the idealistic cartoon view that I grew up on," he explains in the catalogue for the Fort Worth exhibition. "Companion is more real in dealing with contemporary human circumstances . . . . I think when I'm making work it also often mirrors what's going on with me at that time."
KAWS's résumé reads like a record of major 21st-century pop-culture moments. It includes his work with streetwear brands like A Bathing Ape and Supreme; his design for the cover of Kanye West's 2008 album, 808s & Heartbreak; and his collaboration with designer Kim Jones on the Dior Homme Spring/Summer 2019 collection, Jones's debut as the fashion brand's creative director.
KAWS has developed his own pair of Nike Air Jordans, flown a 40-foot Companion balloon in the 2012 Macy's Thanksgiving Day Parade and designed a one-time-only Moonman award for the 2013 MTV Video Music Awards.
Yet while recent exhibitions in Fort Worth and Shanghai attest to a growing appreciation in the mainstream art world, this recognition is far from universal. His work "makes the art world uncomfortable," Anne Pasternak, director of the Brooklyn Museum, told the New York Times. Nevertheless, her institution is planning a major survey of his work, "KAWS: WHAT PARTY," in 2021.
"KAWS is one of the few artists who straddle multigeneration and global demographics of collectors," Anders Petterson, founder and managing director of the art market analysis firm ArtTactic, wrote in an email. "His work doesn't solely appeal to the inner art world (although the artist has been very good at cultivating the premium end of the market). But through collaborations with luxury and fashion brands, building a large Instagram following and creating an accessible toy range, the artist has extended his fan and collector base to encompass nontraditional art buyers and fans, particularly younger buyers, many in Asia."
One final thought: In 2019, the painting THE KAWS ALBUM (2005), a mashup of the Simpsons and the Beatles, sold at auction in Hong Kong for $14.8 million. That made it the most expensive Western artwork ever sold in Asia — until Gerhard Richter's 1987 canvas Abstraktes Bild (649-2) brought $27.7 million in a sale streamed from Hong Kong in October 2020. KAWS vs. Richter? An interesting time for the art world, indeed.