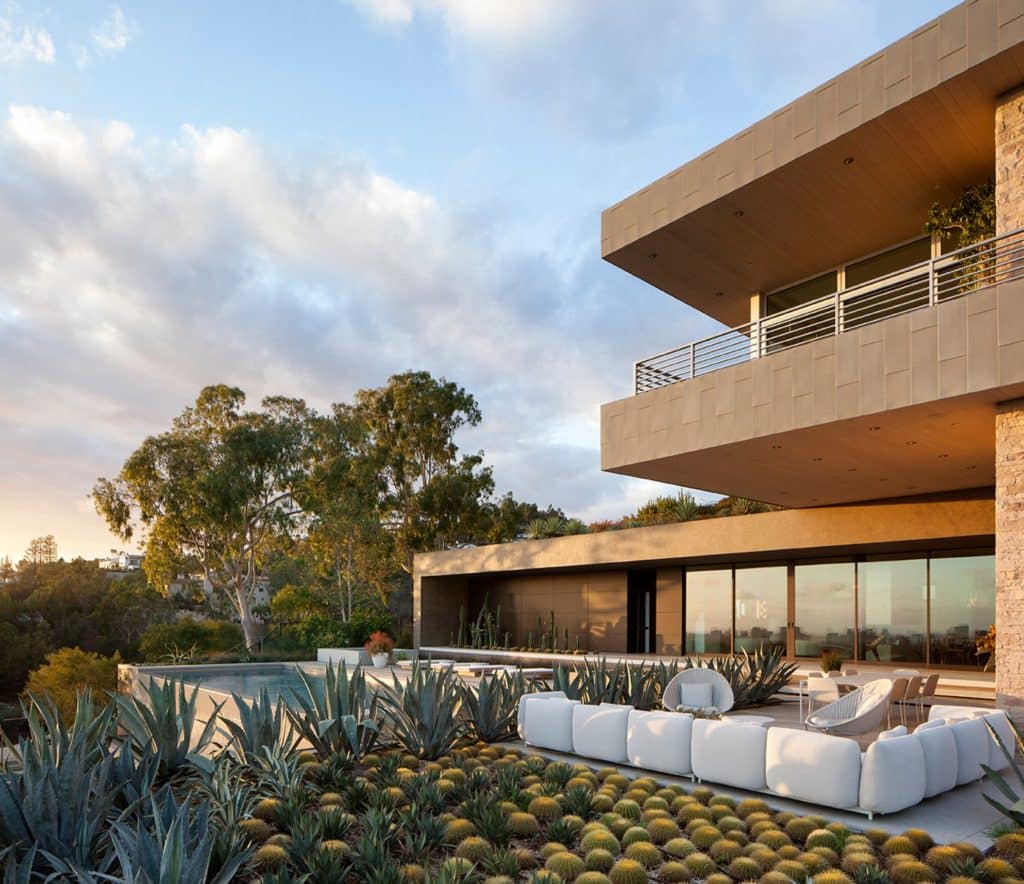 Marmol Radziner designed the structure, interiors and landscape of this Beverly Hills, California, home. The poolside patio is furnished with Paola Lenti's Mellow sectional and Nido lounge chairs.
Photo by Roger Davies
---
In renovating her 1948 Rudolph Schindler house in California, Pamela Shamshiri of Studio Shamshiri paid strict homage to the original spirit of the home. Here, a pair of Gae Aulenti chairs are surrounded by a collection of potted plants.
Photo by Anthony Cotsifas & Anson Smart
---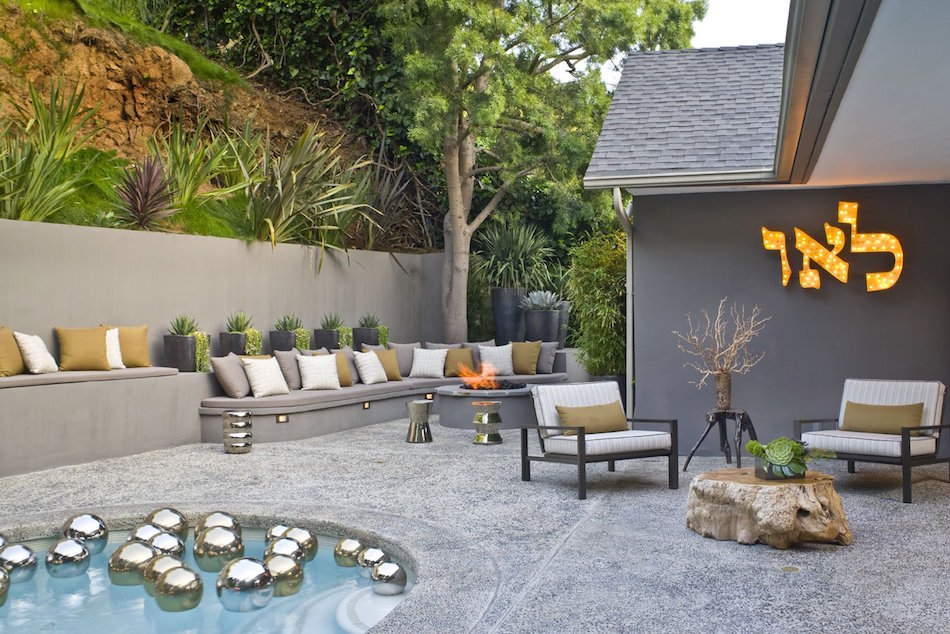 Amidst the lush surroundings of this Beverly Hills backyard, Jeff Andrews carved out a sophisticated space for lounging and entertaining, with a palette derived from the landscape.
Photo by Grey Crawford
---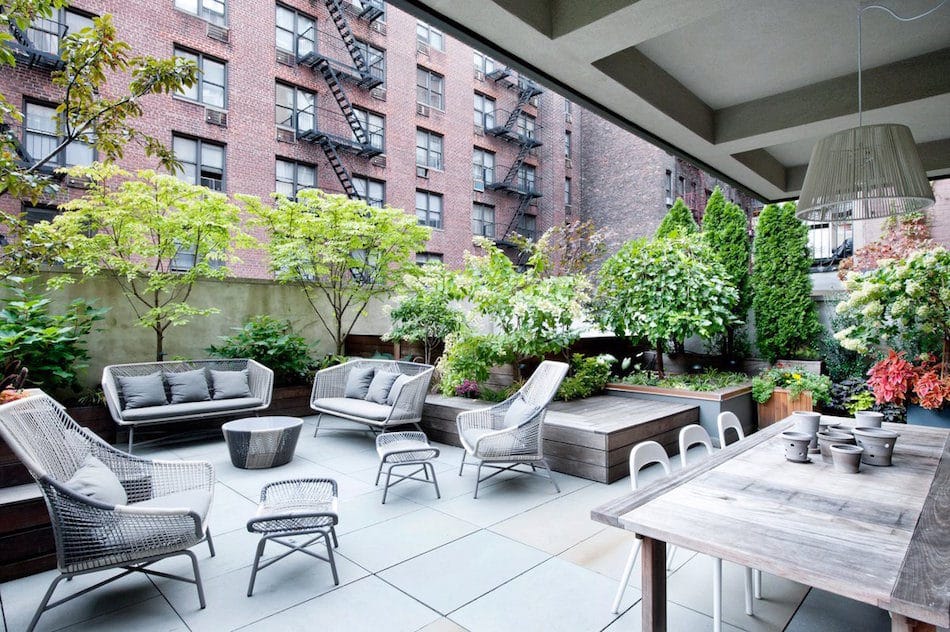 DHD Architecture & Interior Design created an urban oasis in Manhattan's Gramercy Park neighborhood with this sprawling 800-square-foot terrace, which is lined with shrubs and flowering trees. The patio is located off the living room, "which makes the loft feel endless and extends our living space eight months a year," says designer David Howell, who lives in the apartment with his wife and partner, Steffani Aarons, and their children.
Photo by Emily Andrews
---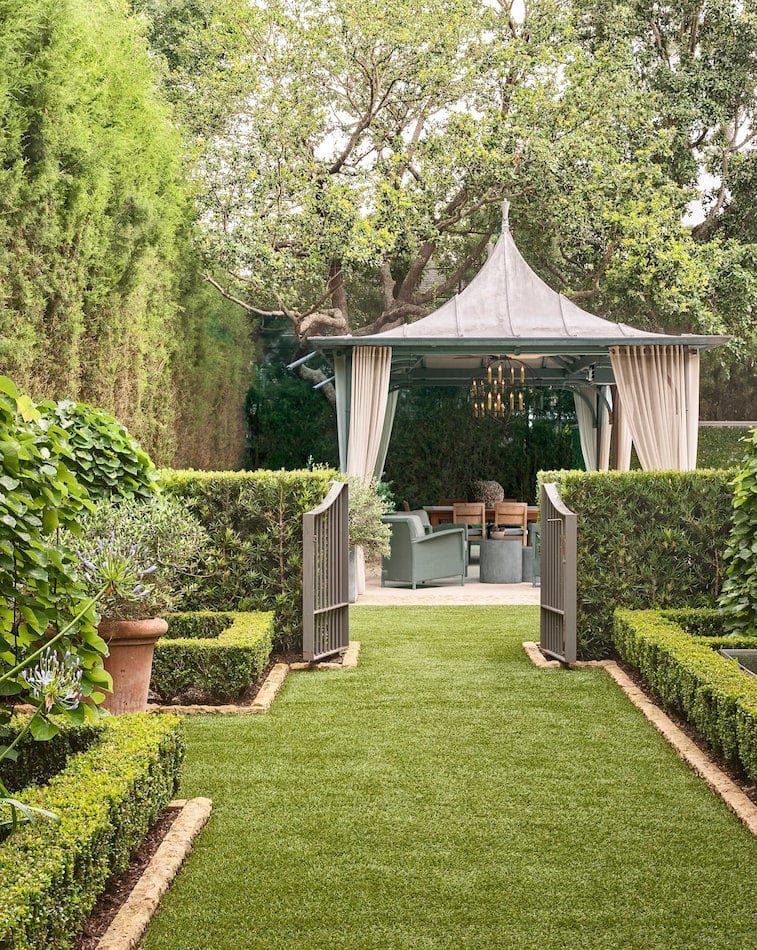 This English Country–style house in Houston, designed by Fern Santini and architect Paul Lamb, features a fairy tale-like garden path and patio.
Photo by Peter Vitale
---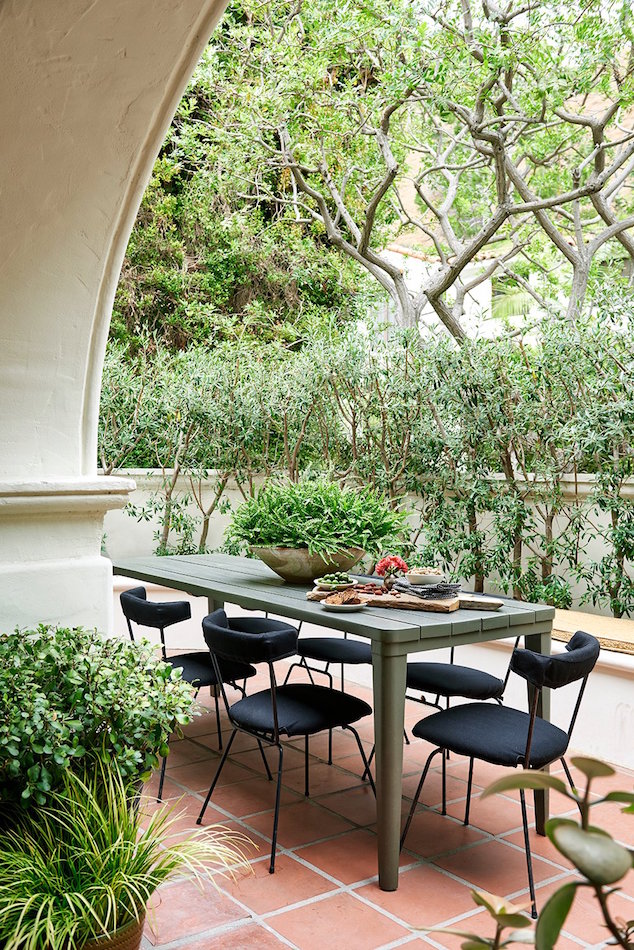 A simple table and sleek chairs keep the focus on the environment at this house in the Hollywood Hills by Nickey Kehoe Design, making dining al fresco an enchanting experience.
Photo by Amy Neunsinger
---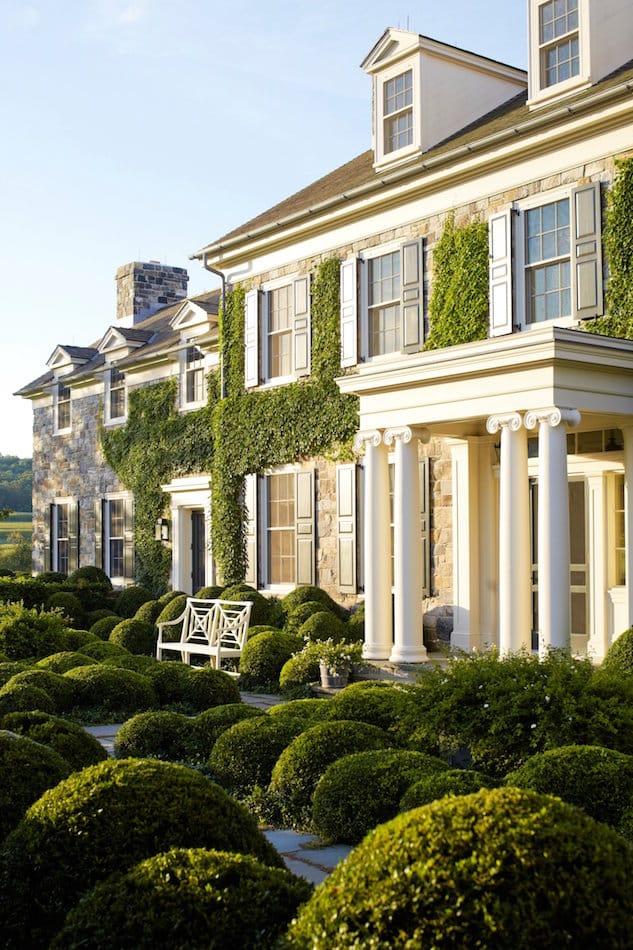 "Working closely with noted landscape designer Deborah Nevins, we created a series of garden rooms to surround this classic new stone farmhouse and anchor it to its bucolic site," Gil Schafer says of Longfield Farm, a home in New York's Hudson Valley. "The entry garden, seen here, is defined by parterres of boxwood 'clouds,' which manage to be both formal and relaxed in character, striking the perfect balance at arrival for a house that is both elegant and understated."
Photo by Eric Piasecki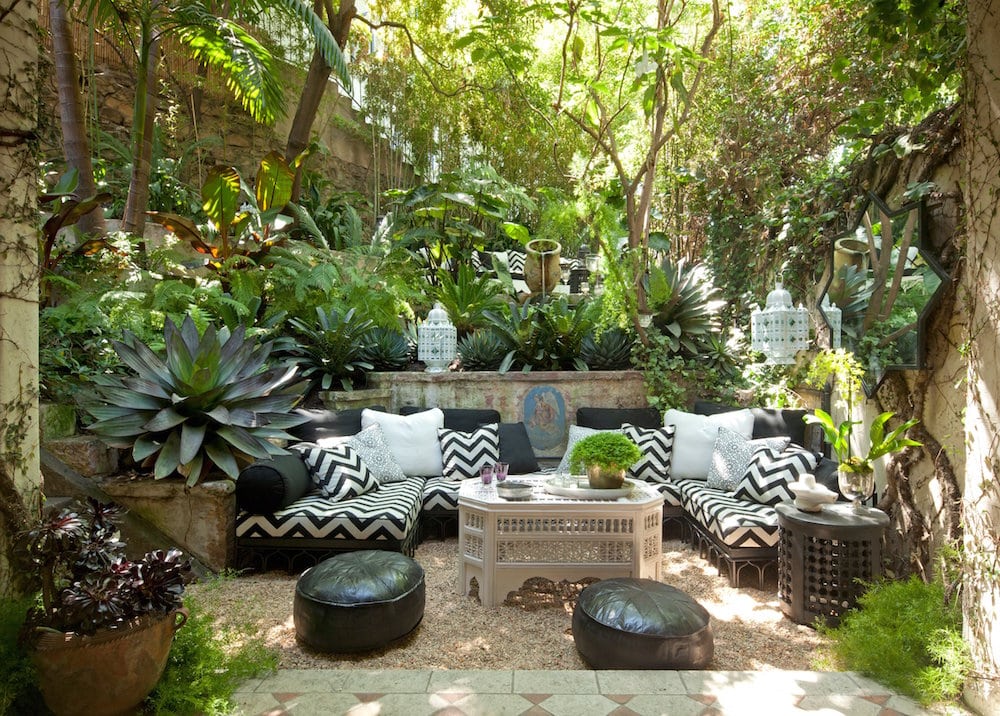 Martyn Lawrence Bullard's 1922 Italianate villa in Los Angeles features a lush courtyard. "The landscaping, done by Stephen Block of Inner Gardens, was designed to create a Moorish mood, found in the Marjorelle Garden outside of Marrakech," Bullard says. "Lanterns and a fountain made from an antique olive oil jar were added to create an exotic vibe and relaxing mood at night. The plantings are indigenous to Morocco, but also work well in the Californian climate."
Photo by Tim Street-Porter
---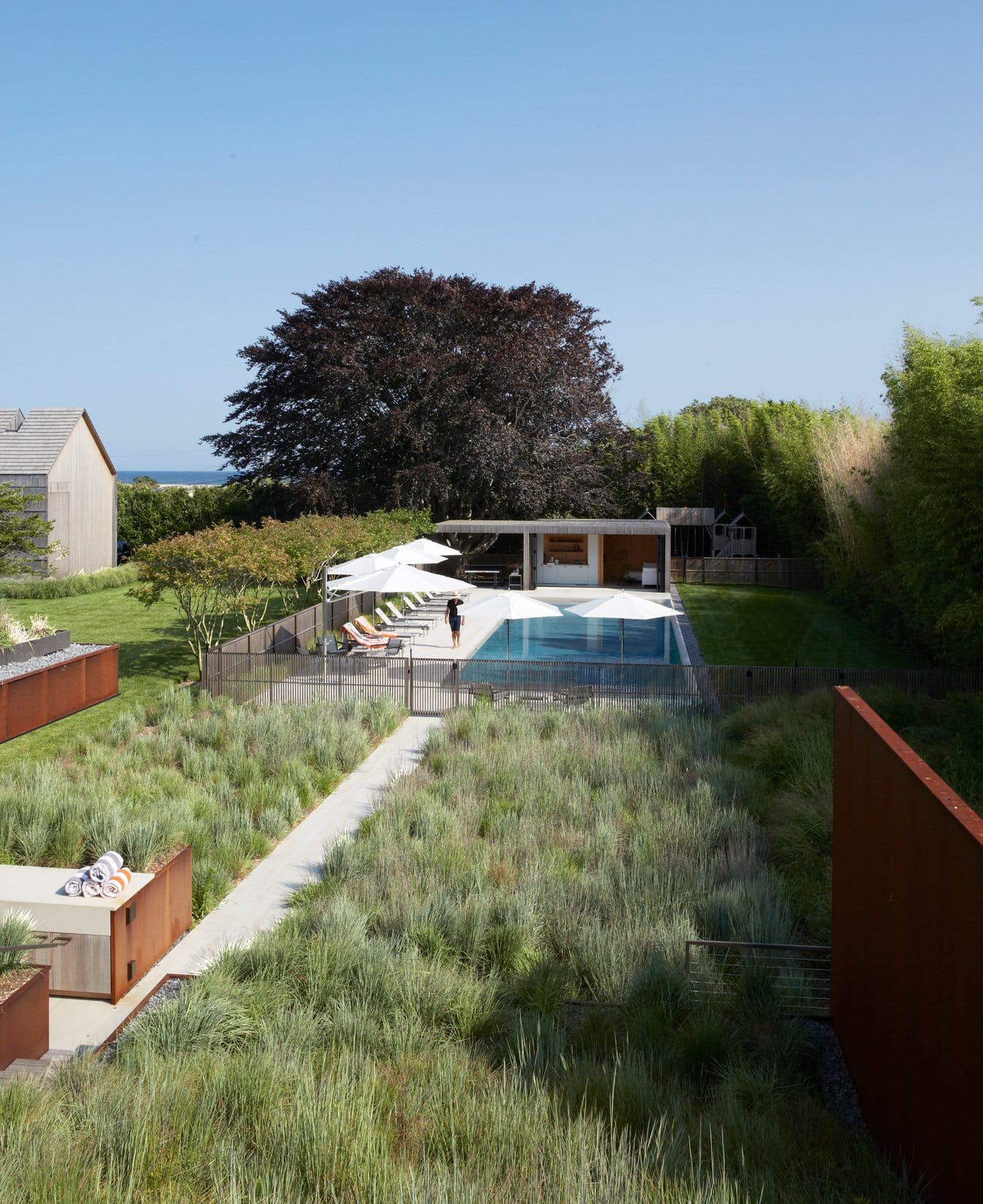 Native Long Island grasses line the walkway to the pool area at this Wainscott, New York, home designed by Damon Liss, foreshadowing the dunes of the nearby beachfront.
Photo by William Abranowicz
---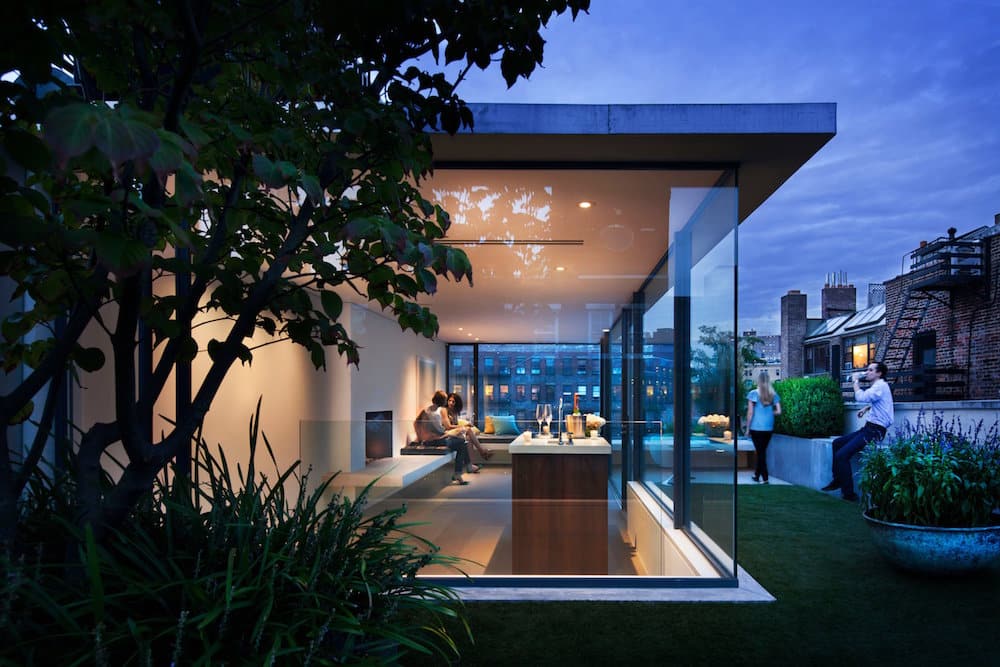 "The landscape was designed to place the glass box of the penthouse in a romantic, tree-filled garden," according to Rees Roberts & Partners' David Kelly, who created the landscape atop this 1840s townhouse in New York's West Village. The space, which includes a fireplace and bar, opens onto a grassy outdoor terrace with custom bench and potted hedges. "The plantings provide shade and privacy for the occupants while also creating two distinct zones for lounging and dining." Steven Harris Architects designed the penthouse.
Photo by Scott Frances/OTTO
---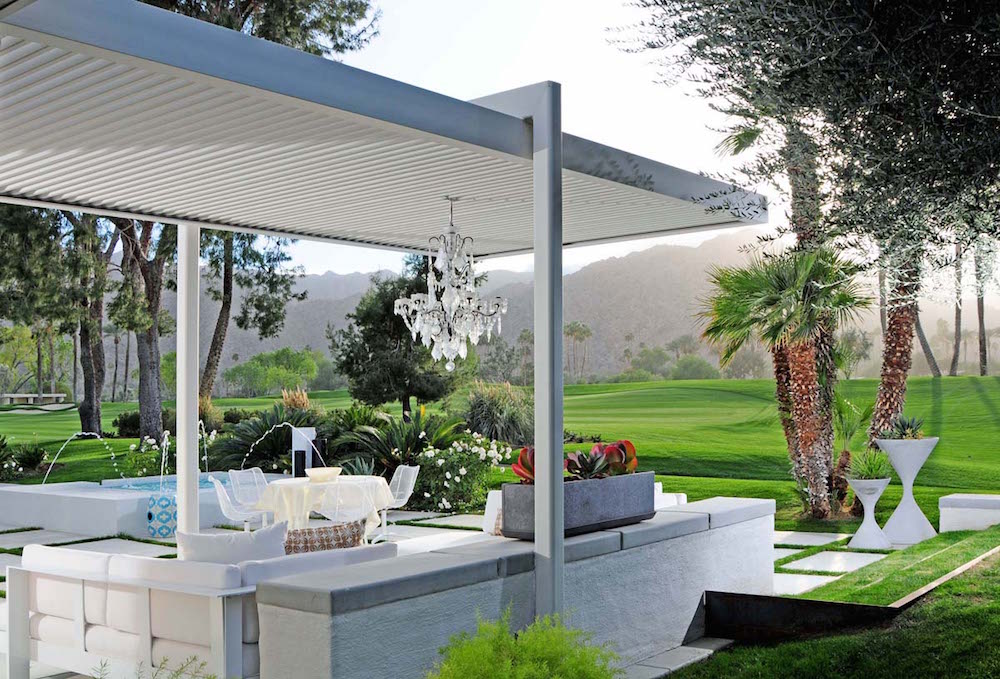 Emily Summers Studio updated this 1969 home in Indian Wells, California, located on the golf course of Eldorado Country Club. The clean lines of the mid-century structure and the all-white palette keep the focus on the rich green of the grounds and the tropical plants that provide privacy from golfers. The poolside patio and outdoor lounge areas were created to work with the existing golf course landscape and to take advantage of the views of the desert mountains.
Photo by Dan Chavkin
---
The top floor of this Maddux Creative–designed London mews house is a "sanctuary in the sky," a secluded roof deck whose organic building materials include wood and stone. Potted maple trees and grasses provide privacy to the space, which has built-in benches and planters.
Photo byAndreas Von Einsiedel
---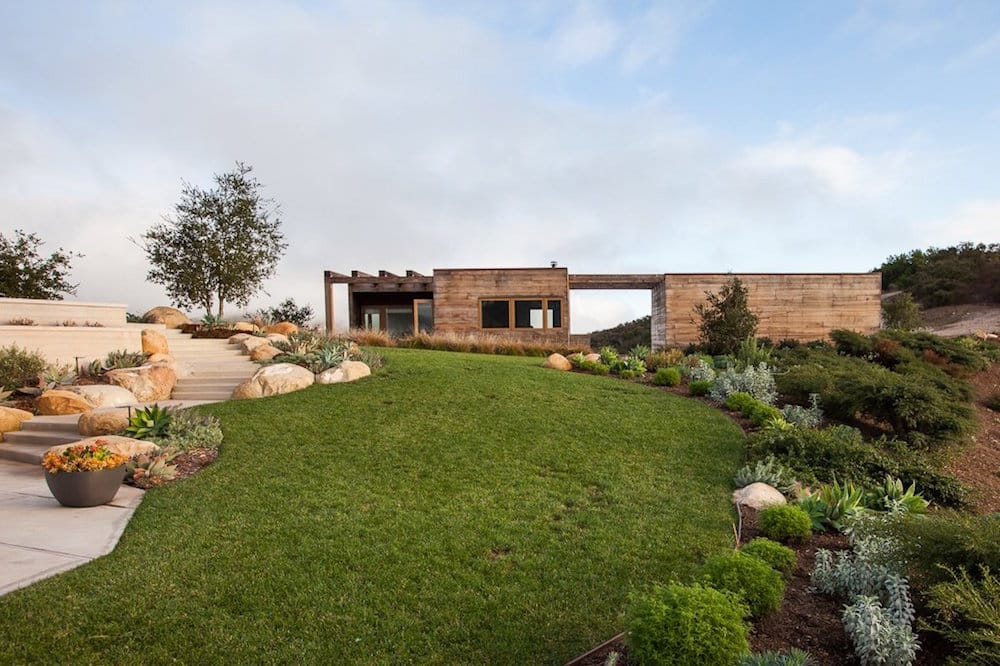 Bestor Architecture designed this vacation home in Carpinteria, California, with a "dramatic and winding approach up through the landscape that keeps the compound hidden until the last moment." A wide swath of greenery sweeps across the yard next to the boulder-bordered stairway that leads to the house.
Photo by Laure Joliet
---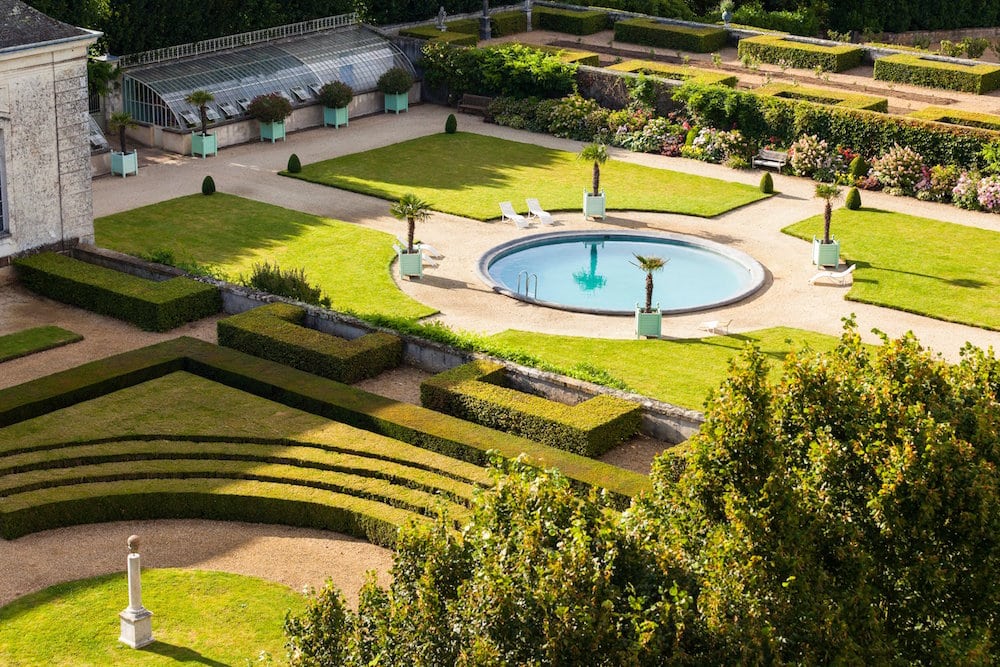 At Château du Grand-Lucé, the estate that Timothy Corrigan restored in France's Loire Valley, the Exotic Garden was in the 18th century a preserve for horticulture specimens, like palm trees, that were not typically found in France at that time. In the center of the garden is a pool, which is a former fountain that Corrigan made wider and deeper for swimming.
Photo by Eric Piasecki
---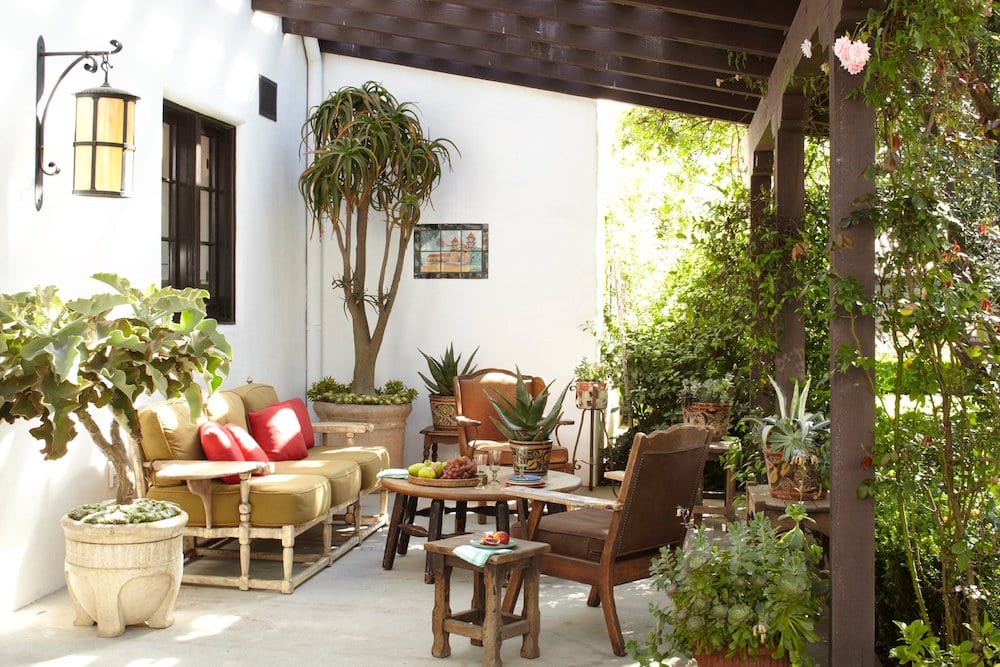 "This outdoor seating area is situated on the loggia of a classic Spanish Revival hacienda in Los Angeles," designer Madeline Stuart says of the space. "The authentic Monterey Colonial furniture certainly sets a period tone, but it's the addition of vintage pots and quirky plants that give the space a period vibe. The succulents, agaves and cactuses provide a sculptural and visual interest that somehow evokes a 1930s sensibility. More formal plantings such as boxwoods or roses would have been decidedly at odds with the slightly rustic, cowboy-cozy look of the furniture."
Photo by Dominique Vorillon
---
BoydDesign updated Craig Ellwood's 1956 Steinman House in Malibu, with a sleek pool and a brick-paved patio punctuated by palm tress. Bird of paradise and other tropical plants grow along the wall on the opposite end of the pool (foreground).
Photo by Richard Powers
---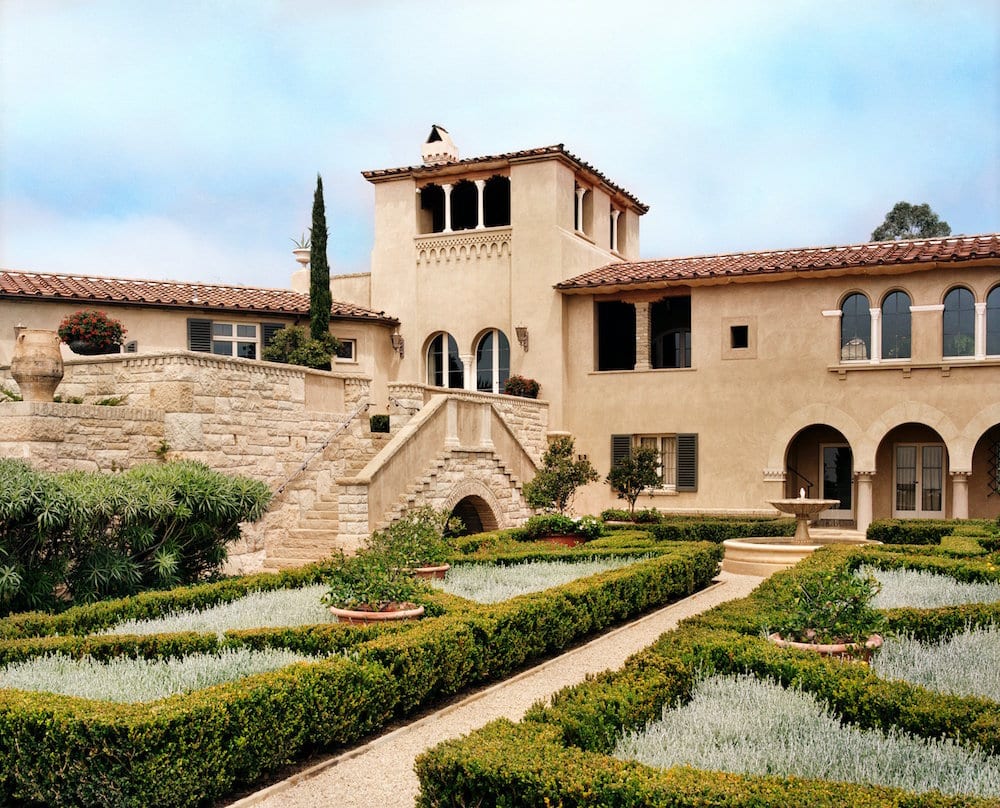 At this Italian-style American villa by Suzanne Tucker of Tucker & Marks, the grounds include parterre gardens, fountains and cypress trees.
Photo by Lisa Romerein
---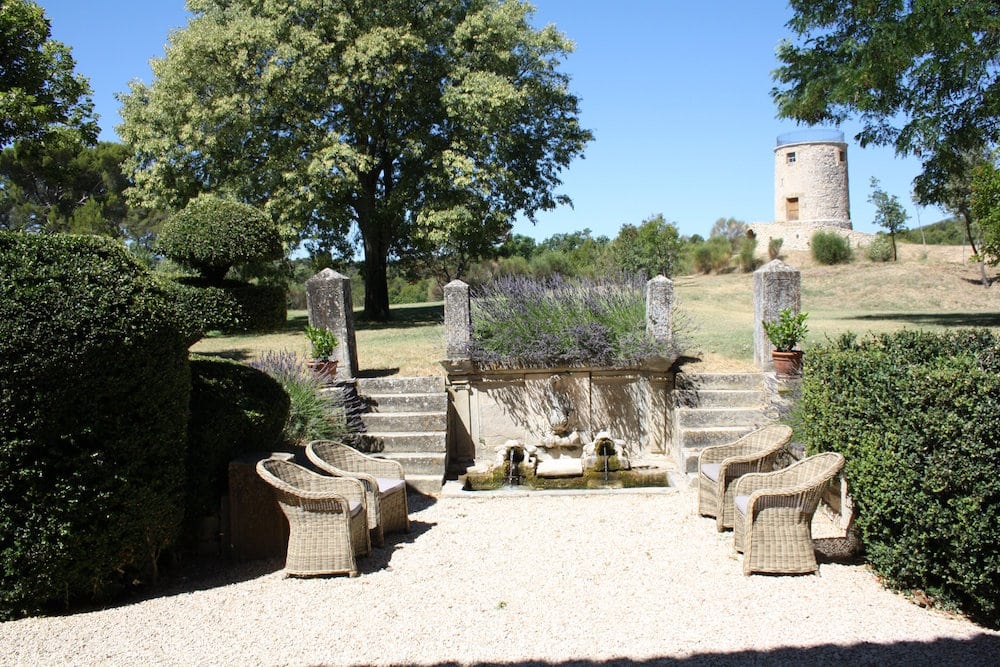 At an 18th-century chateau in Cabrières-d'Aigues, France, restored by Northwick Design, the sprawling grounds include mature shade trees and outbuildings that date back to the 16th century, and the property leads into a national park. This fountain-side sitting area is accented by lavender plants.
Photo by Cathy Connolly