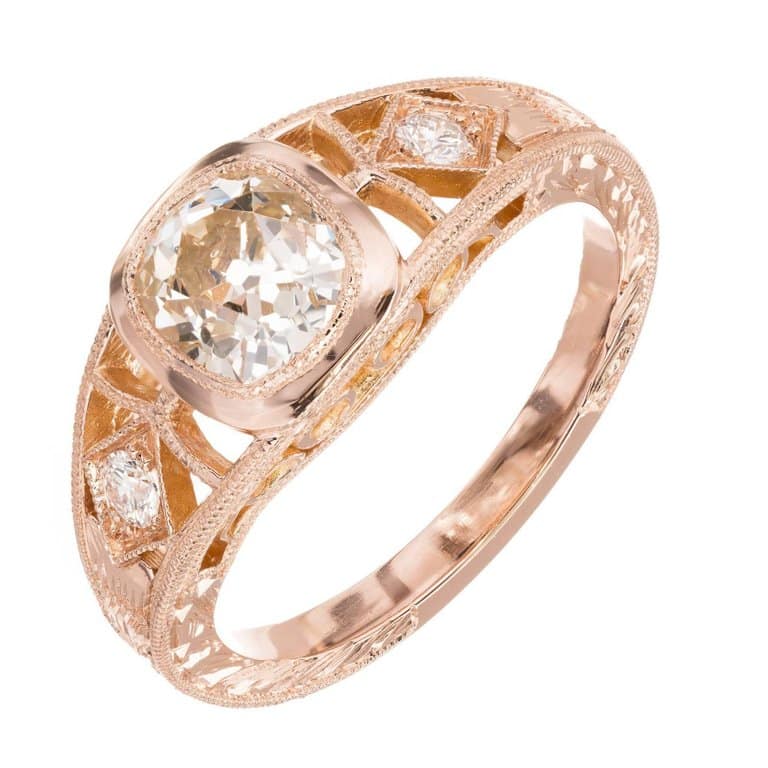 Are mangagement rings, or engagement rings for men, becoming a thing? It depends on who you ask.
Although men's engagement rings have grown in popularity over the last few years (and especially since the legalization of same-sex marriage in the United States), they're still fairly uncommon. "We were told that the field is evolving, but we have yet to see it happen," Connecticut jeweler Peter Suchy says of the phenomenon. "What we are seeing is more carefully selected wedding bands for men, some in more organic and nontraditional materials. We are also noticing more diamond rings being sold as wedding bands."
"Traditions can be reinvented at this point," says Doug Bucci, a Philadelphia-based jewelry designer and officiant. "Same-sex unions are at a threshold, and couples are free to reinterpret their rituals." He has created simple matching engagement bands for his clients, including personalized pieces. "Someone provided me with a quote that was significant to them, and I engraved that around the shank of the ring. It was masculine and sentimental."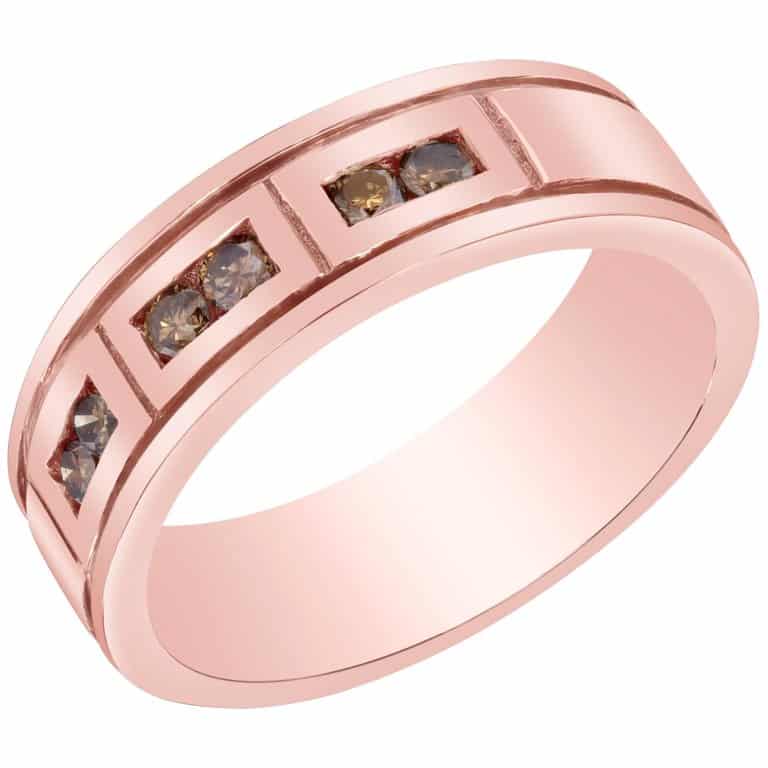 Marisa Perry, owner of the eponymous Manhattan atelier, says, "Recently, we sold a beautiful one-carat Asscher-cut diamond burnished flat into a wide band. We can also add designs representing something special between the two people, like architectural elements from the place they met." She adds, "Another client requested a plain band on the outside but with hidden diamonds drilled into the inside, perfect for the man who wants to look like he is wearing a plain band but secretly has some diamonds on the inside, which represent the love of the person gifting the ring."
A jeweler friend who plans to propose to her boyfriend says she is going to make him an engagement ring and a matching wedding band. The band will have an intricate pattern but no gemstones. She doesn't think he'll wear both rings together very often, perhaps stacking them on the day of the ceremony. Instead, she assumes he will wear the wedding band on his left hand, and the engagement ring for special occasions only.
Which raises another question about men's engagement rings: How does he wear it? This, too, depends on the wearer. The specialists at Camilla Dietz Bergeron say that most of their male clients stack the engagement ring with their wedding band, the way that women usually do.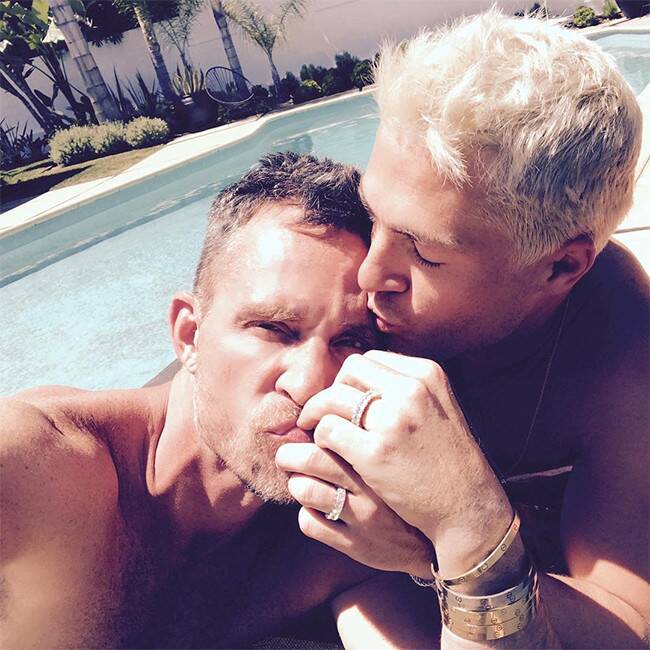 Some celebrities are leading the charge for the rise of mangagement rings. When floral designer Jeff Leatham, star of the reality show Flowers Uncut, proposed to actor Colton Haynes, of MTV's Teen Wolf, he presented a 4.5-carat diamond eternity band. A month or so later, Haynes gifted the exact engagement ring to his fiancé. (The couple, now married, have hyphenated their last names to Haynes-Leatham.)
In South American cultures, it is customary for both parties to wear a simple engagement ring, which they move to the right hand when they get married, and then add a wedding band to the left. As such, singer Michael Bublé, who is married to the Argentine actress Luisana Lopilato, is often asked about the rings he wears on his right and left hands.
Ryan Reynolds, during his marriage to Scarlett Johansson, was spotted wearing stacked gold bands, one of which was rumored to be an engagement ring. And when the diamond engagement ring that Johnny Depp bought for Amber Heard proved to be too big, he started wearing it on his own ring finger.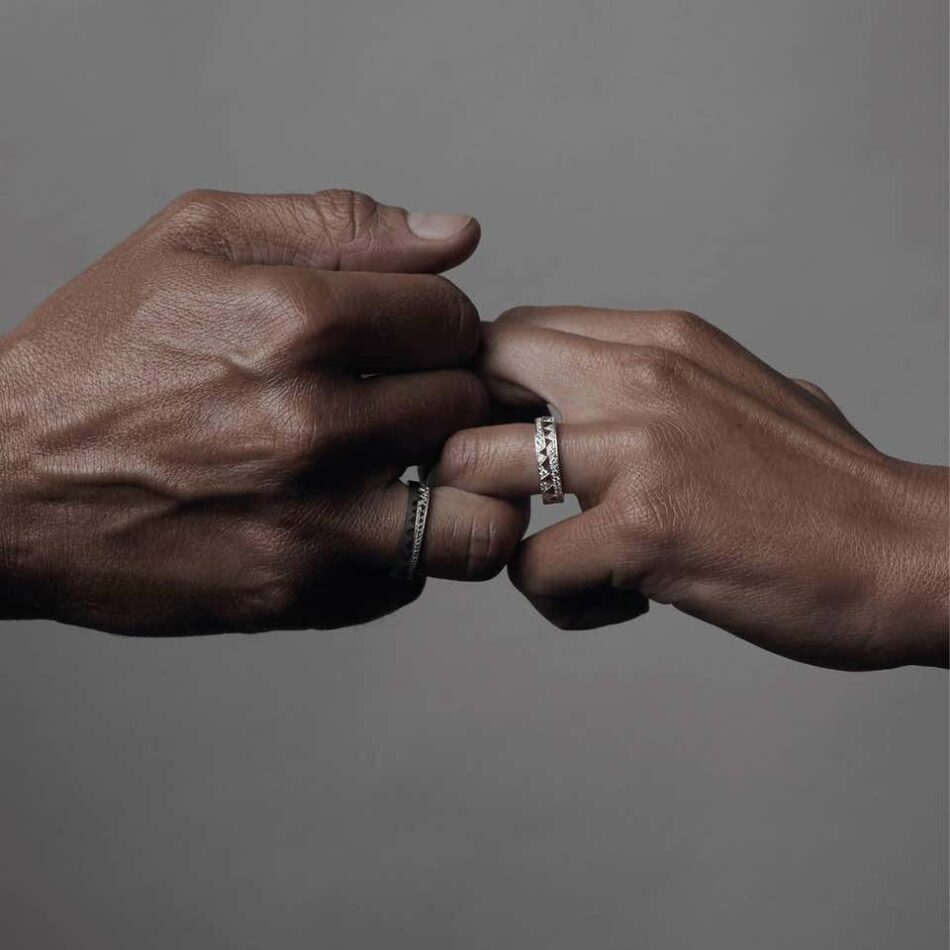 These examples go to show that there's no right or wrong when it comes to choosing and wearing a mangagement ring. And for some fans of the phenomenon, that's one of the best things about it.
"I love the trend of mangagement rings," says Becky Stone, of the jewelry blog Diamonds in the Library. "I know several couples who've recently chosen to go that route, either as a considered statement of gender-role equality or just because it felt right.
After all, an engagement is a milestone that belongs to both partners. Why shouldn't they both mark it with rings if that's what they want? My very favorite thing about jewelry is how personal it is, and I think any couple who wants to seal their affianced status with rings for both members should rock on."