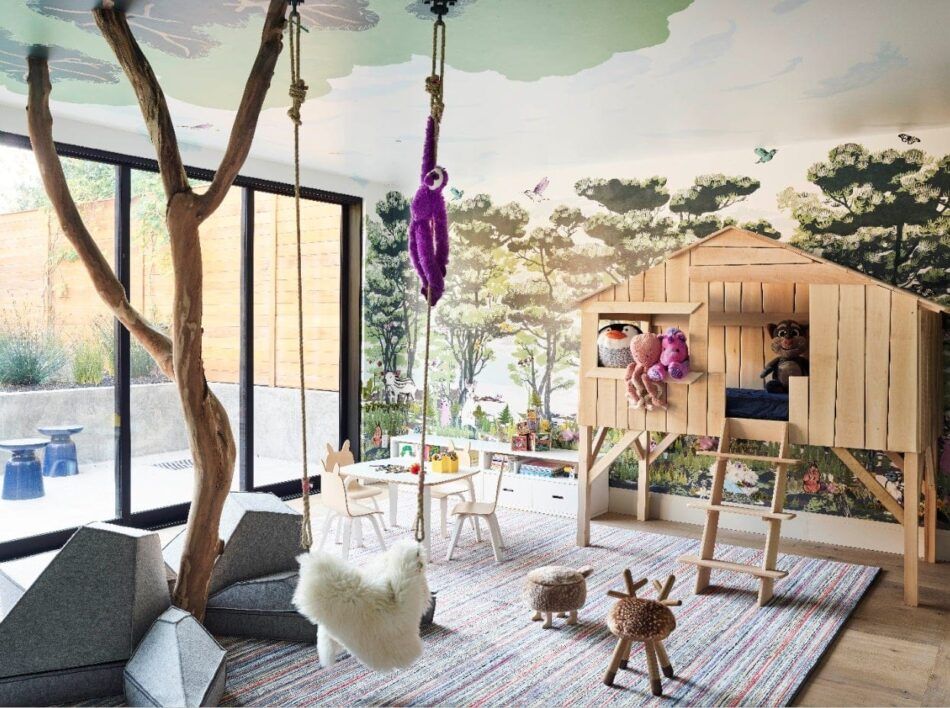 "The space was an empty basement when we began this project," says Kobus Interiors' Chris Bergin, adding that after he and his team were done, "the clients and their two young girls were blown away."
And with good reason. The tree is a foraged eucalyptus that the firm installed floor to ceiling. It makes for a whimsical centerpiece, fitting right in with the forest-themed wallpaper and Scandinavian poufs resembling woodland creatures.
---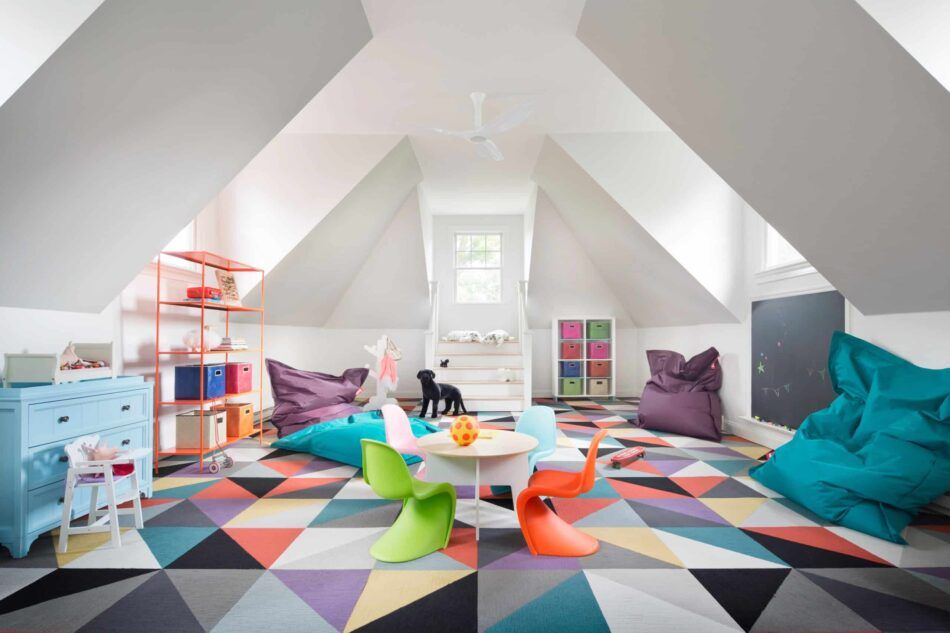 In Fair Haven, New Jersey, Kati Curtis transformed the floor above the clients' garage into a clubhouse. "The architectural shape of the dormer windows was the inspiration behind the geometric design," explains Curtis.
She contrasted the sharp angles of the carpet tiles with the curves of the vintage Panton chairs surrounding the table.
---
"We wanted to create a room that was vibrant with pattern and layering to serve as the main play space for this family and their newborn," says Phoebe Briggs, of Chango & Co., referring to clients in New York's Westchester County.
"All of the pieces are custom or new," notes Briggs, who implemented a zoo theme with wall decor by French studio Bien Fait.
---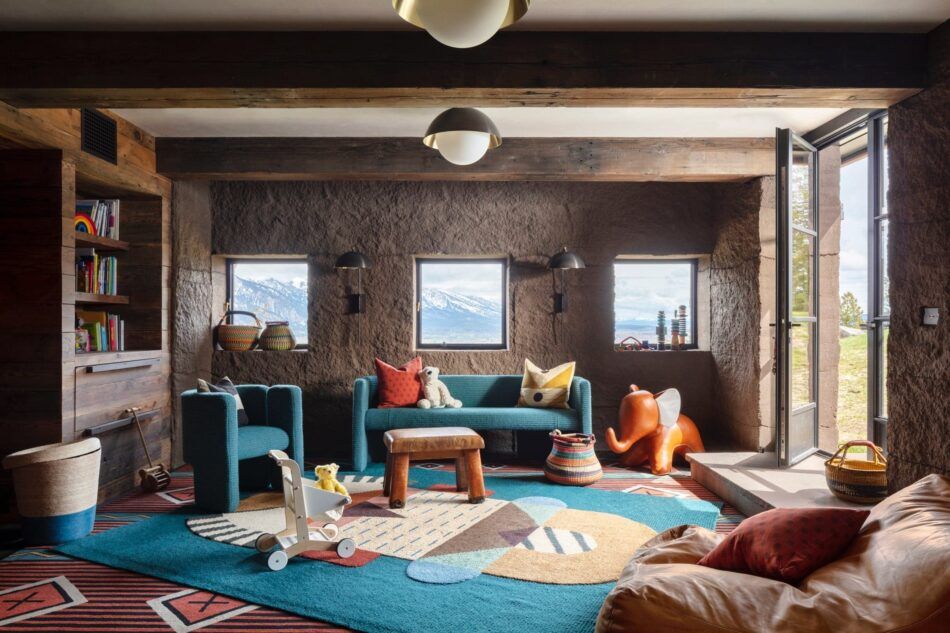 The owners of a mountain house overlooking the Snake River Valley in Wyoming wanted it to be their forever home. Accordingly, Hammer & Spear considered the playroom's potential future uses.
"We balanced the somber architectural palette — which will serve the space well once it's a moody basement game room for kids who are coming home from college — with rich jewel tones used consistently throughout the property," says coprincipal Kristan Cunningham.
For its current iteration, the team paired a vintage bench with seating from Kelly Wearstler, both of which complement the walls, made from rammed earth, reclaimed timber and plaster.
---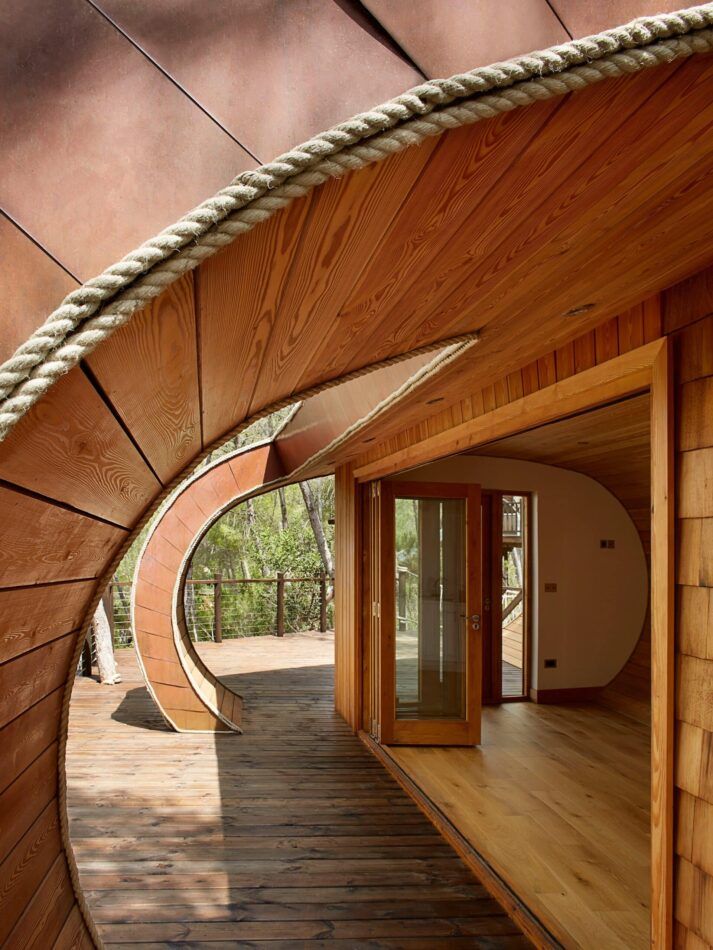 A vacation home in Ibiza boasts the ultimate kids' playscape, courtesy of Spinocchia Freund. "The tree-house space was designed to delight all age groups, primarily children," explains the firm's Lucy Phillips.
Visitors cross a rope bridge to access the barrel-shaped backyard hideout. "The looping veranda and curved walls state the intention that this is not a 'normal' building," Phillips says.
---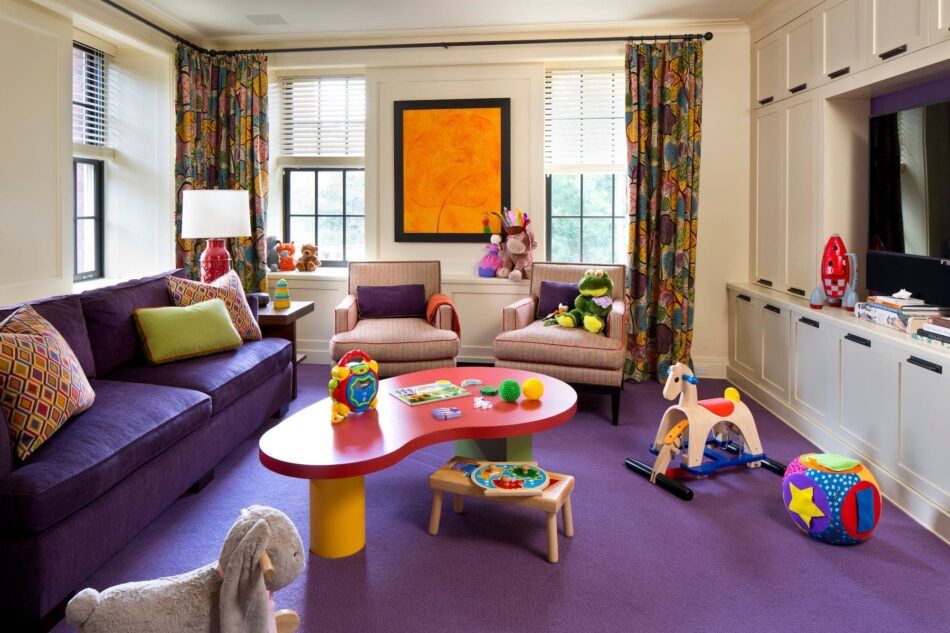 New York City apartments tend to have limited square footage. So, when a family with a pair of young girls opted for not one play area but two in their West Village home, it was unusual — but highly practical. The first is a comfy TV room, while the second, says designer Glenn Gissler, "is geared to be a messier room for art projects."
The TV space is intended to transition to an increasingly grown-up hangout over time, he explains. "We imagined that as the small toys disappeared, the custom coffee table might be changed out for something larger and less colorful, and the room could easily become a teen space." The traditional Hickory Chair sofa, of course, can stay.
---
At the top of a five-story 1890s townhouse in the middle of Boston, Kristine Irving, principal at Koo de Kir, created a bright, open playroom. "This family loves pattern and color," she says. "We worked off of the clients' request to give their kids some dedicated creative space, lots of light and a place they could call their own."
It doesn't hurt that the area, although situated between two ensuite bedrooms at the heart of the floor, is bathed with sunshine from both a skylight and a hatch to the roof deck above.
---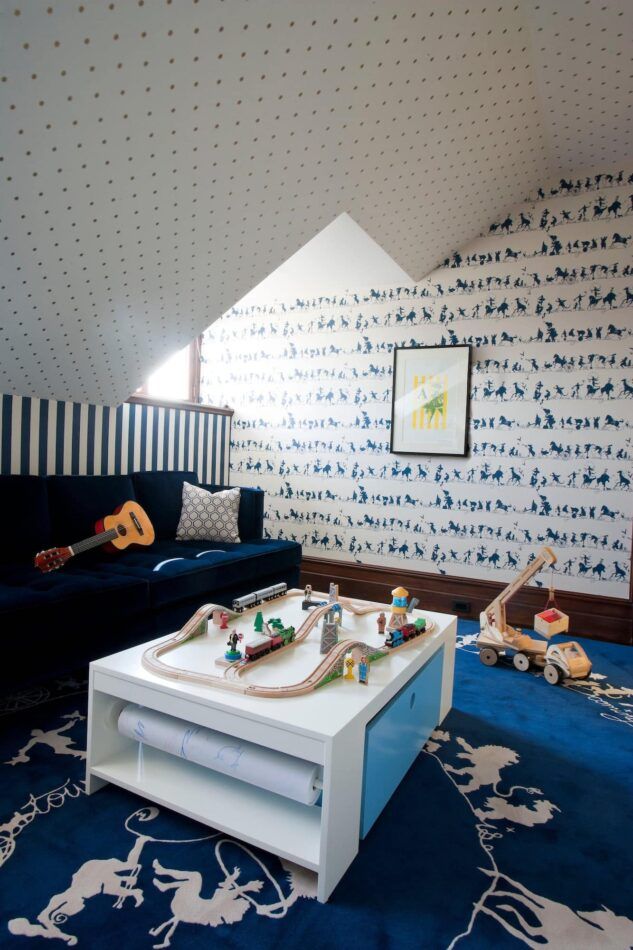 For the playroom of a townhouse near Brooklyn's Prospect Park that DHD Architecture and Interior Design's Steffani Aarons describes as "tucked away in a top-floor room with odd lines and dormer windows," the aim was to conjure playfulness and mystery. Their strategy? "We created a bit of fantasy," explains Aarons, "with lots of different patterns and bold colors."
They kept the palette fairly simple, combining classic blue and white in the wallpaper, rug and art table with a blue Room and Board sofa.
---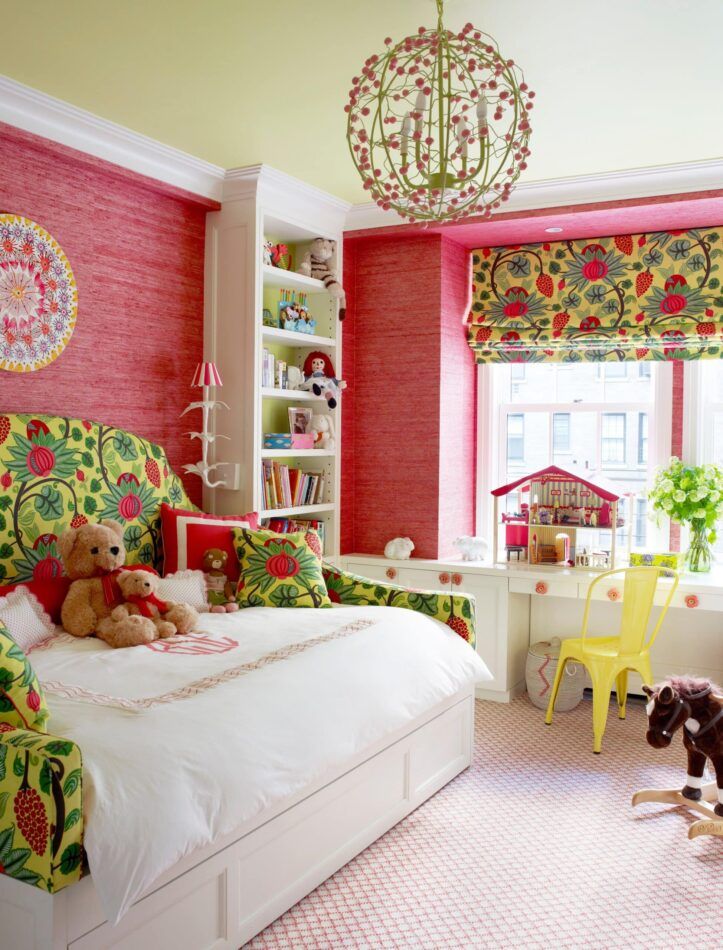 The centerpiece of a Celerie Kemble–designed room in an apartment on Manhattan's Park Avenue is the bramble-like metal-and-fabric chandelier, which sets the tone for the sorbet-colored space — from the textured wallpaper to the pomegranate-print upholstery.
---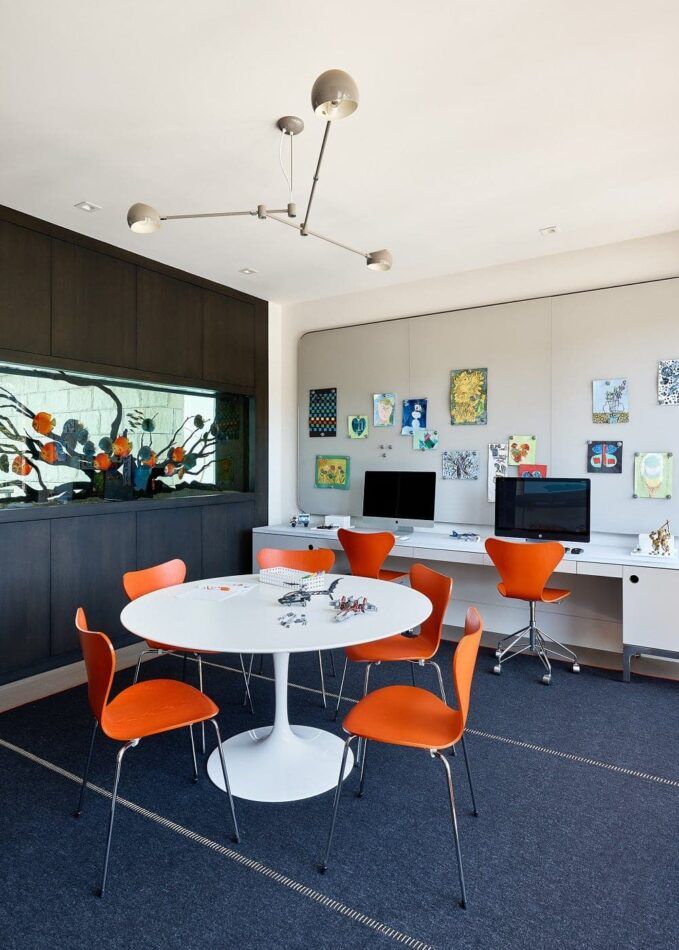 Lise Petra, managing principal at Leverone Design, says the plan for a study and recreation area in a Silicon Valley home was "driven by the two-way fish tank." She even color-coordinated the Arne Jacobsen Series 7 chairs with the aquarium's sunset-orange inhabitants.
---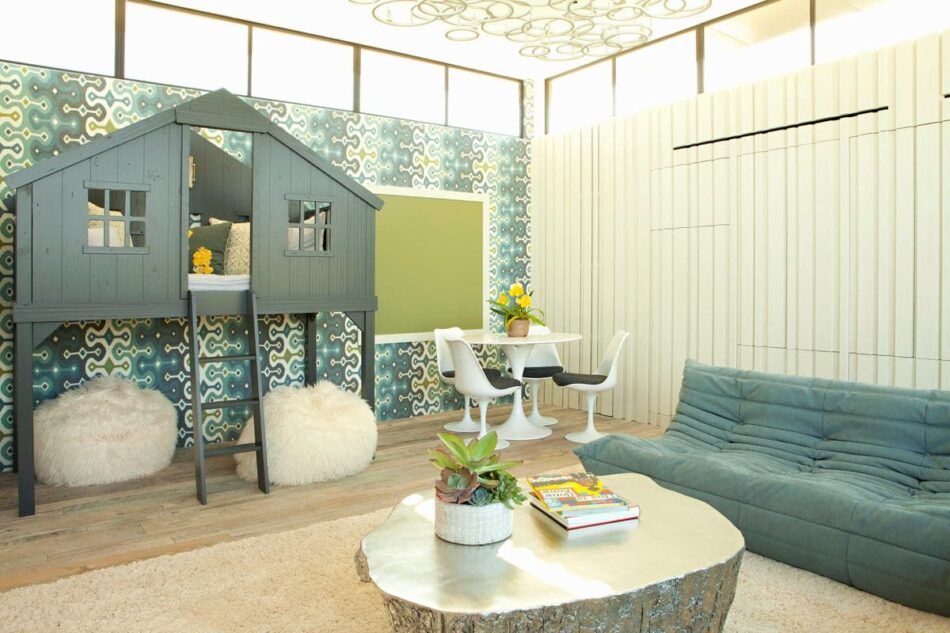 This open-concept area in a Las Vegas home "needed to be a multifunctional room, with a play space, a comfortable area for video games and movies and toy storage," says designer Taylor Borsari. "We wanted to create a retreat for the kids with a fun, modern but playful vibe that was also practical."
The treehouse, Borsari's twist on a traditional reading nook, overlooks stylish vintage pieces, including a Togo sofa and Eero Saarinen Tulip chairs.
---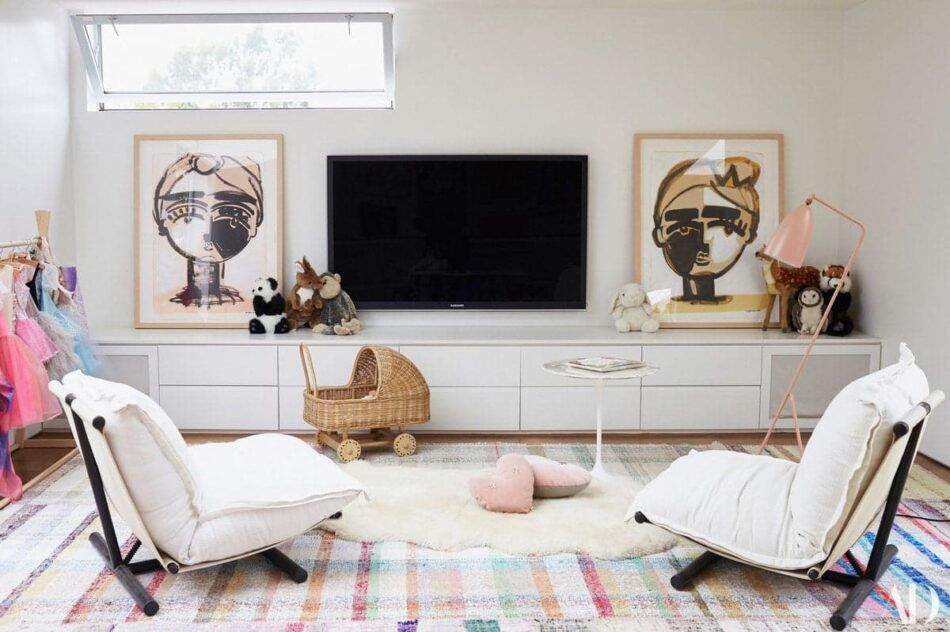 The architecture of this Venice, California, room is "light, airy and expansive, with big skylights and crisp white walls," says Martha Mulholland. "So, in turning it into a play area for small children, we needed to create coziness and a smaller, more intimate scale while maintaining continuity with the surrounding space."
To that end, Mulholland deployed Elam lounge chairs, a Greta Magnusson Grasshopper floor lamp and soft rugs and pillows, which give the room a sophisticated yet welcoming feel.