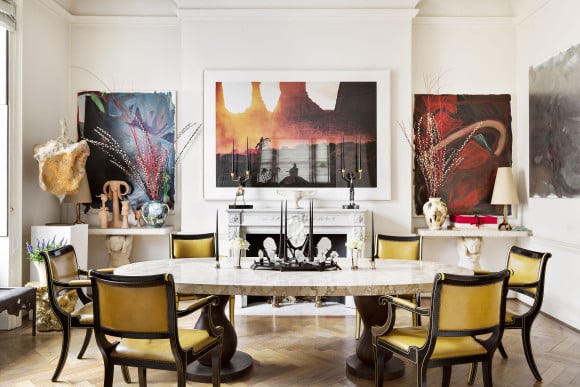 Designer Francis Sultana describes his own Georgian home in London as a "canvas" for experimenting with innovative art and design arrangements. The candlesticks and dining room table are both by Garouste & Bonetti.
Photo by Manolo Yllera.
---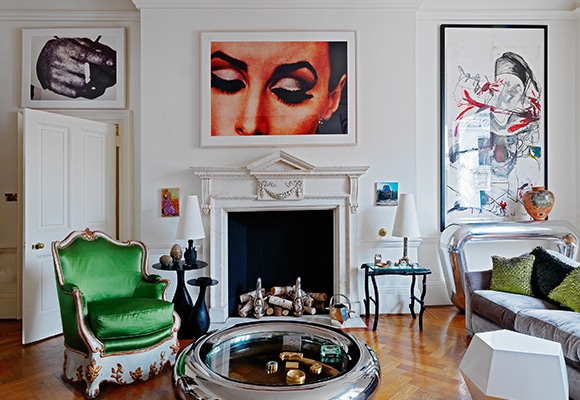 The home reflects Sultana's maxim that each room must be "colorful and interesting," but also well-edited. In the drawing room, works by Richard Prince and Paul McCarthy hang above a Mattia Bonetti console table and an Emilio Terry armchair.
Photo by Ricardo Labougle.
---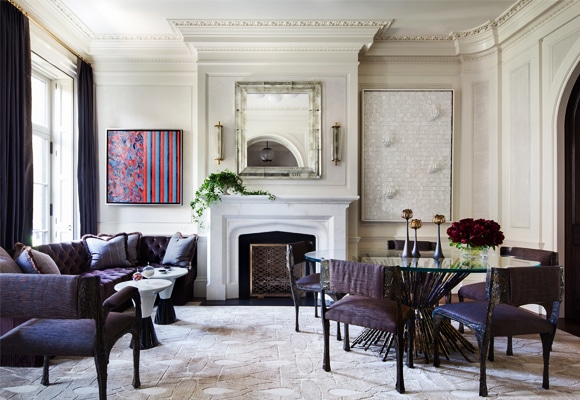 For a West Village town house, Shawn Henderson mixed two contemporary artworks — including Mark Titchner's resin-and-jesponite Memory as a Bayonet, 2006, at right, and an homage to Jasper Johns by Tom Keyes, at left — with mid-century pieces by Paul Evans and Silas Seandel.
Photo by Steven Freihon.
---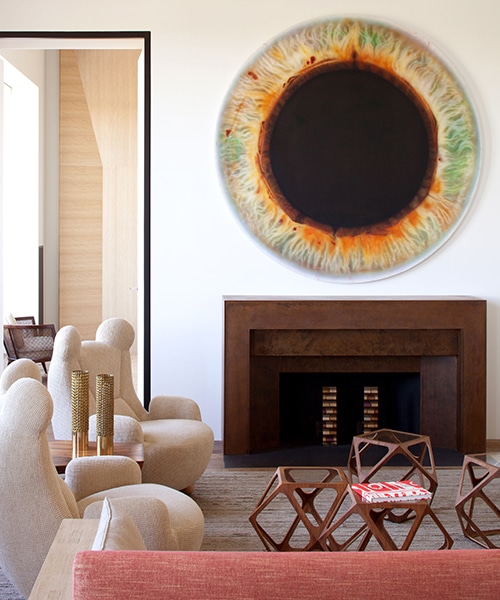 In Pierre Yovanovitch's Paris apartment, a large oil painting by Marc Quinn takes center stage above an acid-washed iron fireplace surround. The sofa and armchairs are Yovanovitch's own designs and the four cocktail tables are by Rasmus Fenhann.
Photo by Jean-François Jaussaud/LUXPRODUCTIONS.
---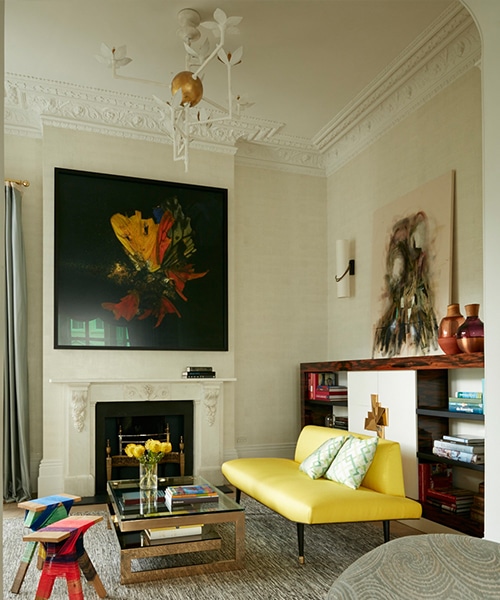 Maddux Creative used the client's large Mat Collishaw photograph to dictate the palette of this London drawing room. The yellow silk-upholstered sofa is by Oytun Berktan, the thread-wrapped stools are by Anton Alvarez from Salon 94 and the wall sconce is by Hervé van der Straeten.
Photo courtesy of Maddux Creative.
---
In a Miami client's bedroom, Jennifer Post placed a contemporary styrofoam and epoxy work by Thilo Heinzmann opposite a 1932 bronze sculpture by Jean Lambert-Rucki. The birch lounge chair is a contemporary Scandinavian piece.
Photo courtesy of Jennifer Post Design.
---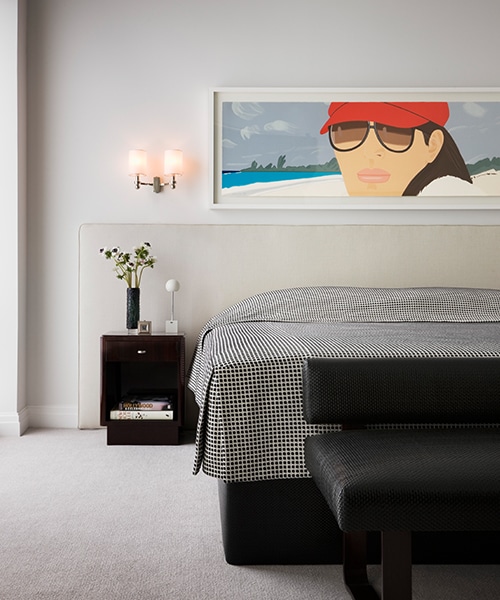 A mural-like Alex Katz print anchors this New York City bedroom by Stephen Shadley. Shadley offset the contemporary work with a vintage bench by Dunbar and a mid-century Lytegem desk lamp by Michael Lax for Lightolier.
Photo by Scott Frances.
---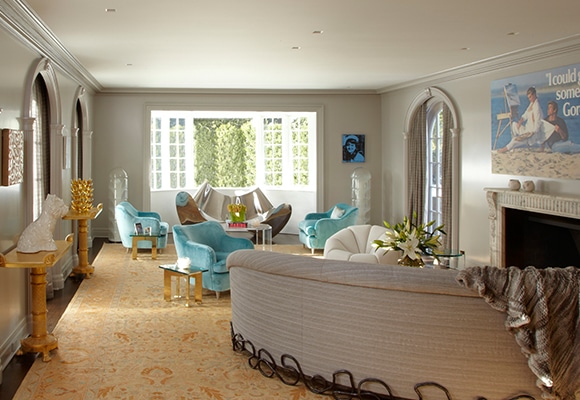 In Greenwich, Connecticut, Fox-Nahem Associates used a pair of 18th-century Swedish consoles to balance their client's blue-chip postwar and contemporary art collection, which boasts pieces by Andy Warhol, Jeff Koons and Gerhard Richter. The silver love seat is by Ron Arad and the curvilinear white sofa is a custom design by the firm.
Photo by Peter Murdock.
---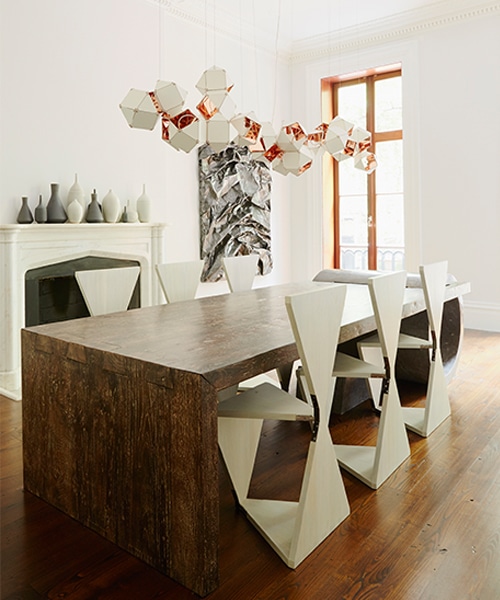 ASH NYC sought out "contemporary statement pieces of grand scale" by local artists and designers for this Greenwich Village townhouse. The curated dining room mix includes a molecule-like Welles chandelier by Gabriel-Scott and angular chairs by Maximilian Eicke.
Photo by Christian Harder.
---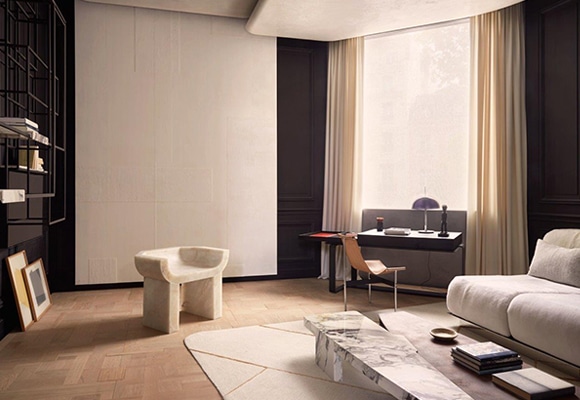 Designers Bismut & Bismut highlight a more serene aspect of contemporary design in this cocoon-like Parisian salon de lecture. The white marble Curial armchair is by Rick Owens, and the cocktail table is a custom work by the design firm.
Photo by Claire Israel.
---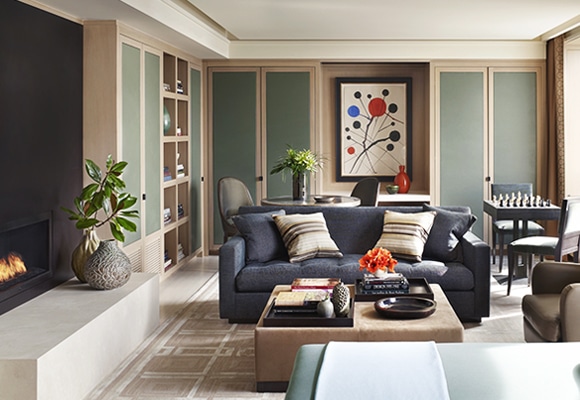 A 1971 work by Alexander Calder takes center stage in this New York City games room by Sandra Nunnerly, featuring custom furniture by the designer. The sage-colored leather wall panels are a modern-day riff on the traditional men's club room decor.
Photo by Peter Estersohn.
---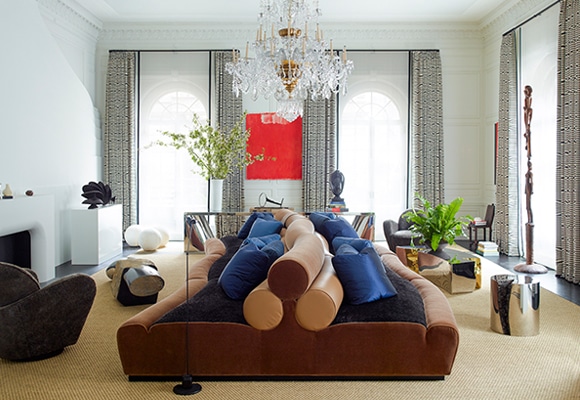 In this Manhattan living room by Juan Montoya, a custom sofa by the designer and 3000-pound basalt table by Korean designer Byung Hoon Choi add contemporary polish to the grandly proportioned space. The red painting by Christopher le Brun was purchased at Friedman Benda.
Photo by Eric Piasecki.
---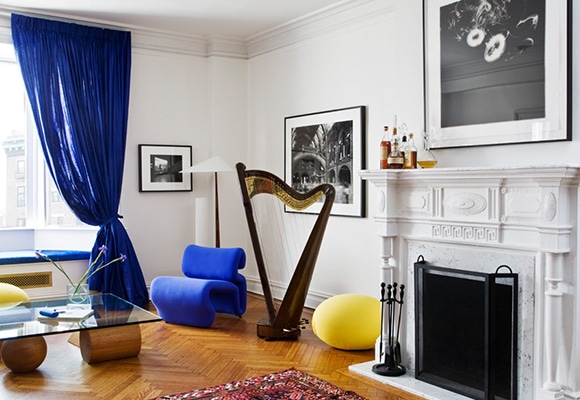 In a Gramercy Park apartment, Alexandra Loew used sculptural, chromatic pieces as counterpoints to the space's classical architectural details.The contemporary photos are by Donald Sultan and Matthew Pillsbury, the yellow Tato stools are by Denis Santachiara and the 1970s cocktail table is by Lella and Massimo Vegnelli.
Photo by Justin Bernhaut.
---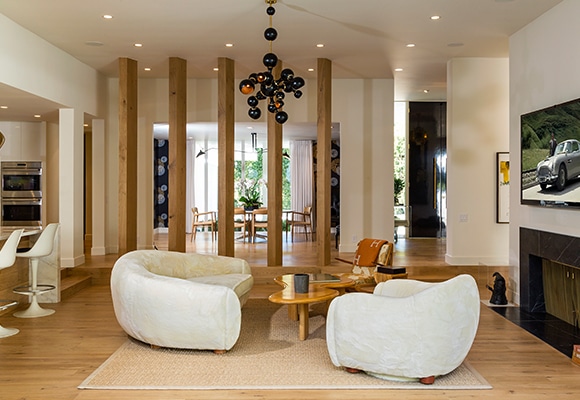 In a mid-century Beverly Hills home designed by Trip Haenisch, a 21st-century Tom Dixon chandelier echoes the spherical forms of a sofa and armchair by Jean Royère.
Photo by Beryln Photography.
---

For a collector's home — "the client's motivation wasn't about function, it was about provenance" — Woodson and Rummerfield created a living space that doubles as a well-edited gallery featuring works by Andy Warhol and Ha Jung-Woo. The custom serpentine sofa was designed by the firm, and the pendant light is by Apparatus Studio.
Photo by Karyn Millet.