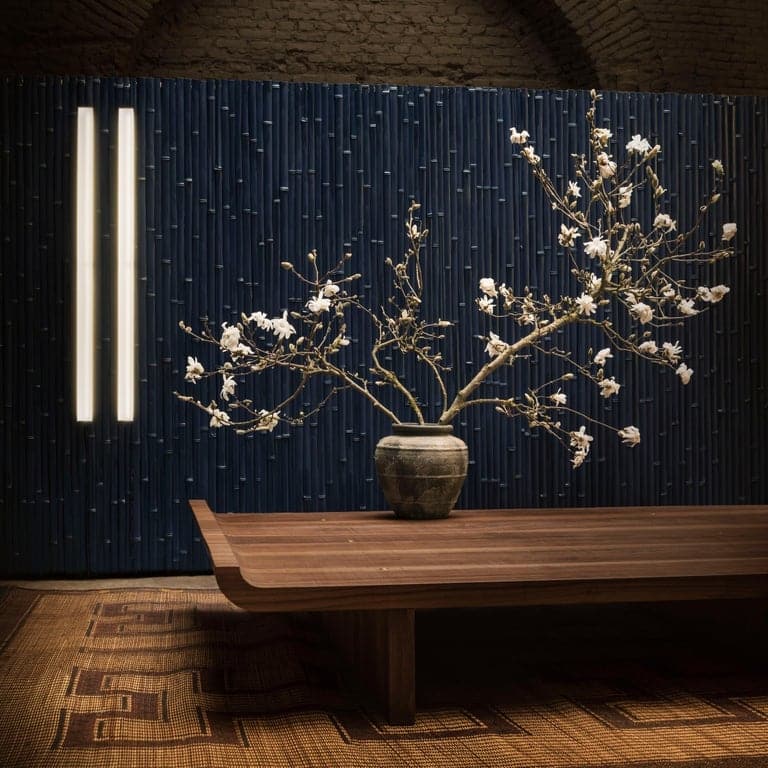 Many of the innovative furnishings introduced at this year's Salone del Mobile in Milan are now debuting on 1stdibs. From surreal Soviet-inspired seating to cheeky ceramics by Paul Smith, these Salone showstoppers can now be purchased online.
---
Atelier de Troupe
Inspired by Robert Altman's film The Long Goodbye, Atelier de Troupe's 2019 LA Noir collection evokes 1970s neo-noir Hollywood. The Nuage pendant lights, made from precision-cut aluminum and acid-etched glass tubing, are available in single and double versions and in polished or blackened chrome. As sexy as it is cinematic, the new Coda chair blends a curvaceous polished chrome frame with an elegant leather sling in either black or tan. All are handmade in Los Angeles.
---
Nanimarquina
Barcelona-based Nanimarquina interweaves traditional craftsmanship and contemporary design in its latest offerings. The brand's first line of outdoor rugs, the Outdoor collection includes Shade, handmade flat-weave rugs distinguished by their vertical and horizontal gradient; and Oaxaca, featuring bold geometric and floral patterns.
Designed by Ilse Crawford, the Wellbeing collection comprises soft, comforting textile products like a hand-knotted rug in Afghan wool, an indoor cotton hammock and a hand-loomed throw in linen and silk. "Wellbeing makes you feel good because you are surrounded by sustainable elements, natural fibers and manual work," says founder Nani Marquina. "All these are values that make people connect with their essence."
---
1882 Ltd.
Design-driven ceramics brand 1882 Ltd. has partnered with British fashion icon Paul Smith on an exciting new collection. Fusing British craftsmanship with Smith's signature eccentricity, Stack's towers of individually hand-glazed layers appear to be piles of multihued plates but are actually colorfully whimsical vases.
"Our first piece together is inspired by the simplicity of firing plates in a kiln, something the 1882 Ltd. team do very regularly," says Smith, whose striped ceramics were suggested by a visit to the company's factory in Stoke-on-Trent, England. "Looking at the stacks of plates in a kiln, a natural stripe seemed to form, and so the rest followed from there."
---
Artek
At Salone, Artek introduced its FIN/JPN Friendship collection. A collaboration between the storied Finnish brand and leading Finnish and Japanese makers, it celebrates 100 years of warm and productive relations between the two countries.
Tokyo architect and designer Jo Nagasaka put his mark on three Artek classics: the Stool 60, Bench 153B and Tea Trolley 901. Nagasaka transformed these pieces using a treatment he invented based on the age-old practices of udukuri (scrubbing the wood's surface to expose the grain) and tsugaru-nuri (sanding a layer of colorful lacquer that had been applied to the wood).
---
Supaform
Moscow studio Supaform launched its new Normative collection in Milan in a former panettone bread factory as part of the Alcova satellite fair. Among the line's surreal pieces are a chair in wood and velvet with a powder-coated steel frame and a floor lamp with a milk glass plafond.
"Normative makes references to the Soviet everyday life of the 1950s through the '70s and its features," says Supaform founder Maxim Scherbakov. "Lately, I've been inspired by brutalist and Soviet architecture in conjunction with the neoclassical and Empire styles. My major theme was to find some mood of those aesthetics and to rethink them."
---
Brodie Neill
At Fuorisalone, London-based Australian designer Brodie Neill introduced a new black edition of his Flotsam bench as part of the Rossana Orlandi–curated "Guiltless Plastic" exhibition. Cast as a single piece, this surfboard-esque piece is made from Ocean Terrazzo, a composite material that Neill developed using recycled plastic waste extracted from the ocean.
"The new black Flotsam bench has a stronger contrast between the ocean plastic fragments and the ebonized base, creating a striking silhouette and giving more depth to the colorful microplastic," says Neill. "This visual impact brings the plastic fragments to the fore, drawing attention to what they once were and helping to drive the all-important message of circular materiality."
---
Georgmuehlmann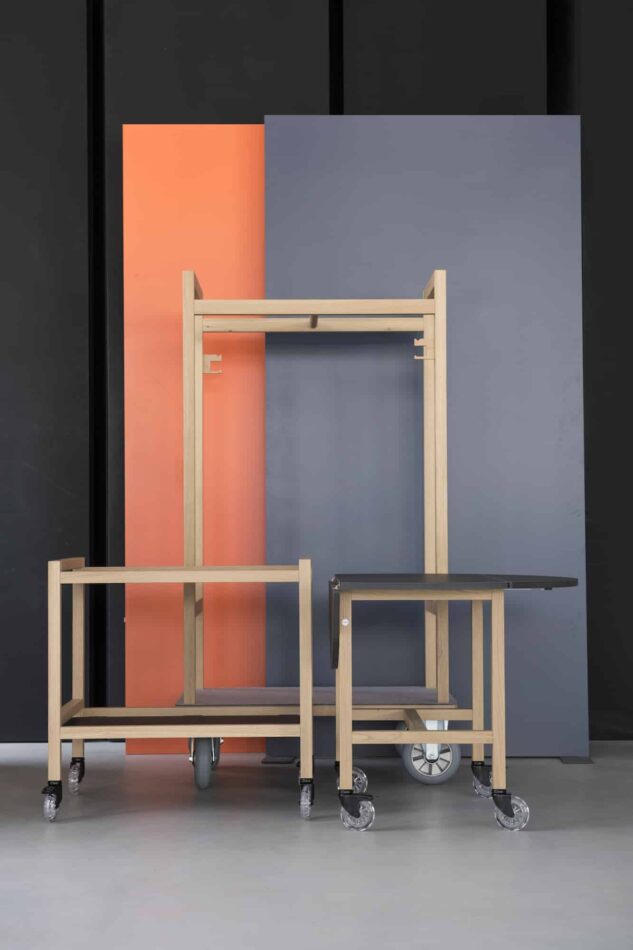 From their mountain studio in South Tyrol, Italy, Georg Muehlmann and his wife, Alexandra, have given their award-winning luggage trolley, Gustav, two new brothers. As with all their pieces, sustainability and excellence in design are at the heart of the Emil service cart and Aton serving table with adjustable sides.
"The minimally designed oak constructions are beautiful yet practical objects to communicate wellness through sustainable materials and simple geometry," says Alexandra. "Hoteliers can be assured that they will impress their customers with these items."
---
Made in Ratio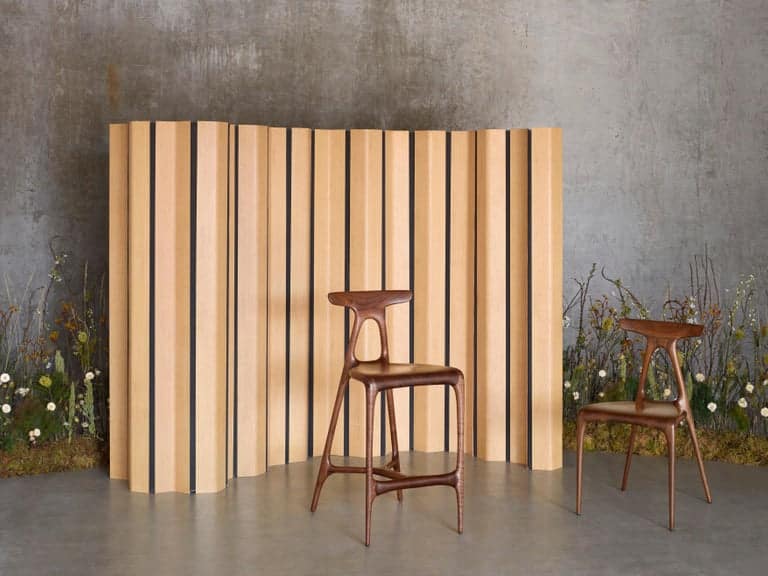 Following the Alpha stackable chair, the new solid-wood Alpha counter stool takes the growing collection's A-shaped structure to new heights. "The Alpha stool elevates the biomorphic profile of its predecessor, the Alpha chair," says designer Brodie Neill, creative director of Made in Ratio. "The footrest seemingly grows organically into the bridge and support of the back legs whilst maintaining a sinuous form that is lightweight and sculptural."
---
Shine by S.H.O.
Ortiz Milano, a marriage of California style with Italian craftsmanship, is the latest brand from Susan Hornbeak-Ortiz, designer and creative director of Shine by S.H.O.
Its inaugural collection, Maverik, named after a powerful surf break in Northern California, has more than 65 designs, ranging from the Zuma credenza, with its distinctive base; to the Avalon sectional, defined by diamond stitching and a porthole element; to the Trestles chair, sporting an industrial-modern pedestal in metallic lacquer.
---
Quincoces-Drago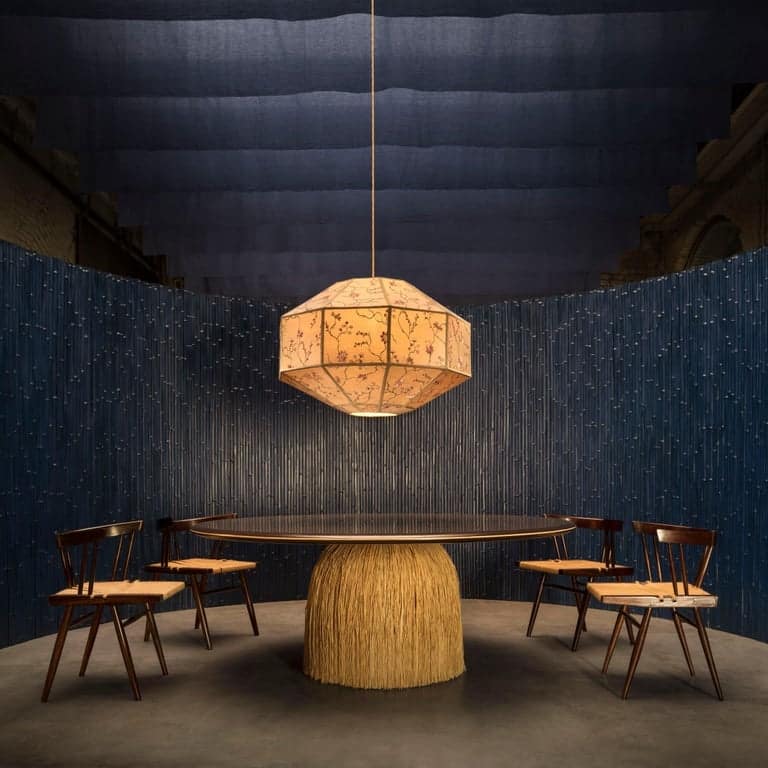 At Six Gallery in Milan, the architecture and furniture design firm Quincoces-Dragò premiered a collection that "nods to the materials used in Italy in the 1950s — yet the design takes inspiration from both Eastern and Western cultures," says Fanny Bauer Grung, a principal at both the gallery and the firm.
Of the QD 16 table shown above, she explains, "The base references antique Japanese raincoats, which inspired the entire installation of the gallery for Design Week. The top is waxed by hand, and it takes about 12 passes to achieve the final result!"
---
SEM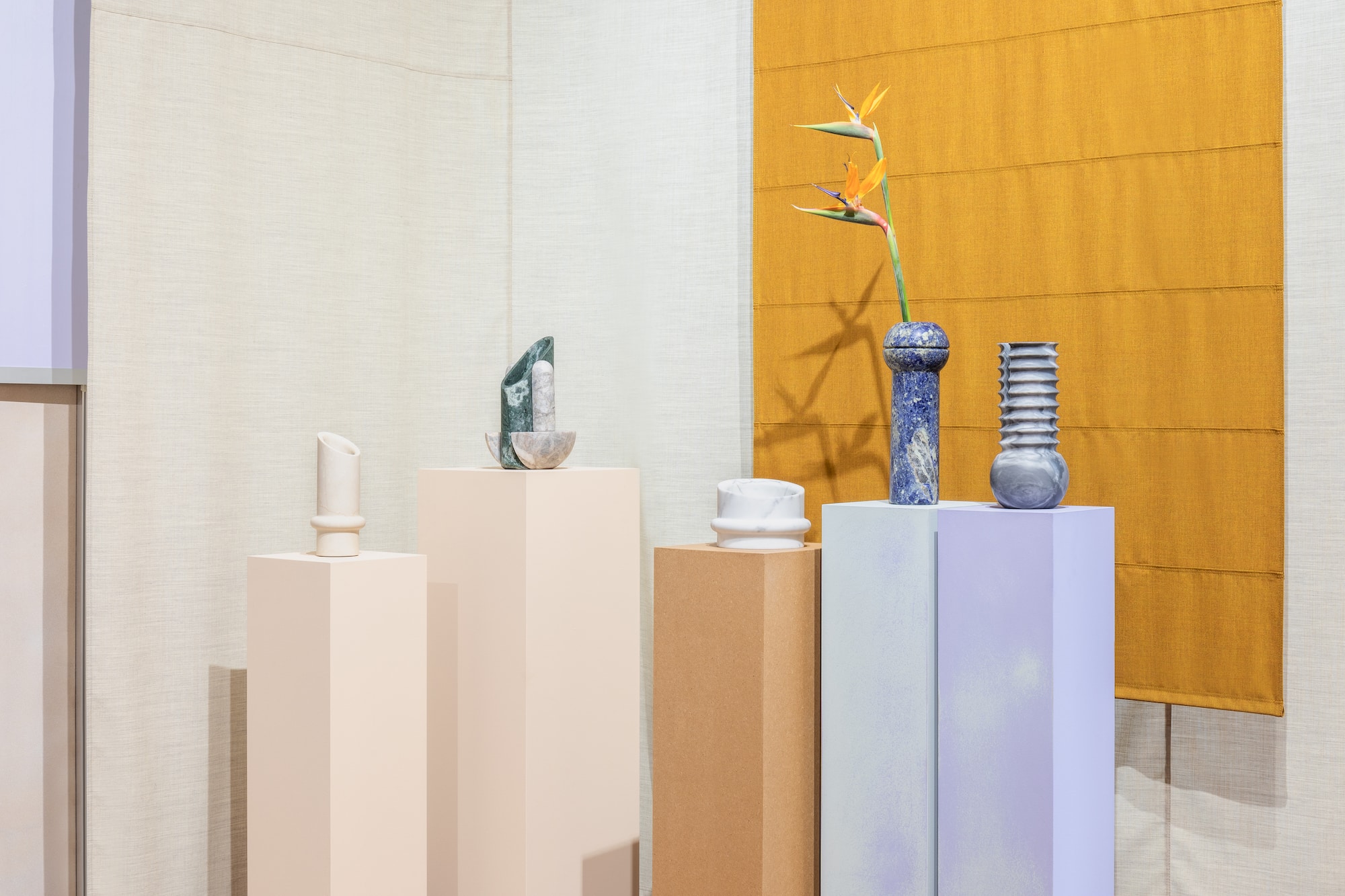 Home furnishings brand SEM, which Spotti Milano debuted at last year's Milan Design Week, returned to the event this year to launch its 2019 line.
At its new space at via Garofalo 31, SEM presented such pieces as the Simultanea marble vases and a tray by Valentina Cameranesi Sgroi; the Gomito lounge chair in welded steel and leather by the Belgian collective vormen; and the Paesaggio collection by Hannes Peer, which includes the Nuova armchair in green leather, the shapely Butterfly console and the Petali table lamp with eight mobile iron diffusers.