If you're in the throes of serious summer withdrawal, consider the following palliative: the velvet chesterfield sofa. Unlike its more common leather variant, a velvet chesterfield sofa possesses a singular chameleonic property. Plush but elegant, romantic but restrained, it's equally able to soften and embolden the spaces it inhabits. There is also, of course, the matter of texture: what's more inviting than running your fingers over soft, fuzzy velvet? It's pretty much the platonic ideal of coziness. And although they're not close enough for you to touch, the following 10 images of sumptuous velvet chesterfields might get you excited about heading indoors for the next few months.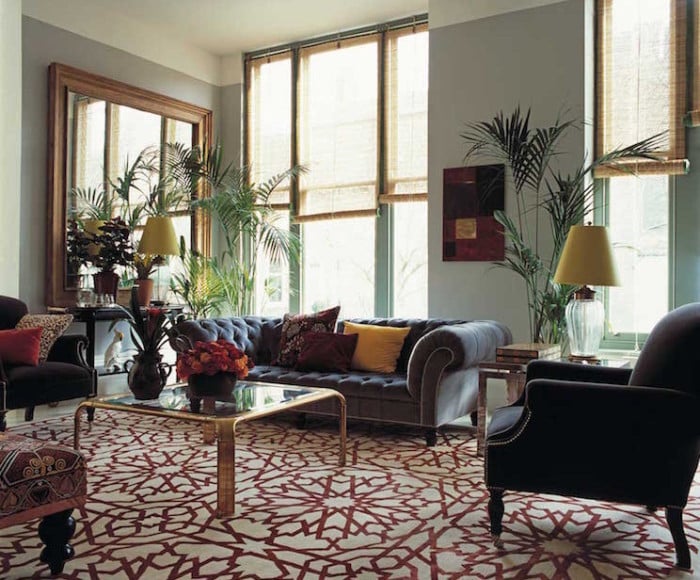 Los Angeles-based interior designer Martyn Lawrence Bullard offsets a beautiful gray Chesterfield with a patterned Mamounia rug inspired by his travels to Morocco. A square brass coffee table with glass top centers the room.
---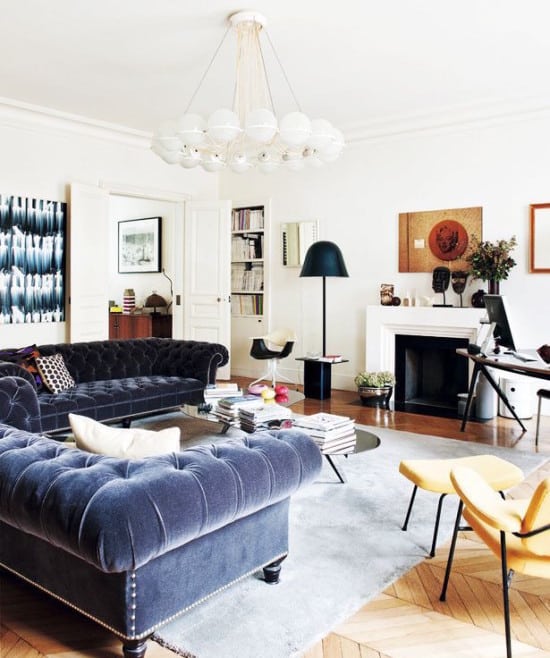 Designer Sandra Benhamou's contemporary Paris apartment contains not one but two lush, blue velvet Chesterfield sofas. The white chandelier overhead is by Italian lighting designer Gino Sarfatti.
---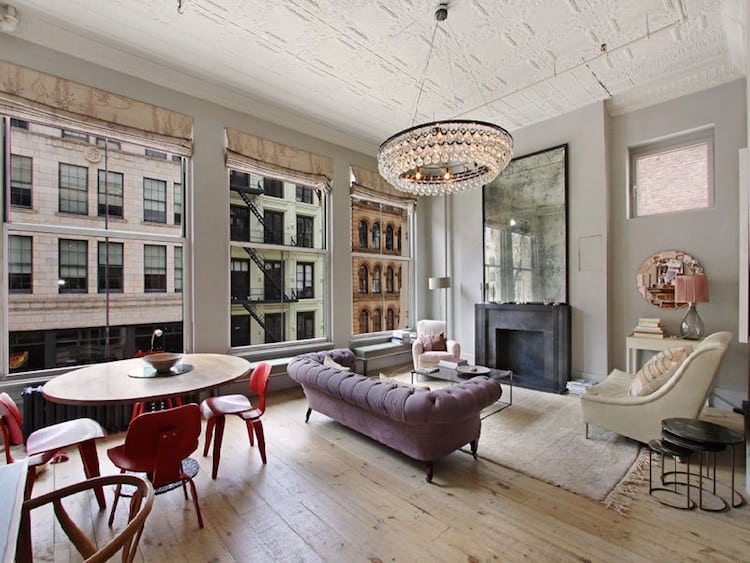 A tufted lavender Chesterfield offers a delicate counterpoint to the cherry red Eames Molded Plywood Lounge Chairs in this bright SoHo loft.
---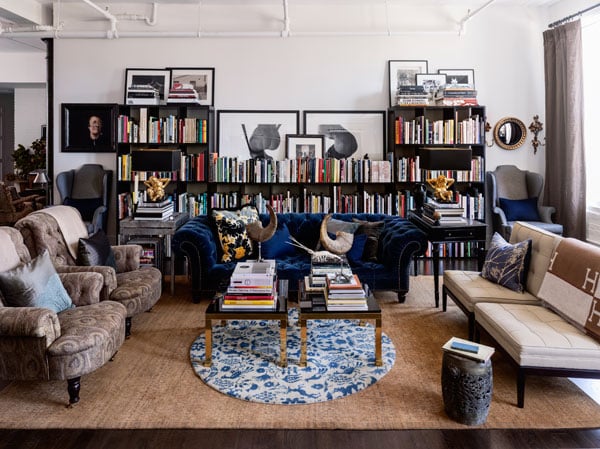 In the TriBeCa loft of Vera Wang president Mario Grauso, a striking midnight blue chesterfield anchors the living room seating arrangement.
---
In the delightfully idiosyncratic Boulevard Leopold Bed and Breakfast in Antwerp, Belgium, a pistachio green chesterfield blends in beautifully with the decor, especially the parquet flooring, cowhide rug and antler trophies.
---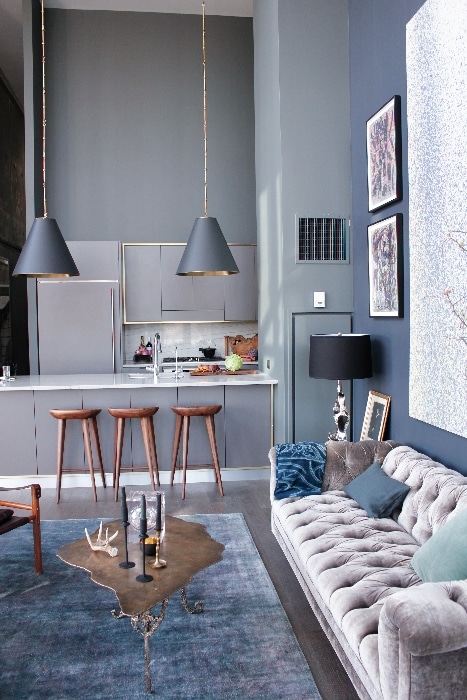 Athena Calderone of Rowlins Calderone Design opted for a neutral palette of blues and grays in her Brooklyn duplex penthouse. This includes her icy anthracite velvet chesterfield.
---
A classic shape gets a dose of hipster appeal when rendered in bright, punchy teal and accessorized with quirky, offbeat objets.
---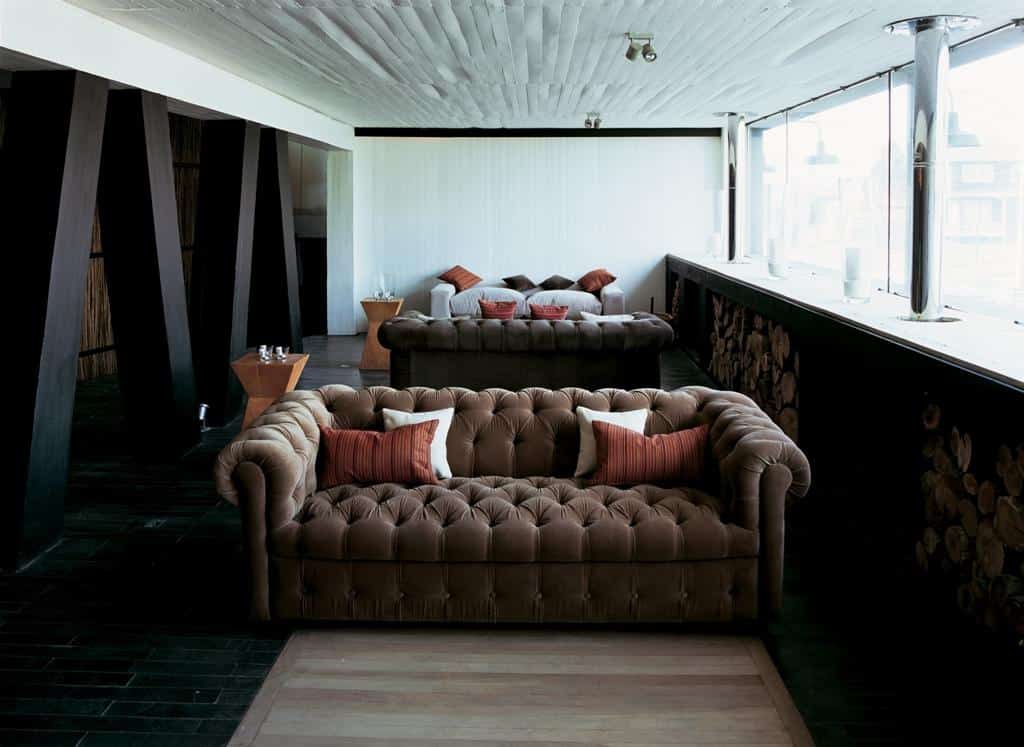 Located at the entrance of Chile's Torres del Paine park, the Noi Indigo Patagonia utilizes a chocolate velvet chesterfield to lend a cozy, home-away-from-home vibe to the hotel's lobby.
Image by Cristobal Palma via
Archello.
---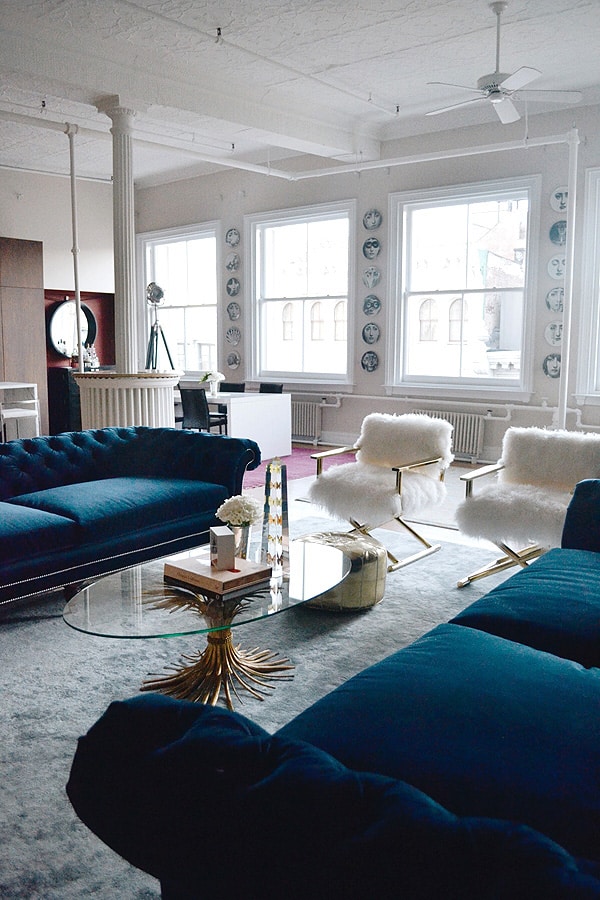 In her Soho loft, wedding and event planner Tamra Sanford uses two inky chesterfield sofas to dramatic, gorgeous effect. Sanford also earns style points for her "wheat sheaf" coffee table and wall-mounted Fornasetti plate collection.
---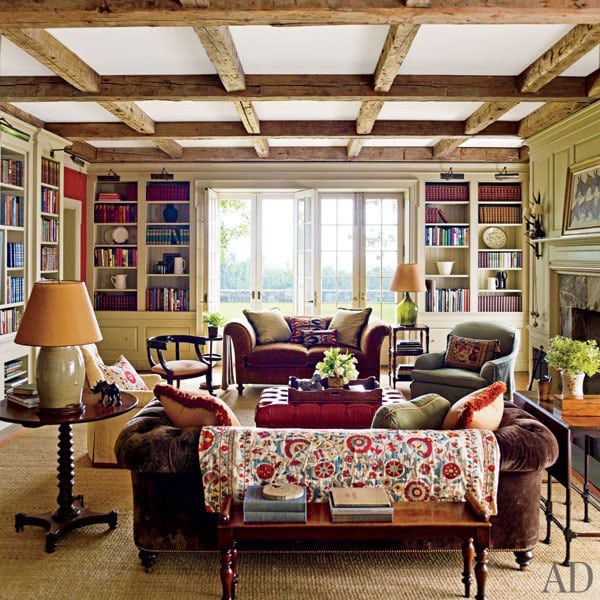 Chesterfields go country. In Dutchess County, New York, architect Gil Schafer who designed this elegant farmhouse living room around a sable-colored sofa.