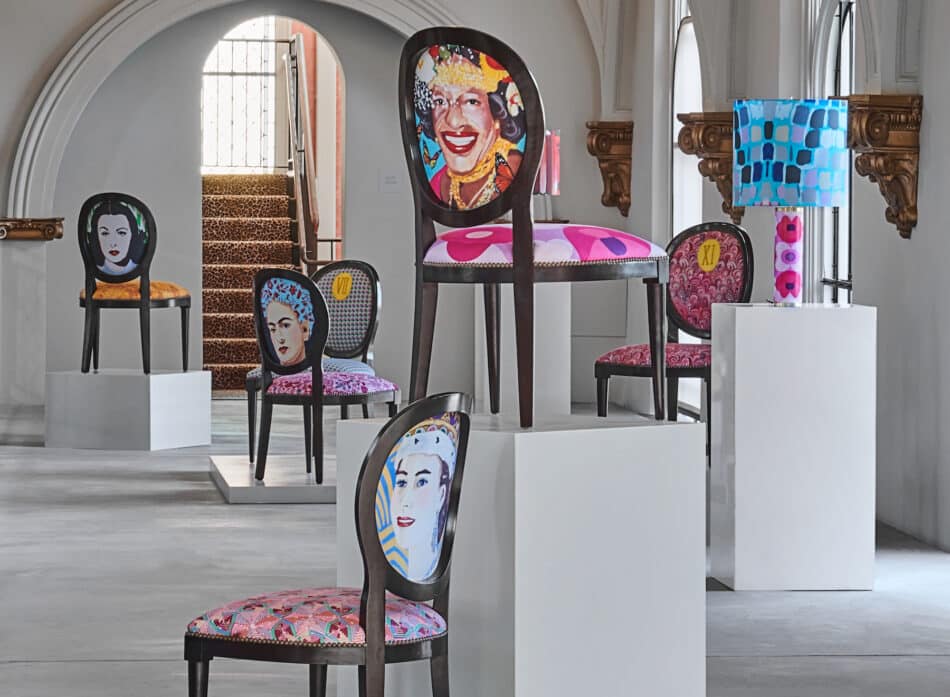 Artist Ashley Longshore and designer Ken Fulk are both known for having an exuberant sense of style. They also share a tendency to push boundaries and an admiration for brave and brainy women across history. So, for their first collaboration, they merged their tastes and talents in a collection of 12 vintage and antique dining chairs, each bedecked with a portrait of an iconic woman.
"Our inspiration came from the fantasy of gathering 12 groundbreaking women around one table for a conversation," says Fulk, who has offices in New York and San Francisco. "With no figurehead or leader, this would just be a shared meal and a meeting of the greatest minds and voices."
In Longshore and Fulk's scenario, Michelle Obama, Queen Elizabeth II, Rosa Parks, Ruth Bader Ginsburg, Marsha P. Johnson and Frida Kahlo join Yayoi Kusama, Hedy Lamarr, Nina Simone, Jane Goodall, Toni Morrison and Florence Nightingale. It could be a dream dinner party. Or a secret meeting of high-achieving thinkers uniting to save the world.
"I love to imagine a family with a collection of the chairs and the conversation spawned by these iconic ladies," Longshore says.
The pair selected the 12 from Longshore's ongoing series of portraits of female icons, many of whom appear in her book Roar!: A Collection of Mighty Women (Rizzoli, 2021). "I am continuously painting new women — there is not enough time in my life to paint all the women who deserve to be included!" says Longshore, who is based in New Orleans and regularly posts hilarious and empowering messages to her more than 300,000 followers on Instagram.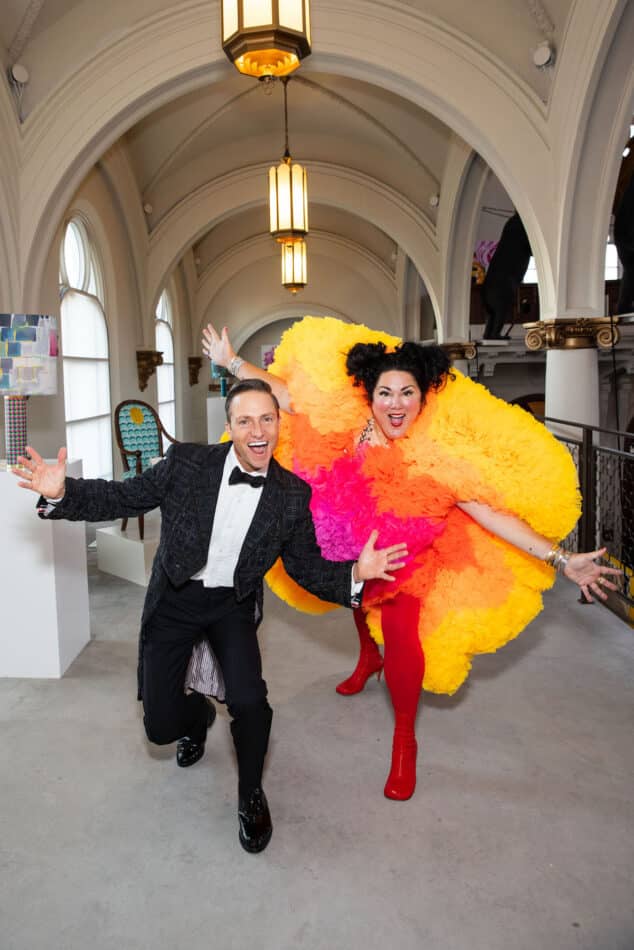 "When I paint them and line them up around my studio, there is an electricity that makes me feel wild and brave," she adds.
Her feminist portraits debuted at Diane von Furstenberg's flagship boutique in New York City in honor of International Women's Day in 2019. (The fashion designer herself appeared on one of the canvases and also wrote the introduction to Longshore's book.)
Longshore teamed up with Fulk to produce the chairs for a 2021 solo exhibition of her work at San Francisco's Saint Joseph's Arts Society, a nonprofit art space that Fulk founded in 2018 in a 22,000-square-foot, sumptuously renovated Neo-Romanesque church.
Fulk, who also deals vintage and antique furniture and has a knack for mixing eye-catching pieces across different eras, turned to regal Louis-style chairs — named for the 17th- and 18th-century French Bourbon kings — as the base for the collaboration. He used two separate sets adding up to 12 pieces in all, one set comprising antique French chairs with arms and the other vintage side chairs with an espresso finish.
Each portrait is printed on linen and upholstered on one of the chairbacks. For the rest of the upholstery, Fulk and his team created custom fabrics to complement the likenesses. The pieces were produced at his storied Magic Factory, a Warholian live/work/party warehouse space in San Francisco's SoMa district. Each is an individual work of art, signed by both Longshore and Fulk, and sold separately (Kusama and Goodall have already been snapped up).
The ghost of Andy Warhol is in fact never far off, apparent most notably in Longshore's colorful celebrity portraits. But the women recognized here are more than mere celebrities. "These ladies have all been misunderstood, criticized and beat down in one way or another, and yet they remained authentic to themselves and never gave up," says Longshore. "That is inspiring!"