Abraham Ortelius Furniture
George C. Birlant & Co. (Antiques)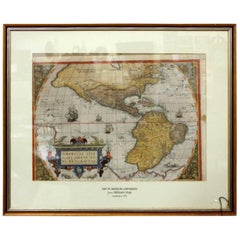 H 14 in. W 19.5 in. D 1 in.
Dimensions:
H 14 in. W 19.5 in. D 1 in.
Dealer Location:
Charleston, SC
Materials & Techniques:
Paper
Map of the Americas by Abraham Ortelius, 16th Cent...
Abraham Ortelius
Antique 16th Century American Prints
Paper
Rare and fine framed engraving map of the Americas "Americae Sive Novi Orbin Nova Descriptio" by Abraham Ortelius (hand colored later) Ortelius' map of the Americas is the most recog...