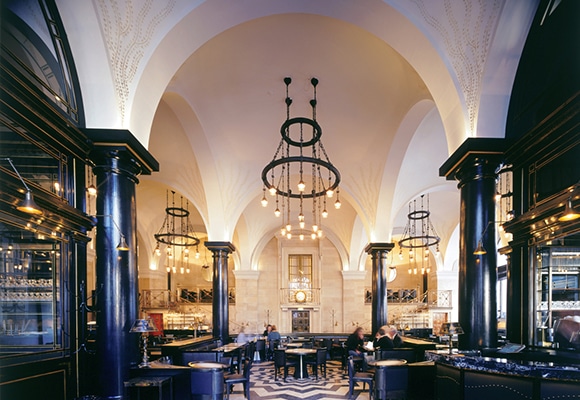 David Collins Studio led the renovation and restoration of London's the Wolseley, a cafe situated in a listed 1921 building that previously functioned as an automobile showroom and bank. The firm's work juxtaposed traditional brasserie styling against the space's grand Venetian and Florentine architecture.
Photo by Corbin & King.
---
In London, Martin Brudnizki Design Studio led the renovation of 45 Jermyn St., a restaurant located within the historic Fortnum & Mason department store. The design features a traditional oak parquet flooring, bespoke rosewood tables and an Edwardian-inspired patterned bead on the ceiling. The burnt orange seating was inspired by the store's 1930s catalog illustrations by artist Edward Bawden.
Photo by James McDonald.
---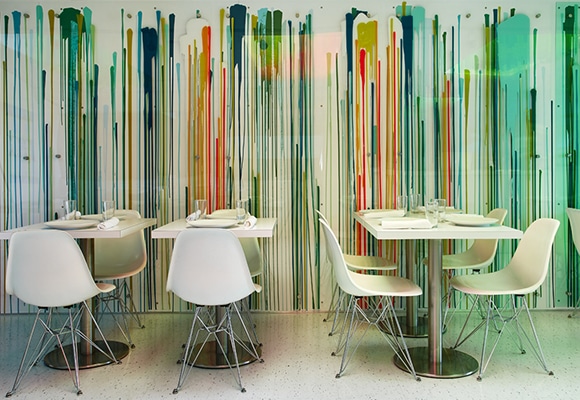 Doug Meyer created the 42-foot drip painting, "Drip #124," that serves as the colorful backdrop to The Stripe Cafe at the Palos Verdes Art Center in Southern California. Meyer channeled a mid-century modern vibe for the space by using Eames-inspired fiberglass chairs and speckled white floor tile.
Photo by Mark Roskams.
---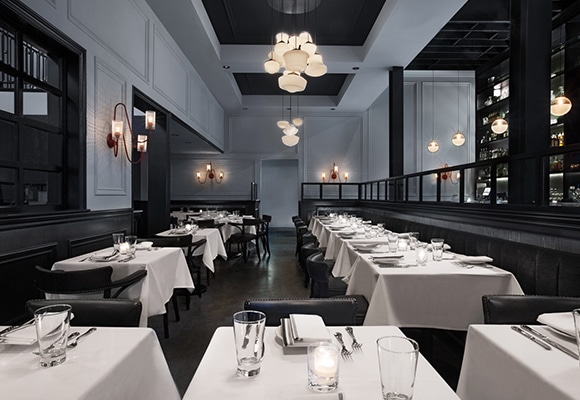 Cliff Fong's design for Los Angeles restaurant Pistola is an artful, elevated tribute to the traditional Italian trattorias of 1950s New York. The chandeliers were custom-made using vintage milk glass, as were the perforated metal wall sconces.
Photo by Skott Snider.
---
At the Hall Wines vineyard in St. Helena, California, Nicole Hollis created a dining space and open kitchen that focuses on elemental materials like white oak, blackened steel and Cararra marble. The shelving, cabinetry and dining tables are custom designs, and the table settings are by Heath.
Photo by Mark Adams.
---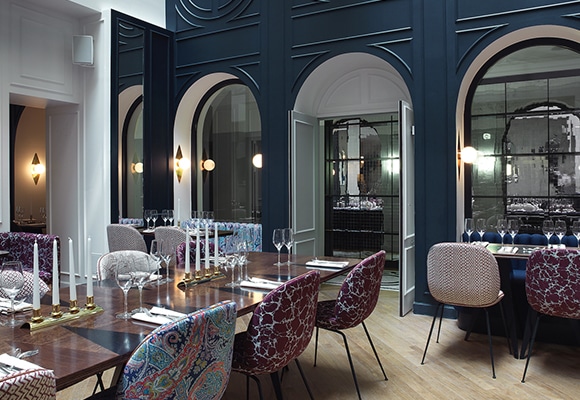 For the restaurant of the Hotel Bachaumont in Paris, Dorothee Meilichzon of Chzon paid homage to the building's Art Deco roots by emphasizing arched, graphic elements and employing brass accents. The dining chairs are by Gubi.
Photo by Paul Bowyer.
---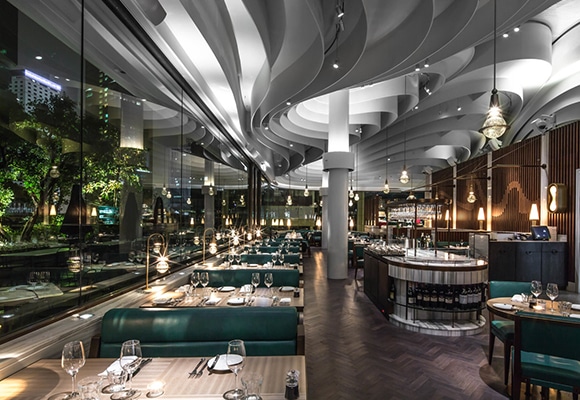 David Collins Studio's redesign for The Continental restaurant in Hong Kong makes use of tailored, refined forms to contrast with the building's dramatic, undulating architecture. The rich emerald green palette is a reference to the city's Lush Peak.
Photo by Edmon Leong.
---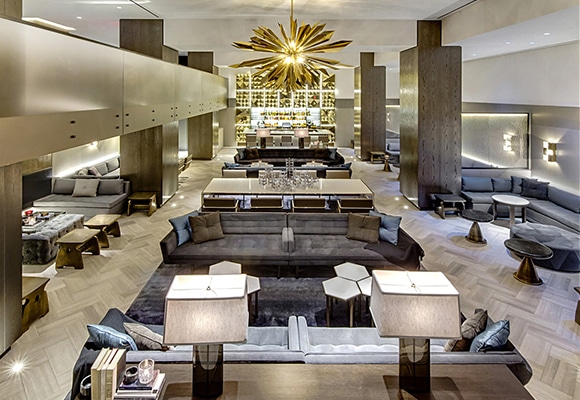 At the Reserve Bar in New York City's Morgans Hotel, Groves & Co.'s smartly tailored design makes use of strong sculptural forms, rift-cut oak paneling, reflective surfaces and rich bronze accents.The custom-made mirrored wall sculpture is an homage to a 1960s sculpture by Verner Panton.
Photo by Oleg March.
---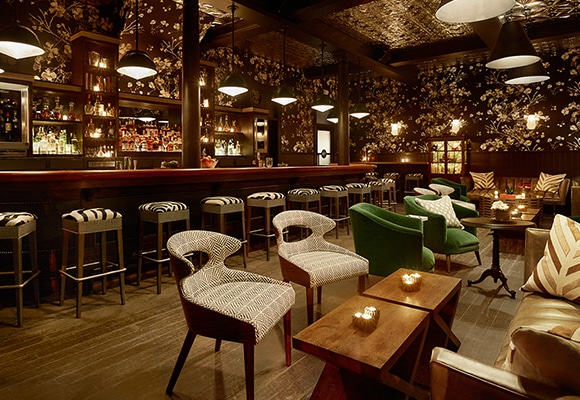 At Wildhawk, a cocktail lounge in San Francisco, Jay Jeffers used the 19th-century spy and actress Lola Montez as his muse to create a dark, glamorous space with an air of clandestine conversation. Jeffers opted for loose furniture pieces, versus banquettes, so that guests could interact flexibly in the room.
Photo by Matthew Millman.
---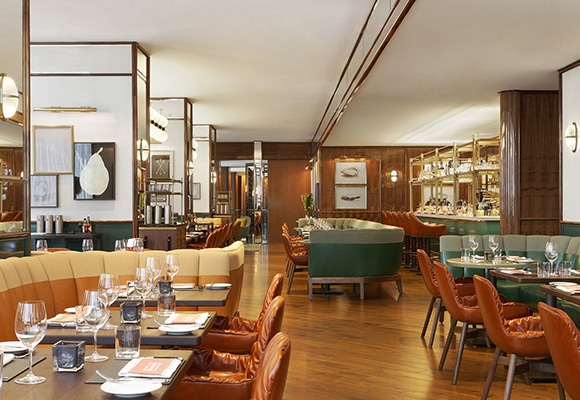 Martin Brudnizki's design for Toronto's Café Boulud evokes the style of a classic mid-century brasserie, but with a pared-down, elegant twist. The vintage sideboard was sourced via 1stdibs.
Photo by James McDonald.
---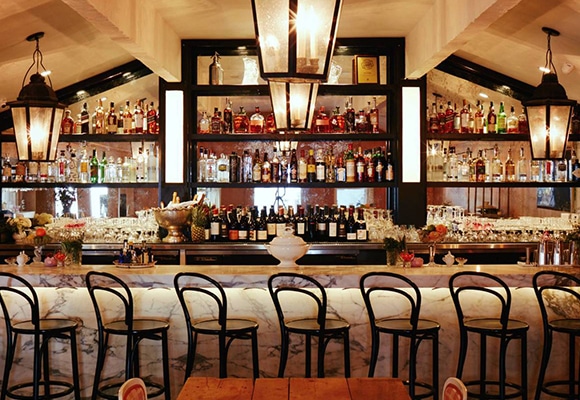 The Estee Stanley-designed Au Fudge, in Los Angeles, is a clubhouse and restaurant that caters to both young children, and their sophisticated parents. Accordingly, Stanley wanted the venue to "feel like a neighborhood hangout… like you're going to a party at a friend's house." Bartop objets and Thonet stools accomplish this nicely.
Photo by Justin Coit.
---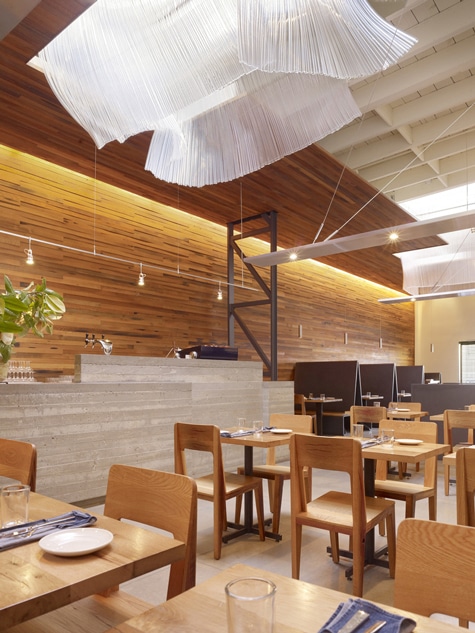 Aidlin Darling intended the organic minimalist interiors of San Francisco's Bar Agricole to reflect both agricultural and industrial landscapes. The concrete bar and stainless steel sconces were both custom designs by the firm, and the billowing glass sculpture is by artist Nikolas Weinstein.
Photo by Matthew Millman.
---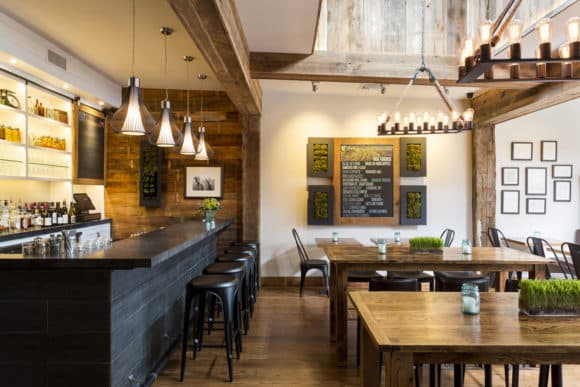 Marcia Tucker's design for Back 40 Kitchen in Greenwich, Connecticut evokes rural farmhouse kitchens of the 19th century through its use of reclaimed barn wood, an iron and hemp chandelier and a vintage tractor seat. Clerestory windows above the main dining area shine a pleasing, diffuse light on the space.
Photo by Fran Parente.
---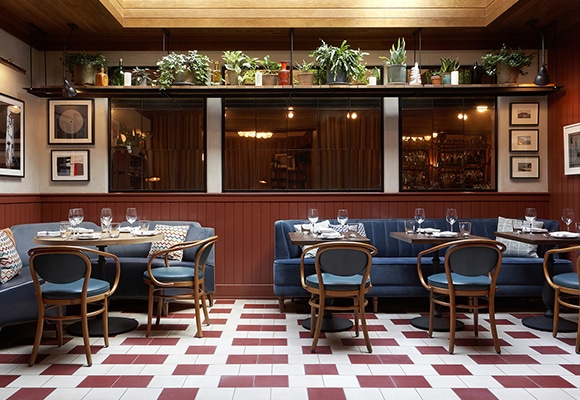 Sessanta, a third project by Martin Brudnizki Design Studio in New York City's Soho neighborhood, draws its inspiration from the aesthetics of Gio Ponti and Federico Fellini in 1960s Italy. Eclectic, colorful contemporary artworks are scattered around the room's plaster walls.
Photo by James McDonald.