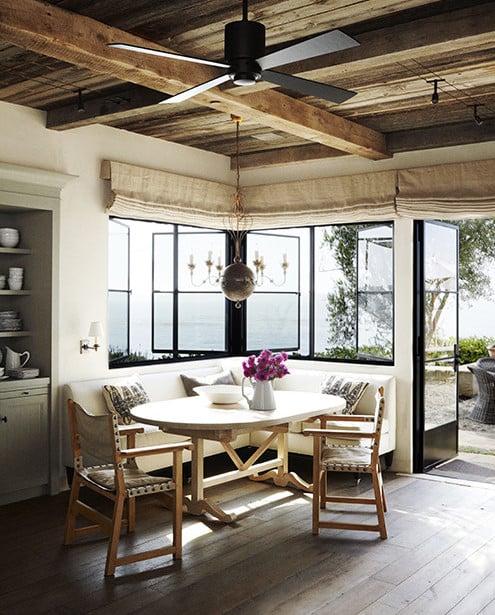 In Southern California, M. Elle Design created a cozy and comfortable spot for their clients to enjoy breakfast with ocean views. The studded dining chairs were sourced at Lucca & Co..
Photo by
William Abranowicz Photography
---
Japanese Tansu stairs — which function as both a storage unit and architectural element — inspired the design of this Brooklyn kitchen by Workstead, who also created the overhead chandelier. The dining chairs are by Hans Wegner.
Photo by Matthew Williams
---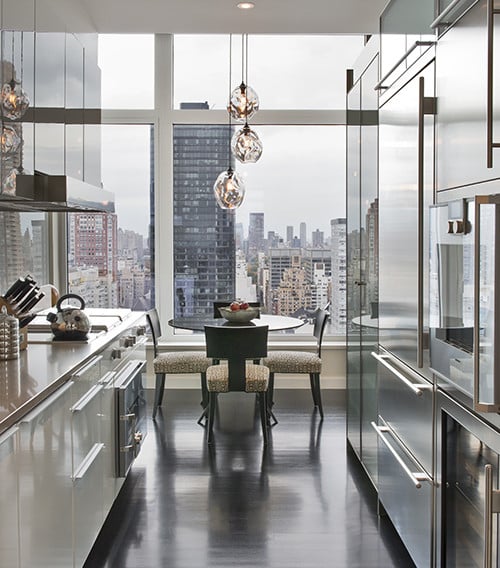 Champeau & Wilde relied on elegant, understated pieces and a three-light suspension pendant to emphasize the skyline views of this New York City apartment.
Photo by Xavier Bejot
---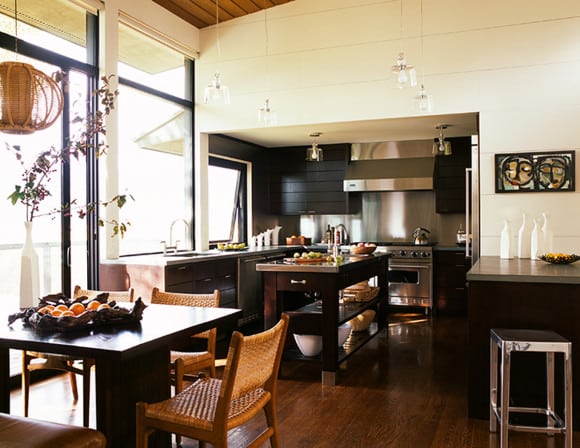 For this Jackson Hole, Wyoming, home, Madeline Stuart used a host of vintage items — including woven Hans Wegner chairs from Lawson-Fenning and a painted enamel wall hanging from J.F. Chen — to create a rustic-yet-clean dining space in the kitchen.
Photo by Dominique Vorillon
---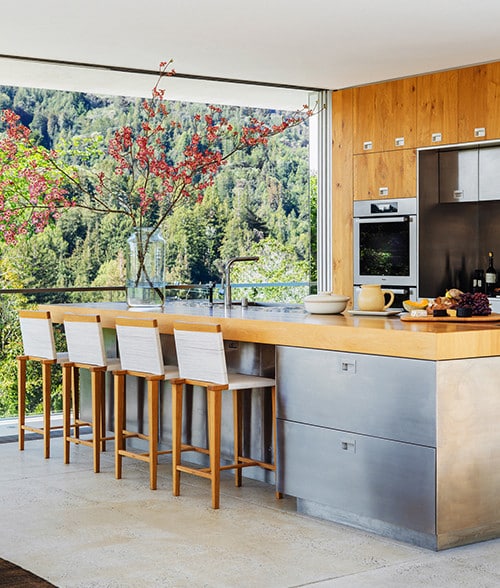 Designer Nicole Hollis mixed a pared-down design scheme with warm, organic finishes to generate a "material language" that speaks to both the contemporary architecture and incredible mountain scenery of this Larkspur, California, house.
Photo by Laure Joliet
---
Comfort and flexibility were imperative in the casual dining space Kelly Behun designed for her young family on Long Island, New York. The elevated bar table may be utilized for buffet-style entertaining, while the round table — a custom Behun Studio piece — is perfect for cozy family meals.
Photo by William Waldron
---
Seeking to accommodate her clients' laid-back, indoor-outdoor lifestyle at this lakeside vacation cottage in Wisconsin, designer Kathryn Scott created a relaxed dining space that resembles a stylized picnic table.
Photo by Ellen McDermott
---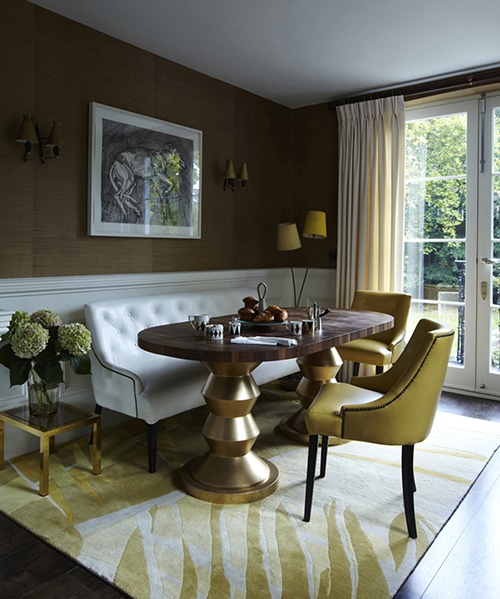 This sunny London breakfast room by Peter Mikic was inspired by Yves Saint Laurent's Parisian apartment. Mikic designed the silk banana leaf-print floor covering, the walnut-and-brass table and the leather-upholstered seating.
Photo by Kate Martin
---
For an Art Deco-era apartment on Manhattan's Upper East Side, designer Alexander Loew sought to deviate from "standard-issue whites and neutrals," instead opting for a period-appropriate palette of red and pink that also complements the client's Martin Klismas photograph. The 1907 Josef Hoffmann chair was purchased from Wright, and the 1920s Khotan floor covering was found at Nazmiyal.
Photo by William Waldron
---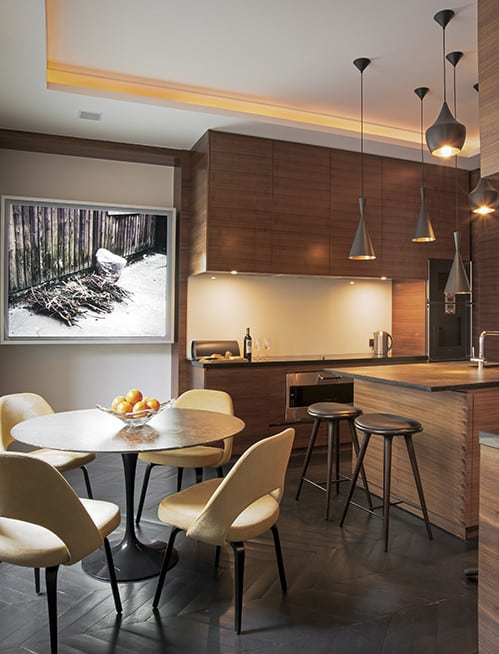 Eero Saarinen's classic dining table and side chairs add a note of mid-century modern appeal to this high-ceilinged Paris apartment designed by Champeau & Wilde.
Photo by Xavier Bejot
---
In this New York City apartment, Glenn Gissler used a pair of 1960s Ico Parisi chairs and a series of Al Held ink drawings from Loretta Howard Gallery to create a breakfast nook that was at once inviting and sophisticated.
Photo by Gross & Daley
---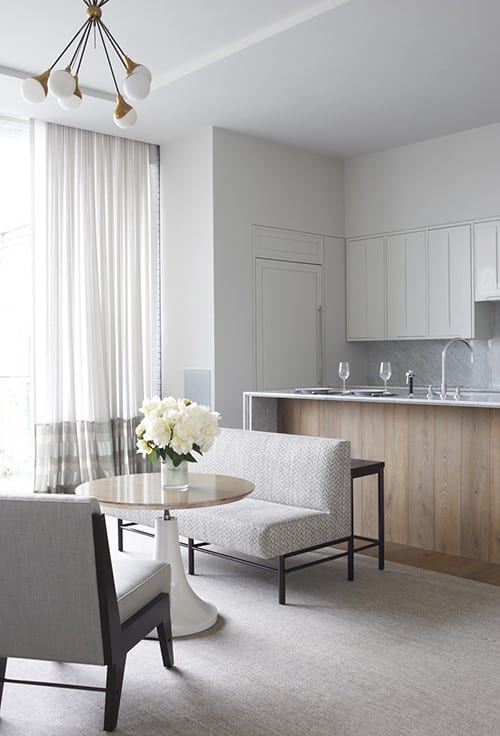 Seeking to deviate from a traditional island-and-bar stool configuration, Shawn Henderson designed an upholstered banquette-slash-bench that allows for a multitude of seating arrangements in this New York City kitchen.
Photo by William Waldron
---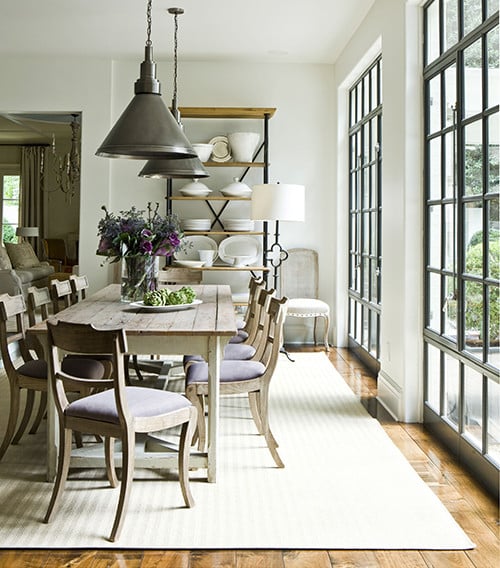 Filled with a mixture of Swedish and Regency antiques, Suzanne Kasler's own Atlanta dining space draws its inspiration from a European farmhouse. The table was sourced at Holland & Company, and the iron windows are by Crittall's.
Photo by Erica George Dines
---
The owners of this Carmel, California, home asked Fisher Weisman to create a space where their grandchildren could play and eat while adults congregated in the kitchen. The eclectic solution deftly combines an 18th-century armchair, a leather-upholstered banquette and an early-20th-century painted chandelier.
Photo by Grey Crawford
---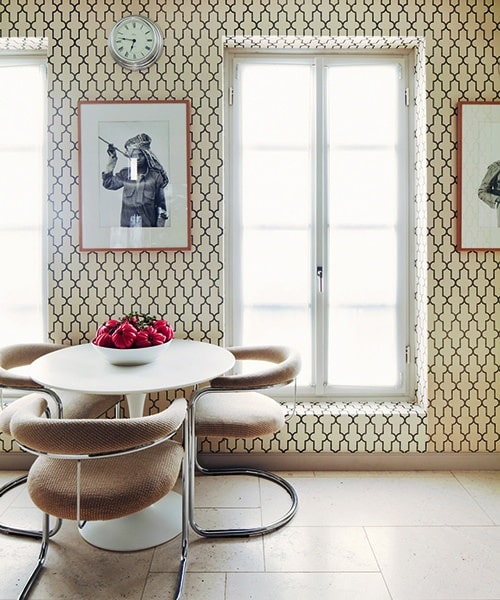 Bold, geometric wall coverings and plush Milo Baughman armchairs make for a sleek, stylish tableau in the kitchen of a Monaco villa designed by Timothy Whealon.
Photo by Simon Watson