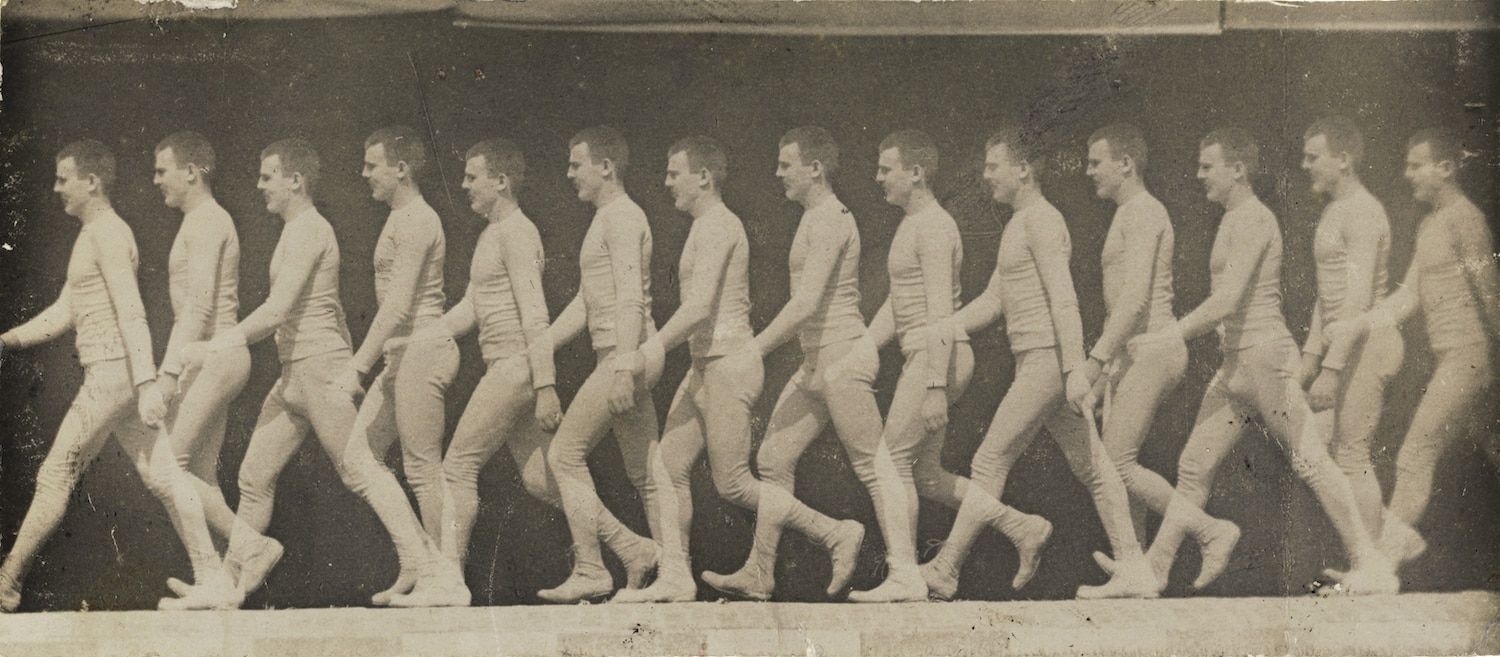 This week, Christie's released a grouping of 16 important photographs from its collection and put them on display at the 1stdibs Gallery in Manhattan.
"The grouping features a selection of works by Louis-Auguste and Auguste-Rosalie Bisson that capture exquisite European monuments, taken at the dawn of the medium of photography, in the late 1800s," says Alix Bickson, from the Photographs team at Christie's New York.
"Additional works are included by seminal American photographers, such as Dorothea Lange, Ilse Bing, Garry Winogrand and Walker Evans, whose photography in the mid-1900s have made extraordinary contributions to the canon of modern art," she continues. "Many of these works were formerly in the collection of the Museum of Modern Art, highlighting the significance of the photographers' contributions to the medium as well as the importance of the photographs themselves."
Here, Bickson tells us what makes each print special.
---
Opening, Frank Stella Exhibition, The Museum of Modern Art, 1970, by Garry Winogrand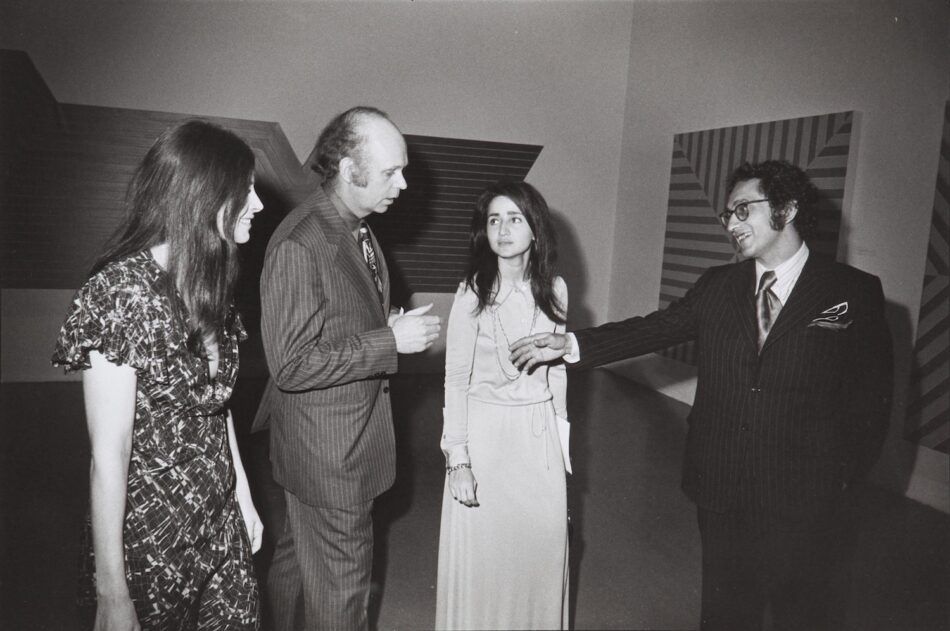 "From 1969 to 1976, American street photographer Garry Winogrand recorded the New York social scene and produced 6,500 prints that document this specific time and place. Opening, Frank Stella Exhibition, The Museum of Modern Art, New York was taken in the second year of this project and shows attendees of the first ever Frank Stella retrospective. Only 33 years old at the time, Stella remains the youngest artist to ever be given a retrospective at MoMA, and Winogrand's images remain a testament to both artists' legacies."
---
Palmistry Sign, Third Avenue, New York City, 1962, by Walker Evans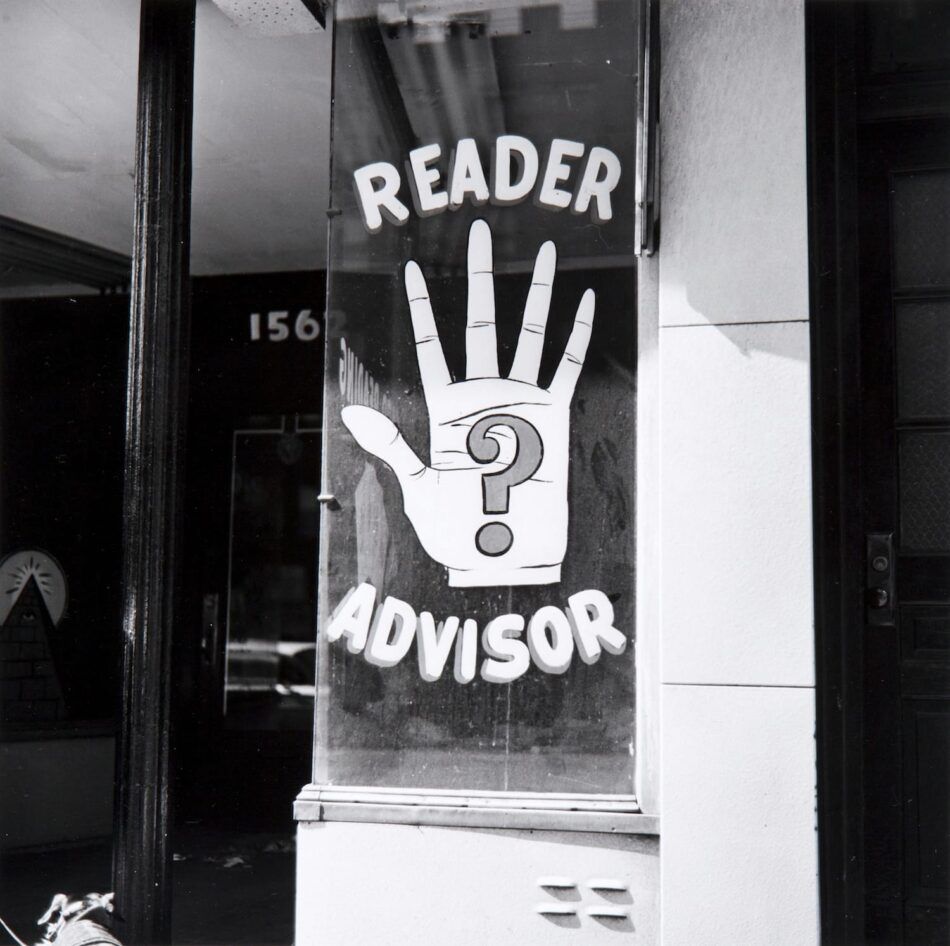 "Walker Evans had a strong affinity for signage and other elements of popular culture throughout his entire career. The vernacular appears from his earliest records of New York, in the 1920s, to some of his last work, in SX-70 Polaroid, capturing fragments of signs and roadside debris. Palmistry Sign, Third Avenue, New York City exemplifies Evans's career-long interest in signage, depicting the hand-painted sign of a palm reader on the streets of New York City."
---
Gothic Doorway, Toquerville, Utah, 1953, by Dorothea Lange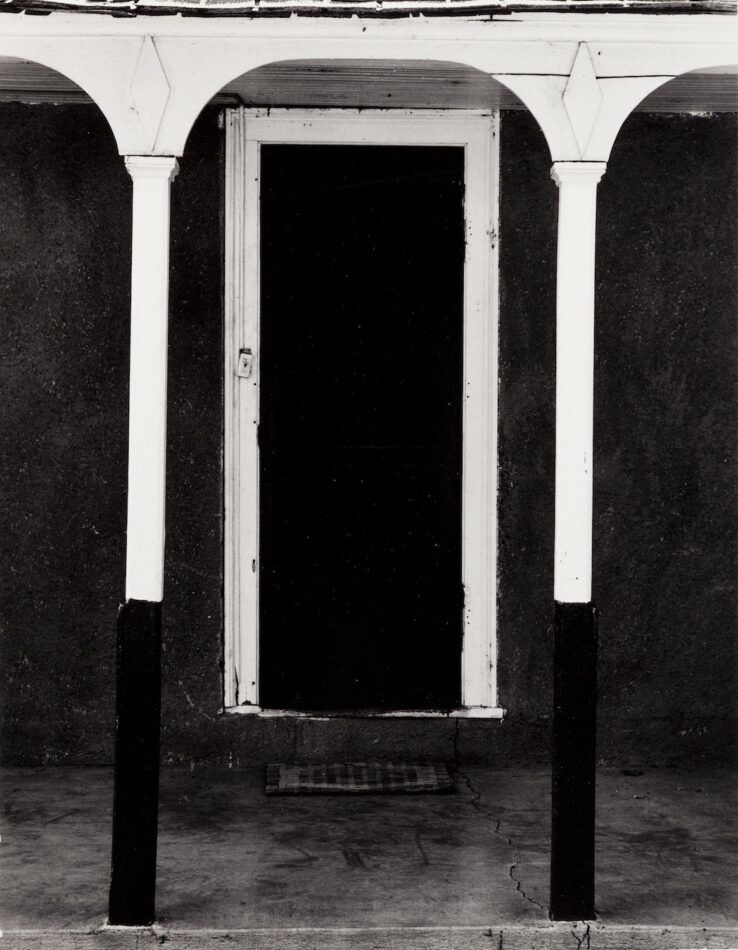 "Renowned for her documentary photography of the American landscape, Dorothea Lange is regarded as one of the most important photographers of the 20th century. Her photographs responded to the social and political injustices that she observed in her life and are deeply personal records of everyday American conditions. Taken one year after Lange cofounded Aperture, in 1952, Gothic Doorway is an architectural portrait in rural Utah."
---
Still Life with Books and Utensils, 1961, by Dorothea Lange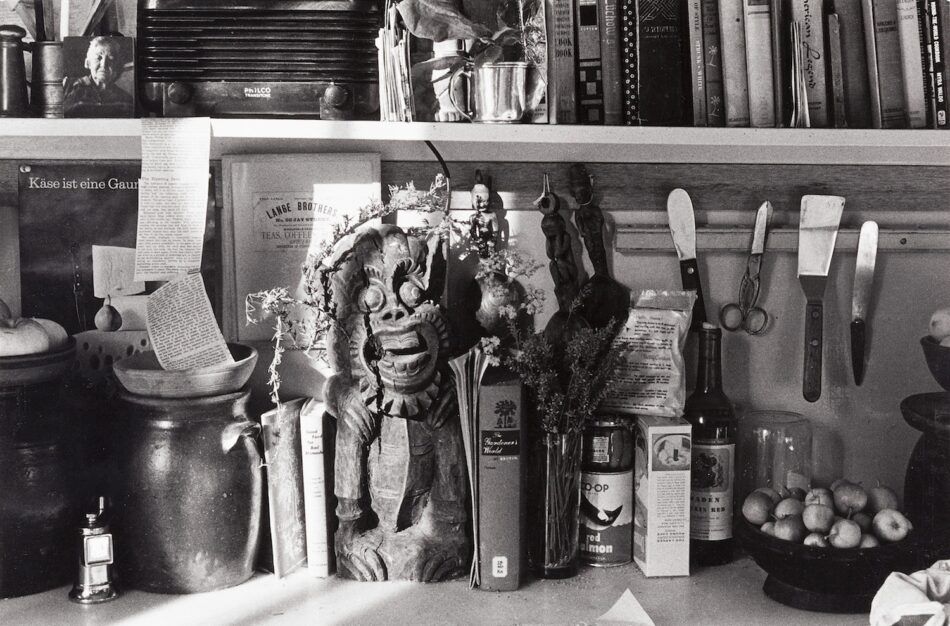 "Still life with Books and Utensils is a later work of Lange's that depicts a kitchen interior filled with cookbooks, utensils and personal artifacts. The viewer is invited to observe the everyday domesticity within the still life and piece together the story of those who lived amongst these objects. A bottle of red wine, a box of cake mix, carved wooden figures and various plants all come together to document the inhabitation of this space."
---
Heating Pipes in Basement, 1930, by Ilse Bing
"Ilse Bing's interest in the details of everyday objects is evident in Heating Pipes in Basement, which was taken at the beginning of her career. Bing rapidly established her reputation as one of the pioneers of photography's Golden Age, working within the avant-garde Parisian art world and exhibiting alongside such contemporaries as Man Ray, Henri Cartier-Bresson and László Moholy-Nagy. Bing favored the lightweight and versatile Leica camera, which she purchased in 1929 and used throughout her career."
---
Untitled (Lobster on a Plate), ca. 1925, by Shigemi Uyeda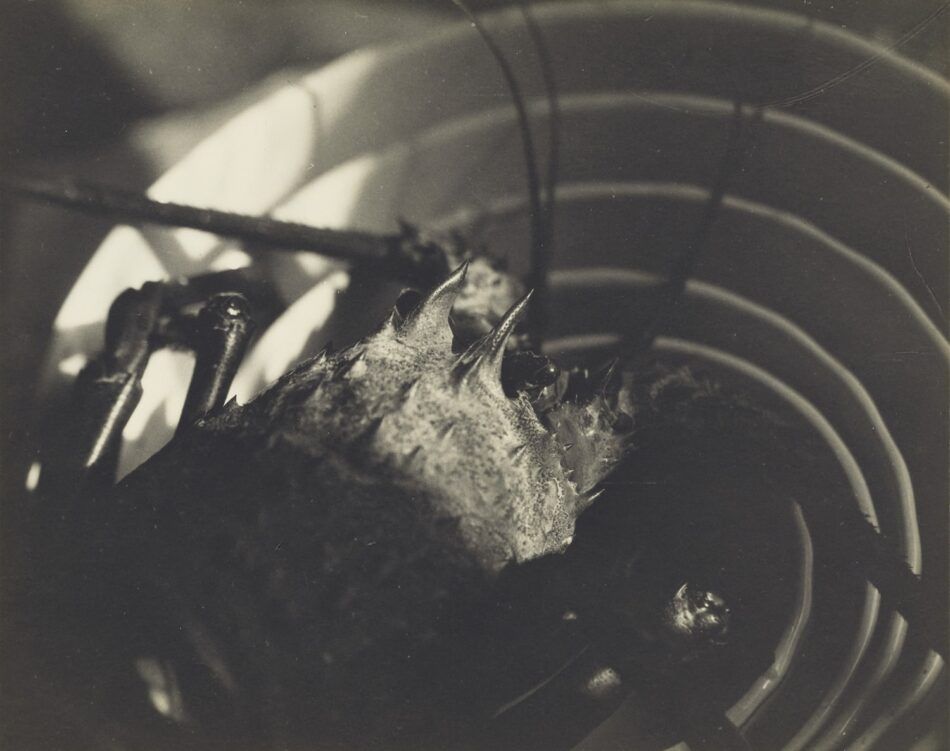 "In the interwar period of the 1920s and '30s, a group of Japanese immigrants began to make waves in the American avant-garde art scene, producing a collection of incredibly well-regarded and experimental photographs. Amongst these Issei artists was Shigemi Uyeda.
"Following the attack on Pearl Harbor, cameras were declared contraband amongst Japanese Americans, and this groundbreaking photography work was mostly forgotten about and otherwise destroyed. While Uyeda and his family were imprisoned at an internment camp in Arizona, many of Uyeda's original photographic prints were saved from destruction by being stored in a false ceiling in the artist's home. This gelatin silver print is signed by the artist and is a reminder of this underrepresented time in the history of American photography."
---
Aerial View of Lake Maggiore, 1925, by Fedele Azari
"Within his brief 29 years of life, Italian artist Fedele Azari produced a number of paintings and photographs that adhered to the Futurist notion of replacing tradition with an energetic interpretation of the modern machine world. In 1915, Azari earned his pilot's license and began to utilize flight as a tool for his photography. In Aerial View of Lake Maggiore, the Futurist idea of depicting motion is provided by the airplane's wing, which disrupts the slightly blurred and off-kilter landscape of Lake Maggiore looming dramatically below."
---
Man Walking, 1882, by Étienne-Jules Marey
"Doctor and physiologist Étienne-Jules Marey discovered Eadweard Muybridge's photographic motion studies in the December 1878 issue of La Nature, and the two men began a correspondence that inspired Marey to use photography to further his own studies into animal locomotion. In 1882, Marey invented a chronophotographic gun capable of producing 12 consecutive images per second on a turning plate, at 1/720 of a second. Man Walking is an early example of Marey's scientific photography, which became influential to Muybridge. Works such as this led directly to the subsequent development of motion pictures, as well as informing the Italian Futurist movement."
---
Cathedral of St. Michael and St. Gudula, Belgium, 1860s, by the Bisson Brothers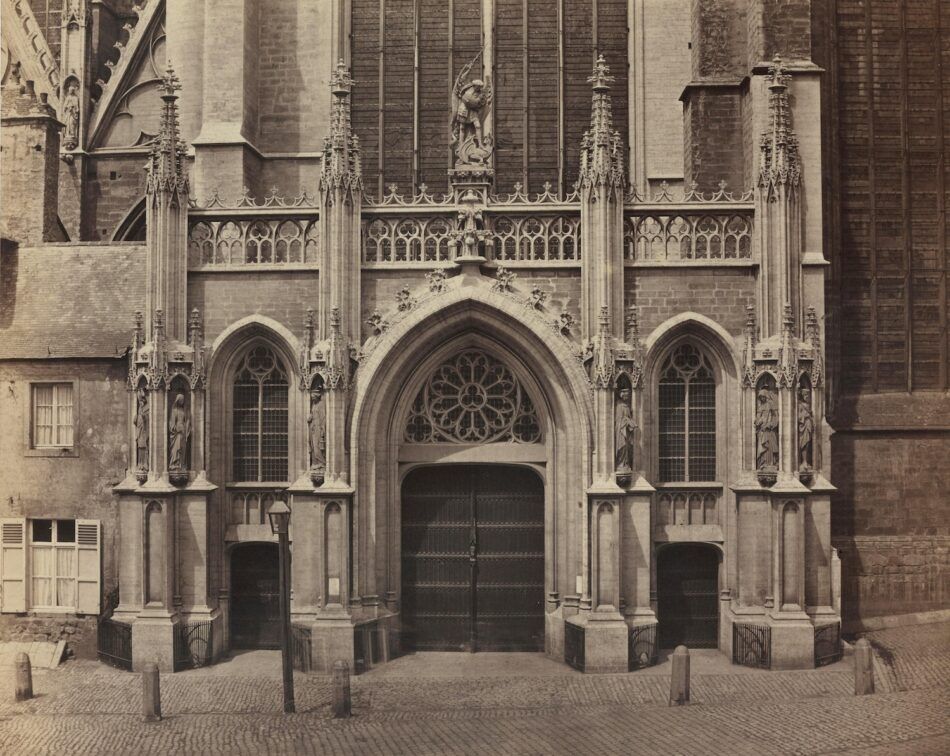 "Pioneers of French photography, the Bisson brothers photographed a series of architectural images in Europe in the early 1860s. This stunning albumen print is one example from the series and features an unidentified church with its front doors framed in the center of the composition. A later work in the oeuvre of photographs produced by the Bisson studio, Cathedral of St. Michael and St. Gudula is an excellent example of the brothers' snapshot style of photography, which defied the posed photographic techniques that were made popular in the mid-19th century by the daguerreotype."
---
Pavillon Turgot at the Palais du Louvre, 1860s, by the Bisson Brothers
"This albumen print shows the Pavillon Turgot at the Palais du Louvre, a former royal palace in Paris that is now mostly occupied by the Musée du Louvre. The Pavillon Turgot resides within the Pavillon de la Bibliothèque on the northern end of the Louvre, which is made up of several wings."
---
Frieze Detail (Arch of Septimius Severus, Rome), 1860s, by the Bisson Brothers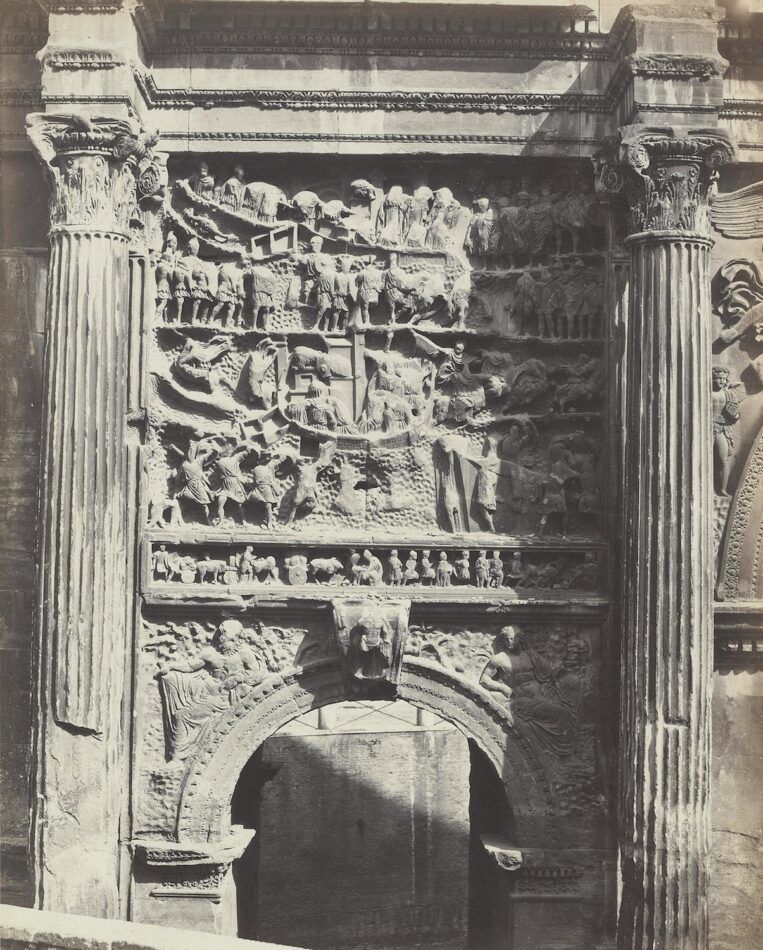 "This is a close-up look at the Arch of Septimius Severus in Rome. Built in AD 203, the Arch of Septimius Severus is a marble triumphant arch on the northwest end of the Roman Forum commemorating the Parthian victories of the emperor in AD 194, 195 and 197–199. With a penchant for travel, the Bisson brothers are known to have taken around one third of their photographs outside of France, including Frieze Detail."
---
Canal and Houses in Belgium, 1860s, by the Bisson Brothers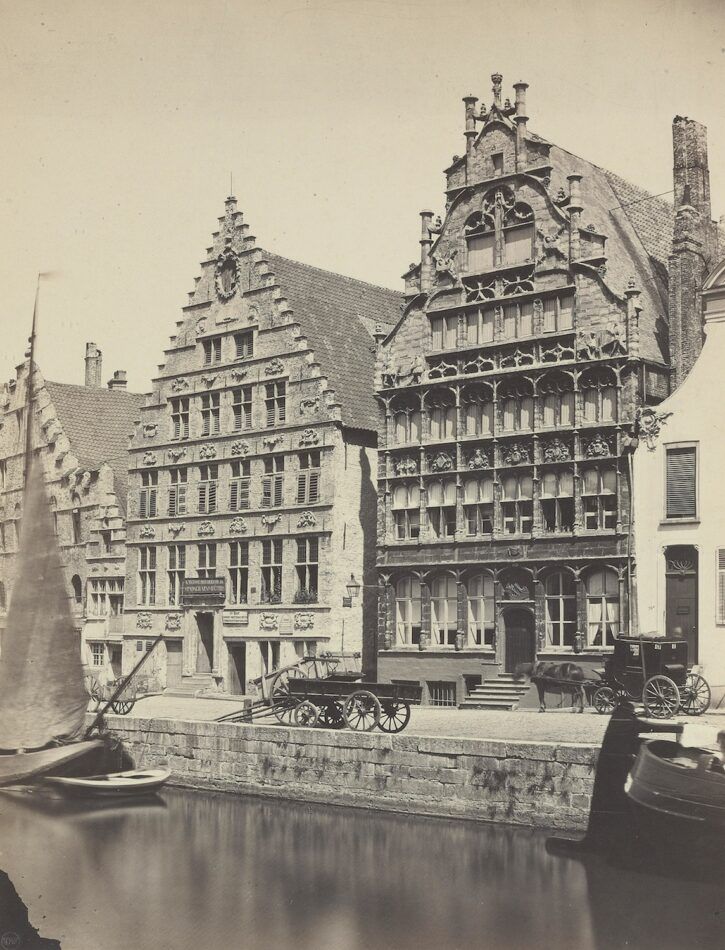 "This warm-hued albumen print features elaborately decorated houses that were likely built in the 17th-century Dutch Golden Age, when wealthy merchants built homes along the canals to show off their status. The horse-drawn carriages remind us not only of Belgium's architectural history but also of the history of the image itself."
---
Apse of the Cathedral, 1860s, by the Bisson Brothers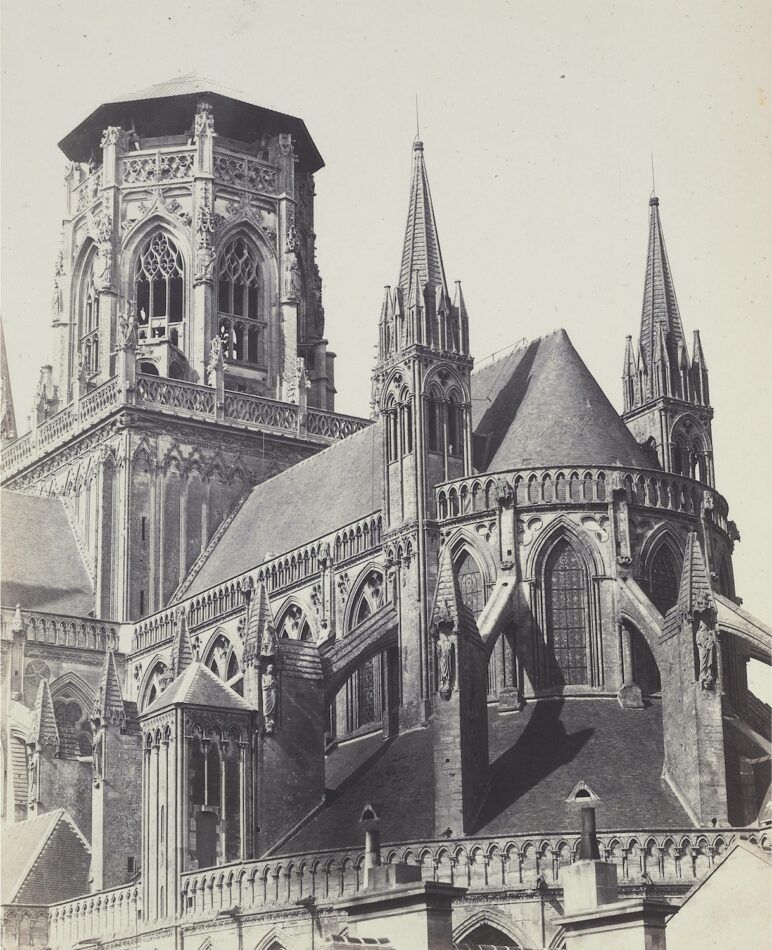 "This photo details the exterior of a cathedral apse, the large semicircular recess of a church that usually contains the altar. It's a stunning example of the architectural photography that the Bisson brothers' studio is renowned for."
---
Palace with Clock Tower, 1860s, by the Bisson Brothers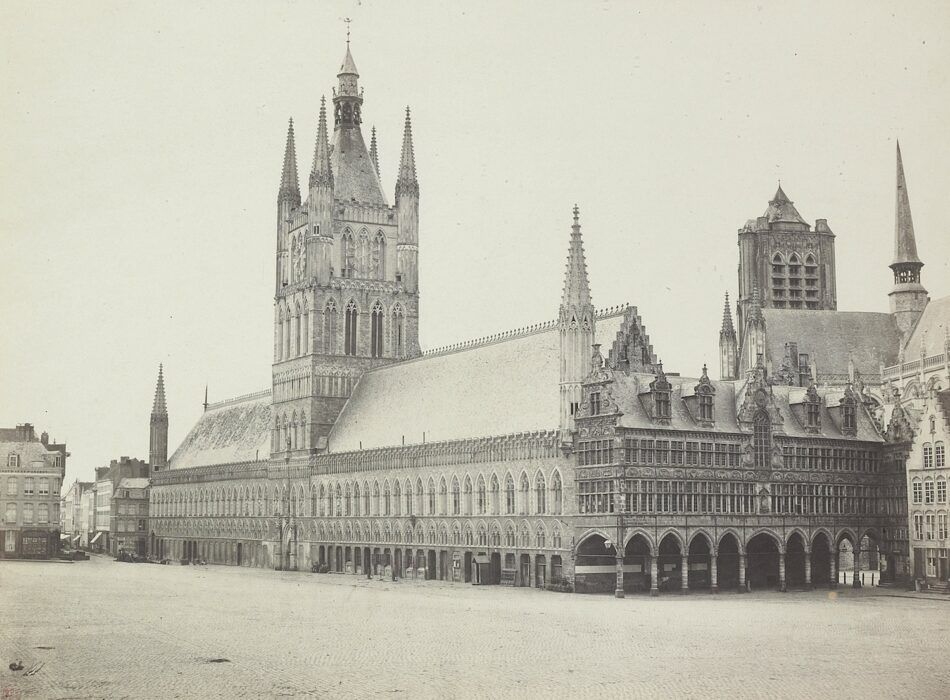 "This documents a palace and its grand clock tower, extending the eye across the composition."
---
Church of Saint Sang, 1860s, by the Bisson Brothers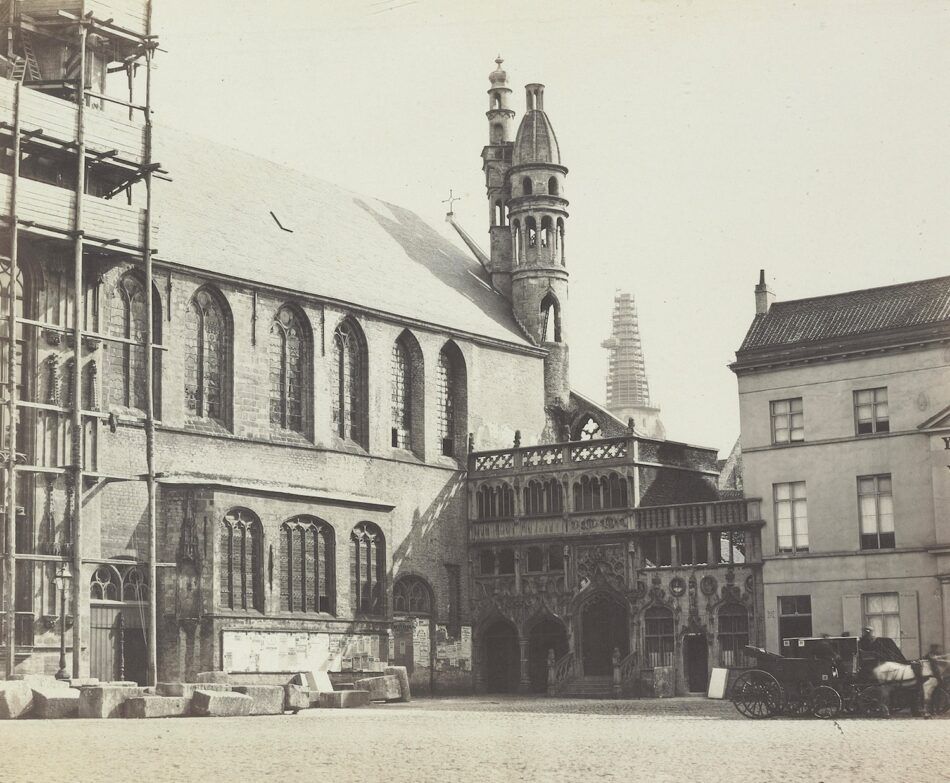 "Here, we see the exterior of the Basilique du Saint-Sang. Located in Bruges, Belgium, the church is recognized for housing a venerated relic of the blood of Christ, one of only eight relics of holy blood in the world. Church of Saint Sang is one of several travel photographs taken by the Bisson brothers outside of France."
---
Imperial Library of the Louvre, 1860s, by the Bisson Brothers
"This print captures the facade of the Imperial Library of the Louvre. Situated within the grounds of the Louvre Palace in Paris, the Imperial Library, and its nearly 100,000 volumes of rare books, were destroyed in 1871 during the Paris Commune, approximately a decade after this image was taken. The entrance doors are set as the focal point of the composition, drawing the viewer into the depth of the building and its place in history."