Martha Angus and Katie McCaffrey's goal for this San Francisco dining room was "to combine some of the clients' existing antiques, such as the table, with the playful dressiness of the new pieces."
Playfulness is very much in evidence in the tiger-print fabric covering the French Empire–style chairs set around the clients' table, not to mention the Larry Poons–inspired screen, which Angus painted herself.
---
Tasked with reimagining a Park Avenue apartment for longtime clients, Lee Cavanaugh, design partner at Cullman & Kravis Inc., looked to French interiors of the 1940s.
Cavanaugh grounded the glamorous living room with a Maison Jansen–inspired chair upholstered in a leopard print and a Regency mahogany sofa table repurposed as a desk.
---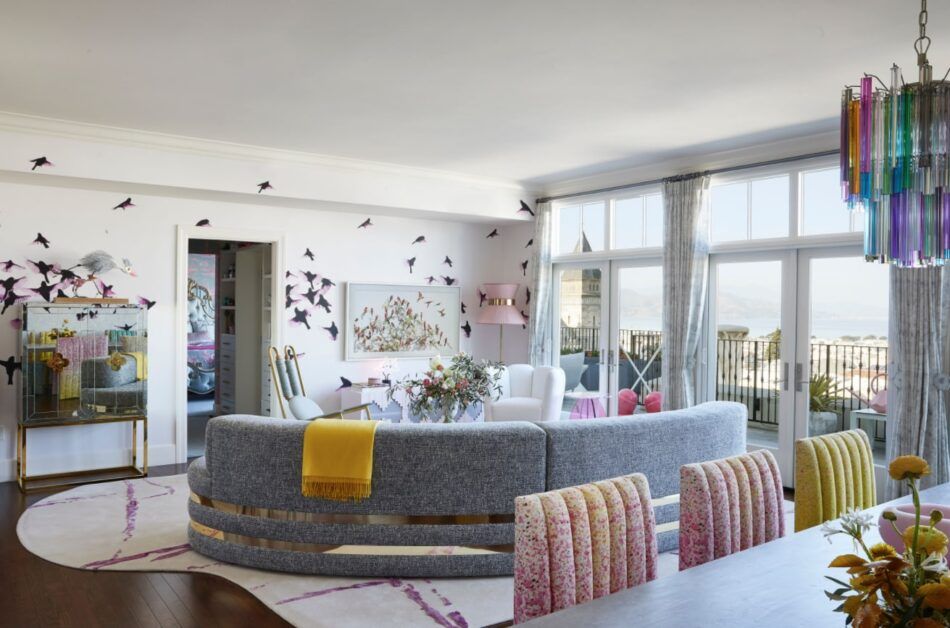 "The project is truly one of a kind!" exclaims Jeff Schlarb, describing an apartment his firm designed in San Francisco's Russian Hill neighborhood. "We were inspired by Barbie dolls, unicorns and rainbows. We should all live this freely."
The living/dining space is the epitome of whimsy, care of a Jonathan Adler mirrored chest, a vintage rainbow-hued chandelier and a pink Sabrina Landini floor lamp. A final flight of fancy is provided by the flock of birds, digital prints from Trove, flying around the room's walls.
---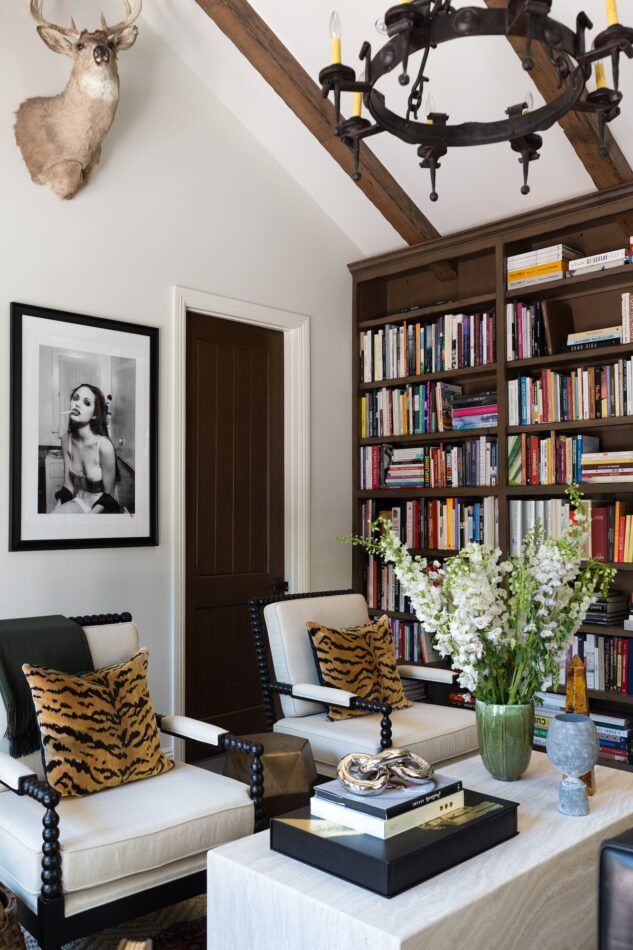 Marie Flanigan spiced up a traditional living room she designed in a Studio City, California, house with deliciously edgy details, including tiger-print Williams Sonoma pillows and a Lionel Deluy black-and-white photograph of a half-naked model smoking a cigarette.
"My client is a renowned chef who treasures his cookbook collection," explains Flanigan. "I played off all the hues found in his books by incorporating warm, textural pieces that enhanced the space instead of competing with it."
---
"In this Los Angeles dining room, it's all about the bronze monochromatic palette with layers of pattern and texture," says designer Jeff Andrews. "That mix combined with the traditional architectural elements of the room made the space both dramatic and chic."
"Dramatic and chic" certainly describes the elegant Holly Hunt–covered chairs and bristling Jean de Merry Sputnik chandelier. More texture is added by James Verbicky's Citta Santana diptych on the wall — "a mixed-media collage," Andrews explains, "of old magazine pages, mostly fashion."
---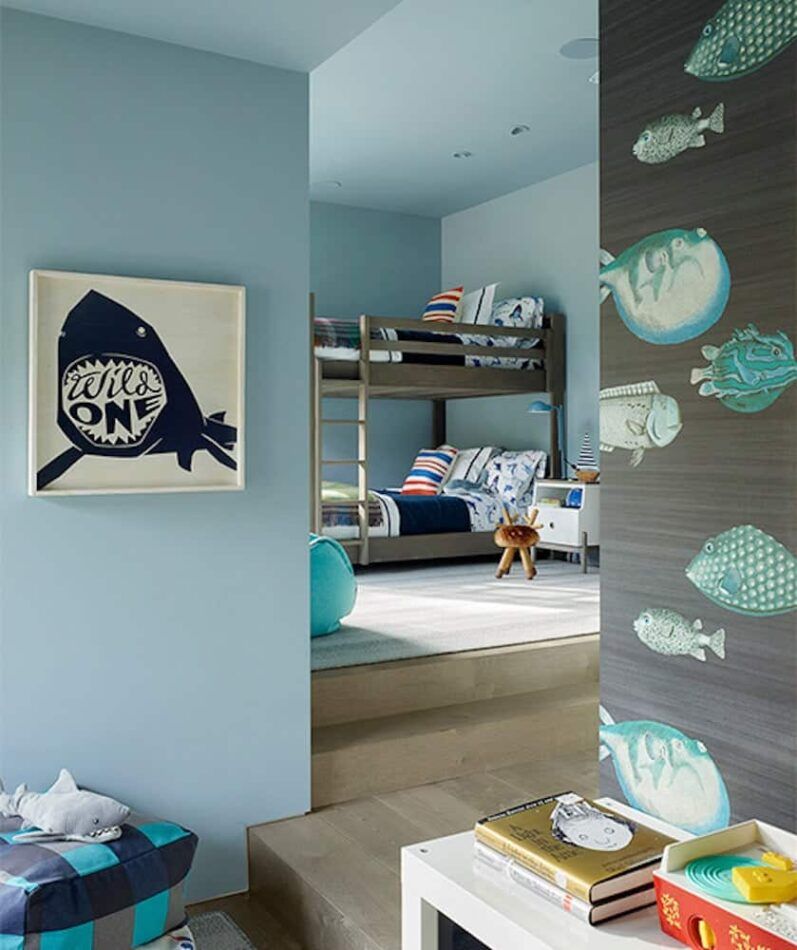 "The clients' son loves sharks, so we created a bit of an underwater room for him," says Jay Jeffers, describing this space in a Portola Valley, California, home. "Not pictured is a large shark painted on the wall, but we put a smile on his face, so he wasn't a scary shark!"
For a further fun aquatic element, look no farther than the Fornasetti fish wallpaper.
---
In decorating his own New York City loft, Drew McGukin gave himself a challenge: to bring together into a cohesive design the "contents of four storage units, travel curiosities, three or four previous homes' wares and all my collections amassed over the past 10 years," he explains. "It was really about seeing everything in kaleidoscope."
In the living room, the varied pieces form a stylish mélange of patterns and textures, with the paintings — Aboriginal works, which McGukin collects, on the back wall, and a portrait by Drew Tal to the left — providing splashes of color. Lighting the scene are nearly identical lamps, both by Gordon and Jane Martz but picked up at different times and places: one at a thrift store and the other, coincidentally enough, on 1stDibs.
The custom-upholstered furniture includes McGukin's McSwivel armchairs and a Swaim sofa. About the latter the designer enthuses: "That sofa is 99 inches of pure leopard pleasure!"
---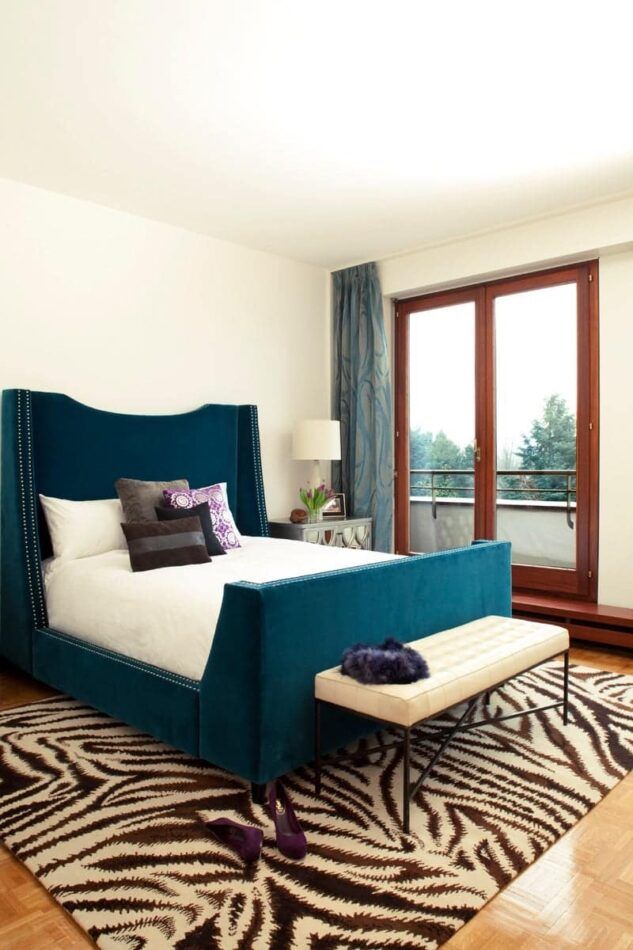 For a client relocating to Geneva, Switzerland, Shannon Connor sought to imbue her new home with "strength and power of the female kind."
In the main bedroom, The Rug Company's funky zebra print pairs perfectly with a custom blue-green bed from Shine by S.H.O.
---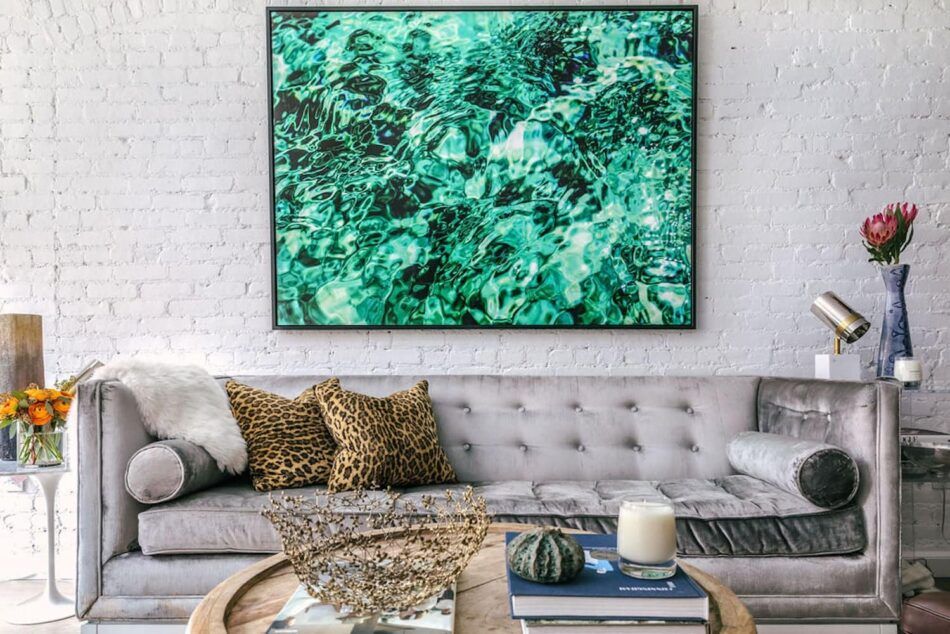 "I wanted to enhance the whitewashed brick walls and create a fun and youthful space for these clients," says Christina Nielsen, explaining her design for the living room of a loft in downtown Manhattan. "Color, pattern and texture were a big part of allowing this seating area to come alive."
The bright, ultra-soothing Lorenzo Minoli close-up of a wave sets the tone for the rest of the decor, which includes a velvet Jonathan Adler sofa, a Knoll tulip end table and leopard-print Ralph Lauren pillows.
---
A neutral palette and rich textures help give the family room of this New York pied-à-terre designed by Alberto Villalobos a sophisticated polish while infusing it with a warm, inviting feel.
The furniture is a mix of old and new. Chairs from Maison Gerard flank the fireplace, in front of which sits an 18th-century Baroque gilded stool, and across the room is an antique English end table. Villalobos designed the bold zebra ottoman, which can be moved around depending on where the family wants to congregate.